When you visit the Czech Republic, you most likely spend some time in Prague, and you must immediately try to eat traditional food as soon as you land. I was on a mission to learn more about Prague's food culture as soon as John and I arrived in the city in November 2021.
It was exciting to learn that Czech food had many signature dishes that easily paired with the most famous Czech product -- beer. Seeking out and eating these traditional dishes will quickly become a highlight of your trip.
Appetizers / Beer Appetizers
As I mentioned, the Czech Republic has a strong beer culture. Restaurant menus match that culture by providing an equally extensive appetizer menu. Sometimes a separate section titled pivní chuťovky (snacks for beer) indicate items you consume specifically with your beer order. Seek these out to start your traditional Czech meal in Prague.
Nakládaný Hermelín - Pickled Cheese
Often translated in English menus as "Camembert cheese" or "marinated cheese," don't skip over this choice. While its sliced version looks like camembert, nakládaný hermelín tastes more complex. The cheese is pickled in a jar of oil, onions, chilis, and other spices for weeks on end. Each family and restaurant uses its own blend of pickling spices to infuse into the cheese during the pickling process. Therefore, the taste of this cheese is different from one place to another. It's a fun adventure trying out different nakládaný hermelín as you line your stomach with cheese and beer!
You can try making your own nakládaný hermelín at home! Here is the recipe.
Tatarák - Beef Tartare
Another very traditional Czech dish to eat with beer, tatarák is listed on nearly every menu in Prague. The established Czech version of this dish includes raw garlic that you rub on hot toasted bread until the grated garlic melts. Then you load up the beef onto your slice and take a garlicky, meaty bite. It was our favorite beer appetizer, and we ordered it countless times.
Buřty na Čeném Pivu - Sausages in Beer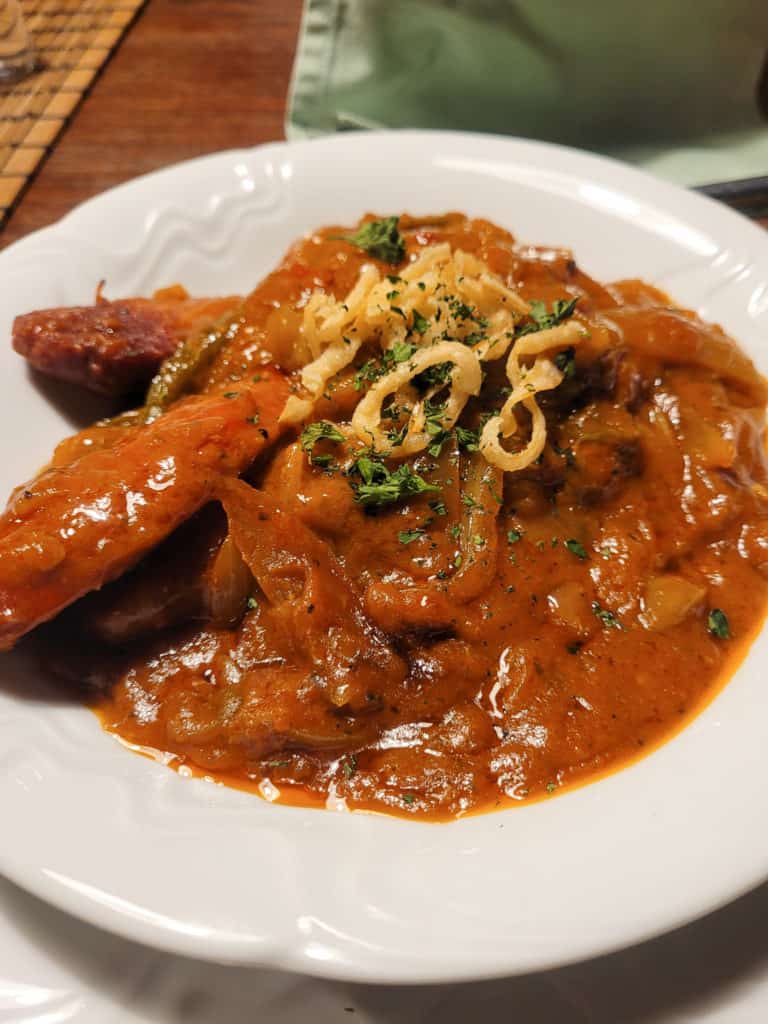 I recommend having a very empty stomach when ordering this traditional beer snack food. It usually will come in a big bowl of stewed vegetables packed with sausages. Slices of bread are needed as you scoop out all the stew juices from the bowl. It was a perfect appetizer for us on the cold winter night we chose to eat it.
Olomoucké Tvarůžky - Olomouc Cheese
Full disclosure, we had these round-shaped cheese morsels in Brno and not in Prague! However, you can find this cheese in menus across Prague as well. I think Olomouc cheese is an acquired taste, but it depends on who you ask. I found the disks of cheese to be strong and intense, but John describes them as mild. See where you land on its flavor profile by trying it as one of your appetizers.
Kulajda - Mushroom Soup
A hearty and thick soup made with cream, mushrooms, and topped with a soft-boiled egg, Kulajda is worth trying. It is a delightful soup that will make you wonder how such different flavors can meld together so well in a bowl.
Česnečka - Garlic Soup
Traditional Czech garlic soup is considered a hangover food, but this didn't stop me from having it as my appetizer during my first night in Prague. Česnečka is a broth soup loaded with minced garlic, potatoes, herbs, and croutons. The straightforward ingredients make this soup simple, but it is cleverly assembled. As you dig in, you'll be surprised to find gooey melted cheese waiting to be discovered! The soup is also delightfully light and serves as a perfect starter.
Czech garlic soup is easy to make with a few ingredients you may already have in your kitchen. See for yourself by following this recipe.
Main Dishes
We were happy to have visited Prague in the winter season. Since Czech dishes are comforting and cozy, it was not hard to fall in love with each steaming plate of food we came across. Overall, specialties in the Czech Republic proved a respite from the cold winter air.
Svíčková Na Smetaně - Beef Tenderloin in Cream Sauce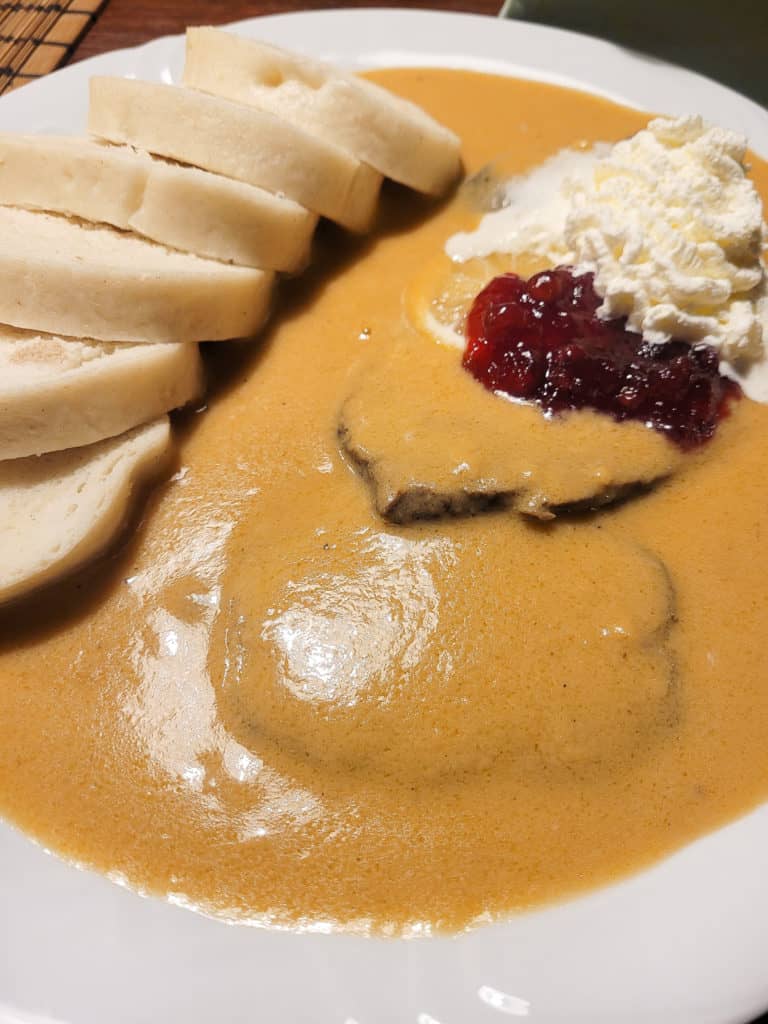 We learned early on during our stay in Prague that this classic Czech dish is made very differently across many restaurants. Slices of beef tenderloin sit in an ocean of cream sauce that each restaurant creates with its own flair. We've had many kinds of svíčková cream sauce versions, and they were all distinct. The flavor spectrum ranged from tangy carrot to heavy Christmas spices. Order this traditional dish several times to figure out your favorite style.
Moravský Vrabec - Marovian Sparrow
Spoiler alert: this dish does not contain sparrow or poultry of any kind! Though poetically named, Moravský Vrabec consists of stewed pork in brown gravy served with bread dumplings. This traditional dish hails from the Moravian region of the Czech Republic, but you can try this food in Prague. It is available as a main dish in many restaurants.
Pečená Kachna - Roasted Duck
My eyes have only recently been opened to the wide-ranging flavor profile that duck can embody. When I heard roasted duck is a standout fare in the Czech Republic, I knew I had to try it. You can order portions of pečená kachna as a quarter duck or as large as a whole duck, but a quarter of a duck is enough for two people. Expertly seasoned and slow-roasted, the Czech take on this dish turns out a juicy and tender bird.
Pečené Vepřové Koleno - Pork Knuckle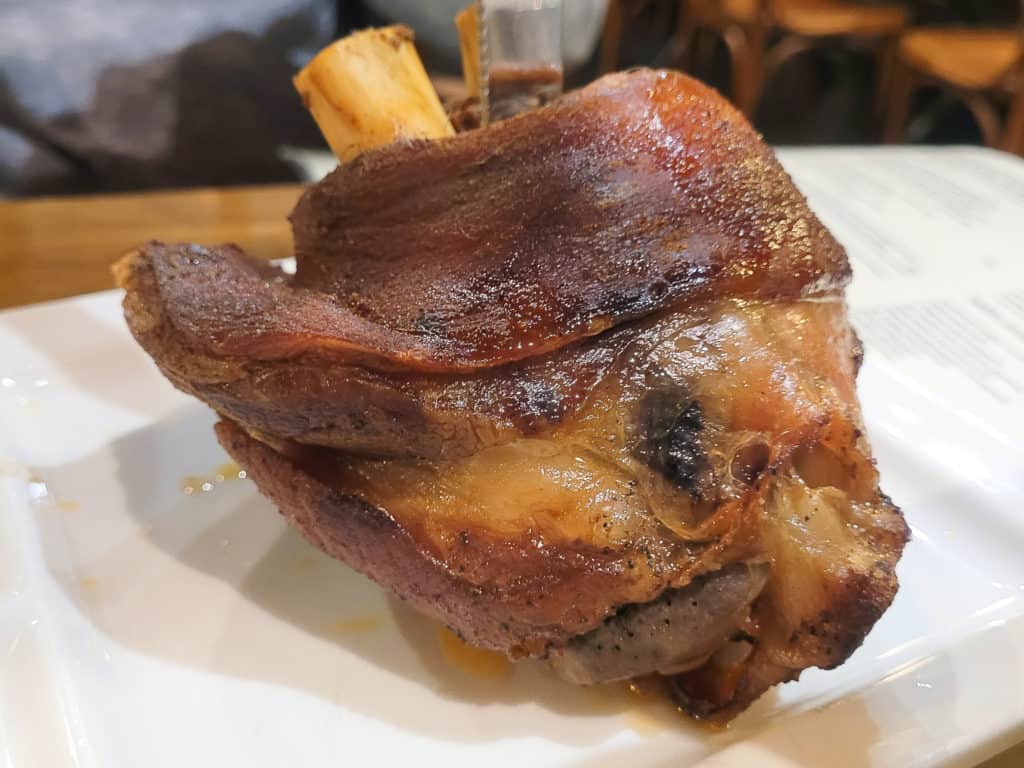 Pork knuckle is always an impressive choice for dinner, and Czechs know how to do it well. The pork knuckle we tried was full of meat, and it was so soft that the pieces fell off our forks. Paired with beer, pečené vepřové koleno is a mouthwatering dish to be shared with great company.
Smažený sýr - Fried Battered Cheese
I am not going to lie, I actually ordered this dish on accident. But when I saw this plate set in front of me, I decided to live a little and didn't bother correcting the waiter. Smažený sýr is a block of gooey cheese coated in bread crumbs and deep-fried. Despite being someone who values meat protein in her meal, I did not miss it here.
Hovězí Guláš - Goulash
This goulash is the Czech variation on the classic Hungarian meal. There is a heavier focus on tomato sauce than paprika, but it is as appetizing as the Hungarian version. Served with bread dumplings, make sure you flip the dumpling pieces over the sauce several times to ensure they absorb as much delicious, mouth-watering sauce as possible.
Dessert
I always have a second stomach for dessert, so I did not want to miss out on the traditional Czech sweet offerings after meals. The grand cafes have their cakes and featured delicacies, and you should take some time to visit a few! The specialties below are some of the lesser-known items also worth pursuing.
Dukátové Buchtičky - Bread Buns in Vanilla Sauce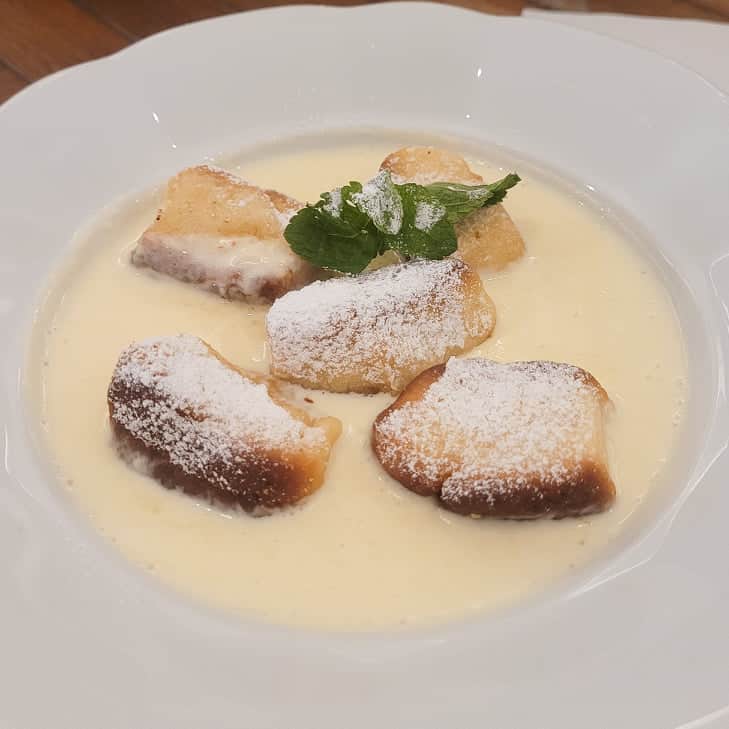 Don't be fooled by its simple name. Dukátové buchtičky is a no-frills dish that looks like it would be a heavy dessert, but in actuality is light and fluffy. The vanilla sauce that it is served with is delicate and mild, and we ditched the fork for a spoon to savor every last drop. We couldn't get enough of it!
Czech Vanilkove Rohlicky - Czech Vanilla Crescents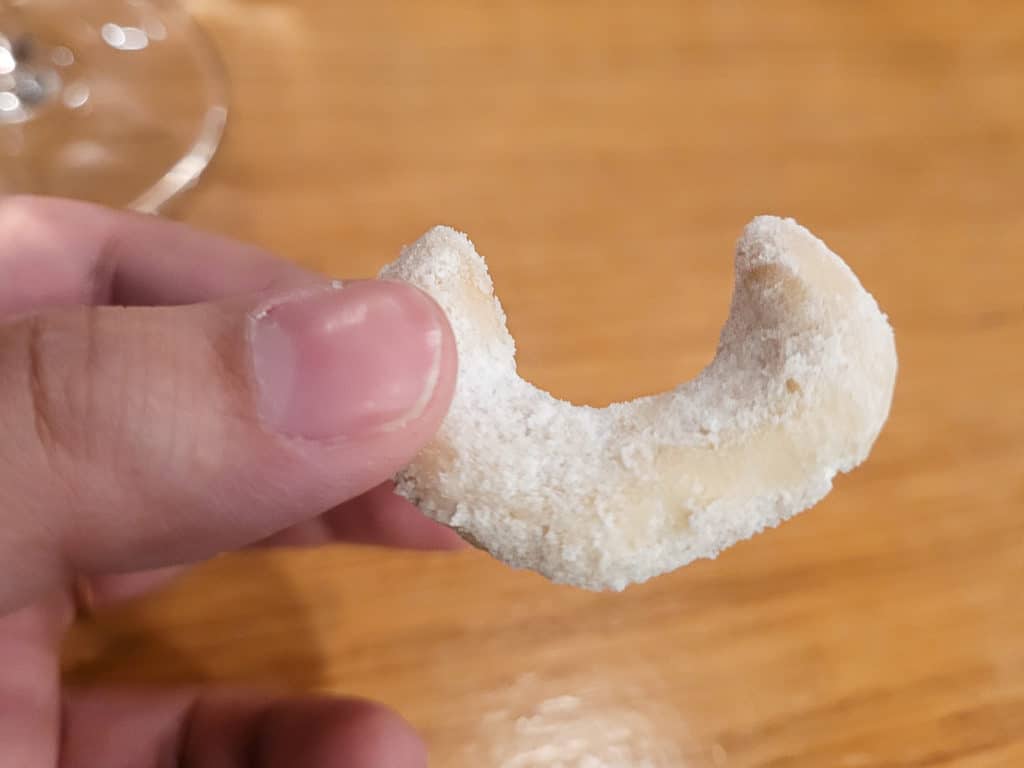 We tried this cute cookie because our food tour guide had baked some and wanted to share it with our group. Traditionally made during the holiday season, this sweet treat is a delightful morsel of goodness that will get you into the holiday spirit.
Snacks
Chlebicky - Open-Faced Sandwiches
Chlebicky is the Czech answer to Italy's cicchetti or Spain's pintxo. It is a small slice of bread topped with various savory creations that look just as pretty as they taste. We tried a few selections with some Moravian wine, a perfect pairing for a short stop in a day of sightseeing.
Wafer Chocolate - Fidorka
Another recommendation from our food tour guide was Fidorka. A sweet wafer snack similar to Austria's Mammer, this classic children's treat in the Czech Republic is a circle. We went to the grocery store several times to stock up on these treats because the size was perfect for stashing in my purse. There are many flavors available, and our favorites were white chocolate and milk chocolate with coconut.
I hope this exhaustive list has helped you find exciting food to try in the Czech Republic! Next time you are in Prague, check out my food itineraries listed below to taste some of the traditional Czech food mentioned in this post.
Tried Some of These Places?
Please leave me a comment down below telling me how your trip went. Bonus: Let me and other readers know what you did to make this itinerary more interesting - 💫 let's inspire each other!
Also, follow me on Instagram [@seesfoodwilltravel] and send me a DM of the food you tried. I would love to share and celebrate YOUR experience with our budding community 💞
Check out Sees Food, Will Travel on Pinterest and Facebook for more delicious updates.