This recipe, an ube crunch, is a version inspired by pumpkin crunch cake. Pumpkin crunch is a popular dessert in Hawaii. Instead of pumpkin puree, I used ube halaya and replaced the pecans with chopped nuts I had in my kitchen. It is buttery, creamy, and has tropical flavors thanks to the ube's unique taste and a bit of coconut milk!
Update Disclosure: This post has been updated for one or more of the following reasons: easier reading, updated photos, clearer instructions, and just plain ol' improvements to the recipe (as noted).
Jump to:
What is Ube Crunch?
A dump cake is basically a recipe that requires you to 'dump' the cake ingredients together in a large baking dish. The idea is to mix it all up before placing the baking dish in the oven. The finished product would be a solid cake.
Ube crunch is a type of dump cake made with a few ingredients such as ube halaya, extract, heavy cream, coconut milk, a box of cake mix, butter, and nuts. It involves two more steps than your typical dump cake to achieve the pretty, aesthetic layers. But it is totally worth it! The crunch comes from the streusel-like crust of nuts and baked cake batter crisped by melted butter. The middle layer is a soft filling with ube halaya (ube jam), sugar, heavy cream, eggs, and coconut milk. After the cake cools, you flip it over and top it with whipped cream!
Ingredients
Here are the essential ingredients you will need:
Ube Halaya
Heavy Cream
Coconut Milk
Ube Extract
Granulated Sugar
Eggs
Cake Mix
Butter
Chopped Nuts (your choice!)
Substitutes
Heavy Cream: You can use regular whole milk instead of the heavy cream that you add to the filling batter.
Recipe Tips
Look at Sugar Content: Since ube halaya is a premade jam, it will already contain sugar. Unfortunately, I am not able to define how much sugar every brand contains, so I start this ube crunch recipe with about half a cup of added white sugar.

Taste test your ube halaya to check whether you should add more sugar. If you are using unsweetened ube puree, use 200 grams of sugar or about one cup.
Be Gentle with the Cake Mix: When you add the cake mix on top of the batter, be careful not to break the surface area. This way, you can make sure you have a clearly defined layer of filling and crust.
Go Nuts: I use a variety of nuts to add to the cake mixture which includes hazelnuts and walnuts. But pecans and macadamia nuts would add some tasty flavor to the cake as well.
How to Make Ube Crunch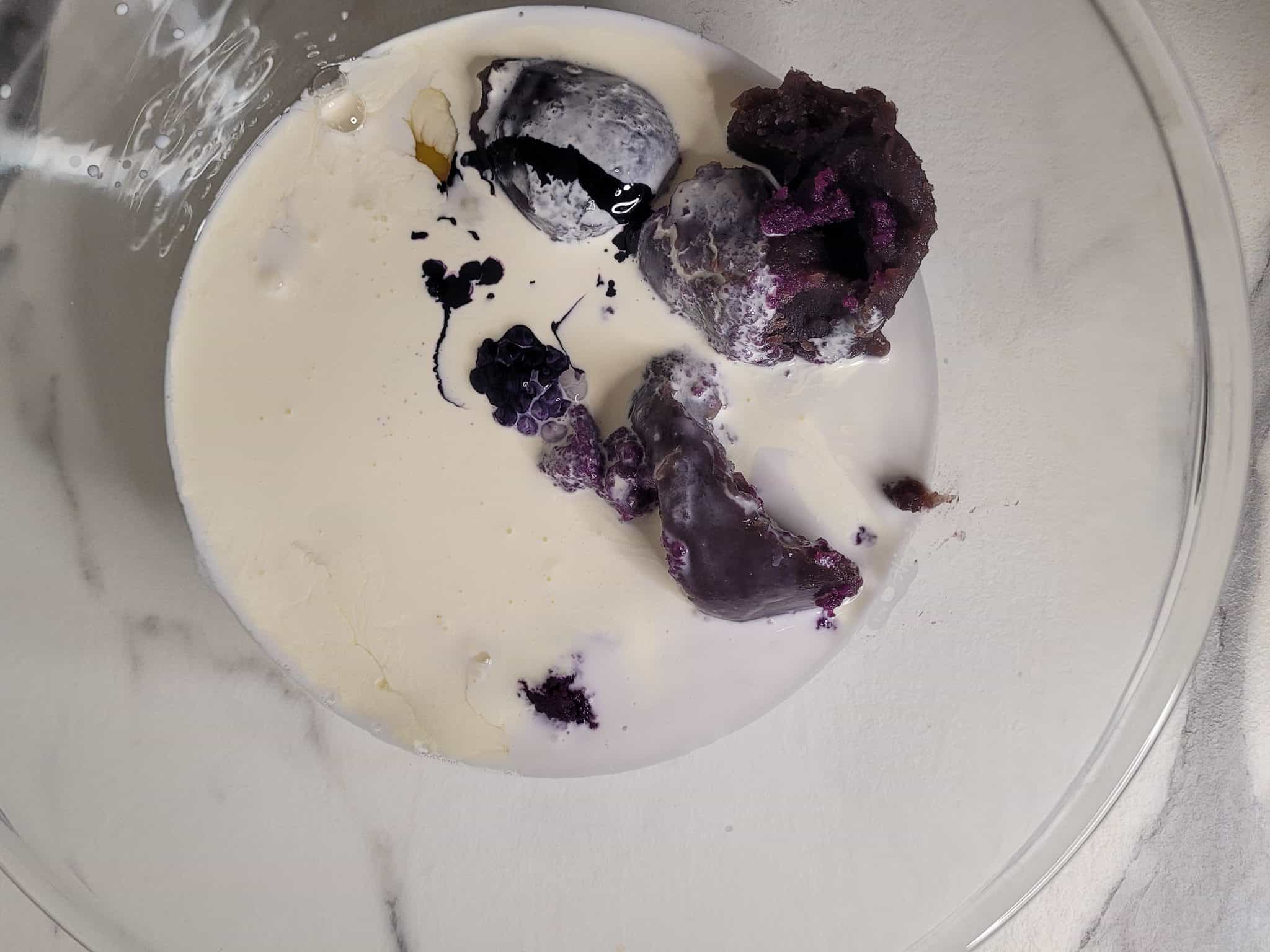 This is a one bowl type of recipe - yay, less dishes! Start by preheating your oven to 180°C (350°F) and then check out the simple steps below:
Add the ube halaya, coconut milk, heavy cream, eggs, sugar, ube extract, and coconut milk and whisk all the ingredients together.
Butter and line a baking dish with parchment paper and pour in the ube batter.
Gently top with cake mix, add melted butter, then top with nuts.
Bake for one hour and then let it sit on the counter to cool completely.
Flip the ube crunch upside down on a plate and release from the baking dish.
Make a whipped cream topping and spread on top.
Let it Sit in the Fridge
These get better in the fridge! Once the cake has cooled completely, let it sit in the fridge for a day before cutting and serving. The pieces become more solid making it easier to handle. The flavors are more pronounced and rich!
Ube Crunch Cake
This ube crunch cake takes inspiration from the pumpkin crunch cake. It has a creamy filling in the middle and a crunchy, nutty, buttery crust.
Ingredients
Filling
400

grams

ube halaya

240

grams

heavy cream

115

grams

coconut milk

1

teaspoon

ube extract

or more for preference

100

grams

sugar

less or more depending on how ube halaya sweetness

3

eggs
Crust on Top
150

grams

chopped nuts

options: walnuts, macadamia nuts, pecans, hazelnuts

432

grams

cake mix (1 box)

225

grams

melted butter
Instructions
Preheat the oven to 180°C (350°F)

In a bowl, add ube halaya, eggs, sugar, heavy cream, ube extract, and coconut milk. Mix until smooth.

Pour into a buttered and lined 23x33cm (9x13 inch) baking dish.

Gently sprinkle the cake mix on top of the filling and then drizzle with the melted butter.

Add the nuts, making sure that the cake mix doesn't sink into the filling. Slowly and gently place into the preheated oven and bake for 60 mins.

Once baked, remove from the oven and let it cool completely.

Flip upside down and release from the baking dish. Top with whipped cream (optional) before serving
Nutrition
Calories:
485
kcal
Carbohydrates:
40
g
Protein:
6
g
Fat:
35
g
Saturated Fat:
18
g
Polyunsaturated Fat:
7
g
Monounsaturated Fat:
8
g
Trans Fat:
1
g
Cholesterol:
104
mg
Sodium:
393
mg
Potassium:
137
mg
Fiber:
1
g
Sugar:
24
g
Vitamin A:
824
IU
Vitamin C:
0.4
mg
Calcium:
117
mg
Iron:
2
mg
Disclaimer: Nutritional values were calculated with the Spoonacular Food API and should be used for informational purposes only.
Have You Tried This Recipe?
Simply rate the recipe by clicking on the ⭐️s on the recipe card. Have something to say? Please leave me a comment down below telling me what you think of this recipe.
Bonus: Let me and other readers know what you did to make this recipe your own - 💫 let's inspire each other!
Also, follow me on Instagram [@seesfoodwilltravel] and send me a DM with a picture of what you made. I would love to share and celebrate YOUR creation with our budding community 💞
Check out Sees Food, Will Travel on Pinterest and Facebook for more delicious updates.