Khinkali - the fist-sized soup dumplings of the Caucasus that easily rivals Taiwan's xiao long bao. They are similar to mini water balloons, but made of dough. Inside you'll find a hot, soupy filling of minced spicy meat. Georgia's capital, Tbilisi, is obviously home to the best khinkali restaurants in the world, and this list helps you narrow-down where to eat some of them in the city.
Jump to:
I've eaten my fair share of khinkali over the three years and counting of living in Tbilisi. The restaurants on this list are ones I visit again and again due to the consistency of their dumplings and quality of filling.
Background & Culture
The soup dumpling arrived in the Caucasus highlands in the 13th century, thanks to the expansion of the Mongolian empire. As khinkali was adapted in the mountain regions, lamb meat was originally the choice for its filling. Later on, a combination of pork and beef became the more sustainable option. Other fillings also emerged from the mountains while others were developed in the cities.
Khinkali has long made its way to Tbilisi and has since established itself as one of the nation's renowned dishes. For a local Tbilisi restaurant experience, order a large plate of them as your entire meal and request a pint of draft beer to mirror the ales brewed in the mountains in place of wine.
Different Types of Khinkali
The most traditional khinkali filling is a mixture of different types of meat with a blend of spices. Water is added to achieve the soup dumpling effect. Restaurants add or tweak a recipe to create types of khinkali that distinguish themselves from each other.
City vs. Mountain Style
Kalakuri: Also known as "city-style" khinkali, the filling of these dumplings includes chopped herbs such as parsley or cilantro.
Mtiuluri | Mokhevuri: Mtiuluri is a conjugated word of "mountain" in the Georgian language. These are commonly known as "mountain-style" khinkali. In menus, it signifies that it doesn't contain herbs. Just meat, spices, and broth. But the best ones will have some heat from crushed chili flakes!
Regional Types
Telavuri: Mixed meat with cumin as the main seasoning and made similarly to the Mtiuluri type with no herbs.
Tushuri: This could describe any khinkali from Tusheti. One example can be a lamb and beef blend with Tushetian spices. Another Tushuri filling is a mix of Tushetian cheese and mashed potatoes.
Other Fillings
Lamb: Some mountain regions use ground lamb meat instead of beef or pork. This filling comes from the traditional style of making khinkali, but they are harder to find in the city.
Garlic: A classical filling from the mountains. A simple spread of garlic and sour cream on enclosed dough is all it takes to make this style.
Cheese: There are a variety of cheeses that can go in khinkali, the common one being nadughi, a cross between cottage and ricotta cheese.
Potato: Sometimes you'll find a filling made with lightly seasoned potatoes, but other times potatoes mashed with melted cheese.
Dambalkhacho: This type of moldy cheese has notes between brie and blue cheese; a special product that hails from the mountain villages. Inside the dumpling, it takes on its melted, gooey form so when you take a bite, the cheese fills your mouth with its pungent taste.
Mushroom: You'll notice that mushroom ones have an elongated shape different from others. That's because this filling is heavier so their bottoms tend to stretch. Inside you'll discover minced mushrooms and fresh herbs stuffed in the dough casing.
How to Eat Khinkali
First of all, khinkali will come out piping hot. One rule for eating them is to eat with your hands. Let it cool for a few minutes so you can handle the dumplings. Another thing to consider is whether to add black pepper powder prior to eating.
Hold it upside down by the tail (called kuchi, which means "stomach" in Georgian)
Bite a small hole along the fold
Suck out the soup slowly and carefully
Eat the khinkali until only the kuchi remains
Leave the kuchi on your plate right side up
Keep track of how many you've eaten by counting the kuchis
Khinkali Restaurants Map
You can skip the rest of the article and go here to see a map of some of the best khinkali restaurants in Tbilisi mentioned in this article.
Where to Eat the Best & Tastiest Khinkali in Tbilisi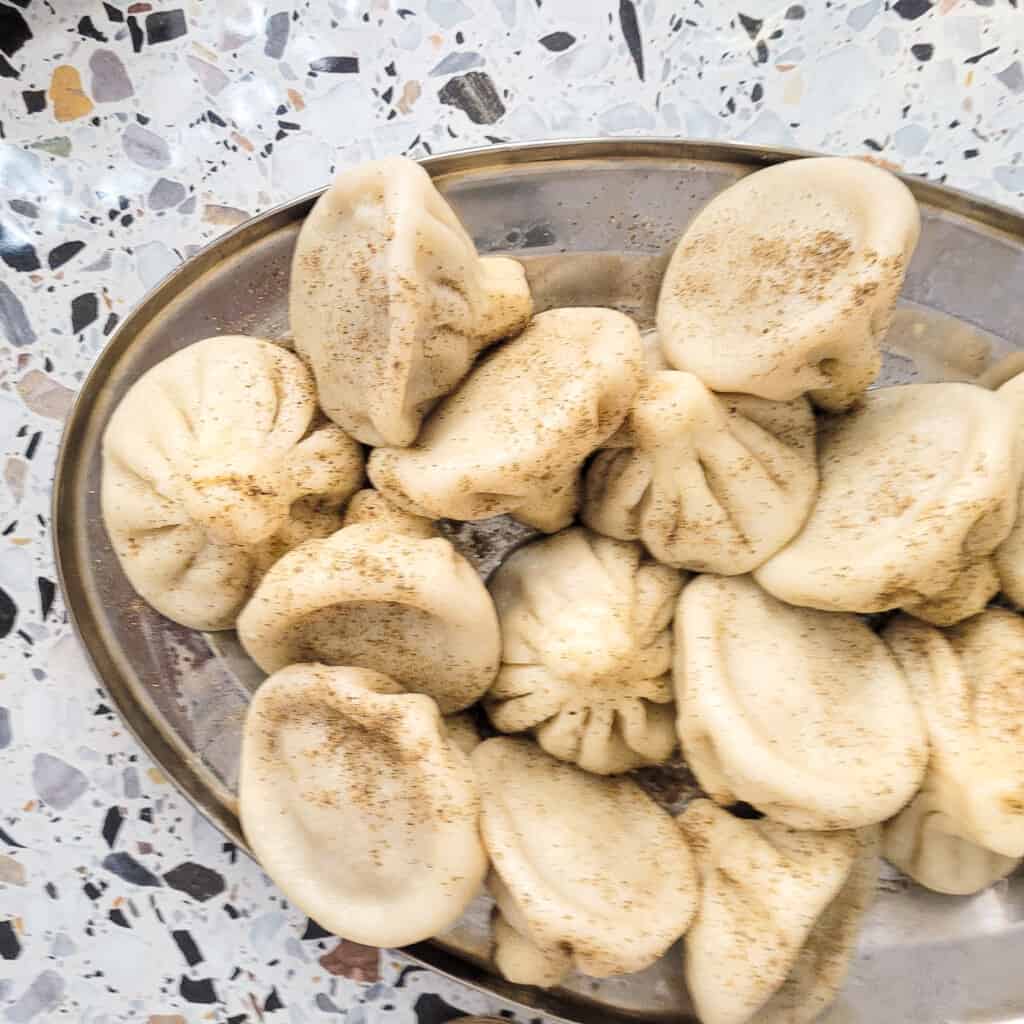 Shemomechama means "I accidentally ate everything even though I'm full because it was so good," and they live up to their name. You can watch the Georgian women, experts of khinkali, through large bay windows crafting their dumplings. I enjoy this restaurant because it's a great introduction to hand-wrapped juicy khinkali with a tasty broth.
Zodiaqo is popular for its deep-fried khinkali that manages to maintain its structure despite being filled with soup. The restaurant also features Telavuri khinkali where they use a special blend of spices from Kakheti, namely cumin. They have locations both in Tbilisi and Telavi.
Pasanauri, named after a village popular for their khinkali, is a Georgian chain restaurant and you'll find their eateries scattered throughout Tbilisi. Their menu boasts a wide variety of dumplings and other Georgian dishes. Try their house version or the other special, dubbed Pasanauri khinkali, with their own blend of spices.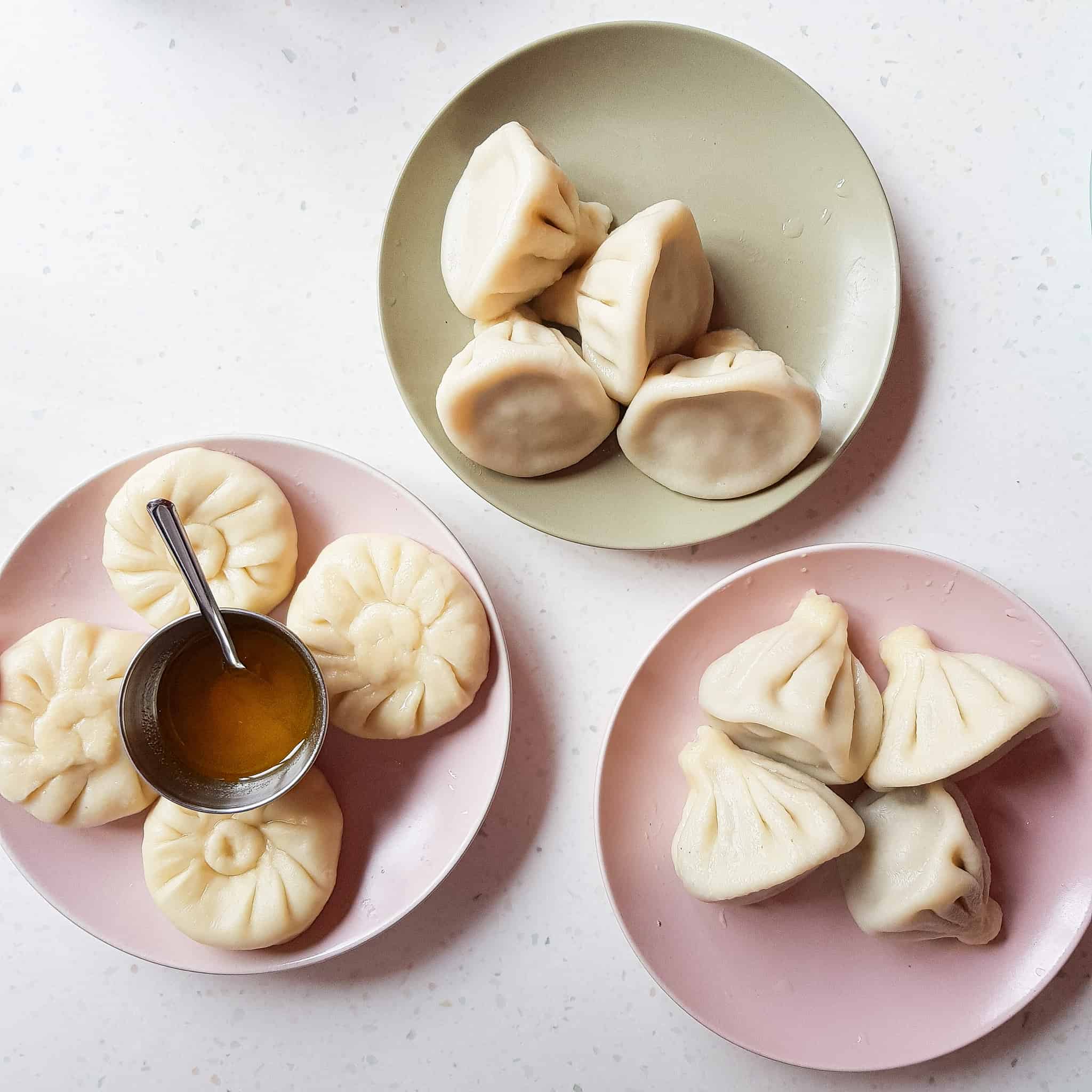 You can find Cafe Daphna, a modern-style Georgian restaurant, near the picturesque April Park and close to the Dry Bridge,. The dough here is thicker than most others on this list. Their mtiuluri khinkali is perfectly spicy with just a pop of heat. Be sure to try their well-blended cheese and potato filling. They also have a lightly pan-fried dambalkhacho as an option.
Asi means "hundred" and this restaurant does invite you to try all of their khinkali in their classical Georgian setting. Here, you can also try dambalkhacho with boiled skin and a looser cheese consistency. They also have a chef's special on their menu - the meat filling is blended with minced tarragon.
This local Tbilisi restaurant is my personal favorite! Chemo Kargo has a few locations which are located outside Old Town, and my preferred location is in the Nadzaladevi neighborhood. They offer a spicy, well-blended mokhevuri khinkali with the most tender meat in this list.
This restaurant in Tbilisi serves as a sports bar and a draft beer house while staying open all day long. They have a loaded menu that accommodates all types of palettes and appetites, but locals know to come here for beer and khinkali. The kalakuri along with their house lager is a good option to start (or end!) a night with friends. Their loaded mushroom khinkali consists of chunky pieces ladened with minced herbs.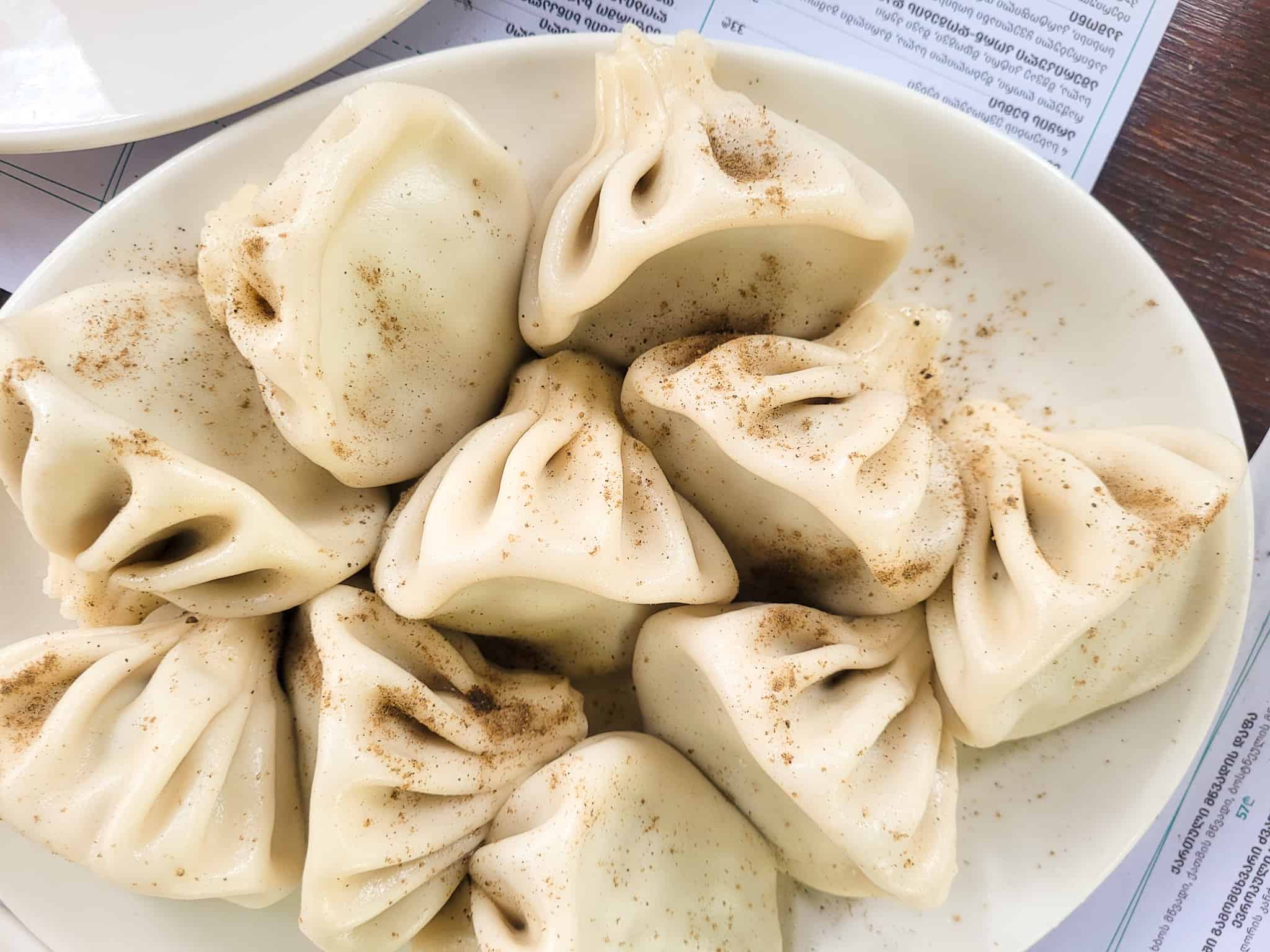 You'll find this restaurant hidden in the trees between the Vake and Saburtalo neighborhood. On sunny days, you can sit outside in front of their restaurant. Try their unique "Bebo" style (a special recipe) and another type with sulguni cheese filling. They have an assortment of foreign draft beer to choose from.
If you enjoy plump dough, you may want to add Amo Rame Bani to your list. The menu will only have three options for you. But they are some of the prettiest to look at. Their fluffy, chewy dough is best paired with the lightness of their nadughi cheese filling.
Veraze is a small restaurant in the Vera neighborhood, and I recommend you visit during the day just after lunchtime so you can have plenty of seats to choose from. Here, you can try three types on their menu that you won't typically find in other restaurants in Tbilisi: Tushuri spices with a meat blend, tarragon flavored dough, and garlic cheese.
I was skeptical about trying this German beer hall's khinkali. But once I tried them, I realized why a local resident recommended it to me. Their dough is the thinnest on this list, and yet they do not fall apart. Once you bite into them, the skin melts in your mouth! The juicy filling is well-balanced, not too salty, and you can easily consume a lot. Their mtiuluri khinkali is tasty, filled with spices from the mountains and a healthy amount of red pepper.
BONUS: For Adventurous Palates
The best way to enjoy Georgian dumplings is with a large frosty mug of beer. But Megobrebi Brewery, a top-notch craft beer company in Georgia, has decided to combine the flavors of khinkali and beer in one glass! You can try their "Khinkalian" beer or their limited edition mushroom khinkali brew. Tsota Tsota Pub, the brewery's taproom, have cans readily available for you.
Try Them at Home!
You can easily make these Georgian dumplings even if you aren't going to Tbilisi any time soon or you don't have a Georgian restaurant near you. This meat khinkali recipe is straightforward and I give you easy steps to follow.
Frequently Asked Questions
How much does khinkali cost in Tbilisi?
In 2023, expect the price of one piece in Tbilisi restaurants to cost between 1.40 - 1.80 GEL for fillings such as kalakuri or mtiuluri. Specialized khinkali, such as those filled with dambalkhacho, can cost up to 4 GEL per piece.
How do I order khinkali in a restaurant?
Most restaurants have a minimum order requirement that starts at five per type of khinkali. You can also ask if they have a minimum order before you make your selections.
Where can I get vegetarian khinkali in Tbilisi?
The typical meatless options are potato, cheese, a combination of both, or mushroom. You will be able to order meatless khinkali at all the restaurants on the list above.
Where can I find authentic khinkali in Georgia?
For a rustic experience from the original source, visit a town in Pshavi or Tusheti for some homemade guesthouse dumplings. The mountain village of Pasanauri is conveniently located outside Tbilisi, on the way to Kazbegi. There you can stop and also try ones from generational experts of khinkali-makers. Khinkali has taken on many forms and Tbilisi's own kalakuri "city-style" with chopped herbs is authentic itself. 
Curious for More Tbilisi Food Guides?
Check These Out 😎
Tried Some of These Places?
Please leave me a comment down below telling me how your trip went. Bonus: Let me and other readers know what you did to make this itinerary more interesting - 💫 let's inspire each other!
Also, follow me on Instagram [@seesfoodwilltravel] and send me a DM of the food you tried. I would love to share and celebrate YOUR experience with our budding community 💞
Check out Sees Food, Will Travel on Pinterest and Facebook for more delicious updates.