If you want the TL;DR version go here and if you want to check out another Prague food guide, read this.
John and I had an amazing time during our last night in Prague. What we thought would be a tiring evening turned out to be a wonderful gastronomic adventure walking the empty streets of the Golden City one last time. My favorite part was finding a restaurant in Prague that served one of the best pork knuckles I've ever had. We even managed to snag a table at Café Imperial for a nightcap of dessert and mulled wine! It was the perfect ending to a somewhat hectic trip (thanks COVID) and I felt compelled to share our experience with you.
The Struggle Train Back to Prague
Our three-week trip in Europe was coming to an end. John and I had made our way to Poland after some frantic re-bookings due to the COVID lockdowns eliminating half of our plans. Going to Krakow, Poland was one of the best surprises of my life and I can't wait to write about it! But I digress...
Inevitably, we had to make our way back to Prague because we planned to fly out of Europe from there. After a long night of drinking in Krakow, we hopped on a six-hour train ride. Having eaten nothing but a sandwich and four pieces of chocolate, we were ravenous by the time we pulled into Praha main station. We crossed the street to our hotel, Miss Sophie's, and flopped on our beds trying to figure out what to eat for our overnight stay in Prague.
Finding a Place to Eat Pork Knuckle in Prague
John wanted one last mug of hladinka, so I googled the closest pub and Bredovský Dvůr came up first in my search. Featuring a short tank to tap distance of three meters, a fresher and more flavorful beer can be served and enjoyed. But we were there to eat a big dinner, and I did not know about the popularity of pork knuckle in Prague. I also didn't know that Prague is where you should come to eat some of the best pork knuckles in the world. We ordered their beef tartare and made a plan to share the pork knuckle as well as one last svíčková.
An Excellent Dinner in Prague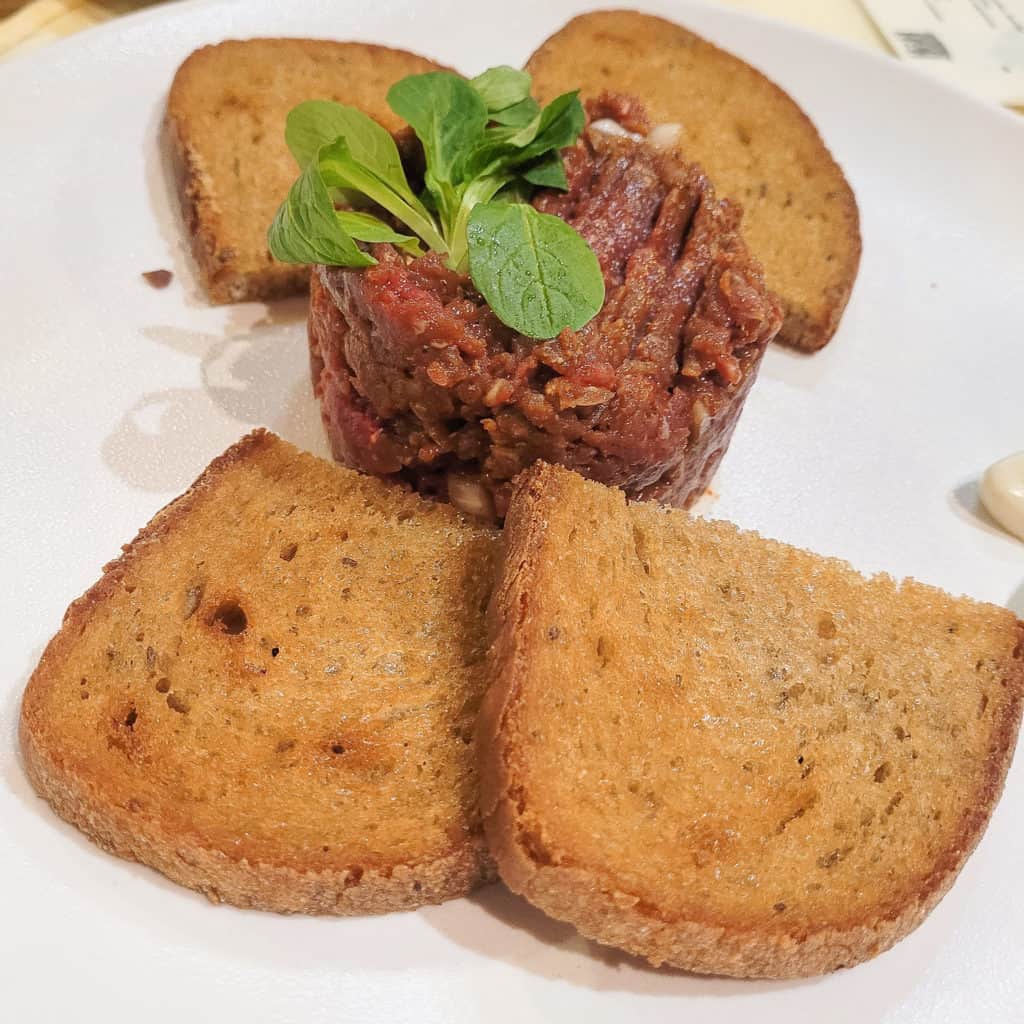 At this point in our trip, we had become quite the garlic rub masters. So we each hastily grabbed a clove to furiously rub against buttery, toasted bread. The bread was still so piping hot that it melted the grated garlic, turning it into a spread. John swiftly added his tartare with newly earned expertise and inhaled while taking a bite. When he finally got to breathe, he exclaimed that it was his favorite beef tartare of our whole time in Prague!
The svíčková came next and the tenderloin was soft, albeit a little chewy for my preference. The cream sauce distinguished itself with a strong presence of allspice and its darker color. Perhaps there was also a hint of cinnamon? I quickly gave up trying to identify the ingredients because I just really wanted to enjoy it! If you want a deeper and richer svíčková, this is the one to get.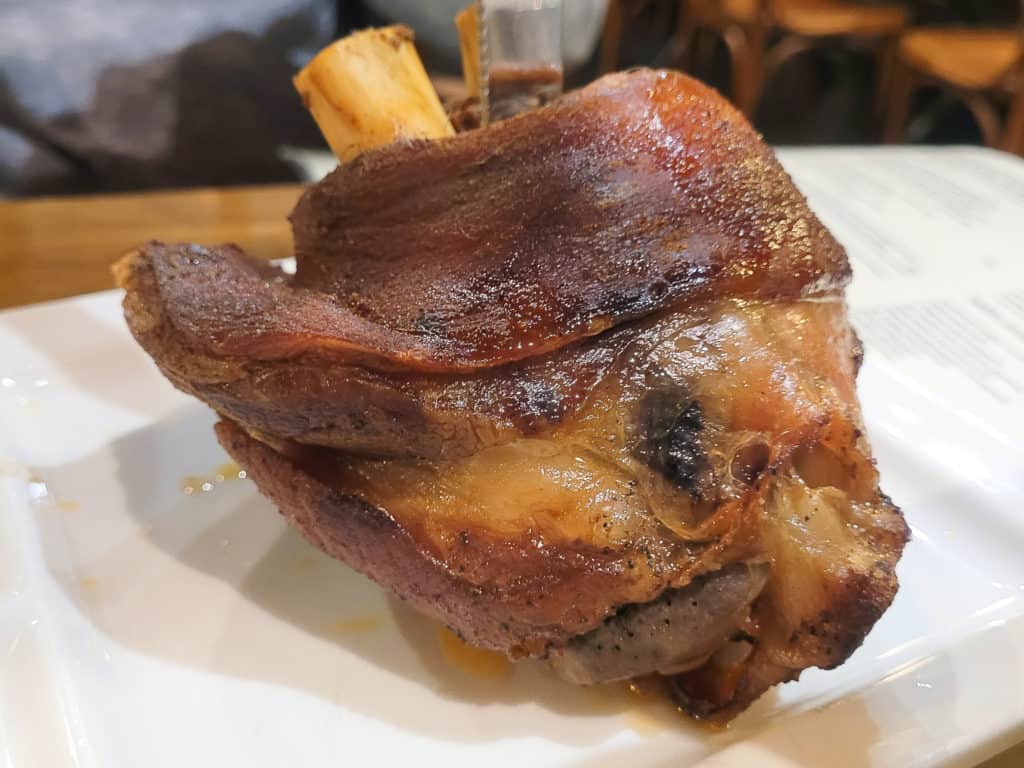 The pork knuckle arrived soon after. Now, I am not an expert on where to eat pork knuckle in Prague, but I have a hunch that this one should be on the list. I highly recommend you add this place to your list.
Weighing one kilo with the bone, the pork knuckle looked succulent with its shiny and crispy layered skin. The meat felt tender as John effortlessly sliced a piece that dripped with melted fat juice glistening under the light. The taste was the closer. Its delectable seasoning served spicy and sweet meaty notes. I almost forgot I was eating pork until John mentioned how much meat there was for a pork knuckle. The rest of the meal was spent eating quietly as we attempted to gobble down as much as possible.
Dessert at Café Imperial
If you have been to Prague you have probably come across the city's grand cafes. Café Imperial does not disappoint in living up to the word "grand". Usually, a reservation will guarantee you have a table waiting for you because the last-minute crowds can cause an hours-long wait. At certain times, those without a reservation will be turned away. But if you come early for breakfast, you won't need a reservation. It's also possible if you come late-night right before closing, there could be some tables available.
Since the lockdown mandated a 10 PM close time for restaurants, we arrived at Café Imperial just before 9 PM and managed to snag a table. We each ordered a serving of mulled white wine and one crème brûlée to share. Because my eyes are bigger than my second stomach for dessert, I convinced John to get the Imperial cake from their front cake display.
It may look like we overdid it to some, but I do not regret it. I visited a restaurant that served one of the best pork knuckles I have ever had, even though it was not on my list for Prague. A night that started with some struggle ended up being a fulfilling evening filled with delicious food in some very special places. With that said, Prague, I will be back!
Dinner in Prague Breakdown
💡 Make a reservation prior to visiting, order a lot of beer
Recommended:
Tatarský biftek (Czech beef tartare)
Svíčková (beef tenderloin with cream sauce)
Pečené vepřové koleno (roast pork knuckle)
💡 Make a reservation prior to visiting, check the cake display before you sit down
Recommended:
Imperial cake
Mulled white wine
Crème brûlée
Curious for More Food Guides?
Check These Out 😎
Tried Some of These Places?
Please leave me a comment down below telling me how your trip went. Bonus: Let me and other readers know what you did to make this itinerary more interesting - 💫 let's inspire each other!
Also, follow me on Instagram [@seesfoodwilltravel] and send me a DM of the food you tried. I would love to share and celebrate YOUR experience with our budding community 💞
Check out Sees Food, Will Travel on Pinterest and Facebook for more delicious updates.