Cut to the chase and click here to get to the meal destination breakdown. Check out my other Prague food guide here!
Welcome to my travel post where I take you through a single-day itinerary I created and executed myself! I love making plans and lists; I even had a planning position for one of my past jobs! Far from being a type-A person, one of the only ways I organize before a trip is to type out an itinerary in an Excel document. On top of writing down what we plan to see during the day, I also determine what and where we will eat. This guide for breakfast, lunch, and dinner in Prague was no exception. A city that is as deep and wide as Prague requires extensive research, especially when one has limited time. I hope this guide can help you make the most out of your itinerary whether or not you have already started one.
I will be honest and say that I plan a lot of itinerary activities around the food I want to eat or restaurants I want to visit. So this guide isn't so much about what you want to do as it is about restaurants you can potentially visit for a great meal. But don't worry, I will provide a list of suggested sightseeing places to visit between your food destinations!
Relive the Past at Café Imperial
Immerse yourself in history as you start your morning in the cafe attached to the historical Imperial Hotel built in the early 1900s. Enjoy the art nouveau decor as you sip your coffee and chat with the friendly servers. Our breakfast included a plate of eggs Benedict and the soft-boiled eggs with chives that our server enthusiastically recommended. We highly recommend the soft-boiled eggs that you scoop with a spoon and spread on toast.
Some Places to See Between Breakfast and Lunch
Café Imperial is just a stone's throw away from the Powder Tower, and you can easily see this original city gate by walking a mere five minutes southwest from the cafe. Climb up the tower to get a view of Prague Old Town. Namesti Republicky, also the location of Prague's largest shopping center, the Palladium, is the closest square to Café Imperial. The area provides a great walking opportunity to window shop and burn off some of those breakfast calories. Further, into Old Town, walk towards Old Town Square to take a few shots of Prague's world-famous Astronomical Clock and the towering Church of Our Lady before Týn.
Don't be afraid to weave in and out of side streets and alleys in Old Town, they almost always lead you to something surprising! One of our favorite discoveries is the Franciscan Gardens, a green space deep in the heart of Old Town, tucked away behind a busy street and shopping center. Another favorite was Havelská Street, a quiet side street that hosts a local open-air market where you can buy souvenirs in peace. At the end of the road, there is also the street's namesake, the picture-worthy Havelská Church.
Lunch at Zakladna, a Hidden Gem in Plain Sight
If you are someone who has already started researching food destinations in Prague, I am sure you have come across Lokal Dlouha, a restaurant with multi-tap beers. No doubt you should take time to make the pilgrimage to this famous hotspot during your trip. But my recommendation for a solid lunch in Prague is just across the street, a place called Zakladna. With its high ceilings and modern atmosphere, you will find a slightly more upscale, yet casual fare. You can choose to find a seat on the benches in the front tables for a beer and snack. Another option is to request a table in the larger restaurant section for a seated meal.
We enjoyed a hearty lunch with mugs of refreshing beer. The dishes we ordered included schnitzel and smažený sýr, a square of breaded and fried semi-hard cheese served with french fries. In line with the majority of pub services in Prague, the servers are attentive in making sure you get a beer refill before your last two gulps. Needless to say, we felt like we needed to do a lot more sightseeing after lunch!
Ditch the Crowd and Explore a Neighborhood Before Dinner
During our time in Prague, we stayed in a local neighborhood in Prague 3 at a rental between Vinohrady and Žižkov, an area experiencing a serious glow-up. You can easily spend an entire day dedicated to this area in Prague eating through breakfast, lunch, and dinner. We decided to take our time walking uphill (newsflash: Prague is hilly!) to get through Riegrovy Sady. This park is filled with panoramic views and boasts a beer garden and rooftop restaurants. It is also a fun place to scope out cute dogs! Further into the neighborhood, we also managed to look at the Žižkov Television Tower and The Church of the Most Sacred Heart of Our Lord which curiously has a large clock that sits on top of it.
Continue the Indulgence With Dinner at Spravovna
By this time you should be starving – those hills are no joke! Spravovna is a modern take on the traditional Czech pub. Clean, fresh mugs are filled with pilsner lager, and hit your table before you even make your dinner choices.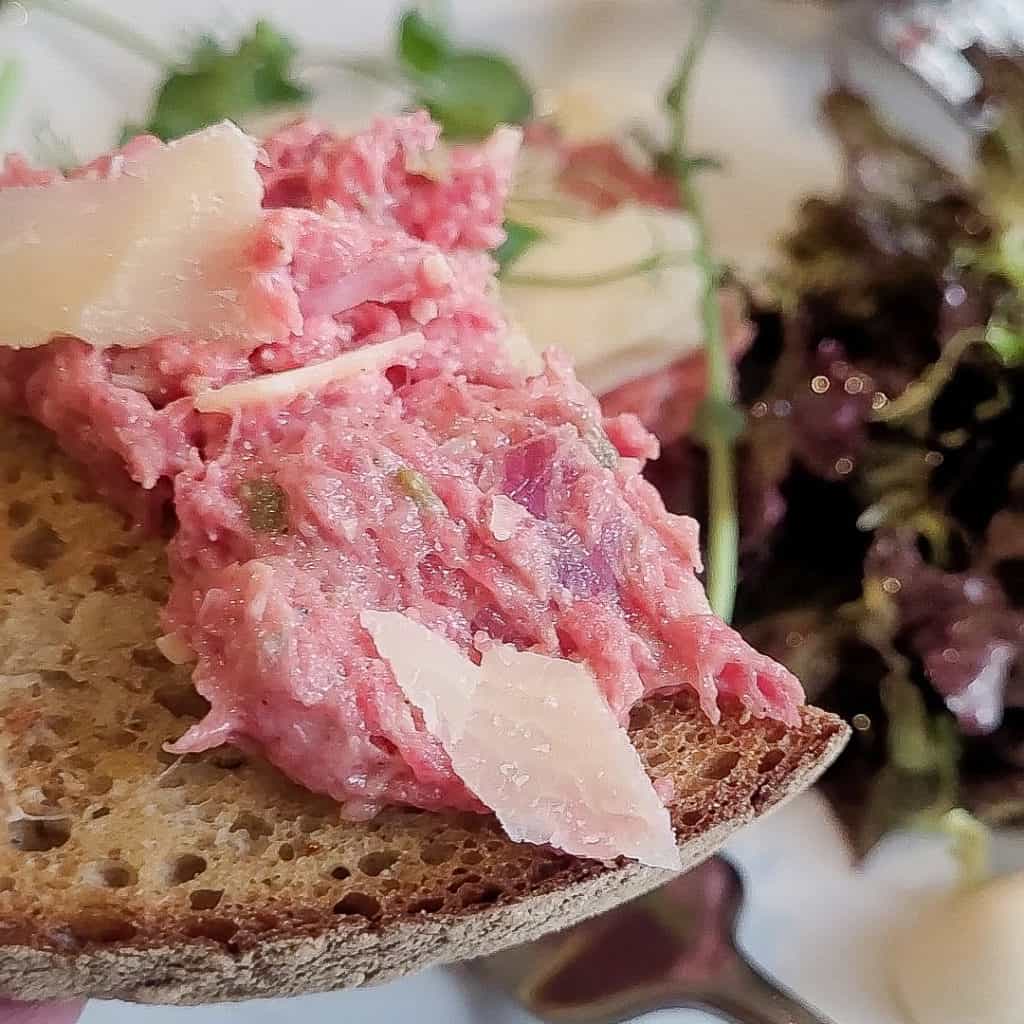 Before the main courses, we ordered the Spravovna beef tartare, served with toasted slices of bread and whole, raw garlic cloves. I can best describe their take on this Czech delicacy as rich and light simultaneously. There is a systematic process to eating the tartare. Start by taking a piece of raw garlic and rubbing it on toasted bread until you make grated garlic. Then add chunks of the beef tartare, take a large meaty bite, and chase it with a swig of beer!
Our meal included the roasted pork belly, placed on top of a medley of buttery potatoes and creamed spinach. The dish is also piled high with crispy onion strings. The pork belly is soft and you will not need a knife whatsoever because the pork will melt in your mouth!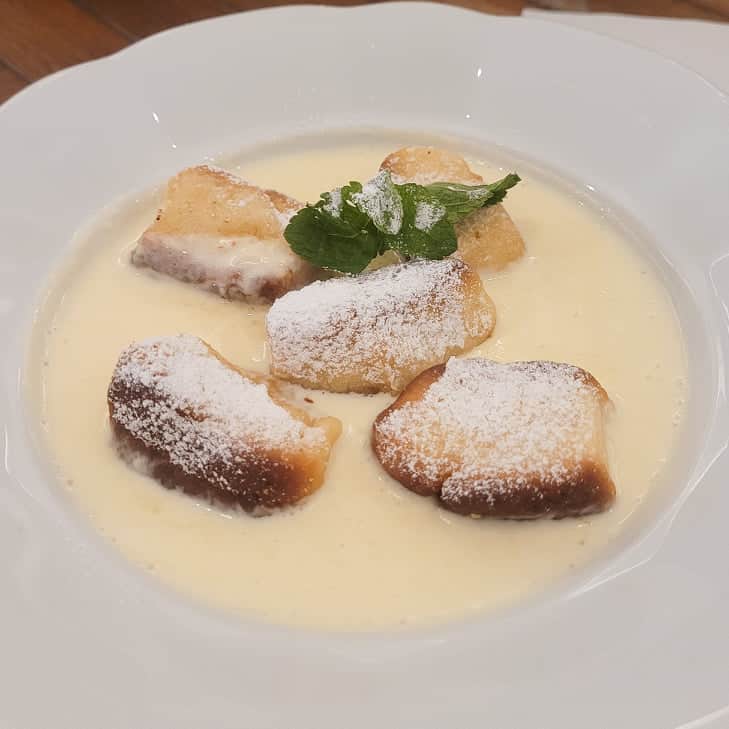 Bonus: Needless to say, this was an overtop dinner, but we did manage to visit Spravovna twice and got to try more of their offerings. If you can manage it, I highly recommend their dessert, dukátové buchtičky, dumpling buns with vanilla egg cream topped with a sprinkling of powdered sugar. This surprisingly delicate dessert makes for a wonderful ending traversing Prague.
Breakfast, Lunch, and Dinner in Prague Breakdown
💡 No need for reservations before 11 AM; Reserve weeks in advance for lunch or dinner
Recommended:
Eggs Benedict
Soft-boiled eggs with chives & parmesan
💡 Make a reservation online before coming; front seating is first-come, first-serve (based on our experience)
Recommended:
Smažený Sýr (fried cheese)
Mlíko pivo (milk style beer)
Recommended:
Hovězí tatarák SPRAVOVNA (beef tartare)
Pomalu pečený vepřový bůček (pork belly)
Dukátové buchtičky (sweet buns with vanilla cream)
Tried Some of These Places?
Please leave me a comment down below telling me how your trip went. Bonus: Let me and other readers know what you did to make this itinerary more interesting - 💫 let's inspire each other!
Also, follow me on Instagram [@seesfoodwilltravel] and send me a DM of the food you tried. I would love to share and celebrate YOUR experience with our budding community 💞
Check out Sees Food, Will Travel on Pinterest and Facebook for more delicious updates.