Finding a decent cup of coffee is essential for most travelers, but in Budapest it is a ubiquitous need that has been embedded in its culture from the days of the grand cafes. To say that this city has a strong coffee culture is an understatement. Finding where to drink coffee in Budapest is an easy task. Cafes old and new exist, and in this city there is room for everyone. Though this post is dedicated to third-wave coffee shops, this coffee guide also include options for a range of experiences. Let's dive right in so you can get your caffeine fix!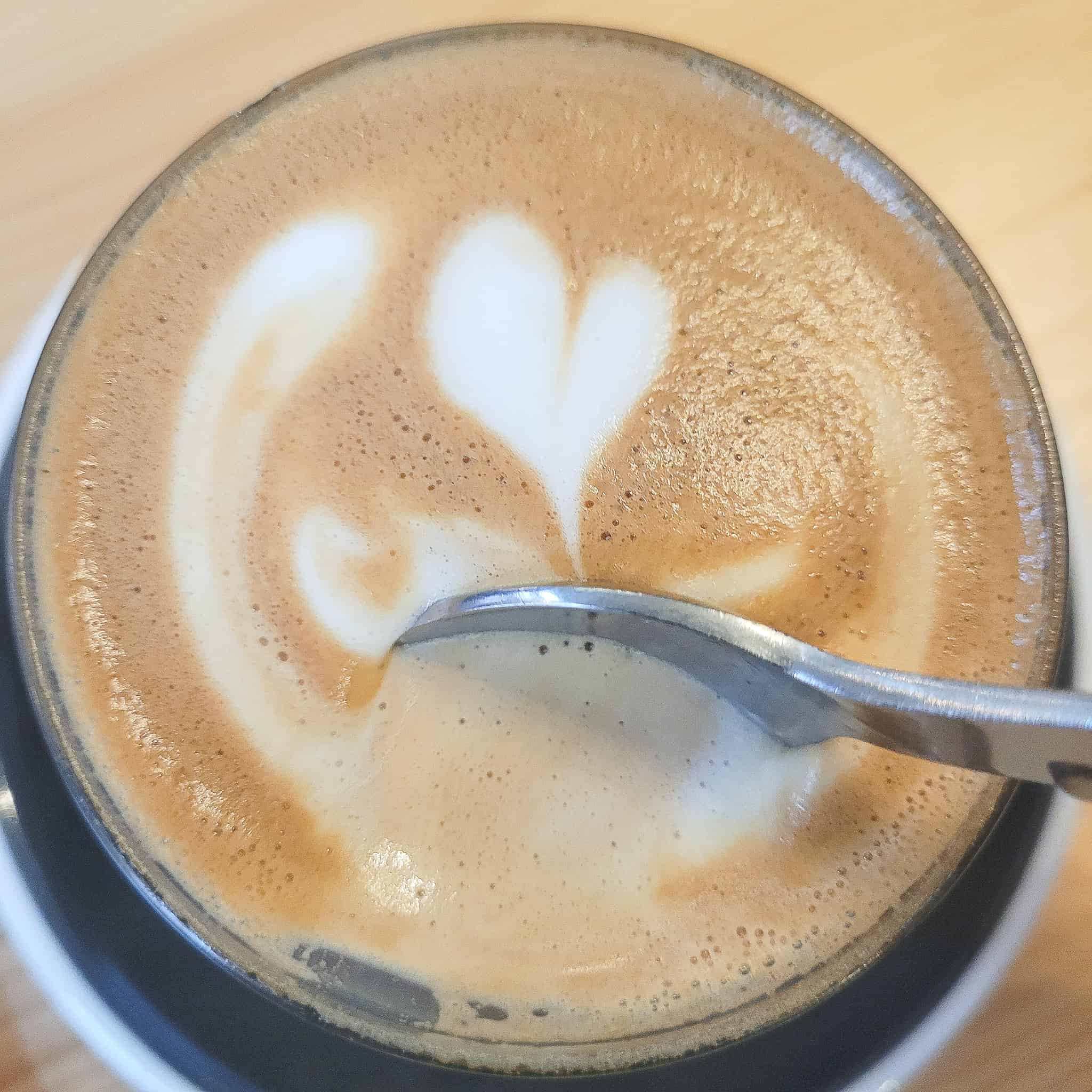 Jump to:
I made it a mini-mission to visit some popular coffee houses, and I was far from disappointed. I also attempted to differentiate between specialty coffee shops focusing on the technicality of bean extraction from those that aim to serve the general public. Further down this post is a list of other cafes I would have loved to visit if I had more time.
Tips On Visiting Budapest Cafes
Operating Hours: The new-wave coffee houses open early and typically close early. There are few late-night cafes available. That makes sense - who wants to drink coffee at 10PM at night? You'll find a few places open until 9PM.
Coffee Prices in Budapest: Expect to pay anywhere from 600 HUF (espresso shot) to 1200 HUF for more elaborate extractions such as V60. The coffee prices at Budapest new wave cafes translate roughly between $2 to $6.
Ask About Beans: Most Budapest cafes offer options like no other cities can! Talk to the baristas about what beans/roast they recommend for your drink. There are usually a few to choose from, and they take pride in showcasing what they have available. Use your time in Budapest to learn what roast you like and where you like to drink them.
WiFi Access: Some cafes have specific rules around using their WiFi. Magvető, for instance, has a one hour for one purchase rule. Ask the barista or check the free WiFi rules on individual Google reviews.
Laptop-Free Zones: While most cafes offer spaces to whip out your laptop and work the day away, there might be some areas where laptops are forbidden. Check signs on the walls that usually indicate where those areas are situated. Typically large community tables are designated working areas, but in other cafes, it could be an entire section.
For Vegans: Budapest is vegan-friendly. But the coffee drinks, by default, include full-fat cow's milk. Ask about milk substitutes such as oat, almond, or pea milk. They usually have a few alternatives ready.
Budapest Cafe Guide
You will find Arch and Beans Roastery in the city's heart, Astoria. Inside you'll discover gold-lined vaulted ceilings and a checkered mosaic floor echoing the grandness of 19th-century architecture. A longer look will show you how they tastefully paired a classical, spacious setting with modern furnishings with plenty of room for dining or a laptop.
Coffee
I had some of the tastiest coffees at this Budapest cafe. I first tried a batch brew, then a cortado made with their self-roasted Ms. Brown, and then Mr. Black beans. Both are well done in their own right. They were my favorite cups of coffee in this list, featuring my favored flavor profiles of mellow, sweet, and chocolatey.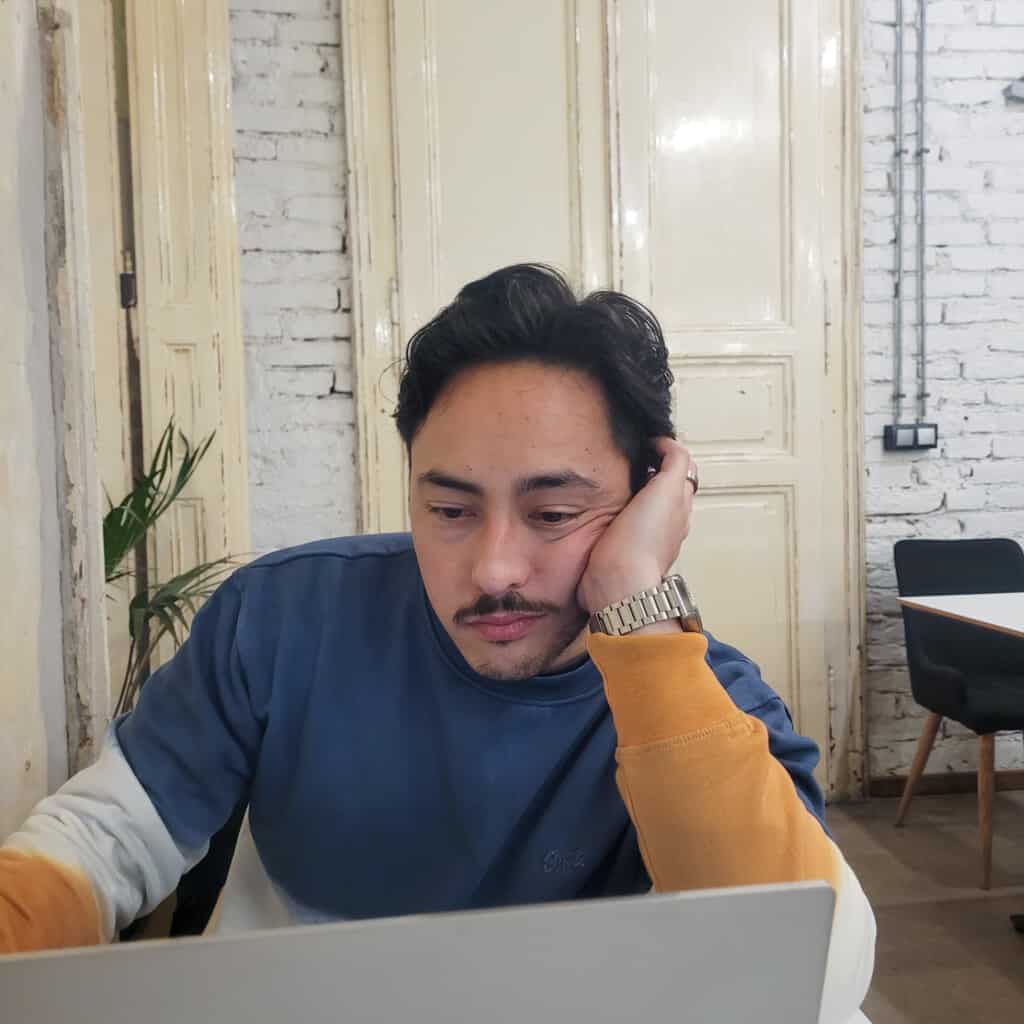 A few blocks from the busy Oktogon metro is another cafe demonstrating the perfect marriage of traditional surroundings with contemporary finishes. Flow pulls off its name seamlessly by creating an atmosphere that gets you in the zone. Many people work away on their computers in the designated laptop section. Others study, read a book or meet friends at larger tables. Though its streamlined facade and the massive, earthy interior are almost intimidatingly cool, the cafe's relaxed atmosphere invites you to work towards your full potential. Another plus is that the baristas here are notably warm, friendly, and helpful with their plant-based food menu. This is easily my favorite on the list!
Coffee
I loved their short coffee menu consisting of a handful of espresso and milk with espresso drinks in their pursuit to preserve the taste of the beans. This place may not be for those looking for nutty, chocolatey coffees. I tried a flat white and a brew that leaned to the fruity and acidic side. Be open to discussing the roasts and beans available for each drink to get recommendations from the barista.
This cafe is another one that is clearly popular among remote workers and located close to the main drag of Rákóczi út. The inside is more of a hip academic setting with walls lined with books - they're for sale - and roomy tables. I love that there were many tables (look around corners and hallways!) for someone to sit and work. The only caveat is that you need to request a code to access the internet for one hour with your purchase so buy your drinks one at a time. I suspect they set this system recently to make a faster turnover with customers because you will want to plant yourself here for a while - it's too comfortable!
Coffee
This isn't a place for coffee fanatics because there is nothing to write home about. You will be served a solid cup of coffee despite not having the choice of beans in this cafe. So yes, this cafe is on the list for its great atmosphere and seating availability.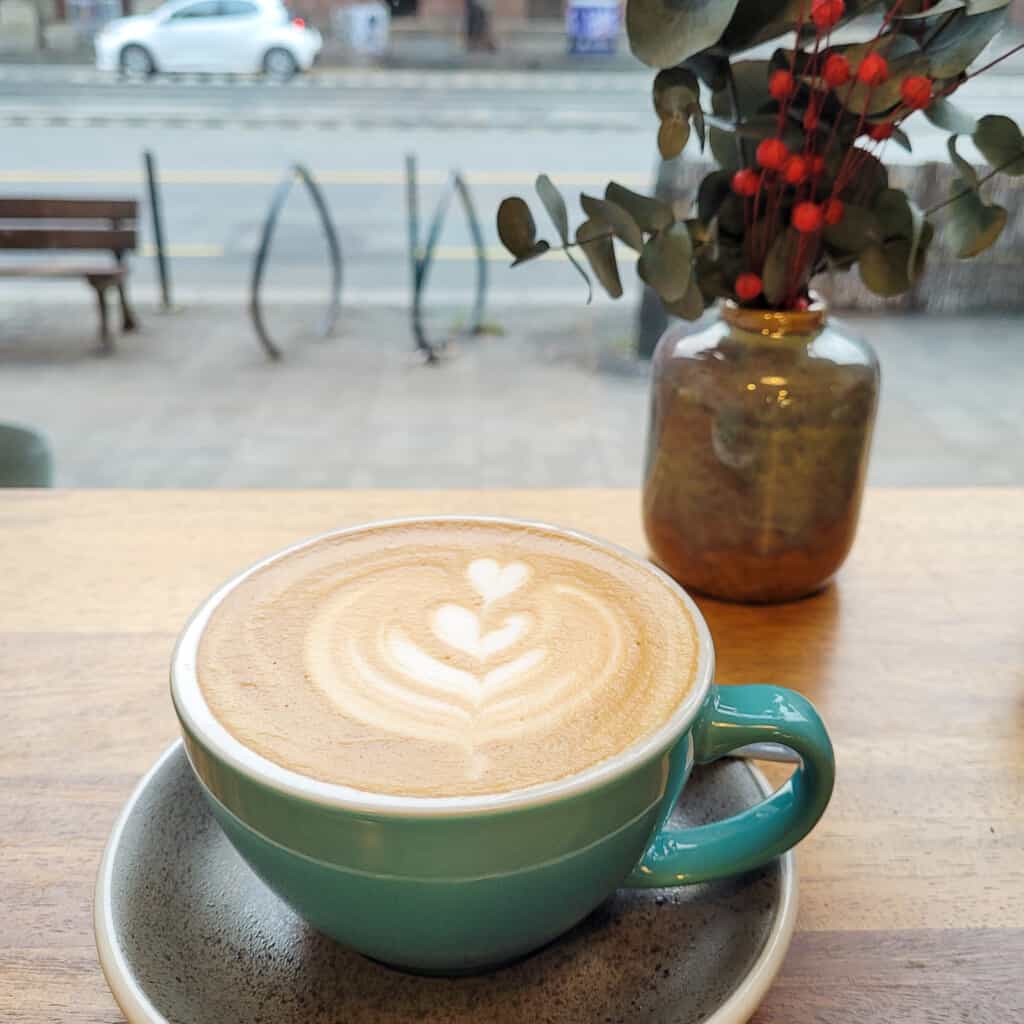 This cafe is located along a main street squeeze in between other establishments; you can easily pass by without looking. A few steps inside, you are face to face with the barista at the counter, presenting you with an extensive food and coffee menu. Upstairs, there are more tables designed for work. The design of the place is cozy and work-friendly, with lots of plugs for devices. I recommend coming to this cafe earlier in the day to avoid the crowd because it is popular! When it comes to food, Budapest Barista goes on top with a tempting breakfast and brunch menu that can rival restaurants.
Coffee
I found the coffee at Budapest Barista more forgettable. Though the drinks were delicious, nothing stood out to me. Perhaps it was the bean selection, and I hope you find something better during your visit. They carry beans from Casino Mocca - an esteemed coffee roaster in Hungary. I tried a flat white and a batch brew that both tasted acidic, which is not my taste preference for coffee.
There are specialty coffee houses, and then there is Bite. A local coffee chain (they have multiple locations) housing an extensive pastry and food menu and serving some solid coffee to go with the food. Though Bite is clearly meant more for the general public, it's also not Starbucks, and their Arabica coffee is strong! You don't have to pick between filling food and great coffee when on the move - you get both at Bite. On days when you have a full itinerary in Budapest and want to stay on the move, this is an excellent cafe to pause for coffee.
Coffee
I had an Americano with Arabica beans described amusingly as "tastes better" by the barista and the cocoa roll. The coffee was chocolatey and nutty, but the caffeine was better. I was hyper-focused the entire day, and as someone who has been using caffeine to keep herself awake since she was sixteen, that is saying something. The cocoa roll is a modern rendition of the Hungarian pastry called kakaos csiga. I like their version a lot - soft fluffy bread encircled, then covered with an indulgent chocolate sauce and topped with a thick layer of mascarpone cream.
My time at Kern Collective stood out to me because of its welcoming vibe. Someone was pacing outside on a call I assumed was a customer. But as I approached the entrance, he paused, gave me a sincere hello, and invited me in to enjoy pointing to the barista waiting at the counter. This attentiveness extended to the barista herself as she took the orders. Her only apprehension was that I wanted a filter coffee that would take some time. She told me I might as well sit down while I waited. Even though I received my coffee in a to-go cup, I ended up sitting with John in the cafe for twenty minutes until I finished my drink.
They have a generous free WiFi policy, and people busily typed away at their various seating arrangements, such as a couch or stool. Set against a rustic decor with a cheeky wall mural, exposed brick, and high arches, it feels like someone's cool loft living room. A place to cozy up, read a book and chat with friends.
Coffee
They want you to sit, take time, and think about your coffee. After all, you pick your own beans from the most extensive range available compared to other cafes - I picked from five distinct roasts. All of them tempted me to go for another taste. Because you select your beans, you know what notes to look for. And even with my limited tasting knowledge, my drink showcased the flavors listed on that specific bag.
If I had one word to describe Dorado cafe, it would be busy. It is in many lists on where to drink the best coffee in Budapest. My accommodation was nearby, and even with the chill in winter, this cafe had a line throughout the day. It also doesn't help that Dorado Cafe closes at 5PM on weekdays and even earlier on weekends. The space is full of plants, and the furnishings are minimal. I noticed they also display a featured bean of the day. The baristas here are no-nonsense experts who whip up the coffees effortlessly. A large community table was set up right next to the bar, and many people were working on it. I am hesitant to recommend this as a place to focus on work. But if you are down for an active environment, this place is for you.
Coffee
I had a fantastic cortado full of coffee punch balanced with a sweet creaminess. I loved sipping on the tiny cute to-go cup on a walk through the park.
Other Coffee Shops In Budapest
I love describing Budapest as a city that is as wide as it is deep. Either side of the river offers plenty to explore. With so many places and so little time on every trip (this is my second), I've resorted to the thought that Budapest is a place I will return to again and again. The places listed below are for those future opportunities to imbibe in more bean juice. But in the meantime, I hope to live vicariously through you!
Looking for an Elegant Cafe Experience?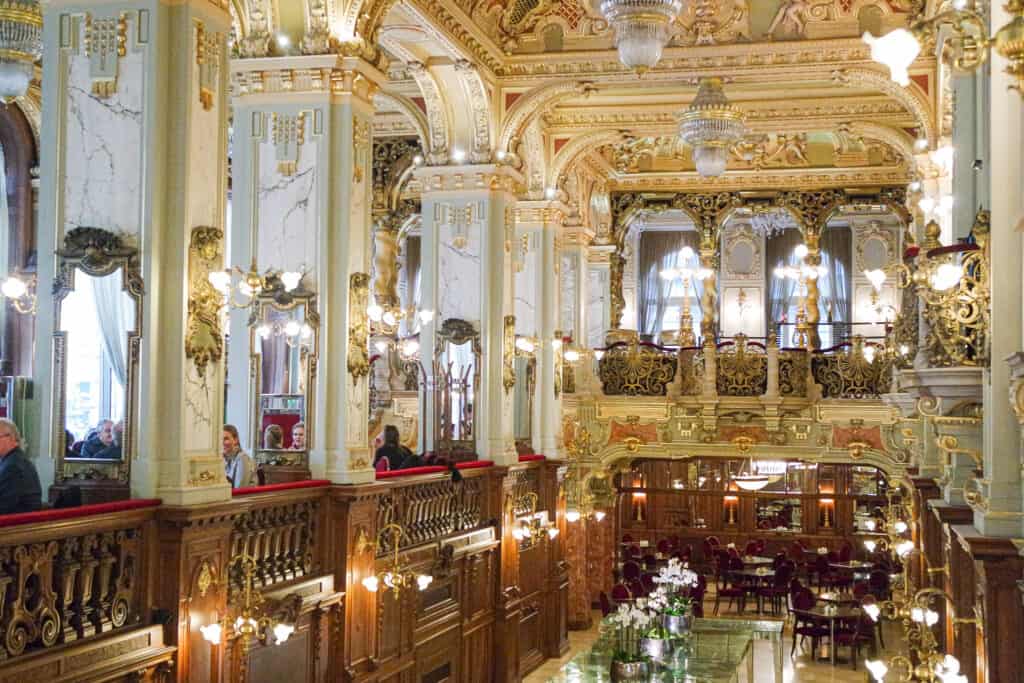 Visit the historic grand cafes that uphold the elegance of Budapest's gilded and intellectual age. While drinking coffee (or sparkling wine) is a must, settling in and tucking into some treats at these cafes are highly recommended. Many grand cafes are usually crowded so I suggest making a reservation when possible. The Corinthia Hotel's grand cafe guide offers an extensive list. Not included in the list, probably because it is world famous, is New York Cafe, dubbed the most beautiful cafe in the world. To be fair when I first stepped inside, the vaulted ceilings and Neo-Renaissance decor with its marbled columns trimmed with gold did take my breath away. These grand cafes are a far cry from the new-wave coffee shops taking over Budapest and for that they are more expensive - twice and nearly triple the prices. Expect to fork over about $10 for a cup of coffee.
Did I miss anything? Tell me about other coffee shops I should add to the list in the comments below!
Tried Some of These Places?
Please leave me a comment down below telling me how your trip went. Bonus: Let me and other readers know what you did to make this itinerary more interesting - 💫 let's inspire each other!
Also, follow me on Instagram [@seesfoodwilltravel] and send me a DM of the food you tried. I would love to share and celebrate YOUR experience with our budding community 💞
Check out Sees Food, Will Travel on Pinterest and Facebook for more delicious updates.