We were lucky to spend a long time in the Czech Republic and even luckier to spend some time outside of Prague. Our visit to Brno was a short one, meant as a stop on our way to Krakow. We spent two days in this quaint and quiet city that made an impression on us. The city's laid-back atmosphere almost made us forget that we were in the second-largest city in the Czech Republic! Read on to learn more about this single-day Brno food guide, or skip to here to go straight to the details.
Where is Brno?
Before coming to this wonderful country, I learned that the Czech Republic has two notable regions. The west side, where Prague is located, is called Bohemia - the quintessential name that many people recognize with the Czech Republic. The left side, called Moravia, is lesser-known but exhibits its own distinct culture and history. Brno is located in Moravia and represents the educational and cultural gateway to Czechia's southern region.
How to Use This Food Guide for Brno
Just like my previous post for breakfast, lunch, and dinner in Prague, read this article similarly to reading a travel itinerary, but more focused on your places to eat instead of places to see. I hope it will add something to your itinerary!
Breakfast Before a Castle Trek
We stopped by Cafe Podnebi on our way to Špilberk Castle. Nestled at one of the entrances to the park surrounding the medieval landmark, Cafe Podnebi is a charming restaurant complete with outdoor wooden chairs surrounded by greenery. Since we visited in winter, outdoor service was unavailable and we took a table inside their spacious building.
We ordered the breakfast sandwich and the English breakfast. The portions were sizable and the perfect food for starting a day of sightseeing. The coffee and macchiato were delicious and served with much finesse.
What to See Between Breakfast and Lunch in Brno
Špilberk Castle is a huge complex and provides lots of opportunities to learn about Moravian history while enjoying the scenery.
Tip: If you are really looking to pass the time, the all-inclusive Špilberk Castle ticket will take you about five hours to complete. However, you can also choose what places to visit à la carte as we did. We chose to go up the tower and visit the casemates - the underground area where prisoners were kept, famous for a lot of dark folklore.
The Špilberk Castle casemates are located below the castle and consist of two levels. You will probably need about an hour and a half here if you want to read about every area while taking a thorough look around. It's a very interesting tour of how prisoners managed during that time and the reading provides a lot for your imagination.
The Špilberk Castle tower tour will take twenty minutes but you can spend more time in the area shooting as many pictures as you can. It is a straightforward walkthrough without any reading or other exhibits to see along the way. Later on, we aimlessly wandered for the rest of our time at the castle grounds. One can experience a 360-degree view of the city and take snapshots of every side.
A Popular Brno Lunch Spot
Lokál U Caipla is part of the restaurant chain mostly found in Prague. When we ordered our beers, they pulled out a sheet that felt more like a challenge than a record, with about 100 images of empty mugs waiting to be tallied. It tempted us to order more beer so we could cross each one-off.
We tried the olomoucké tvarůžky or Olomouc cheese, a specialty in Moravia. Olomouc cheese can be best described as a strong cheddar with a slightly pungent scent. These round disks were served with thick slices of butter and bread.
For my main course, I had a special called chicken paprikash, kuře na paprice on the menu, which was Lokál's take on the popular Hungarian dish. Thick pieces of dark chicken meat, braised and torn into chunks, lay side by side with a serving of macaroni.
John ordered the schnitzel, a popular dish in Central Europe due to German influence. We've seen schnitzel in the Czech Republic frequently served with a side of potato salad. The potato salad's tang perfectly counterbalances the schnitzel's salty and fatty taste.
Lokál U Caipla rotates their menu so you may see different options from what I ate at the restaurant. Please keep that in mind when visiting any Lokál establishments!
Don't Leave Brno without Seeing the Capuchin Crypt
We headed to a monastery with mummified monks and other important members of their community. After reading the guide, we learned mummification was not done on purpose. Also, the people buried there requested to be so for very specific reasons. We were lucky to have just visited Špilberk Castle because one of the castle's famous prisoners is also a featured person in this crypt. It felt like a great continuation of our castle tour.
Tip: The entrance to the crypt museum is not the entrance of the Capuchin Monastery. If you are facing the monastery, look to the left and you will find a small entrance to an alleyway. Walk down that alleyway and it will open up to a courtyard with entrances to two museums: the Capuchin Crypt and the Da Vinci's Machines.
Dinner at a Pilsner Urquell Bar
Continuing this Brno food guide, for dinner, we went to a restaurant tucked in amongst the side streets of Old Town called Stopkova Plzeňská Pivnice, a Pilsner Urquell bar with a traditional Czech pub atmosphere.
I started with the egg soup called kulajda. Kulajda is a mushroom-based soup and I recommend everyone try this at least once if they find themselves in the Czech Republic. Made with sour cream, potatoes, dill, and topped with a soft boiled egg, kulajda clearly makes itself distinct from other soups. Citrusy, sour, herbal, and sweet, this soup also made quite a statement with its flavors!
I chose the svíčková as my main course and it was delectable. It was thick, milky and I could taste a meat broth just underneath the cream. The tenderloin was easily sliced with a fork. A variety of dumplings lined my dish and I tried very hard not to inhale all those carbs for fear of sleeping the rest of the day away!
John ordered something coined "The Moravian Sparrow" or in Czech, Moravský vrabec. The Moravian Sparrow is a regional pork dish marinated with garlic and caraway seeds, then served with cabbage and dumplings. Despite not having any birds in the dish, it is a popular one to try!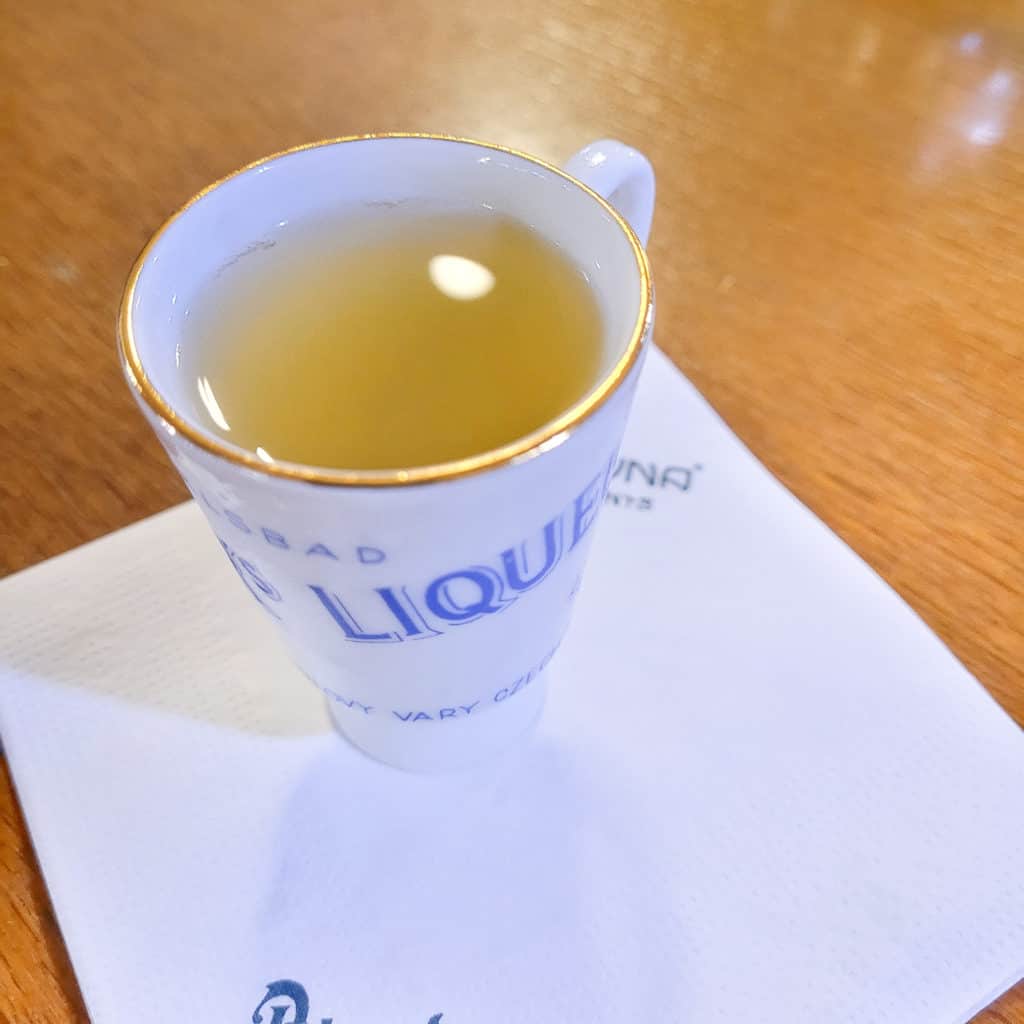 As we were finishing our meal, the bartender came by our table and asked if we wanted to try a traditional Czech liquor called Becherovka. He promptly dropped off one of the cutest shot glasses I have ever seen. Spicy, citrusy, and even a little yeasty, it was a wonderful ending to our dinner.
Breakfast, Lunch, and Dinner in Brno Food Guide Breakdown
Recommended:
Breakfast sandwich
English breakfast
Macchiato
Recommended:
Olomoucké Tvarůžky (Oloumouc cheese)
Kuře na Paprice (Chicken Paprikash - seasonal)
Recommended:
Moravský vrabec (Marovian Sparrow)
Svíčková (Czech beef tenderloin with cream sauce)
Kulajda (mushroom egg soup)
Curious for More Food Guides?
Check These Out 😎
Tried Some of These Places?
Please leave me a comment down below telling me how your trip went. Bonus: Let me and other readers know what you did to make this itinerary more interesting - 💫 let's inspire each other!
Also, follow me on Instagram [@seesfoodwilltravel] and send me a DM of the food you tried. I would love to share and celebrate YOUR experience with our budding community 💞
Check out Sees Food, Will Travel on Pinterest and Facebook for more delicious updates.
Make Czech Food at Home