Georgian cuisine is having its moment, and I am so happy for this Caucasus country to be able to show off its food! The striking cheese pull videos of khachapuri are more than enough to entice you. But Georgia's main dishes have something to offer everyone. This Georgian food guide provides an introduction to some dishes you may eat during your trip to Tbilisi.
You will come across many of these local food if you attend a supra, also known as the Georgian feast. A combination of Georgian appetizers, sides (such as bread), and these larger dishes arrive at the table to be eaten together in a progressive manner. The following dishes are typically featured at the central part of the meal.
Chicken in Creamy Garlic Sauce
Chkmeruli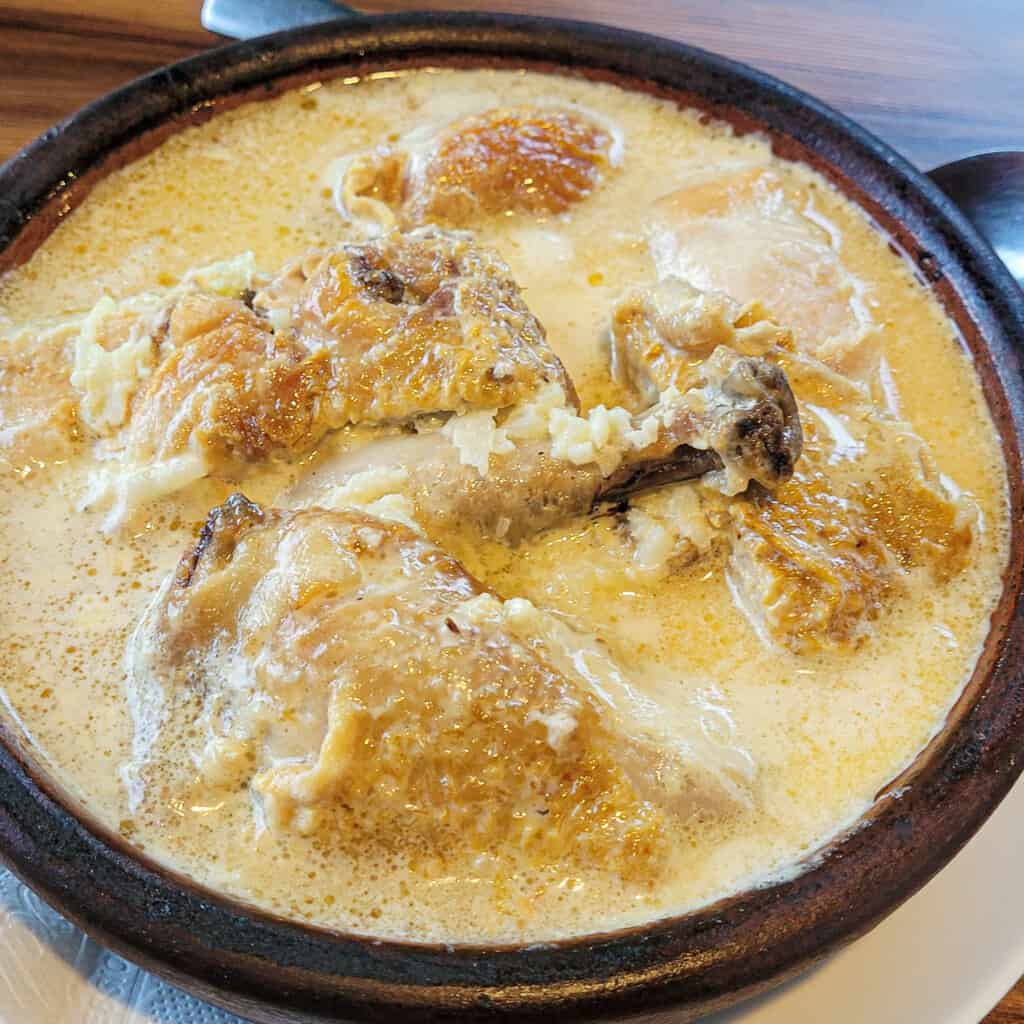 Chkmeruli is a well-known chicken dish both in and outside of Tbilisi, Georgia. You would know this dish as crispy roasted peasant-style chicken chopped into shareable pieces and layered into a clay pan called a ketsi. The cook would shower the chicken with a garlic cream that is half stew, half sauce. You would mop up the sauce with bread as you tear in the chicken pieces.
Stewed Eggplant and Vegetables
Ajapsandali
A hearty and veggie-filled dish, ajapsandali consists of many vegetables stewed until they blend together. The dish's highlight is the eggplant, which takes on the flavors of the other ingredients. People would consider it a stew and it does belong on the Georgian soups and stews list. However, you can see this served alongside the heavier meat dishes as your main vegetable dish.
Spiced Meat Sausage
Kupati
Georgia has their own culture of sausage-making and consumption, with a range of variations that frequently appear on menus. Let's start with kupati, a rustic version of sausages made with minced pork, sometimes mixed with beef. Each region has its own style of kupati based on fillings ranging from minced meat to chopped organs.
Sausage with Promegranate
Aphkhazura
Another style of sausage made with meat and stuffed with heavy spices and pomegranate seeds. Although this type of food has its roots outside Tbilisi, it is a widely recognized Georgian dish offered at plenty of restaurants in the capital city.
Pork Ribs
Neknebi
Ribs are a specialty dish, and a few restaurants offer them on their menu in Tbilisi. But if you do come across barbecued ribs on a menu, you should try them. These are always well-seasoned and come out tender!
"Family Meal"
Ojakhuri
Ojakhuri means family meal, an amalgamation of chopped deep-fried pork, fried potatoes, and onions all tossed together in a seasoning specially made for this dish.
Variations: Menus across Georgia will have different meat or vegetables to accompany the potatoes in ojakhuri.

Mushroom: A popular alternative to achieve a vegetarian-style ojakhuri.
Meat: Though pork is the most common fried meat in ojakhuri, you may also come across veal or beef.
Fish
Tevzi
Over 25,000 rivers have carved their way through Georgia over the centuries with the major ones providing sustenance to its citizens. Salmon and trout are the most common fish dishes in Georgian restaurants, the first typically baked or slow-cooked, while the latter would be fried. I've only had fried salmon and trout at restaurants. If you were to take a deeper look at Georgian fish dishes, there are a myriad of more complicated fish recipes. One particular dish I would like to try is trout in pomegranate sauce.
Pan Fried Chicken
Tabaka
The chicken used for this dish is small, yet tasty, so it doesn't require as much seasoning. The whole chicken is spatchcocked, then flattened with a weight and cooked in a special pan called a tapa. This endeavor produces a crispy, lightly seasoned, and flavorful roasted chicken.
Minced Meat Kebab
Kebabi
Like many other countries, Georgian cuisine takes influences from its neighbors so the kebab is a mainstay. This minced meat option is served on lavash in nearly all Georgian restaurants.
Organs in Ketsi
Kuchmachi
Nothing goes to waste in Georgian cooking, and the next two dishes make a prime example of this philosophy. Kuchmachi is a regional dish filled with various animal organs that usually come from chicken, although pork and beef are fitting alternatives. The chopped organs (gizzards, heart, liver, etc.) are heavily seasoned and then roasted in a clay pan.
Organs with Tomatoes
Jigari
Jigari means "entrails," making it the perfect name for this dish. It's a hearty blend of pork parts such as the liver, kidney, and lungs. The pieces are braised with tomatoes along with fresh herbs and spices.
Barbecued Meat
Mtsvadi
This Georgian food guide wouldn't be complete without mtsvadi. You get your choice of skewered lamb, beef, chicken, and pork roasted over a pit of coal. The cooks make a simple seasoning of salt and black pepper to take care of the flavors. These barbecued pieces are pulled off and served on a plate with sauces such as tkemali, a sour plum sauce, or nasharab, a pomegranate molasses sauce.
Boiled Beef
Khashlama
Khashlama is also part soup, part main dish. Large pieces of fatty beef are boiled to make a stock soup. Then the stock receives some humble seasonings of chopped herbs and minced garlic. In its soup form, the seasoned stock is filled with the tender bits of beef. As a non-soup dish, the boiled beef would be placed and sliced on a plate for serving.
Where to Eat Georgian Food in Tbilisi
Below is a list of suggestions to try some of the Georgian dishes I mentioned in this article. These restaurants serving up notable Georgian food are mostly in Tbilisi, while others are located in notable cities throughout the country. The items listed per restaurant may not be available due to seasonality. Let me know if I should add anything to this list!
Shemomechama: They live up to their name! Shemomechama means the food is so good that you keep eating even though you are full. They have juicy pork mtsvadi, tasty salads, and a picture-perfect khachapuri to share with friends.


Chemo Kargo: In addition to its popular khinkali and beer menu, this local restaurant offers up an impressive display of mtsvadi, crispy ojakhuri, and various sausages such as kupati.


Chashnagiri: This restaurant is excellent at introducing Georgian food. Take advantage of their ajapsandali, chicken mtsvadi, and ojakhuri. They also offer two types of chkmeruli, one with cream and one without.


Georgian House: Georgian House is more like an event venue with different eating sections throughout their property. Although it's a bit formal, the menu is consistent, which includes pan-fried chicken, and kupati.


Racha: Tbilisi's 100-year-old tavern turned restaurant has an extensive food menu. Their apkhazura, jigari, and ribs should not be missed!


Badia: This garden restaurant in Telavi, Georgia, is worth visiting just for its ambiance. Sit under grapevines in their backyard while enjoying the tastiest chkmeruli (I ever had), juicy kebabs, and their homemade wine.
More Georgian Dishes
Although this is a detailed list of the main dishes in Georgia, I want to remind you that the supra serves many dishes at once for you to enjoy. So order more than one dish per person at your table to share to get an authentic Georgian experience.
Finally, although I've lived in Tbilisi for a few years now, I have not had the pleasure of trying every food just yet, especially when it comes to regional specialties. Check back on this page for additional Georgian dishes!
Tried Some of These Places?
Please leave me a comment down below telling me how your trip went. Bonus: Let me and other readers know what you did to make this itinerary more interesting - 💫 let's inspire each other!
Also, follow me on Instagram [@seesfoodwilltravel] and send me a DM of the food you tried. I would love to share and celebrate YOUR experience with our budding community 💞
Check out Sees Food, Will Travel on Pinterest and Facebook for more delicious updates.