There is no doubt that my favorite part about growing up in Hawaii was the food. Family and friends' potlucks in the islands are unmatched. The overloaded host table are usually stacked with aluminum roasting pans, Pyrex containers, and even chafing dishes. You can almost always count on someone to bring butter mochi, a rich buttery dessert made with sweet rice flour and coconut milk. Butter mochi is easy to make and can easily feed many people, making it a perfect potluck dish. This ube butter mochi takes inspiration from all the butter mochi I consumed (and made!) growing up. Even though this recipe tells you how to make ube butter mochi, feel free to take out the ube extract to make the original version!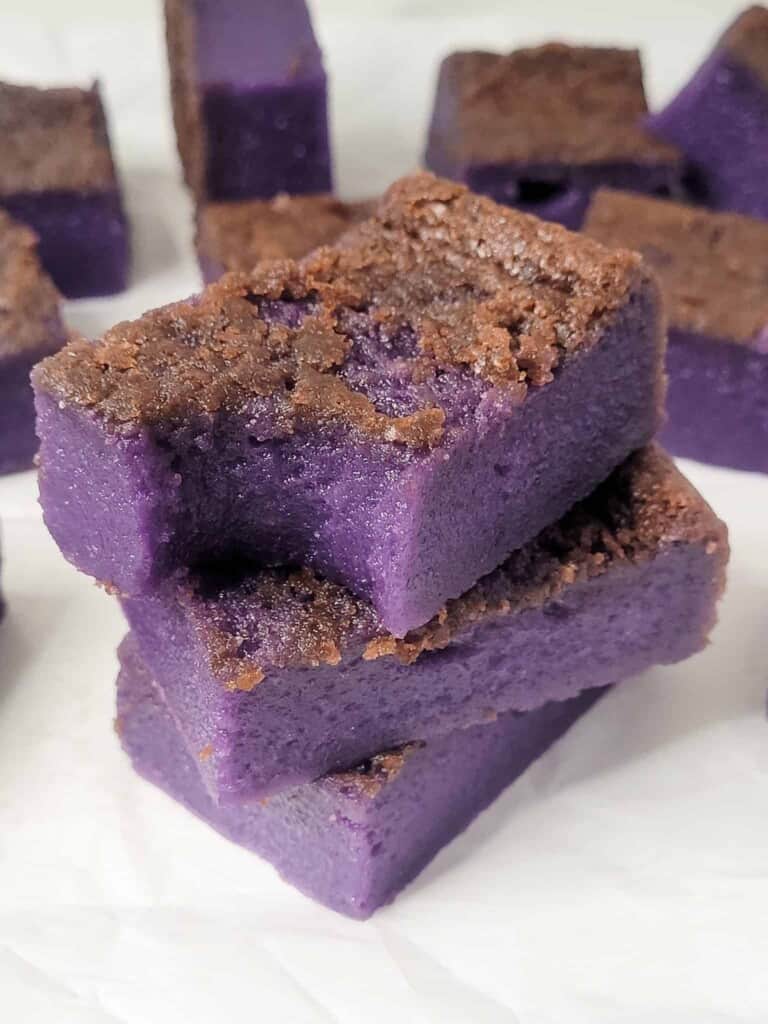 Jump to:
What is Butter Mochi
The moniker butter mochi is a bit misleading. The dessert does contain butter and uses mochi flour made from mochigome - a variety of short-grain sweet rice that yields chewy desserts. But traditional mochi is made by pounding sweet rice flour until it becomes smooth, sticky, and chewy. Butter mochi is simply a baked cake reminiscent of traditional chi chi dango. Butter mochi, chi chi dango, and mochi all produce a chewy, sweet treat.
Butter mochi is a type of 'local food' in Hawaii. Different cultures across Asia, the Americas, and even Europe may have influenced this dessert, the foundational aspect of every Hawaii local food.
What is Ube
Ube is a purple yam from the Philippines, where people incorporate it in various local desserts. Nowadays, it is popular because Trader Joe's makes a series of desserts such as ube ice cream and ube mochi featuring this purple ingredient. Ube has a subtle, almost vanilla-like flavor while being nutty, sweet, and earthy. Many Filipino sweets usually pair ube with coconut milk (or cream) because coconut brings out its subtle flavor profile. So adding some ube flavoring to butter mochi is a no-brainer!
A Note of Special Ingredients
This is one of those recipes where I strongly recommend getting an exact brand of rice flour. Mochiko flour is a product from a brand named Koda Farms, and their sweet rice flour comes from mochigome. This type of rice grain makes a remarkably smooth, chewy rice cake. If you decide to use a different brand, double check that the rice flour comes from the mochigome sweet rice variety. I am unable to vouch for other brands because I only made butter mochi with an off-brand sweet rice flour once. The rice flour did not come from mochigome. It ended up looking like a dense poofy cake, unlike the smooth texture that is characteristic with the original butter mochi.
How to Make Ube Butter Mochi
I love this ube butter mochi recipe because you only need one bowl to combine the ingredients. First, preheat the oven to 180°C (350°F).
Then, add the Mochiko flour, sugar, salt, and baking powder to a large bowl. Whisk these dry ingredients together.
Make a well in the center of the bowl, and add the eggs. Add in the milk and heavy cream. Finally, add the coconut milk as well.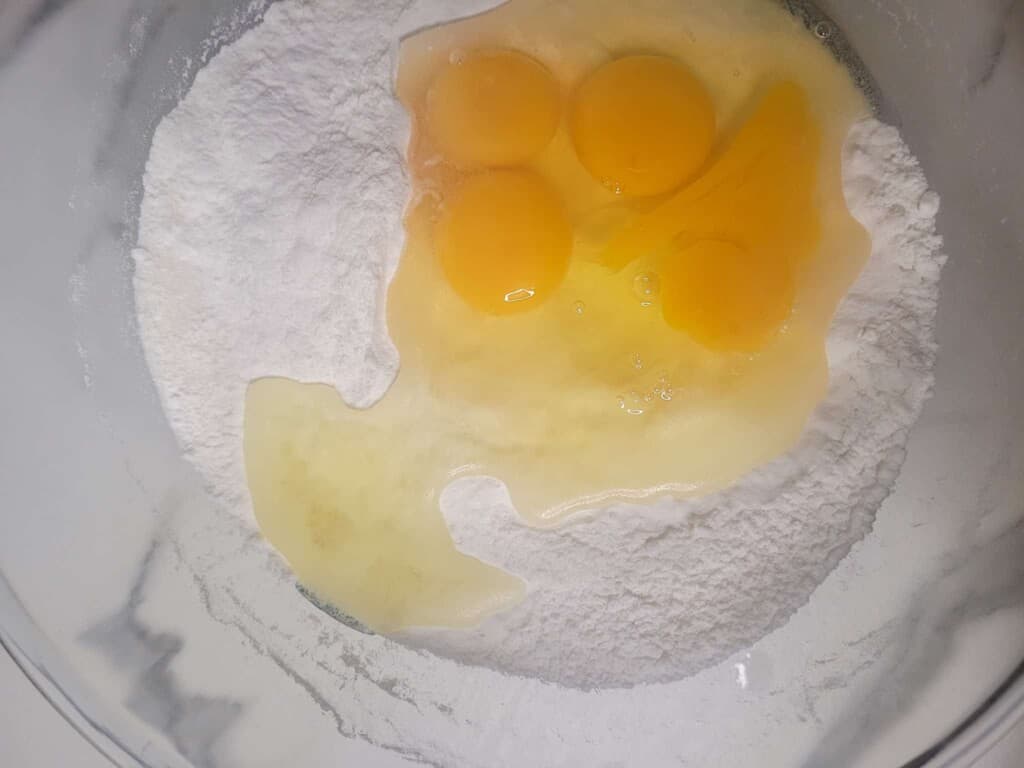 Start mixing the ingredients with an electric beater on a low setting.
Add the melted butter when the batter slightly thickens. Then add the ube extract plus the vanilla extract and blend it in.
Pour the batter into a 9 x 13 inch baking pan lined with parchment paper. Lining the baking dish with parchment paper will help you easily remove the baked mochi from the pan.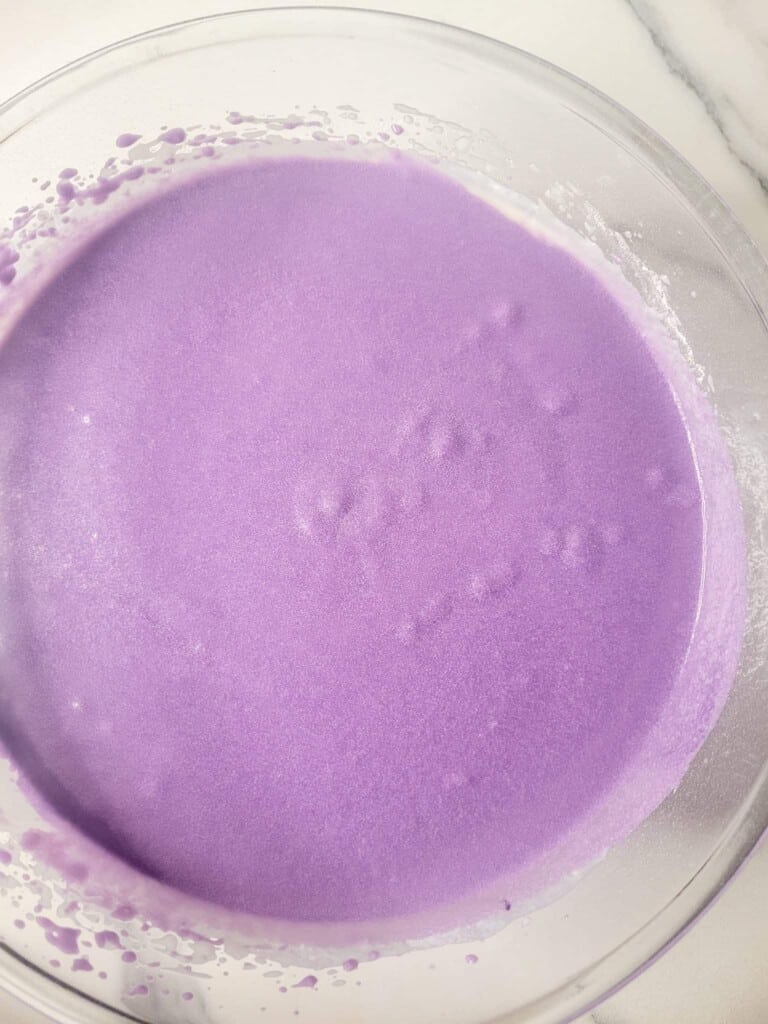 Bake the ube butter mochi for about sixty minutes or until the top is brown. You might see some butter sizzling and pooling at the top of the mochi. This is normal even if you cooked it for the full sixty minutes.
Remove from the oven and let it cool on the counter until it reaches room temperature.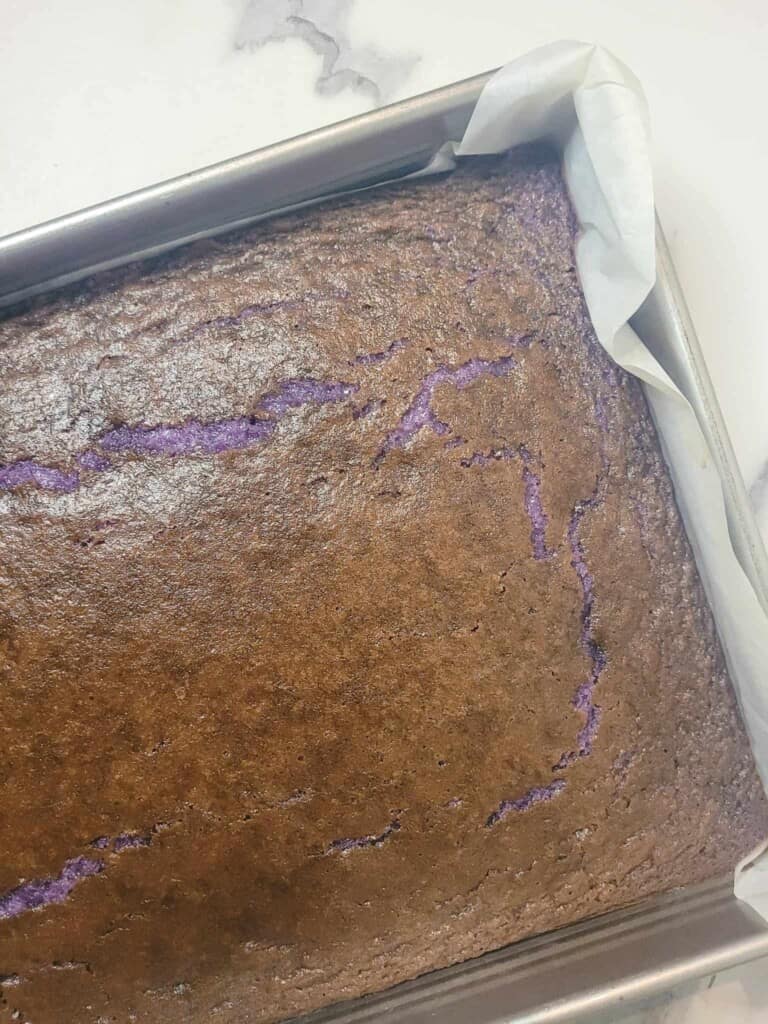 Cut the ube butter mochi into small squares. Butter mochi is rich and packed with calories and fat. A little goes a long way! It is an excellent dessert to make for when you want to share with many people.
Storing Butter Mochi
Butter mochi will last in a covered airtight container in the fridge for up to two days. If you want to really make them last, you can wrap the square individually and put them in the freezer. Just reheat the ube butter mochi in the microwave for about twenty to thirty seconds or until the center is no longer frozen. Be careful not to reheat these for too long because they will lose structure and you will end up with a sticky mess. I have only managed to keep butter mochi in the freezer for about two weeks. These disappear pretty quickly!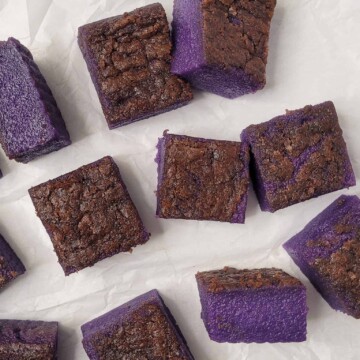 Ube Butter Mochi
Ube butter mochi is a chewy rice cake dessert that comes from the Hawaiian islands! It is considered a local food, a dish made from different cultural influences that make up the diversity of Asian backgrounds in Hawaii. Made with coconut milk, ube extract, and butter, it is a decadent dessert.
Ingredients
1

box

Mochiko flour (Koda Farms brand)

2

teaspoon

baking powder

400

grams

granulated sugar

4

large eggs, room temperature

400

ml

coconut milk (~1 14 oz can)

310

grams

whole milk

185

grams

heavy cream

125

grams

butter, melted

1-2

teaspoon

ube extract

add more if you prefer

½

teaspoon

vanilla extract

pinch

salt
Instructions
Preheat oven to 180°C (350°F)

In a bowl add, rice flour, sugar, baking powder, and salt. Mix together with a whisk.

Add eggs, milk, heavy cream, and coconut milk. Beat with an electric mixer until thick.

Add melted butter, ube extract, and vanilla extract. Mix until well-incorporated.

Pour into a 23x33 cm (9x13 in) baking dish lined with parchment paper

Bake in the preheated oven for up to 1 hour or until the tops are golden brown and center doesn't jiggle.

Remove from the oven and let it cool complete before removing from the pan and slicing into squares.
Have You Tried This Recipe?
Simply rate the recipe by clicking on the ⭐️s on the recipe card. Have something to say? Please leave me a comment down below telling me what you think of this recipe.
Bonus: Let me and other readers know what you did to make this recipe your own - 💫 let's inspire each other!
Also, follow me on Instagram [@seesfoodwilltravel] and send me a DM with a picture of what you made. I would love to share and celebrate YOUR creation with our budding community 💞
Check out Sees Food, Will Travel on Pinterest and Facebook for more delicious updates.