Disclosure: Some of the links in this post are affiliate links. This means if you click on the link and purchase an item, Sees Food, Will Travel will earn a commission at no extra cost to you. See terms and conditions for details.
Butter mochi is somewhat similar to Japanese mochi, but made with butter and coconut milk. This is oversimplifying it! Most importantly, it was one of my favorite treats growing up in Hawaii. This butter mochi is purple because it includes ube! Another tropical ingredient that makes butter mochi so dang good.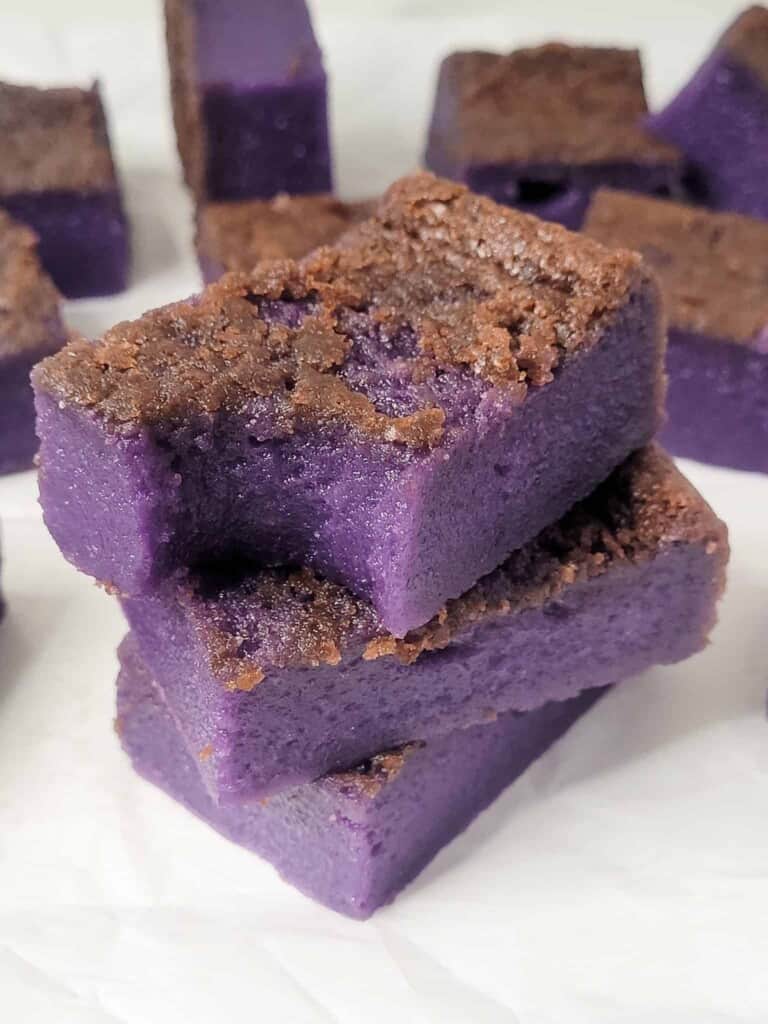 Update Disclosure: This post has been updated for one or more of the following reasons: easier reading, updated photos, clearer instructions, and just plain ol' improvements to the recipe (as noted).
Jump to:
Why You'll Love This Dessert
It's purple, it's sweet, and it's shareable!
I also developed this recipe for my fellow coconut fiends and ube addicts. If you are both, then this butter mochi will become a luscious guilty pleasure for you!
Ingredients
These are the ingredients you'll need to make vibrant and tasty ube butter mochi:
Mochiko Flour
Baking Powder
Granulated Sugar
Eggs
Coconut Milk
Whole Milk
Heavy Cream
Unsalted Butter
Ube Extract
Vanilla Extract
Salt
Substitutes & Special Ingredients
Sweet Rice Flour: You will need a particular sweet rice grain to achieve that chewy but structured consistency of butter mochi. Sweet rice flour that comes from mochigome is strongly recommended! The brand I grew up with is called Koda Farms and almost always stocked by major Asian grocery stores.

If you decide to use a different type of sweet rice flour, be prepared for the butter mochi to come out looking different with a cake-like texture.



Heavy Cream: No judgements here, you can opt out of using the heavy cream and use milk instead. Coconut milk is a must though so there is no substitute for that!
Recipe Tips
No Lumps: This is a simple recipe that comes together in one bowl. So when you are mixing your ingredients, do it thoroughly so that you are sure there are no lumps in the batter.


Do Not Over Beat: If you are using an electric beater do not over beat the batter once it is smooth, especially if you are using heavy cream because it might curdle.
How to Make Ube Butter Mochi
Here is a snapshot of what you'll do:
Preheat your oven.
Grab a bowl and add the dry ingredients, mix them together.
Add your wet ingredients to the same bowl and mix again.
Prepare a baking dish by lining it with parchment paper.
Pour the batter into the baking dish.
Bake for one hour or until the middle is only slightly jiggly.
Remove from the oven and let it cool completely on the counter.
Remove the entire ube butter mochi from the pan then slice into even squares.
Haiku Break
Purple and chewy
Mochi with ube vibrance
Love you all year long
How to Store
Butter mochi will last in a covered airtight container in the fridge for up to two days. If you want to really make them last, you can wrap the square individually and put them in the freezer. Just reheat the ube butter mochi in the microwave for about twenty to thirty seconds or until the center is no longer frozen. Be careful not to reheat these for too long because they will lose structure and you will end up with a sticky mess. I have only managed to keep butter mochi in the freezer for about two weeks. These disappear pretty quickly!
Frequently Asked Questions
What is Butter Mochi?
The moniker butter mochi is a bit misleading. The dessert does contain butter and uses mochi flour made from mochigome - a variety of short-grain sweet rice that yields chewy desserts. But traditional mochi is made by pounding sweet rice flour until it becomes smooth, sticky, and chewy. Butter mochi is simply a baked cake reminiscent of traditional chi chi dango. Butter mochi, chi chi dango, and mochi all produce a chewy, sweet treat.

Butter mochi is a type of 'local food' in Hawaii. Different cultures across Asia, the Americas, and even Europe may have influenced this dessert, the foundational aspect of every Hawaii local food.
What is Ube?
Ube is a purple yam from the Philippines, where people incorporate it in various local desserts. Ube has a subtle, almost vanilla-like flavor while being nutty, sweet, and earthy. Many Filipino sweets usually pair ube with coconut milk (or cream) because coconut brings out its subtle flavor profile. So adding some ube flavoring to butter mochi is a no-brainer!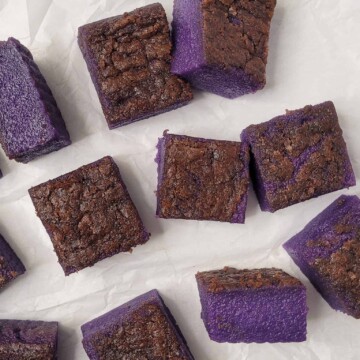 Ube Butter Mochi Recipe
Ube butter mochi is a chewy rice cake dessert that comes from the Hawaiian islands! It is considered a local food, a dish made from different cultural influences that make up the diversity of Asian backgrounds in Hawaii. Made with coconut milk, ube extract, and butter, it is a decadent dessert.
Disclosure
The equipment and ingredients sections contain affiliate links to products I love to use as well as items that I personally believe make this recipe the best version of itself.
Instructions
Preheat oven to 180°C (350°F). In a bowl add, rice flour, sugar, baking powder, and salt. Mix together with a whisk. Add eggs, milk, heavy cream, and coconut milk. Mix together until smooth.

Add melted butter, ube extract, and vanilla extract. Mix until well-incorporated.

Pour into a 23x33 cm (9x13 in) baking dish lined with parchment paper

Bake in the preheated oven for up to 1 hour or until the tops are golden brown and center doesn't jiggle.

Remove from the oven and let it cool complete before removing from the pan and slicing into squares.
Nutrition
Calories:
370
kcal
Carbohydrates:
50
g
Protein:
5
g
Fat:
18
g
Saturated Fat:
12
g
Polyunsaturated Fat:
1
g
Monounsaturated Fat:
4
g
Trans Fat:
0.3
g
Cholesterol:
73
mg
Sodium:
133
mg
Potassium:
132
mg
Fiber:
1
g
Sugar:
26
g
Vitamin A:
456
IU
Vitamin C:
0.3
mg
Calcium:
76
mg
Iron:
1
mg
Disclaimer: Nutritional values were calculated with the Spoonacular Food API and should be used for informational purposes only.
Have You Tried This Recipe?
Simply rate the recipe by clicking on the ⭐️s on the recipe card. Have something to say? Please leave me a comment down below telling me what you think of this recipe.
Bonus: Let me and other readers know what you did to make this recipe your own - 💫 let's inspire each other!
Also, follow me on Instagram [@seesfoodwilltravel] and send me a DM with a picture of what you made. I would love to share and celebrate YOUR creation with our budding community 💞
Check out Sees Food, Will Travel on Pinterest and Facebook for more delicious updates.