As I mentioned in my other Prague food guide, use this one-day itinerary to add color to yours. This itinerary is not so much focused on sightseeing as it is a restaurant excursion with places to see in between. Skip to the breakdown here!
We spent over a week in Prague in the middle of a November winter. What was supposed to be an excitingly active time was an uncertain trip. The plans included multiple days detailing where and what to eat in Prague, primarily at Christmas markets. Unfortunately, the Czech government announced the COVID lockdown two nights after our arrival effective midnight of the following day. The news dropped our original plans when they barely began!
But I like a food challenge, and this Czech lockdown encouraged me to go deeper into Prague's food scene. John and I still wanted to see the sights and keep the trip food-focused. This food guide and itinerary reflect the last-minute changes I had to make to our plans. Instead of centering our time on Christmas market food, I decided to find establishments that I believe make Prague distinct. So even though we missed out on what would have been a festive Christmas market trip, I think we experienced something special about Prague. This guide provides you with places on where to eat Czech and Asian food in Prague and I will tell you the reasons below!
Vietnamese Food Will Surprise You Here
We started early by walking down a block from our Airbnb and grabbing a table at Cafefin, a Vietnamese brunch spot with a modern twist. "Fin" represents phin, which is Vietnamese for coffee. The Communist regime established the Vietnamese community in Prague in the 1970s when Vietnam sent its citizens to immigrate to Czechoslovakia to work as laborers. When the regime collapsed, thousands of Vietnamese migrant workers decided to stay and raise families. Now, Vietnamese people make up the largest Asian population in the Czech Republic.
The younger multi-generational Vietnamese Czech nationals have started a food scene of their own. Focusing on traditional Vietnamese food while providing other versatile dishes, restaurants like Cafefin create a place that invites visitors to try their flair on Asian food. Even if you don't end up at Cafefin, don't hesitate to look up a place to eat authentic Vietnamese food in Prague – there are plenty!
Since we were planning on a big day of walking, I knew I needed to load up! I ordered Vietnamese coffee, a spring roll, and one of their avocado toasts.
The Vietnamese coffee came in a customized ceramic coffee press that I ended up buying after our meal. The dishes were fresh and full of vegetables.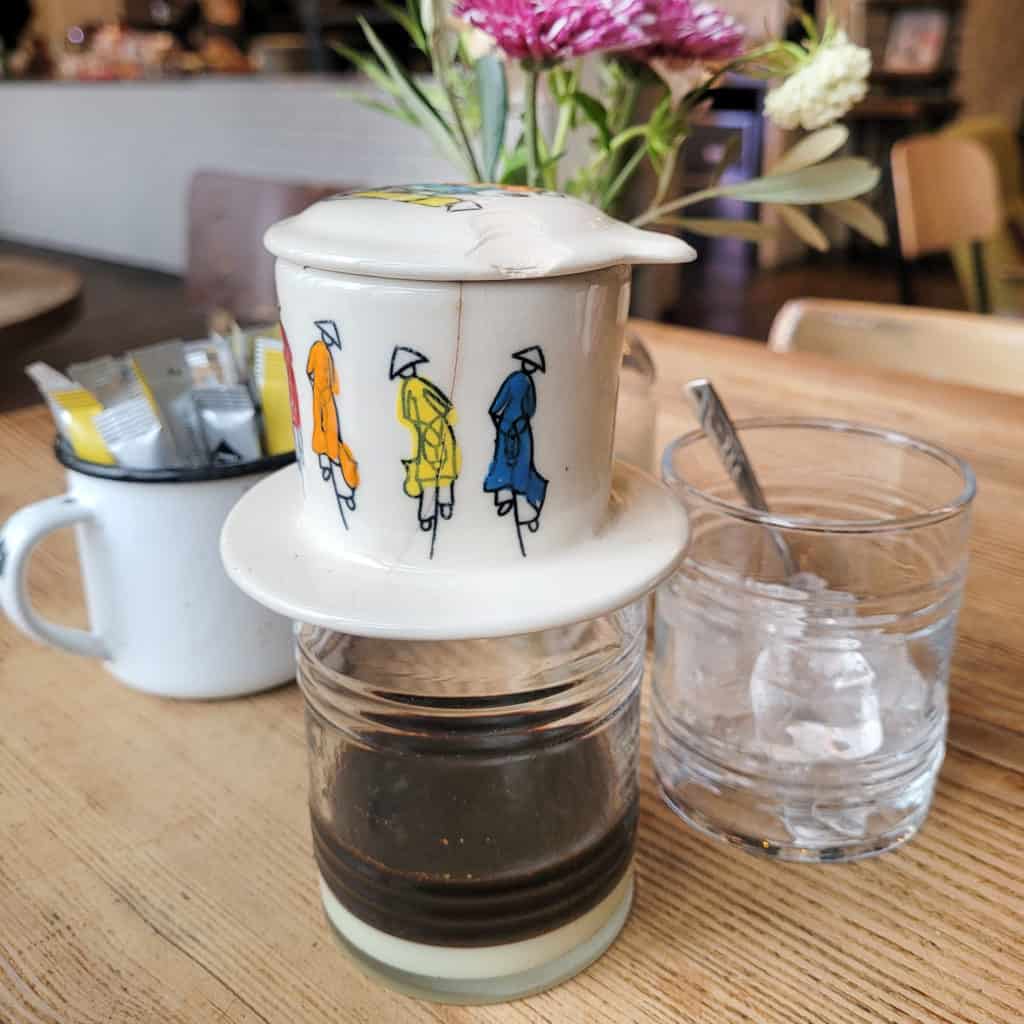 Possible Stops Before Lunch
After breakfast, we decided to walk to Havlíček Gardens, the second largest park in Prague. Equipped with playgrounds, restaurants, and a cafe, the park boasts a vineyard and a massive grotto. Since we went during the winter season, the vineyard was barer than its signature look of lush green leaves and grapes hanging on branches. Despite inactive grotto fountains that dashed our hopes of taking swoon-worthy Instagram pictures, we had a fun time exploring the cavern's nooks and crannies.
An Honest Opinion on the Sex Machines Museum
We decided to go back into Old Town because we wanted to check out the Sex Machines Museum. We took a tram and spent over twenty minutes getting to the Sex Machines Museum from the gardens. This museum is more about novelty and gimmick. The ticket costs more than the National Museum's entrance fee, including both of the National Museum buildings! But we YOLO'ed and paid to get in. Hilariously, we finished the museum in a mere 45 minutes. I recommend you skip this museum if you have it on your list.
Eat Where the World's Tallest Beer Tank Tower is Kept in Prague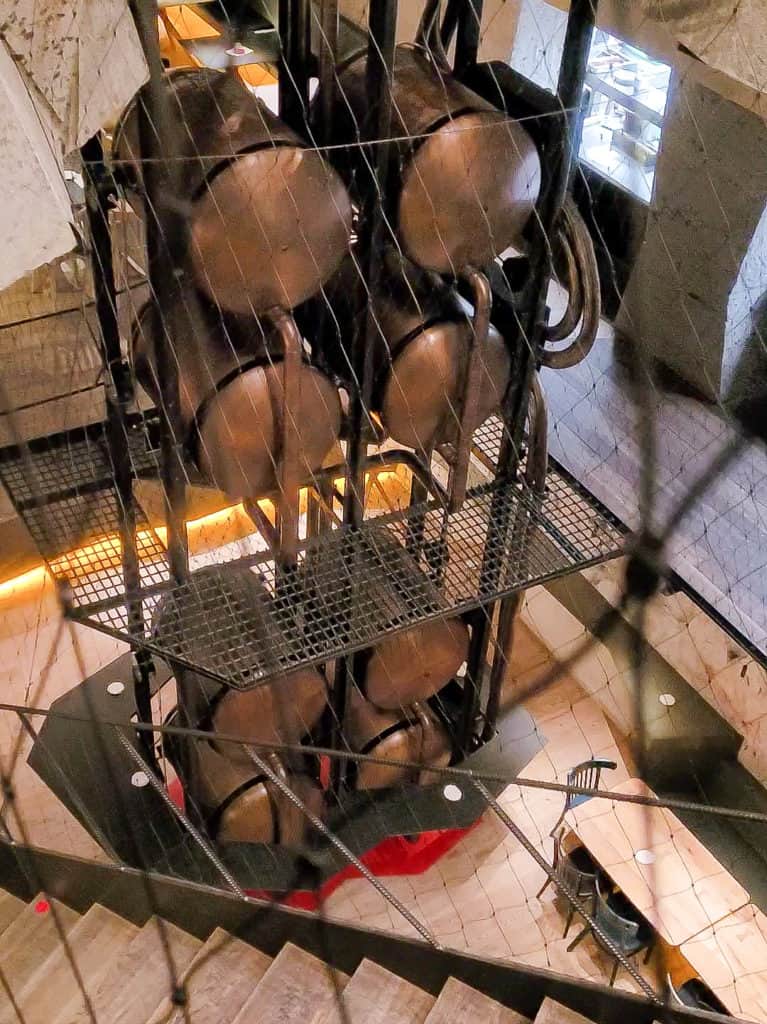 The museum trip and visit took us late into the afternoon and we were starving! We went to Červený Jelen, the home of the tallest beer tank tower in the world, comprised of twelve tanks. The tower spans three massive floors featuring themed bars and dining rooms. We ended up missing the lunch menu and had the dinner menu instead. Červený Jelen has got you covered if you are looking for where to eat both traditional and contemporary Czech food in Prague. Červený Jelen rotates their menus every week so the food I mention below might not be available for you during your visit.
We started with their phenomenal duck fat soup. The bread dumplings served in the soup tasted like duck fat was incorporated as well. Every bite was juicy and succulent. That is saying a lot for a broth-based soup!
I ordered the porchetta with root vegetables for my main. I have never finished a vegetable side dish so fast! The porchetta was tender and the pork skin crackle that came with it was so incredibly crispy that it disintegrated on my tongue.
We shared the pistachio profiterole for dessert, which tempted me to order more. The beer we drank was filling, and I convinced myself to stop while I was ahead.
Empty Towers Await You at Charles Bridge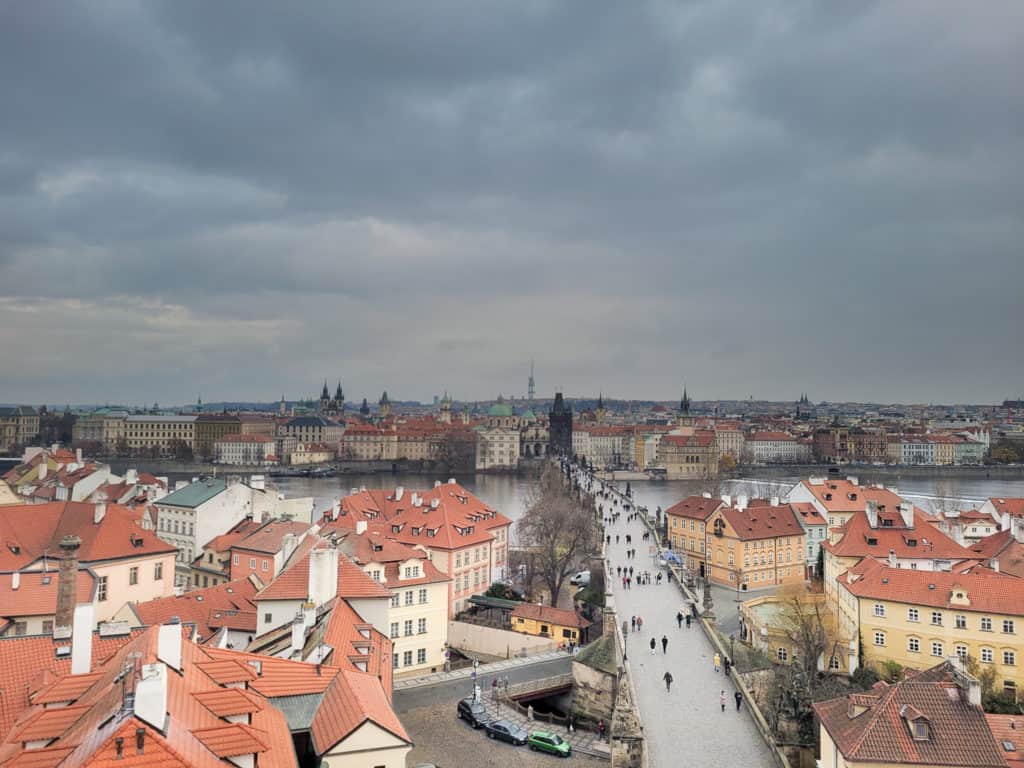 After that filling lunch – more like linner – we strolled down to Charles Bridge and walked across to the Lesser Town Tower. You can enter the tower through a tiny door and pay an entrance fee to go up for amazing views of the Vltava River to the east and St. Vitus Cathedral of Prague Castle to the north. For something as popular as Charles Bridge, you'd think that the towers on either side would be full of people wanting to take pictures of the view. But we were the only visitors there for the half-hour we spent just hanging out on the lookout because no one else had shown up. Take full advantage and make sure to do this!
Czech Out U Marianskeho Obraz
After the tower, we took another tram back to our Airbnb and walked to U Marianskeho Obrazu for dinner. An authentic and traditional Czech pub, we stood out as tourists. Seriously, this is one genuine place to go out of the way to get some amazing traditional Czech food. The servers were very kind and helped us out with the menu to top it off.
I started with the garlic soup, expecting it to be strong. However, the soup tasted mild, and my favorite surprise was the gooey cheese waiting to be dug up at the bottom of the bowl. Just the thing I needed on a cold winter day!
The goulash was reminiscent of the Hungarian specialty but clearly made in Czech fashion. From what I know of the complex, paprika-filled Hungarian goulash, the Czech version represented a more straightforward tomato flavor. The beef was fork-tender, and I happily ate huge spoonfuls until everything was gone.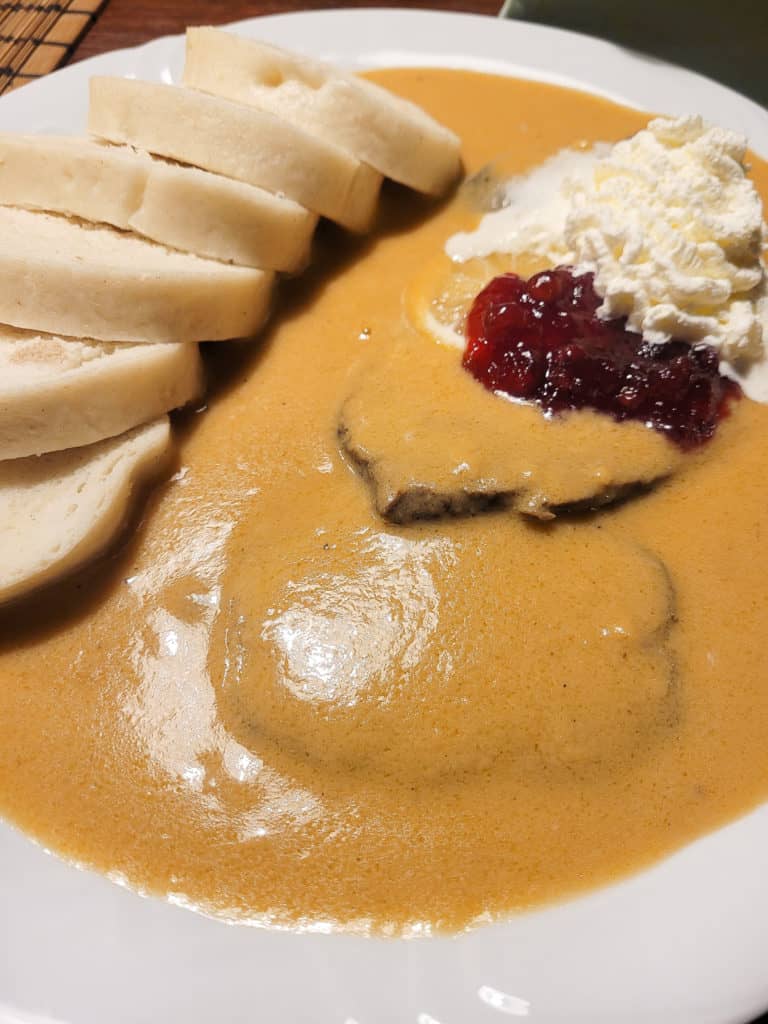 John wanted the ultimate traditional Czech meal, the svíčková, and this one was the best we had of our entire stay in Prague! The beef tenderloin was literally falling apart as soon as John tried to pick it up with his fork. The cream sauce was savory and thick, yet spiced in such a delicate manner that we could drink it on its own. To top it off, our meal at U Marianskeho Obrazu was very affordable. Make sure to put this on your shortlist of where to eat Czech food in Prague.
Where to Eat Breakfast, Lunch, and Dinner in Prague
Recommended:
Avocado toast with soft-boiled eggs & dill
Nam Song (spring roll with shrimp)
Vietnamese coffee "classic style"
Recommended:
Duck fat soup
Porchetta
Profiterole (or any of their desserts!)
Recommended:
Svíčková (beef tenderloin with cream sauce)
Hovězí Guláš (Czech goulash)
Česnečka (garlic soup)
Tried Some of These Places?
Please leave me a comment down below telling me how your trip went. Bonus: Let me and other readers know what you did to make this itinerary more interesting - 💫 let's inspire each other!
Also, follow me on Instagram [@seesfoodwilltravel] and send me a DM of the food you tried. I would love to share and celebrate YOUR experience with our budding community 💞
Check out Sees Food, Will Travel on Pinterest and Facebook for more delicious updates.