Before diving in, let me first say that I tried all these dishes myself. I live in Tbilisi and eat Georgian food on a weekly basis. But sometimes I forget to take pictures of food because I'm just too hungry and Georgian food is irresistible! Check back in once in a while on this post for updates with images and more types of Georgian appetizers!
The Georgian feast, natively called supra, boasts a myriad of appetizers and cold starters that I haven't found anywhere else in the world. You could easily find the appetizer course to be a lengthy affair as you work through small plates that sit edge by edge, sometimes stacked, throughout a table. Then suddenly, more cold plates arrive. Yes, the appetizer course can easily have its own set of courses!
My original plan before writing this article was to list all the Georgian food at my fingertips in this beautiful country. As I started making a list, it became clear that each section (or course) needed a dedicated post. You will soon see there is a lot of food to talk about!
So let's jump in and learn about Georgian starters and snacks. Try not to get too hungry!
Khinkali
What xiao long bao is to China, khinkali is to Georgia. These extra-large soup dumplings carry minced pork and beef morsels that release a salty, flavorful juice when boiled. There is a traditional way to eat khinkali (hint: You leave a piece uneaten), which takes some practice. But once you master the procedure, it's easy to house down several while chugging beer - a classic Georgian pairing.
Ajapsandali
Cold Eggplant Stew
On menus, ajapsandali would be translated as "eggplant stew," though expect it to arrive at room temperature or cold. It's considered a starter and eaten with khachapuri or bread. Ajapsandali is an excellent option for vegetarians and vegans as it's made with tomatoes, Bulgarian red peppers, and onions.
Pkhali
Minced Vegetables
Pkhali dishes are minced vegetables or herbs with walnut paste (nigvzis sakmazi) served as appetizers or cold starters essential to every Georgian feast or supra. There are wide varieties of pkhali, but two popular ones are beetroot (charkhlis pkhali) and spinach (ispanakhis pkhali). You can eat them as they are or spread them on a piece of bread.
Badrijani Nigvzit
This is one of my favorite Georgian dishes! Thinly sliced eggplant pieces are grilled or pan-fried and then topped with walnut paste before being rolled. You will find this on assorted pkhali plates next to spreadable items, or you can order this on its own.
Nadughi
Cheese Wrapped in Cheese
Also known as Georgian cottage cheese, nadughi only looks like it. From there, you will notice its unique granular texture and mild, sweet taste. You will sometimes come across a dressed-up version, where spoonfuls mixed with chopped mint are rolled in gossamer slices of sulguni cheese. The stuffed cones are perfect as finger foods.
Jonjoli
Marinated Sprouts
This pickled appetizer is named after a bush native to Georgia. Sprouts with tiny buds are harvested and pickled in a jar with salt for one week. To serve, it's mixed with a light seasoning of oil. You would eat this as it is to enjoy its complex, tangy flavors.
Gebzhalia
Cheese Dumplings Covered in Cheese Sauce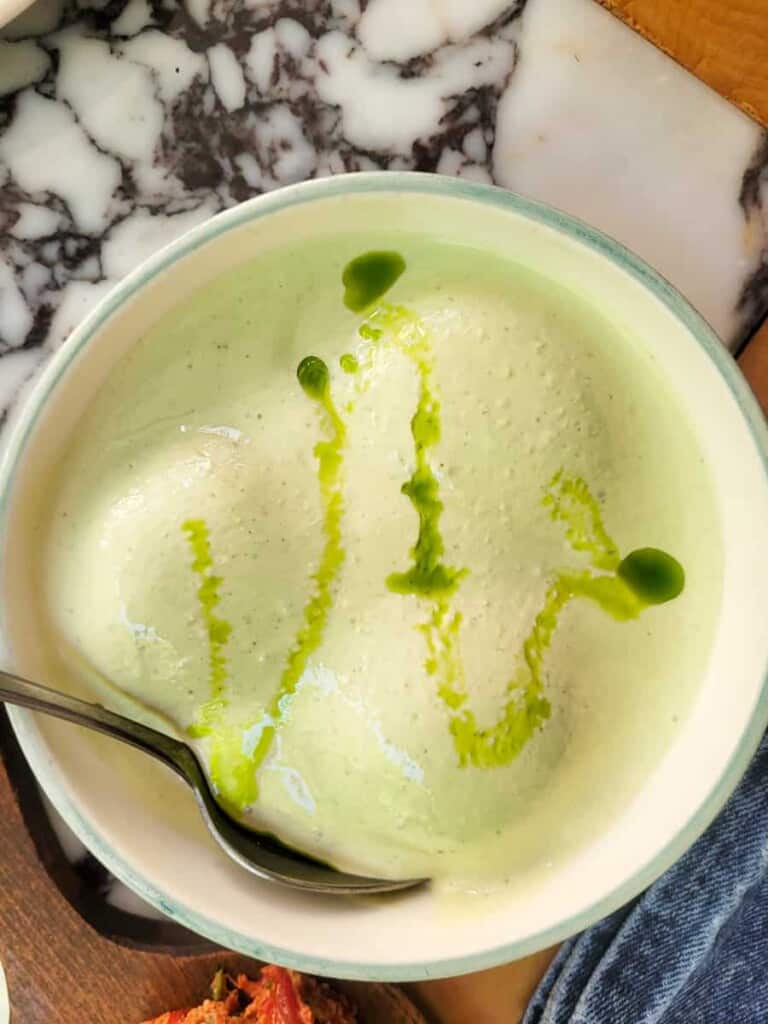 Gebzhalia is a soft cheese dish that takes it to another level. It is made by processing semi-hard cheese until it is malleable like dough. Minced mint and various herbs are spread on top. Then a layer of ricotta-like cheese is added before rolling it into a log. Another layer of liquified cheese tops the sliced pieces on a plate. It is briny, tart, and refreshing all at once!
Soko Kecze
Soko kecze translates to mushroom in ketsi (clay pan). A straightforward dish of hollowed-out mushrooms, at times, stuffed with cheese, then roasted in a clay pan. This pan magically coats the mushrooms with its extracted umami juices as they cook. I end up wanting more whenever I order these!
Kitri Pomidvris Salati
One of the most popular dishes in Georgia contains three foundational ingredients - cucumber, tomato, and onions. Then from there, variations emerge. Also known as Georgian salad, other styles could be topped with sunflower oil and green herbs. Another type could consist of purple basil, a popular topping for many local dishes. There is also a salad version mixed with crushed walnuts - my favorite style.
Atsetsili Badrijnis Salati
Ripped Eggplant Salad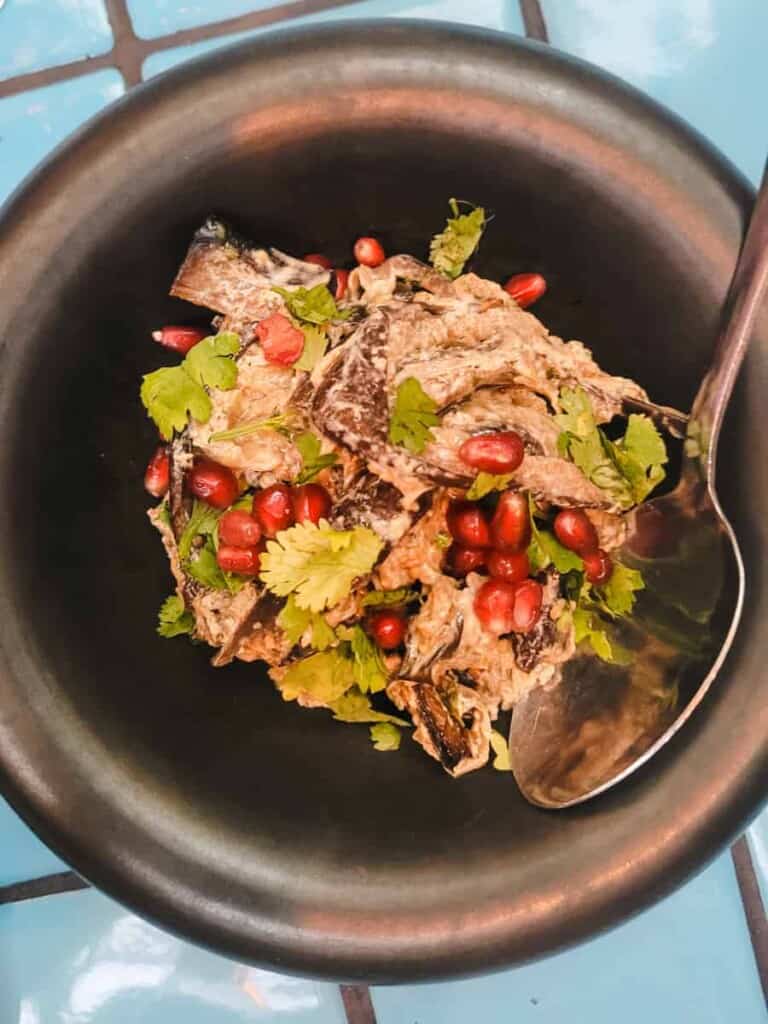 This dish translates to ripped eggplant salad. Grilled slices of eggplants are torn into pieces and mixed with garlic, peppers, tomatoes, onions, lemon juice, salt, and pepper. It's served cold, and you would simply eat it on its own. This dish also comes in a variety of styles.
Lobio
Bean Stew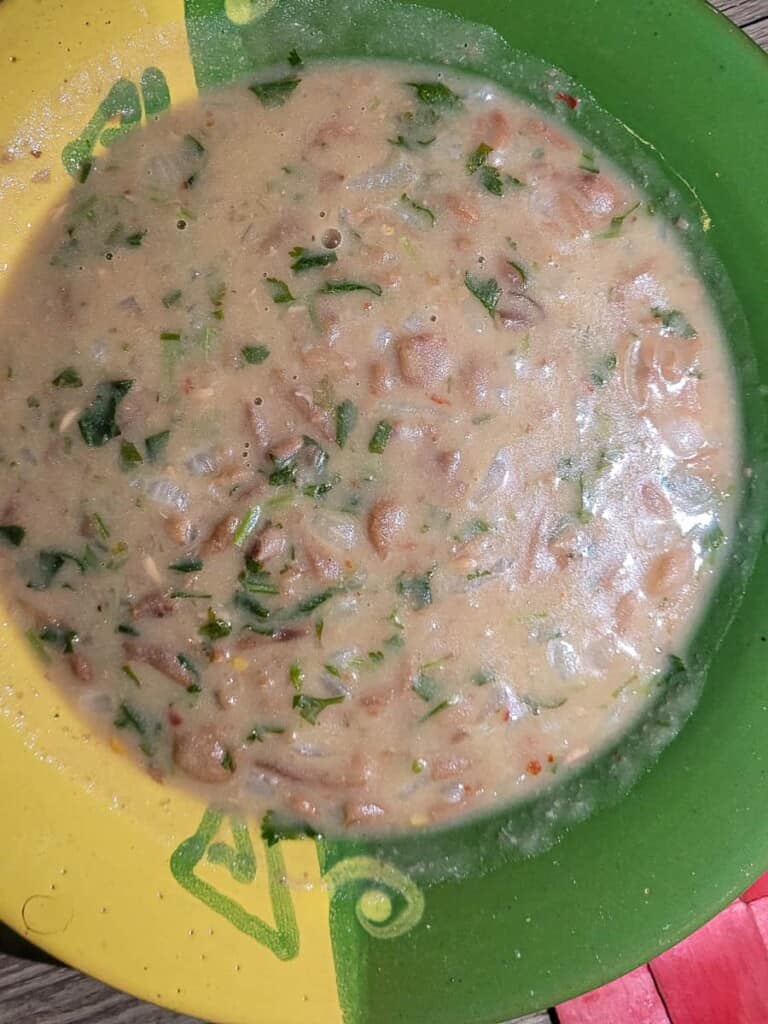 Lobio means beans and is also the name for this bean soup traditionally served in a clay vessel. The beans are slow-cooked with herbs, local seasonings such as blue fenugreek. Sometimes ham or another type of meat are added to the bean stew.
It's safe to say lobio makes the shortlist of top classic Georgian dishes. This bean soup can be flavored in a variety of ways - salty, spicy, savory. It depends on the cook, and there are also regional differences.
Atria
Pan-Fried Leftover Dough
It would be a shameful waste to throw away scraps of khinkali dough, and Georgians are a creative lot! Atria consists of pan-fried leftover dough along with scrambled eggs. The crispy dough is pleasantly oily, and the eggs are a nice surprise, making it a wonderful pairing with alcohol.
I hope this list enlightens you to go out there and try Georgian food if you happen to be near a Georgian restaurant. A better idea, travel to Tbilisi, Georgia to try some of the best Georgian food available - you won't be disappointed!
Tried Some of These?
Leave a comment down below telling me what Georgian food you tried, what you like, and what you don't. Do you feel like I'm missing something on this list? Let me know!
Also, follow me on Instagram [@seesfoodwilltravel] and send me a DM of the food you tried. I would love to share and celebrate YOUR experience with our budding community 💞
Check out Sees Food, Will Travel on Pinterest and Facebook for more delicious updates.
Going to Georgia Soon?
Check out this wine tasting guide to know the difference between factory wineries and family cellars. I suggest you try both!