Nakládaný hermelín or nakládaný camembert are often translated as "pickled cheese". This recipe involves creamy cheese (camembert or hermelín) marinated in oil consisting of spicy peppers, onions, herbs, and various seasonings. This one uses camembert because it's easier to find this type of cheese instead of hermelín outside Czechia.
Update Disclosure: This post has been updated for one or more of the following reasons: easier reading, updated photos, clearer instructions, and just plain ol' improvements to the recipe (as noted).
Jump to:
There is a lot to learn and, most of all, enjoy when it comes to beer culture in the Czech Republic. They take their beer seriously. Czechs approach their beer snacks (also known as pivní chuťovky) in the same meticulous way they pour their beer.
During my trip through the Czech Republic, I quickly became infatuated with marinated cheese along with the rest of Czech cuisine. Its tangy, spicy, oily, and creamy flavors create an unexpectedly delightful pairing with a crisp glass of Czech beer. I knew at some point I would miss this nakládaný hermelín and need to make it at home. After a few tries, I came up with this Czech-style pickled cheese made with camembert that pleases the palate - mild, peppery, slightly tart, a bit sweet, and garlicky.
Ingredients
You'll need the following for this pickled cheese recipe:
Onion
Bell Pepper
Fresh Chili Pepper
Dijon Mustard
Red Chili Pepper Flakes
Paprika
Allspice
Peppercorn
Salt
Bay Leaves
Garlic
Neutral Oil
Camembert Cheese
Substitutes
Camembert Cheese: Go for the authentic Czech version by using hermelín cheese. These two cheeses are interchangeable since hermelín was developed after camembert cheese.


Fresh Chili Peppers: I used green serrano-type chili peppers, but I've also used jalapeno. Figure out whichever one works for you.
How to Make Nakládaný Camembert
Making nakládaný hermelín or camembert is fairly easy. You make a simple paste to spread between the cheese slices and then layer the cheese with the other ingredients. Waiting as the cheese takes on the flavors of the spices and other components is the more challenging part! It would help if you let this jar of cheese sit in the refrigerator for at least three days before cracking it open to eat. Czech recipes recommend marinating the cheese for two weeks for optimal flavor.
Make the Paste
Make a spread. This spread recipe consists of mustard, oil, chili pepper flakes, paprika, salt, and minced garlic. I added gochugaru (Korean chili flakes) to up the spice factor. But it's totally optional.
Throw all these ingredients in a bowl, and mix them. If this paste seems too thick, add a bit more oil to make it more spreadable.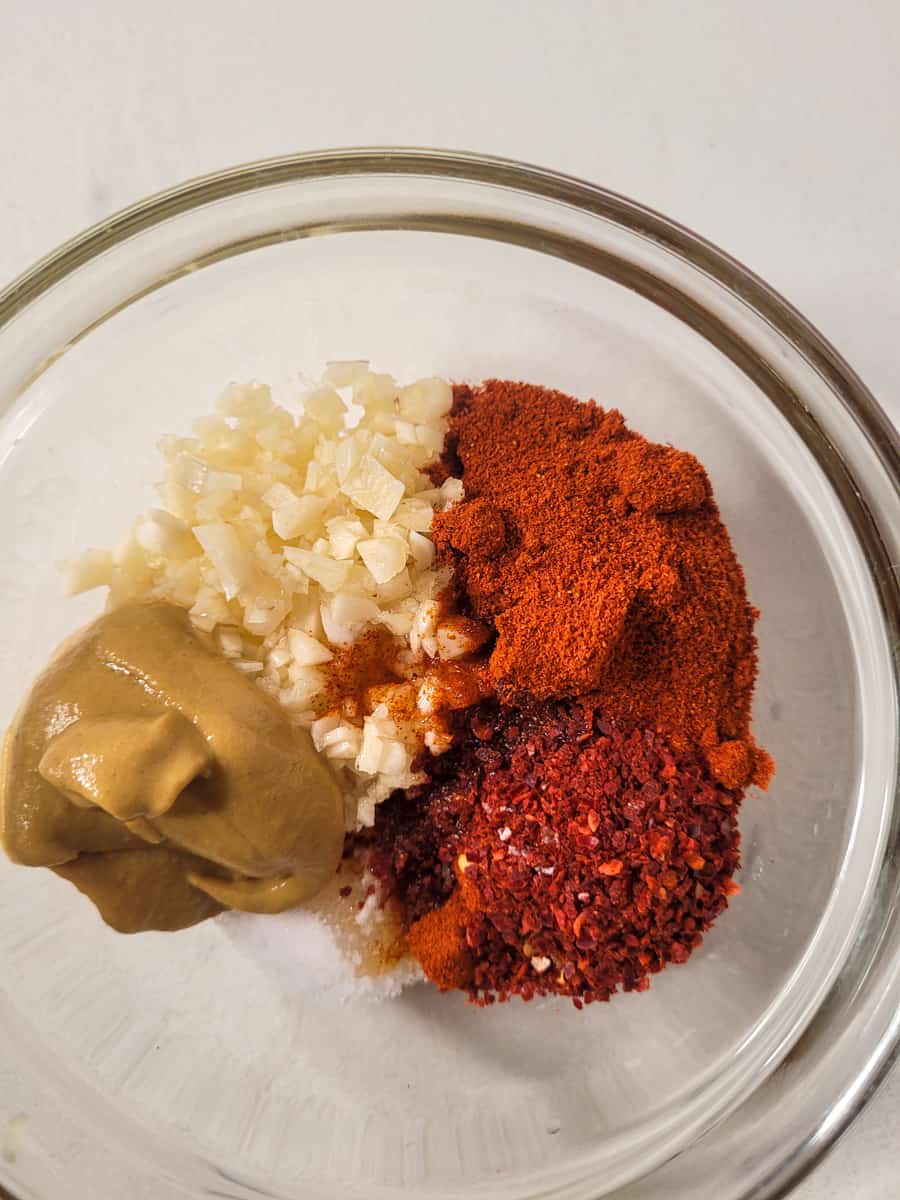 Slice the camembert cheese in half like you are making a sandwich and lay them out. Spread some of the paste on one half of each cheese wheel.
Save some of the paste for the onions! This nakládaný camembert recipe makes more than enough paste, so you should be left with a lot in your bowl to mix into the onions.
Slice and Prepare Other Marinade Ingredients
Take your onions, chili peppers, and bell peppers and slice them very thin.
Take your sliced onions and mix them with the paste you made. Make sure the onions are fully coated and well-saturated with the paste.
Layer the Cheese Jar
Place a plain half of the cheese wheel onto the second half with the paste. You've made a cheese wheel sandwich!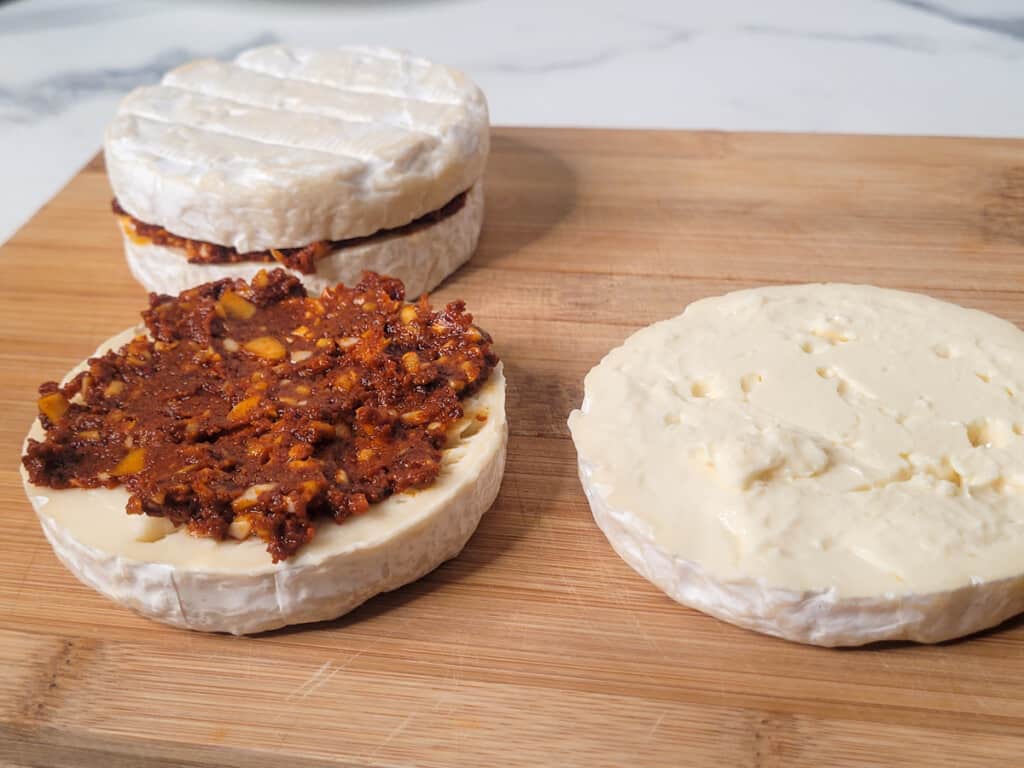 Add some allspice balls, peppercorn, and a bay leave to the bottom of the jar. Next, gently add some of the saucy onions and press down on them.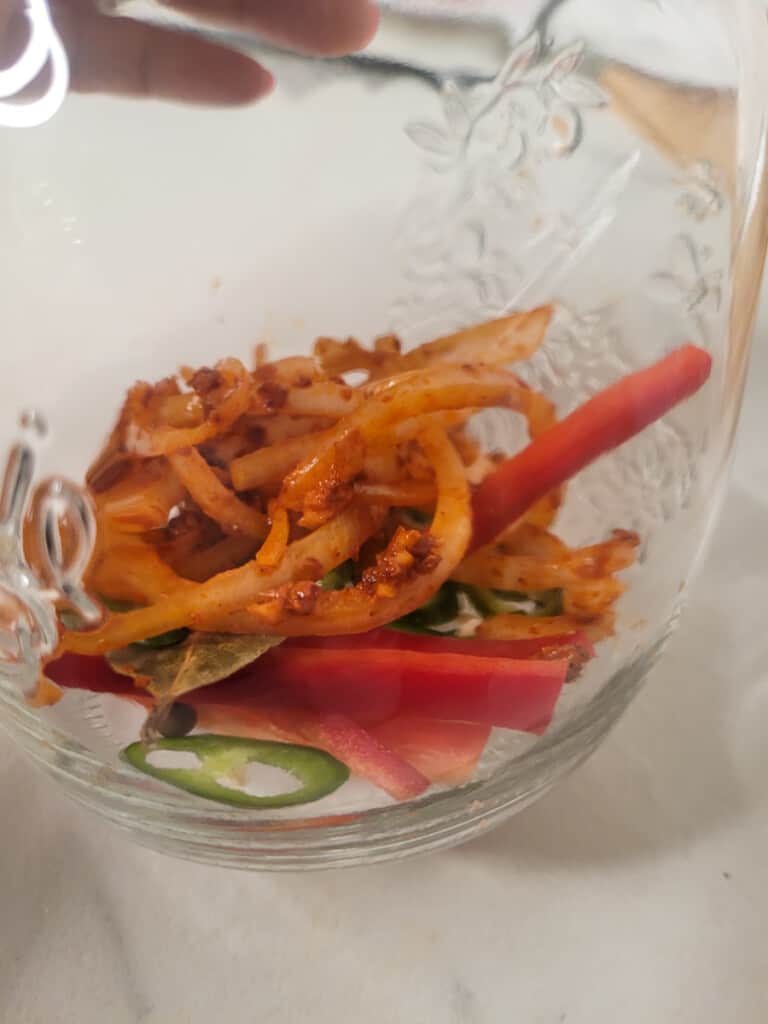 Finally, add the cheese wheel sandwich. Layer on some more spices and onions on top. You can stuff your jar here, but make sure there are air pockets for the oil to seep through.
Repeat these steps for the second cheese wheel and top with any remaining spices and onions.
Finally, add the oil by slowly pouring it into the jar. Halfway through, shake the jar a little so the oil gets into the tiny areas. Continue to fill to the top.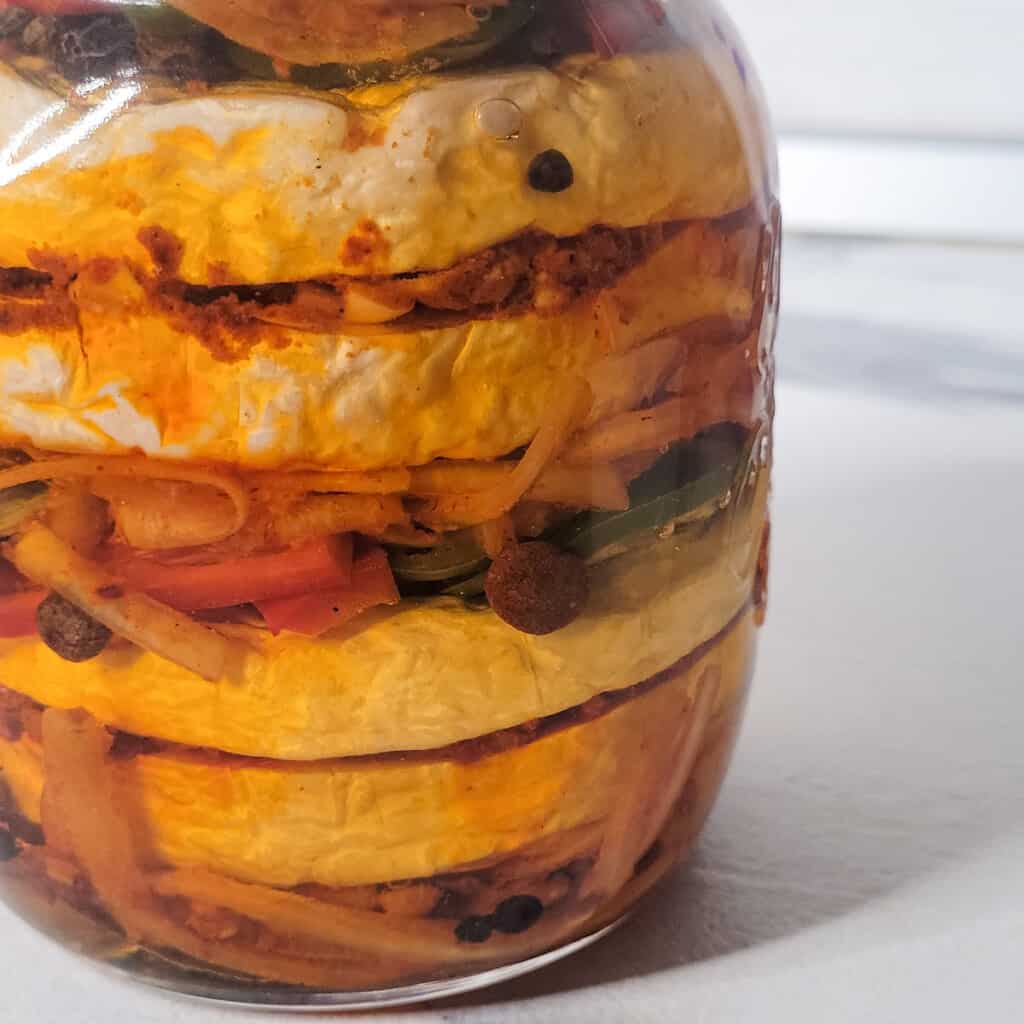 Cover the jar tightly and place it in the fridge for at least three days or up to two weeks.
How to Serve and Eat Pickled Cheese
Once ready, take out a wheel of cheese, and slice it into pieces. Add some of the marinated oil, onions, bell peppers, and chilies for the topping. You can eat them as they are or spread the cheese on a slice of rye bread. I have also seen nakládaný camembert served alongside a portion of leafy greens.
Don't forget that this is a beer snack. Pour yourself a big glass of pilsner or any other crisp beer to enjoy!
A Note on Garlic in Oil
Since the garlic confit trend, botulism warnings have been a topic when dealing with garlic in oil. If you don't feel comfortable with adding garlic and leaving it in oil for a long time, feel free to leave the garlic out and use a teaspoon of garlic powder instead. You can also choose not to add any garlic at all. Make sure you don't keep this at room temperature for long! A very crisp refrigerator is best for this marinated cheese.
Frequently Asked Questions
What's the difference between hermelín and camembert cheese?
Hermelín is a Czech-style cheese adapted from the French camembert by Czech cheesemakers that wanted to cultivate and create a similar creamy cheese. Hermelín can be difficult to find outside Central and Eastern Europe. But the good news is that camembert is easily accessible. So if you can't find hermelín, using camembert is the perfect solution. 
Pickled Czech Cheese (Nakládaný Hermelín or Camembert) Recipe
Nakládaný hermelín or in this case, camembert, roughly translates to "pickled cheese" or "marinated cheese." A beloved beer snack, these tangy, zesty, and creamy morsels of cheese make a perfect pairing with your favorite pilsner (or lager)! Feel free to adjust your spices and seasonings based on your preference!
Ingredients
1

large onion, julienned

1

red bell pepper, julienned

optional

1

piece chili pepper (red or green), sliced crosswise

1

tablespoon

dijon mustard

1

teaspoon

red chili pepper flakes

1

teaspoon

Korean red pepper flakes, gochugaru

optional

2

tablespoon

paprika

1

teaspoon

allspice, whole berries

2

teaspoon

peppercorn, whole

½

teaspoon

salt

3

pieces

bay leaves

4

cloves garlic, minced

optional

1-2

tablespoon

neutral oil (vegetable or sunflower)

neutral oil (vegetable or sunflower), to fill the jar

2

wheels of camembert cheese, 125 grams each
Instructions
In a bowl, add mustard, 1 tablespoon oil, pepper flakes, paprika, salt, minced garlic, and gochugaru (optional). Mix until you make a paste. Add more oil if needed.

Cut the cheese wheels in half and lay them flat. Spread some of the paste on two halves and place the plain halves on top of each one. Leave some paste for the onions. You should have two cheese sandwiches with the paste as filling.

In a bowl take your thinly sliced onions and add the paste. Use your hands to mix the paste with onions until they are well integrated. Set aside.

Take a jar (700 ml or more) and add some allspice berries, black peppercorn, sliced chilies, and a bay leaf at the bottom. Then add some of the onions before adding the first cheese wheel. Gently press down on the cheese wheel before repeating this step. Layer more allspice berries, peppercorns, chilies and a bay leaf on top plus some onions.

Continue layering with the second cheese wheel and finally, top the jar with the rest of the onions, allspice, peppercorns, chilies, and bay leaf.

Slowly fill the jar with oil, stopping halfway through to shake the jar so the oil can get through small areas. Close the jar tightly once filled and place in the refrigerator for at least 3 days before eating.
Nutrition
Calories:
843
kcal
Carbohydrates:
24
g
Protein:
49
g
Fat:
64
g
Saturated Fat:
36
g
Polyunsaturated Fat:
7
g
Monounsaturated Fat:
18
g
Trans Fat:
0.04
g
Cholesterol:
163
mg
Sodium:
2688
mg
Potassium:
955
mg
Fiber:
9
g
Sugar:
8
g
Vitamin A:
7894
IU
Vitamin C:
87
mg
Calcium:
981
mg
Iron:
4
mg
Disclaimer: Nutritional values were calculated with the Spoonacular Food API and should be used for informational purposes only.
Have You Tried This Recipe?
Simply rate the recipe by clicking on the ⭐️s on the recipe card. Have something to say? Please leave me a comment down below telling me what you think of this recipe.
Bonus: Let me and other readers know what you did to make this recipe your own - 💫 let's inspire each other!
Also, follow me on Instagram [@seesfoodwilltravel] and send me a DM with a picture of what you made. I would love to share and celebrate YOUR creation with our budding community 💞
Check out Sees Food, Will Travel on Pinterest and Facebook for more delicious updates.