Brunch is steadily becoming a popular to-do in Georgia's capital, Tbilisi, as the city continues to grow more and more cosmopolitan. Restaurants dedicated to brunch have quickly closed the gap of the few and far between Georgian morning meal. If you're looking for some good breakfast in Tbilisi, look no further! This list will help you find some of the best brunch and breakfast in Tbilisi.
Jump to:
Breakfast Food in Tbilisi
While you'll find omelet, eggs benedict, and the traditional pancake in the restaurants listed below, here are three breakfast foods in Tbilisi that you need to try:
Kikliko - Similar to French toast, it's bread dipped in scrambled eggs and pan-fried. It's served with variations of cheese, vegetables, and other savory toppings.


Syrniki - These are Eastern European-style pancakes made of packed and sweetened cottage cheese and cooked like pancakes. They are delicious with whipped cream and berries!


Shakshuka - Poached eggs in tomato sauce is a trendy breakfast in Tbilisi, but a very fitting one. The dish is often made with fresh tomato sauce and packed with Georgian herbs.
Restaurants Map
You can quickly find the best brunch restaurants nearest you. If you are ready to go and would like to read reviews of each restaurant, here is a map of all the breakfast places in Tbilisi mentioned in the list below.
Best Tbilisi Breakfast and Brunch Restaurant List
This gorgeous cafe is nestled in a city park, aptly named Urban Garden, tucked away just off Aghmashenebeli Avenue. The bright and cozy cafe is actually a re-purposed solarium filled with plants in an Instagram-worthy setting.
You can have anything from baked goods to egg dishes all the way to innovative plates such as their katsu sandwich. The employees are just as sunny as their environment and it's an excellent place to socialize. After eating, go for a walk around the park for the perfect brunch day.
Located at Wine Factory between Vera and Vake, Kikodze Bar is widely known in the city for hosting delicious brunches. But now they've elevated their game with additional space and an expanded menu. You can have breakfast or brunch until 17:00 (5 PM) and choose to sit in their renovated indoor dining area or at their timeless patio seating.
Regardless, the food is still just as delicious with many choices from stracciatella omelets to eggs your way - you will also probably want to return at least one more time! But most of all, the innovative drinks are just as sparkly and popular. If you want to get your daytime drink on - this would be the place!
If you are looking for a serene place with a delectable breakfast in Old Town, Tbilisi, Chaduna would be the place for you. It's located in a historical building with its main entrance a mere flight of steps within.
They serve a combination of typical breakfast and fusion dishes that will delight you with the freshness of their ingredients. I was this close to asking the waiter where they buy their fruits and veggies!
Try their mini bruschettas (I loved the champignon with garlic and cream) and chizhi bizhi (like a shakshuka). I had one of the best, buttery scrambled eggs here!
Kikliko is also known as Georgian egg bread, it's made similarly to French toast where a slice of bread is dipped in scrambled eggs and fried on a pan. The Georgian take is more savory with additional toppings such as cheese, tomatoes, or ham.
This cafe restaurant in Vake makes several variations of kikliko, the perfect place to try a classical humble Georgian breakfast. They also have a garden for sunny days.
As soon as you enter Bazari Obeliani, immediately turn left and you will find yourself at Blamanje. It's an airy cafe and restaurant with a lovely, colorful setting.
They have some delicious coffee options and several breakfast and brunch options. I thoroughly enjoyed the hummus and I will be coming back for their eggs benedict. This cafe is a great stop before you go shopping for souvenirs in Bazaar Oberliani.
Hurma serves all-day breakfast during their open hours. You can get breakfast in Old Town by finding a seat (there are plenty!) at their cafe.
They have an excellent menu with a unique array of waffles to choose from, ranging from sweet to savory. I daydream about the green waffle with spinach and mushrooms!
14 Martsvali gets overlooked because it's not as fancy or bright or big as other places in this list. From the outside, it looks like a bakery, but it has an extensive breakfast menu that rivals most other restaurants here.
I recommended choosing from a variety of their quiches or trying one of their egg benedicts. For those that are really hungry, they have a French toast sandwich. If you have a sweet tooth, they have a large selection of desserts to choose from.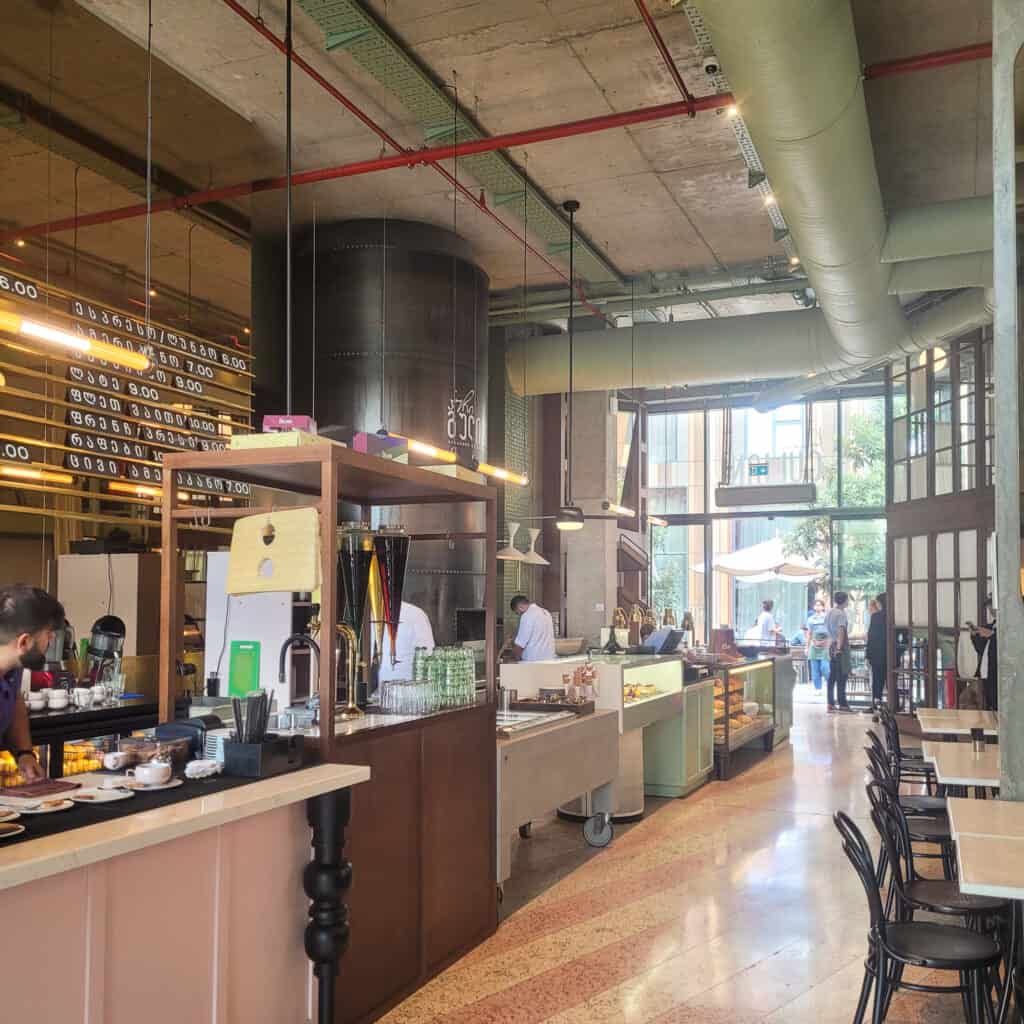 Puri Guliani quickly made a name for itself as soon as it opened. They have lived up to their hype and they remain one of my favorite breakfast spots in Tbilisi. Their restaurant has lots of room for sitting with plenty of table space for working.
Craving some sunnyside-up eggs with a side of bacon? You got it. They have a traditional Western-style brunch menu with some options to customize your eggs and sides. They also have a large pastry selection and excellent coffee.
Lolita is part of Rooms Hotel but plenty of people visit because the food is consistently delicious. I've always opted to sit under the veranda whenever I can. This is a great place to introduce friends to Tbilisi because of its Georgian fusion food.
They have a rotating menu and the options change, but they've managed to keep some of the popular choices around. Items such as kikliko, a traditionally humble Georgian breakfast, and shakshuka are a staple part of their breakfast menu.
Lui Coffee in Vake is open 24/7, serving up breakfast and brunch food around the clock. The food is consistently delicious throughout the day and there are plenty of options on the menu.
For a big meal, I'm partial to their English breakfast. But if you want some lighter fare, their green omelet is a tasty and healthy option.
This cute little neighborhood bakery is hands-down (in my opinion) the best bakery in Tbilisi! They serve warm cinnamon rolls that come out fresh every day after 13:00 (1 PM), which gives you plenty of time to get up. If you get there earlier, their menu offers a selection of baked goods from croissants to pies to cakes. Bonus: they are a few doors down from Shavi Roasters, one of the best specialty coffee shops in Tbilisi, so you can hit two birds with one stone.
Best Coffee with Breakfast in Tbilisi
Some Tbilisi specialty coffee shops also provide a full menu. If you want to see a full list, check out this article on the best specialty coffee in Tbilisi. If you are short on time, here are my top three recommendations:
Coffee Lab - You can't go wrong with anything from here! My current favorites are their overnight oats and egg sandwich with round buns made with laminated dough (read: croissant-style).


Erti Kava - They give generous portions of egg dishes, boast a loaded avocado toast, and offer seasonal morning selections. Make sure to come hungry!


Groovy Roasters - From omelets to full-blown buttermilk pancakes, they have a robust menu for breakfast. Try their blintz, the Eastern European-style crepes with jam and cream cheese.
Frequently Asked Questions
What time is breakfast in Georgia?
Georgians typically have a later start and most cafes open at 10 AM. While some breakfast and brunch restaurants do open at 8 AM, most serve breakfast well past 12 PM.
What is a typical Georgian breakfast?
Georgian breakfast is usually a simple combination of bread, fried eggs, and slices of cheese and tomatoes. Coffee and tea are usually consumed in the morning as well.

The best way to experience traditional Georgian breakfast food is to do a homestay that serve guests meals at their homes.
Tried Some of These Places?
Please leave me a comment down below telling me how your trip went. Bonus: Let me and other readers know what you did to make this itinerary more interesting - 💫 let's inspire each other!
Also, follow me on Instagram [@seesfoodwilltravel] and send me a DM of the food you tried. I would love to share and celebrate YOUR experience with our budding community 💞
Check out Sees Food, Will Travel on Pinterest and Facebook for more delicious updates.