Portugal (and Portuguese food) had been on my bucket list for a looong time, and needless to say, I was very excited that I finally got to visit the country of Port wine - Porto. One of the things I looked forward to was exploring Porto's riverside life along the picturesque Douro river. Porto, Portugal fulfilled so much of my daydreams where I imagined eating some of the best seafood in my life! If you love seafood, I am confident this one-day food guide in Porto will help you take care of those cravings! Jump here if you want to view recommended restaurants and dishes.
Breakfast at Confeitaria do Bolhão
We crossed the Dom Luís bridge on its top level towards Confeitaria do Bolhão for breakfast on the Porto side. The view is fantastic on a sunny day. Carve out time to cross the top of this bridge. It is Instagram-worthy!
Confeitaria do Bolhão was a bustling place in the morning, a sure sign of its popularity. The restaurant gallery is off to the left, a few steps past the pastry display, and the cafe is an open area in the back. It's easy enough to find a seat at the cafe section so long as you find an empty, cleaned table. If you find an open table, but it's not clean, stand by it, and a waiter should notice you. They will come over and clean up the previous guests' mess.
You can also stand at the bakery counter if you know your Portuguese well enough (are brave enough) and request food to eat on top of the pastry case. Hang out at the counter as people watch you eat. We arrived at Confeitaria do Bolhão at about 10:00 AM. By 10:30 AM, I noticed a construction worker standing at the counter with a mini glass of white wine, which I later realized was a quintessential ritual for breakfast in Porto and the rest of the country.
We got two pastries to start, a pastel de nata and the cafe's specialty, Tigelinhas do Bolhão. Tigelinhas do Bolhão are round tarts with a crunchy top and then filled with softened almond frangipane. It's so easy to eat a single serving of these pastries. I had to hold back on ordering more! This cafe is the only place where you can eat these almond tarts in Porto. Correct me if I am wrong, but I haven't found them elsewhere.
For our main, we decided to split the famed Francesinha sandwich. The name was different on the menu as a special, but it had all the elements of the popular dish - a sandwich filled with ham, sausage, and cheese, then covered in more cheese and slathered with a homestyle tomato-based sauce. I found this dish an appropriate breakfast for our first day in Porto.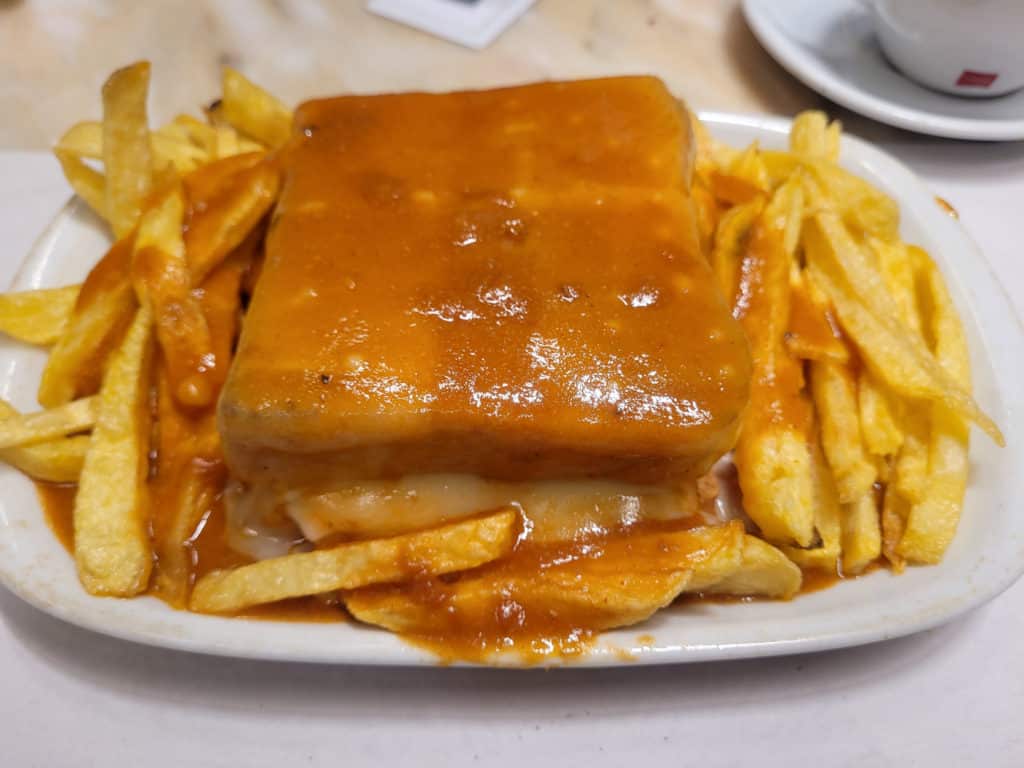 Do not forget to order a traditional Portuguese coffee, whether it's abatanado (similar to an Americano), galão (milk with coffee), or meia de leite (similar to a latte).
When we visited (more than once!), we paid in cash every time since the cost of our meals was affordable. Though we are unsure whether Confeitaria do Bolhão is cash only, ensure you have prepared currency before going. It's easier to pay with cash at the desk and leave a tip because those waiters work hard!
Walk Off Breakfast to the Other Side
You will probably pass by São Bento, the central train station in Porto. The station's austere exterior is deceiving, and we learned it's designed to look that way. Just past through its archways lies some of the most extravagant and oversized blue tile art (azulejos) waiting to greet you! Spend some time taking pictures and marveling at the azulejo tiles inside the station.
You would still be pretty full at this point, so walk towards the Vila Nova de Gaia side. There are lots to explore along the river and then there are the hills - your breakfast calories will be used as energy as you walk the alleyways in this historic neighborhood!
Lunch With a View of Porto
Our lunch option at Vila Nova de Gaia was at a restaurant called Barris do Douro. It's difficult not to miss; the bright yellow building squeezed between two other restaurants practically beckoned us. We were seated on the second floor with a table next to the window facing the river.
At Barris do Douro, we tried caldo verde, another must-eat in Portugal that translates to green soup featuring collard greens and potatoes. I was determined on eating seafood on my first day in Porto, so I got the clams with garlic in white wine sauce as another starter before my lunch main.
John ordered a plate of tripe stew with beans and sausages called dobrada served with a side of rice. This tripe stew is a definition of comfort food. Its rich, creamy, and hearty profile activate those same warm and fuzzy feelings that all established comfort foods bring forth.
Still on the seafood train, I ordered the roasted codfish, which was a perfect dish for lunch. The cod was crispy on the outside and soft on the inside with a pickled topping that complemented the fish. I was delighted to check off my first Porto seafood lunch at Barris do Douro.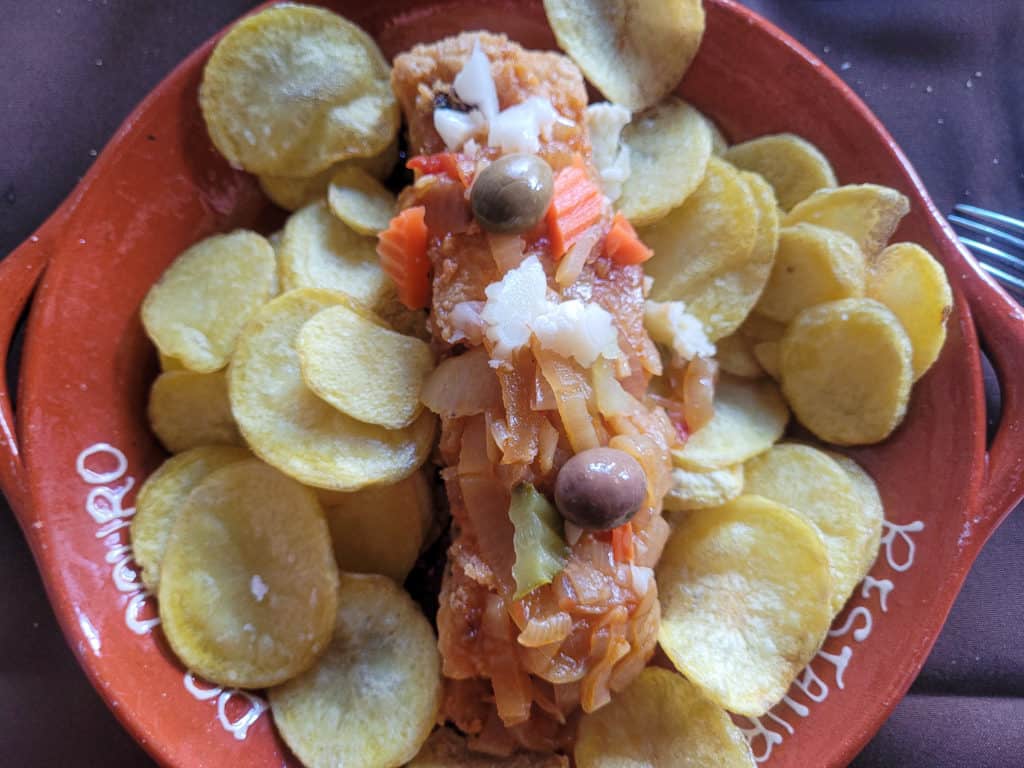 We also both tried a glass of vinho verde, or green wine, with our meals. Barris do Douro has a solid selection of demi bottles. So you can try two types of wine at 375ml without limiting yourself to a 750ml bottle.
Lush it up at the Wine Taverns
You might want to save drinking wine for tastings at the wine caverns nearby. There are plenty to choose from, and they run the gamut of Gaia's riverside. A good plan would be to walk as far west as possible to a wine cavern, then slowly make your way back towards the Dom Luís bridge. The caverns close around 6:00 PM or 7:00 PM, just in time for dinner on the Porto side.
I promise you will get your fill of Port wine at Gaia, but please don't overlook dry wines offered at some wine cellars! Check out Solar Dos Dragos, nestled in one of Gaia's quaint alleyways. The owner is a vintner who excels in producing some unique Douro wines next to other popular local wine offerings.
Return to Porto for Dinner During Sunset
Keep the seafood party going at Adega São Nicolau for dinner, located on the west end of the Porto's riverwalk. It is located near an entrance of one of many alleys. During our visit, we started with bacalhau fritters and fried alheira sausages.
Bacalhau, or codfish, is the national dish of Portugal, so do not skip out on trying bacalhau fritters! They are delicious fried balls of shredded and breaded codfish mixed with potatoes and some spices. The fried alheira sausage at Adega São Nicolau isn't quite what you imagine a sausage to look like. But they are satisfyingly meaty, salty, and juicy as you would expect from a regular stuffed sausage.
For a main, we shared the fried octopus that came with rice. It was my first time trying octopus in Portugal, and I did not expect my fork to slide through the delicate meat. It was a fun experience, eating octopus that fell apart in my mouth. For the rest of our trip in Porto, I made sure to visit restaurants where I could eat octopus at least once a day!
Our second main was a bowl of shrimp in garlic sauce that came with a side of fried potatoes. The garlic shrimp was a dish that exceeded expectations, and the potatoes that came with them were flawlessly fried.
Tips for Dinner in Porto
Since Porto is a popular tourist destination, make sure to call ahead of your visit (perhaps even weeks earlier) to book a table at a restaurant. We didn't realize that dinners in Porto, let alone Portugal, would be a hectic activity - we constantly waited in long lines and had limited choice for seating. Save yourself the trouble and time by booking ahead at choice restaurants. This is especially important if you find a restaurant in Porto where you would like to eat a local specialty. Porto is small and places well-known for local dishes are most likely be booked in advance!
Porto was my gateway to the rest of Portugal, and I look forward to sharing more experiences and food guides on this country! I felt like I unlocked an entirely new cuisine and eating culture as deep and rich as their vineyards. I hope you feel the same.
Where to Eat in Porto, Portugal Food Guide
Recommended:
Tigelinhas do Bolhão (almond tart)
Pastel de Nata (egg custard tart)
Francesinha (sausage, ham sandwich in sauce) - listed as a special ham sandwich
Recommended:
Caldo Verde (green soup)
Amêijoas à Bulhão Pato (clams in garlic sauce)
Bacalhau Assado (roasted codfish)
Dobrada (tripe stew)
Recommended:
Alheira Frita (Alheira fried sausage)
Bolinhos Bacalhau (codfish fritters)
Filetes de Polvo com Arroz do Mesmo (octopus fillet with rice)
Gambas ae Molho d'alho (shrimp in garlic sauce)
Curious for More Food Guides?
Check These Out 😎
Tried Some of These Places?
Please leave me a comment down below telling me how your trip went. Bonus: Let me and other readers know what you did to make this itinerary more interesting - 💫 let's inspire each other!
Also, follow me on Instagram [@seesfoodwilltravel] and send me a DM of the food you tried. I would love to share and celebrate YOUR experience with our budding community 💞
Check out Sees Food, Will Travel on Pinterest and Facebook for more delicious updates.