London is a dense city. Even if I were to have made a food itinerary (I did) to try and cover even a fraction of the top restaurants listed on every website Google offered, it would take weeks to eat and drink through them. I had to be thoughtful with my choices and wallet! So when it came to selecting two steak restaurants in London, I wanted variety. Though it's open for argument, I wanted them to be the best at something.
John and I were fortunate to visit two popular London chains that famously offered steak. The two restaurant chains I chose to visit are Flat Iron and Hawksmoor. Some considered Flat Iron to be the best value steak restaurant in London. I decided to make reservations at their Marylebone location since it was the closest to our accommodation. Hawksmoor Seven Dials is at the top of the Google result page when I searched for the best steak restaurants in London.
What to Do Before Visiting
I highly recommend carving out time in your itinerary for these steak dinners and making reservations that you can commit to. Central London is always busy, and these restaurants seem to be consistently full. However, Hawksmoor and Flat Iron make it very easy to book your visit online.
Our group visited Flat Iron on a Monday night without reservations, thinking we could get a table quickly, but we found ourselves waitlisted. We waited for nearly forty minutes for our seating. Luckily, they text you when you have about ten minutes left on your waiting time. This means you can visit some neighboring pubs or bars to grab drinks as you wait.
I was more careful in planning Hawksmoor, knowing that it had a famous reputation online as a top choice for special occasions such as birthdays. I wanted to try the British tradition of eating Sunday roast which coincided with Easter weekend with friends. So I made reservations at Seven Dials for a group of four people roughly a month before we arrived. I felt that it was a smart move because when we visited, I didn't see an empty table except for ours.
Flat Iron Steak at Marylebone, London
James Street, where Flat Iron is located, chocked full of restaurants, was buzzing. I saw the tables spilled onto the street, remnants of forced al fresco dining perpetuated by COVID-19 that remained, which makes eating more fun. We visited the UK a month after the government lifted all pandemic mandates. You couldn't even tell that pandemic restrictions were enforced, from what I saw. 
Flat Iron is no exception, and we weaved through the tables to get to the front door and sat somewhere along a wall inside. It would be an understatement to say the restaurant was busy. Nevertheless, our waitress showed up, paused, and quickly established rapport while handing out menus after offering her greeting.
What We Ate at Flat Iron
We ordered two steaks, our own chips (fries), two salads, and one roasted aubergine for the three people in our group. I also started with the Flat Iron negroni, characterized by its novel presentation. An alchemy bottle filled with the orange drink arrived with an glass of ice so I could do my own pouring. 
Given its namesake, there is one style of seared meat offered at this restaurant - the flat iron steak. It's a cut of the top blade, and from what I saw, it was only available in one size and price. There is something to be said about a restaurant that has curated its limited options - what they offer is excellent. The steak is seared to a perfect medium-rare and tender with just enough resistance when you bite down. Did I mention one order of steak is only £12?!
At the end of the dinner, we received silver tokens to exchange with someone at the front of the restaurant. The token turned out to be tiny butcher knife charms we gave to a server who traded complimentary ice cream with us on our exit!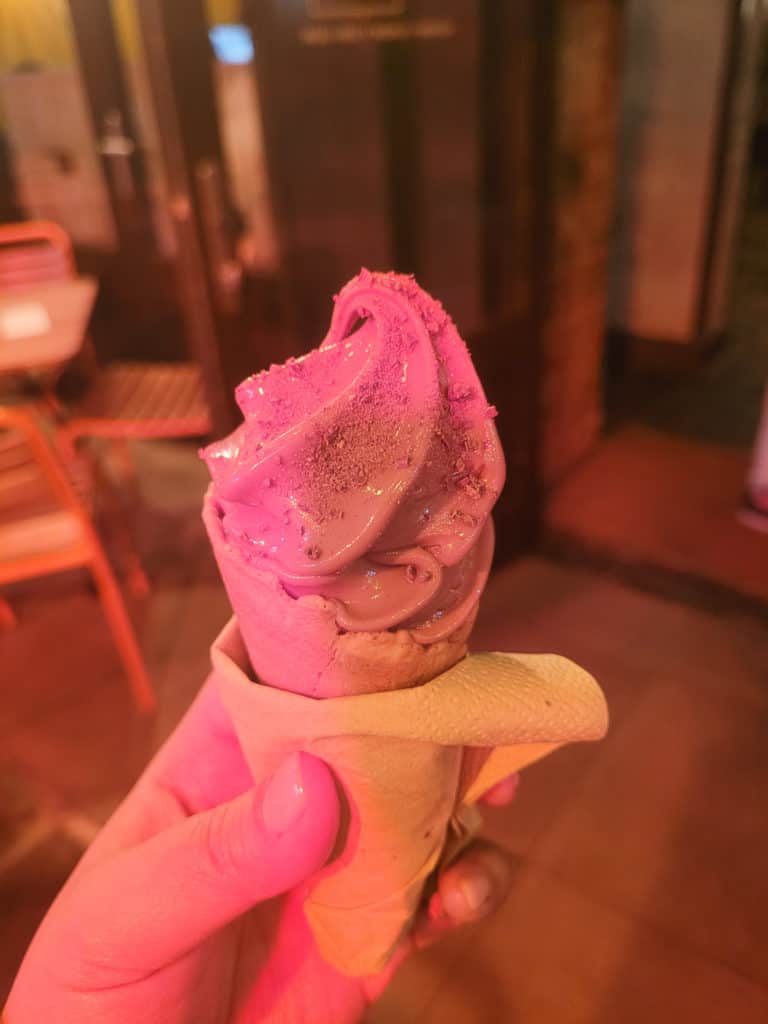 For its value and enjoyable atmosphere, I would recommend Flat Iron to friends looking for a place to hang out and have dinner together. The prices are economical for those willing to split the bill. When you know you are getting a deal on food, it's easily tempting to splurge on the fancy drinks. The free dessert at the end of your meal is very well done, so the experience from start to finish is a great time. I'd like to think it's a guilt-free visit for regulars.
Hawksmoor Steak at Convent Garden, London
Hawksmoor Seven Dials looked inconspicuous from the outside. We thought the restaurant was closed for the holiday weekend for a moment. But upon opening its heavy doors, we were greeted by not one, but two hostesses. One of them checked our reservation and swiftly led our group to a corner table in the main dining room.
Since we visited on Easter Sunday, I observed bigger groups of like-minded friends and families gathered around more oversized tables. Despite its classy and grand decor, I could best describe the atmosphere as lively, relaxed, and comfortable.
What We Ate at Hawksmoor
The four of us skipped lunch for this meal and wanted to make the most of our visit. We ordered a plate of salad and bone marrow to start, two plates of Sunday roasts, and one 750g Porterhouse steak. Our personable waiter guided us through the menu thoughtfully. We felt like we lucked out with him because he initially worked in the kitchen but was asked to cover the floor due to staff shortages. He knew his way around meat and expertly told us that our original order of T-bone would make us lose out on more meat.
But there comes a time in certain places when you enter a state of delight because everything is so good that you just want to live it rather than taking notes. So I will do my best to describe what I noticed whenever I managed to pull myself out of my food nirvana.
If I wore a blindfold, you could have fooled me into thinking that the roast rump was prime rib. It was rich and flavorful. The meat is delicate and sliceable with a fork. I personified the slices of roast as someone who quickly gives up at the sight of a domineering utensil. It didn't need gravy - it had an inherently packed flavor.
The porterhouse steak came merely dressed with a hint of sprinkled sea salt peeking at us in between a few slices. I took a piece, and the taste in my mouth told me a story. Some steaks are described as buttery, garlicky, and tender. This steak presented more subtle, surprising flavors like grass and earth. But, most of all, it had a sufficient balance of the taste of beef without overpowering the depth of more delicate flavors.
At the end of our meal, we squeezed in dessert by sharing one item. Our waiter also came by and had us try a sample of Shakey Pete's. The signature drink at Hawksmoor, it's a mix of gin, ale, ginger, and citrus. We all left that restaurant with quiet, muted satisfaction, nearly bursting from the food and alcohol. Sad that the meal was over. But mostly pleased with the knowledge that we had an incredible Easter dinner. It was worth the splurge.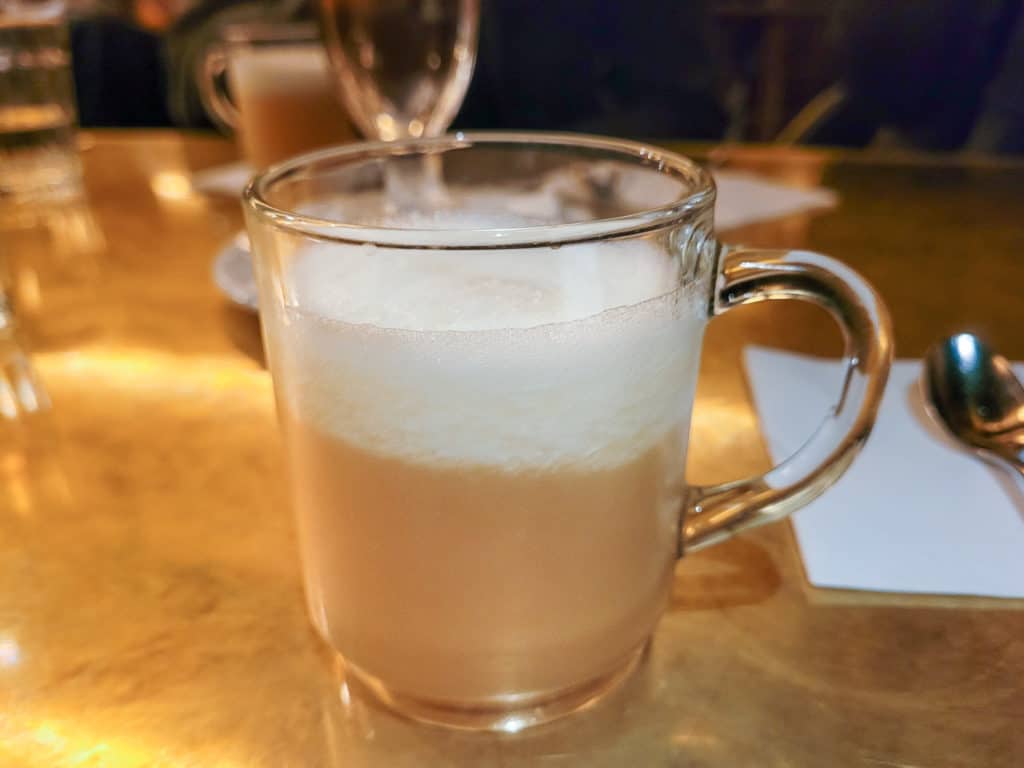 Some Notes On Visiting Restaurants
Check your sitting time. Most London restaurants have a seated time limit to keep their visitor turnover constant. From experience, I learned that the general time limit is about two hours or a little less. Your two-hour sitting time starts at the top of your reservation time. Depending on how busy the restaurant is, you may be able to linger longer than that. Still, it would be at the restaurant's discretion.
Research several chain locations. Local city chain establishments vary in quality of service and atmosphere. These were my experiences in visiting these specific steak restaurant locations, please know you may have different experiences at other places in London.
Curious for More Food Guides?
Check These Out 😎
Tried Some of These Places?
Please leave me a comment down below telling me how your trip went. Bonus: Let me and other readers know what you did to make this itinerary more interesting - 💫 let's inspire each other!
Also, follow me on Instagram [@seesfoodwilltravel] and send me a DM of the food you tried. I would love to share and celebrate YOUR experience with our budding community 💞
Check out Sees Food, Will Travel on Pinterest and Facebook for more delicious updates.