Before visiting Zurich, we knew that we wanted to allocate our travel budget across cult favorites and hidden gem restaurants. I am grateful to have seen a few trendy restaurants in Zurich. However, in my experience Wirtschaft Degenried with its location and cozy atmosphere, allowed me to taste some of the best bone marrow I have ever had!
A Lucky Find Above the City
When I say Wirtschaft Degenried is above Zurich, I mean to say that the restaurant is tucked within a mountain forest northeast of the primary city limits. The tree-covered surrounding is what I could best describe as a manicured forest, complete with a camping ground and paved walking trails. We sat at a table next to a window with a view of a cute birdhouse. The activity of the birdhouse's winged visitors entertained us throughout our meal. Several trails surround the restaurant, and we were able to take one of them to walk back down the mountain. More on that later!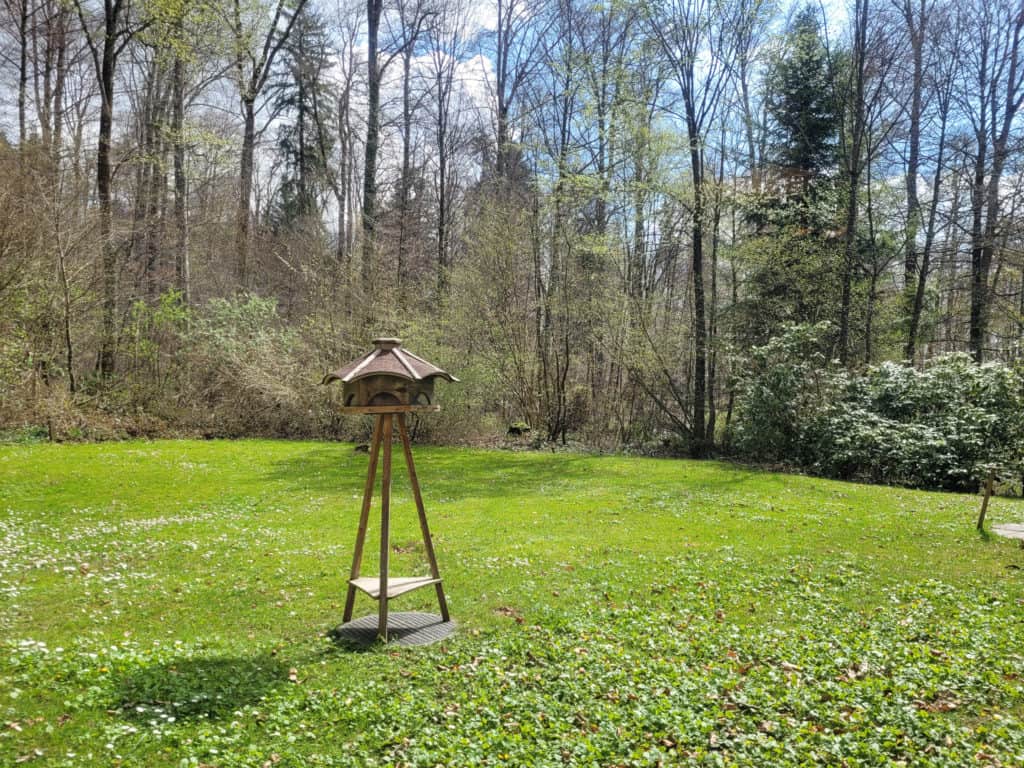 What We Ate
Degenried prides itself in providing its guests with traditional hearty Swiss dishes and warm and friendly hospitality. Our waitress swiftly arrived with a cordial smile and courteously asked in Swiss if we spoke German or English. She handed us the appropriate menus and encouraged us to take our time with the wine list. The menu is the size of a small rustic notebook. With its charming sans-serif font, the menu told us of Degenried's purpose in sourcing local ingredients and introduced us to the culinary team. The book also told us where they sourced their ingredients, such as their meats meat, down to the zip code of their origin in Zurich. I would typically find this to be a marketing ploy in other restaurants. Yet, with the simplicity of the restaurant's menu and interior, I felt that they want to show it rather than tell it.
Eventually, I opted to start with a newer wine bottle on their list. Our apologetic waitress didn't have a chance to taste the new wine and told us that she couldn't provide a taste profile for me. Though she seemed concerned with our unknown wine, it turned out to pair well with the dishes that we ordered! The wine was a blend of three white grapes from an appellation in Valais.
Appetizers
For our appetizer, we ordered the mixed salad and bone marrow. The salad was a pastoral aesthetic with locally sourced vegetables topped with microgreens. A clean and straightforward representation of what the menu described regarding their ingredients.
The bone marrow plate was more impressive. Two logs of bone arrived, filled with roasted tissue that gleamed in the natural light. The plate was sprinkled with pink, black, and other colors of crushed pepper that looked like festive confetti. Shiny oils from the marrow in the cavities invited us to dig in with the elongated spoons our waitress provided. The marrow was pillowy but structured. I placed a spoonful on my toast, and it lazily settled on the bread after one bouncy motion. If you ever had a souffle, this was the texture. If you ever had a rich beef stew where someone added two sticks of exceptionally made butter, this was the taste.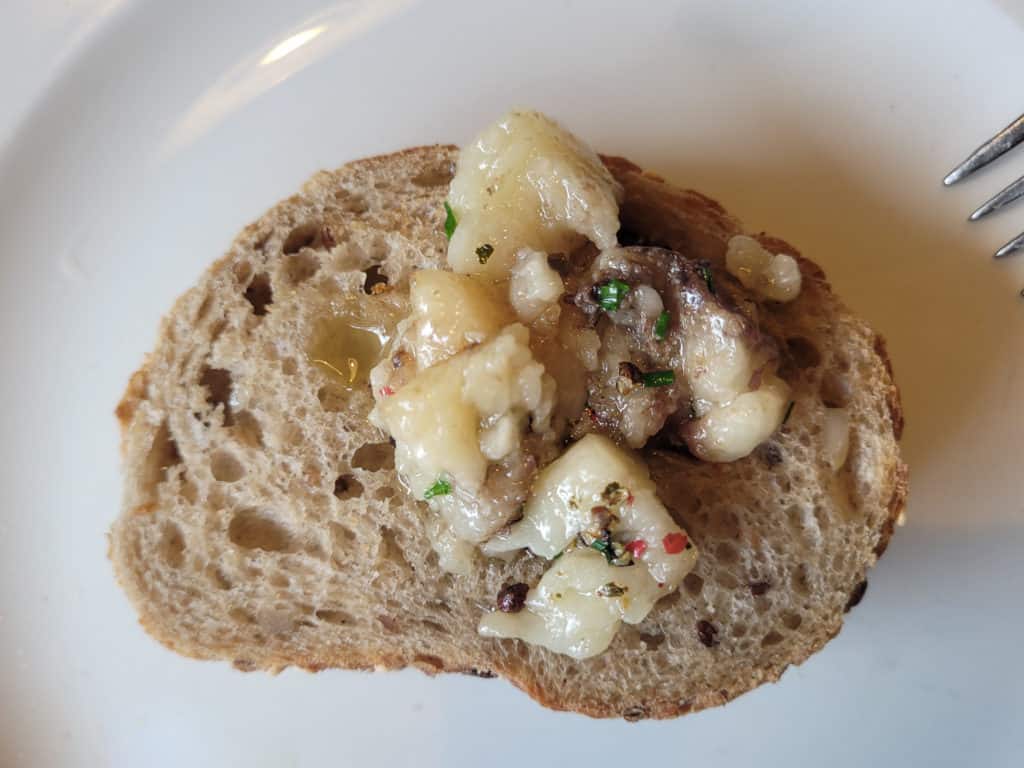 Main Dishes
We had an opportunity to try fondue and raclette in the city, so we wanted to try other dishes at Degenried. Our choices ended up settling on the veal paillard and one of their featured dishes on the menu, cheese macaroni with roasted onions and minced beef.
The veal paillard came on its own shallow plate filled with a satiny layer of lemon gravy sauce. A generous bowl of gently fluffed rice came as a side. Usually, John would squeeze in the juices of lemon garnish on his dishes, but this did not need it. The citrus flavor was exactingly present in the sauce, making the veal an even lighter fare than I would typically expect.
The macaroni cheese came with a bowl of lightly battered roast onions. The pasta was cooked al dente perfectly with a dull bite, and the creamy cheese quickly takes over your mouth with its slightly sharp taste. For the record, the macaroni isn't encapsulated in a cheesy cream sauce. The cheese is entirely creamy on its own.
Vibing at Wirtschaft Degenried
Along with the atmosphere, these dishes made for a satisfyingly indulgent and languid meal. Throughout the courses, I watched groups of guests that consisted of families, friends, and tourists alike patronize the rustically decorated restaurant. Most of them were clearly locals, who I observed expertly pointing at various items on the menu. There was another group speaking American English that I managed to eavesdrop on. But they were seated on the other end of the restaurant.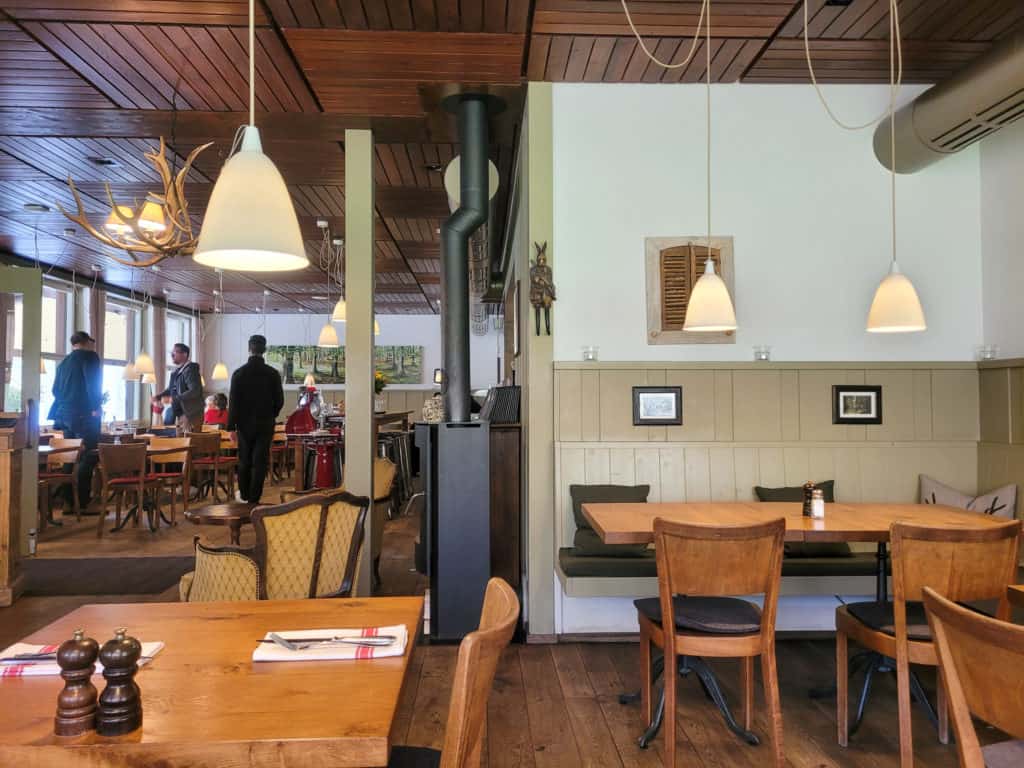 We were delightfully stuffed and buzzed at the end of our meal. Our waitress appeared with a knowing smile and asked us about dessert. We opted for coffee instead, which we needed to gain some energy to walk back to the city. I couldn't help but notice that perhaps our waitress seemed disappointed we didn't order dessert. At the end of our meal, we took a trailhead directly in front of the restaurant that provided the straightest path down to a suburb in Zurich. After twenty or so minutes of strolling through the trees on a gravelly road, we were back on concrete and sidewalks.
How to Plan a Visit to Degenried
Before visiting, my first advice is to make a reservation on their website. You can request where you would like to be seated in the notes section of the reservation page. Degenried during the weekend is a busy restaurant, and if their terrace is closed, you would have to wait that much longer for a seat. I requested a terrace table if the weather was good but made a note for them to decide where to seat us as a contingency. It had rained that morning, so their terrace was closed when we arrived. I think we lucked out with the window seating!
My following advice is to wear good shoes because you will walk a bit to get to the restaurant. I honestly wouldn't drive even if the opportunity presented itself. The views on foot are fantastic. Plus, I'd like to think we got to see a very local part of Zurich, the Dolderbahn.
How to Get to Degenried from the Dolderbahn
The Dolderbahn is a mini cogwheel train that provides local residents access to the top of a mountain through 1300 meters. At the end of the short six-minute ride, you can visit a garden, a golf course, and a hotel that looks like a castle within the station's vicinity.
From within Zurich, take a tram towards Römerhof station and follow the signs for the Dolderbahn. You can buy tickets to use the train on the machines next to the bench facing the rail. Ride the Dolderbahn to the last stop and make a right upon exiting the station. Follow the path where you can stop to view Lake Zurich from the edge of the golf course. Then keep walking along the path until it turns narrow and becomes more lush. Eventually, you will see the word Degenried on a massive wooden sign.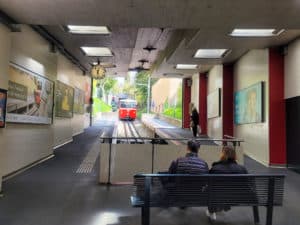 If you decide to do this restaurant excursion, do yourself a favor and make sure to save room for dessert! I learned after the fact that they make their desserts fresh daily, and their selections change fairly often.
I hope this foodie venture makes it worth the effort to get there and back!
Curious for More Food Guides?
Check These Out 😎
Have You Been Here?
Please leave me a comment down below telling me how your trip went. Bonus: Let me and other readers know what your had to make other readers' potential trips more interesting - 💫 let's inspire each other!
Also, follow me on Instagram [@seesfoodwilltravel] and send me a DM of the food your tried. I would love to share and celebrate YOUR experience with our budding community 💞
Check out Sees Food, Will Travel on Pinterest and Facebook for more delicious updates.