Whenever I mention that I lived in South Korea for four years, a frequent follow-up question is," What made you decide on South Korea?" My reply is always with "The food." The person who asked will usually not know what to say after that. As if I moved my entire life from San Francisco to live in South Korea just to eat. And to be honest, I kind of did! Korean food was indeed a deciding factor when I was in-between choices for government teaching programs in Japan or Korea. I didn't know I would be living in a wonderful province chock-full of distinguished local Korean food. These foods aren't necessarily the famous exports of the "Korean Wave", but are just as tasty and unique!
Before I get into it, I want to give you some tips for finding authentic and local Korean food in any city in South Korea. I hope you find it insightful!
Unlock Local Restaurants by Stating an Animal
Most restaurants are based on the type of meat they cook (or don't).
This means when you enter a Korean barbecue (KBBQ) joint, you will mostly find they only have cuts of one type of meat. Typically, it would be pork, beef, or chicken. Korean local restaurants are different from western restaurants because they specialize in one type of meat. The advantage to this is that you, as a customer, get access to a wide range of tasty cuts and styles of that specific animal. The restaurant will also serve better quality meat because they only serve one type. So when you are asking a local Korean for neighborhood restaurant recommendations, ask for a [insert type of animal here] restaurant.
Frustrated as a Vegetarian? Go Buddhist
I don't mean convert to Buddhism.
Being a vegetarian is a lot more complicated when visiting South Korea, and part of the reason involves the country's economic history. It's not that Koreans reject vegetarianism – meat just holds a specific value in their culture. In ancient times, the luxury of meat was reserved for royalty and up to the 1960s, for the wealthy. As the country revolutionized and entered the major market economy, meat became a symbol to every one of not just equality, but a hard-earned commodity. Being vegetarian (let alone vegan) can be frustrating. Major cities have limited vegetarian restaurants and unfortunately, you may fare worse in rural areas. The good news is that times are changing (and they change fast in Korea), but don't expect to find a lot of these restaurants… yet.
The most straightforward way to eat vegetarian food is during a Buddhist temple stay. I recommend hitting two birds with one stone: do a multi-night stay at a temple to learn about Korean history and get your veggie-only breakfast, lunch, and dinner. Take the time to participate in the ceremonial meal enactments. They are good opportunities to practice mindful eating. You can also ask around for temple food (사찰음식) restaurants, which more or less imply no meat.
With all this said, I am not a vegetarian so I don't have much information on how to eat vegetarian in South Korea. Vegetarians do exist in South Korea, and you can search for vegetarian restaurants. Use Naver or Kakao instead of Google and search for a vegetarian restaurant in Korean (채식 식당).
Fresh Local Korean Food is Outside of Seoul
You will find more restaurants serving western cuisines throughout Seoul. If you want to venture outside of Seoul, don't forget to ask locals about their city's specialty food (trust me, each area will have at least one). These places are where you will find the hidden regional gems. So without further ado, here is a list of some less-common dishes I discovered during my time in South Korea.
Yang Koji (Lamb Skewers)
Chinese Korean food is infamously unique. Immigrants from northern China redeveloped their cuisines with available resources to create a distinguished local Korean Chinese cuisine. Chinese Korean food, Chinese food reconstructed to fit the local palette, is the equivalent of Chinese American food. The more popular jajangmyeon has overshadowed the fact that there are restaurants dedicated yang koji (lamb skewers) as well.
You have to order yang koji skewers several sticks at a time. Usually, the lowest quantity you can order is ten. However, they are small and quickly consumed! You can choose spicy or marinated lamb on the menu. Sometimes the restaurant will skewer a clove or two of garlic in between the pieces of meat. A dedicated machine constantly rotates the skewers so they cook evenly. The skewers sit just far apart enough so that hot air can blow between them. The garlic seasons the lamb as it cooks and adds more flavor. Typically you can eat this alone with a glass of cold beer. But I enjoy making a meal of it and ordering a vegetable side dish as well as rice.
Duck Barbecue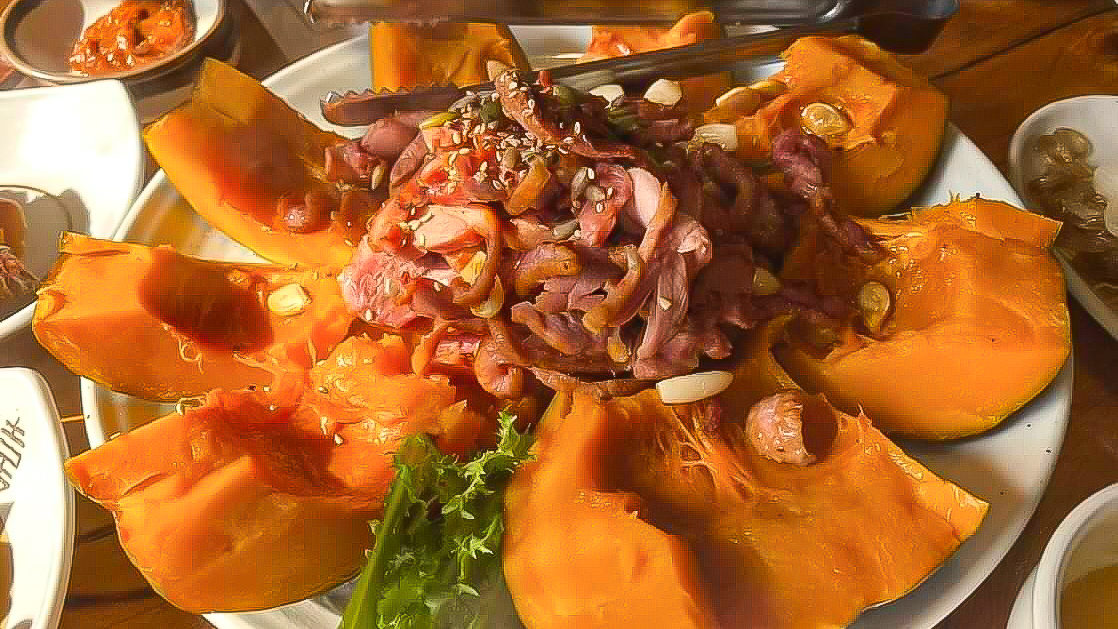 Kbbq is mostly identified with marinated beef (bulgogi) and juicy pork belly (samgyeopsal). But another style of bulgogi is ori (duck) bulgogi. Barbecued duck involves a special process in Korea. The duck is first smoked, resulting in pink flesh. Then it is chopped in a way so that each piece has a sliver of fat running along its side.
You can cook the duck pieces on a stovetop grill at the restaurant. During your meal, there is a variety of dipping sauces available to you, including honey mustard and sesame oil. Though very delicious, duck restaurants are not cheap, and you may end up shelling out at least $40-50 for a meal. Ori bulgogi has earned a reputation as an indulgent local Korean dish, enjoyed typically during celebrations and big events.
Chuotang (Loach Soup)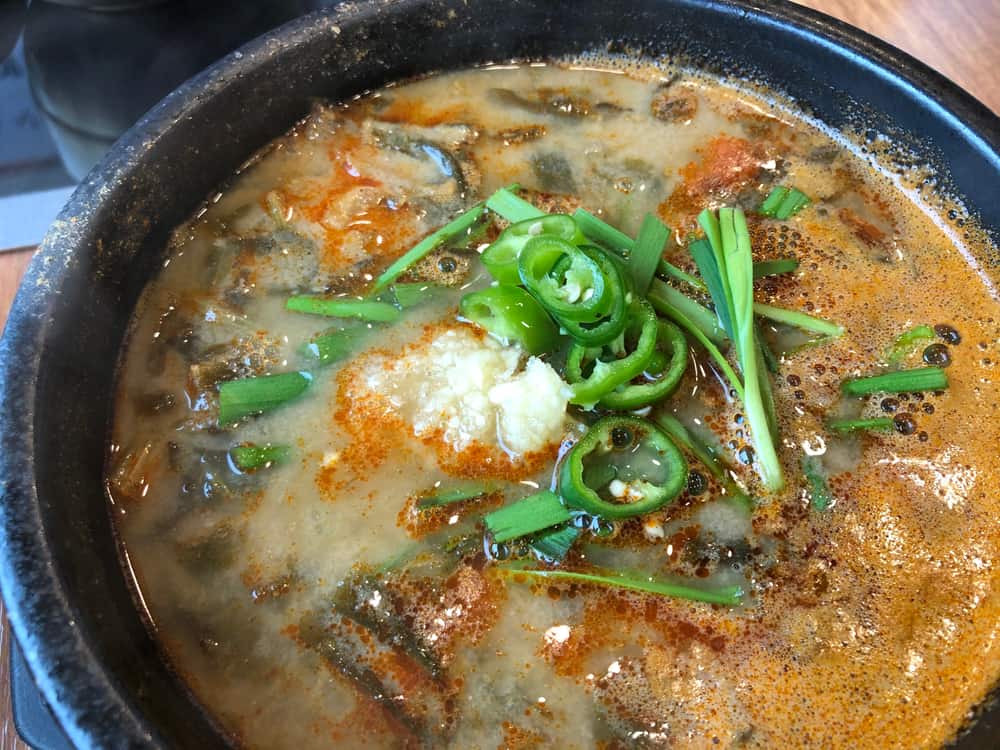 The soup, chuotang, has a base similar to hangover stew (haejjangguk). The main star of this soup is a little river fish called the pond loach. A violent process, cooking the loaches can be a graphic sight. Salt is poured on top of the loaches as they squirm and thrash to their death. In a pot, the salted loaches are boiled together and then the remaining bones are removed.
They end up in a pot full of vegetables and seasonings including chili pepper paste (gochujang). The ingredients meld together as they cook. This results in an amazing bowl of comfort food with an intense umami flavor. You can find local Korean restaurants that specialize in chuotang.
Guamegi (Fermented Herring)
One winter night, my co-teachers invited me to join them at a drinking house (suljib). We were there to drink more soju (Korean rice liquor), but the tiniest of us was hungry. She was adamant about ordering the guamegi at this restaurant because it was the best in town. As soon it arrived, she gasped, hastily took a piece of fish, wrapped it in seaweed, and moaned in delight. She took the time to stare at it for a moment before shoving the entire thing in her mouth. To see someone be that excited about something made me want to try it myself!
This dried, fermented fish has a special place in my heart. Essentially, guamegi is herring made during one of the coldest months of the year, typically in December. A process that involves freezing the fish in the cold of the night and then thawing it during the daytime heat achieves this local Korean dish's texture and taste. It results in a meaty flesh served with green onion, garlic, dried seaweed, and soju! The Gyeongsang province is most known for this delicacy because of the region's seaside location and sea air quality. I was lucky to try my friend's parent's homemade guamegi (pictured above), but you can find these in markets and dive bars during the winter season.
The smell hits you first, just inches away from your face. But with a bite of garlic and a sprig of green onion, the resulting taste is salty, savory, pungent, and buttery all at the same time. The texture is distinctly springy on the outside but soft on the inside. With a swig of soju, it glides smoothly down the hatch, an addicting accompaniment to the alcohol's bitterness.
Eonyang Bulgogi
I believe that smaller communities hide the best type of local cuisines, acting as the backbone of real traditional and local Korean food. Eonyang is a farming and industrial community on the west side of Ulsan with a large geographical area. The farms supply the rest of the metro area and that is where Ulsan gets its fresh dishes from. Eonyang specializes in a type of bulgogi prepared in a different fashion than most. This version takes a lot more effort and time than your typical Korean bulgogi and includes taking large cuts of thinly sliced brisket, marinating them overnight, and pan-frying them on the stove.
The Eonyang bulgogi also looks different from the typical one you may be familiar with. Marinated chunky pieces of meat are smooshed together, resembling a large flat pancake. A special grilling tool cooks the beef over coals while someone vigilantly watches the meat cook, determining when to flip the tool. It results in a thin hamburger-like patty of juicy meat, pulled apart by chopsticks. I like this style of bulgogi because it spotlights the fresh meat's flavor instead of the marinade due to the rendered fat that melts in the beef pieces. It is also fun to take the pieces apart with your chopsticks!
Black Garlic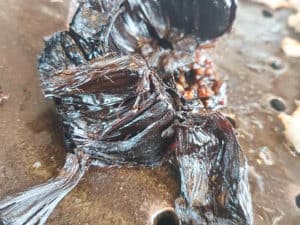 Specialty restaurants that specifically feature heuk maneul, or black garlic on their menus often tout it as a superfood. Most of the restaurants will serve minced black garlic on top of bossam (boiled pork). You can also order whole black garlic as a side dish for the rest of your meal.
People mistake this delicacy for a fermented dish. Black garlic can be made under certain temperature and humidity settings that roast that garlic over a long period of time under pressure. This cooking style results in a black-colored bulb with strong-tasting cloves that leaves a bit of an aftertaste. The best part for me is the consistency. Black garlic is soft enough to spread on top of something and chewy enough to eat by itself! Be careful and don't eat too much of it or your digestion will be too regular!
Jeonju Pi Sundae (Blood Sausage)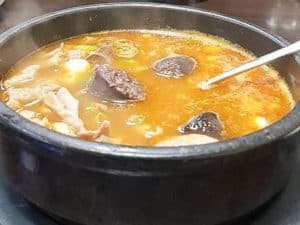 As the center for Korean culture, Jeonju is already famous for many other Korean foods such as the Jeonju bibimbap (mixed rice bowl), kongnamul bap (bean sprout soup), or the more recent, baked chocopies. But a hidden star hides in the Nambu marketplace where they serve sundaes (blood sausage) the size of a baby's arm! Atypical of the common sundae, a higher ratio of pork is used, with the rice usually stuffed into the sausage. They make sundae fresh every day so the taste yields a soft, rich, and salty sausage. When I ate this for the first time, I forgot that I was eating blood sausage because it was far from tasting like iron.
Yukhoe (Beef Tartare)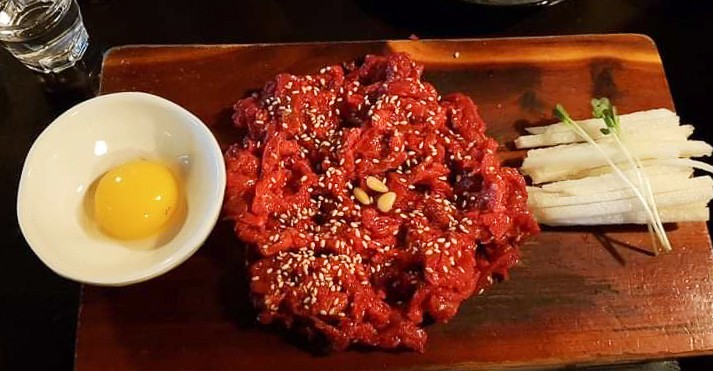 Korean food is so synonymous with grilled beef, that people don't realize that yukhoe, Korean beef tartare, is just as common in restaurants! Preparation starts with fresh beef sliced into tiny, thin pieces. Then the pieces are mixed with a special sauce as it is topped with slices of Korean pear and a raw egg. This dish will leave an impression, with how something so meaty can be garlicky, refreshing, and sweet all at the same time. Served in small quantities as an appetizer, it is a tasty way to start your dinner.
Curious for More Food Guides?
Check These Out 😎
Tried Some of These Places?
Please leave me a comment down below telling me how your trip went. Bonus: Let me and other readers know what you did to make this itinerary more interesting - 💫 let's inspire each other!
Also, follow me on Instagram [@seesfoodwilltravel] and send me a DM of the food you tried. I would love to share and celebrate YOUR experience with our budding community 💞
Check out Sees Food, Will Travel on Pinterest and Facebook for more delicious updates.