Everyone knows that Switzerland is an expensive place to visit. So when John and I went to Zurich a few weeks ago, we arrived with an open attitude that prices may be higher than anticipated. For the most part, we mentally prepared ourselves to skip out on eating cheap in Zurich. Of course, we still wanted to balance our wallets with seeing the city as much as possible while tasting delicious food in and out of restaurants. I fear missing out on good food, so I would typically make a rigid food itinerary. However, despite having a general list of what and where we wanted to eat in Zurich, I decided to be more flexible. Jump to this section for a TL;DR version!
Jump to:
What to Know as a Traveller in Switzerland
Before telling you what to eat in Zurich for a day, I want to talk about what we learned as visitors to Switzerland. If you are not familiar with Switzerland, it is a small country. It has a fantastic system of trains that weave in and out of valleys, grazing alongside lakes and lumbering up famous mountains to give you breathtaking views from their panoramic windows.
The connected railway system speaks to how Switzerland is all about the outdoors. If you are a traveler who prefers to explore one city at a time, you will find it challenging to do that in Switzerland. We were encouraged by locals and our hotel concierge to hop on some form of transportation to see something outside - even if it were just to go to the city's outskirts. Despite only having a few days in the country, we also visited the surrounding mountains of Lucerne and Interlaken.
Packing Food is Expected
So as much as there are restaurants in the mountains and other popular points of interest, packing food is somewhat expected. We observed that weekend trains are packed with both locals and tourists. But the main thing we noticed was the number of reusable grocery bags filled with food being toted around. People typically eat their breakfast/lunches on the long train rides. I also noted many outdoor areas that allow you to sit on a bench, and there are plenty of spaces to set up a picnic.
So if you find restaurant food to be expensive as a day-to-day choice, do not fret. You can still find cheap items to eat in Zurich that are still tasty and good quality. Grocery shopping and packing food for a day out are options you can easily do. Moreover, you will look like you know what you are doing among other tourists! Your best bet is to visit a grocery store such as Migros or COOP as soon as you arrive. Stock up on pre-made sandwiches and snacks such as chips, bread, cheese, etc., that could last you two days. Before heading out for sightseeing, pack a simple meal in your daypack. It will save you time looking for food when you are on a mountain or a lake. More to come on this later!
Tip Note that 'cheap' is a relative term when it comes to Switzerland! We found grocery store pre-made food cheaper than the prices of dishes at restaurants.
What to Eat in Zurich, Switzerland in a Day
I created this food itinerary from my experience during our time in Zurich, letting you try some restaurants while making the most of your time in the city. We did spend a lot of time visiting many outdoor sites so we had to pack food we purchased at grocery stores for most of our visit. Buying tasty pre-made items at the grocery stores quickly taught us that it was the cheapest way to eat in Zurich and the rest of Switzerland. Let me take you through a day of what we ate for breakfast, lunch, and dinner when we did stay in Zurich.
Breakfast
Since we stayed in Niederdorfstrasse in Zurich, we wanted to get to know the area and walk through the cobblestone streets. Our first stop was Café & Conditorei 1842, and at about ten in the morning, we found the bakery/restaurant was only half full. There were empty chairs and tables out front, so we requested to sit there. Other seated options include sitting in the restaurant gallery or in the garden.
We ordered a slice of their spinach quiche. When they say spinach quiche, they really mean it! It was loaded with greens, and I could barely distinguish any eggs in it. For something sweet, we also ordered a croissant with jam to share.
We heard that their hot chocolate is a popular item, but we love our coffee in the morning too much to try it. John ordered the kaffee mélange (coffee topped with whipped cream), and I ordered the doppio espresso. If you prefer to eat at this Zurich cafe on the cheaper side, I recommend trying a basic hot chocolate and a plain pastry such as the croissant.
Places of Interest Between Breakfast and Lunch
It was drizzling a bit when we arrived at Café & Conditorei 1842, making us nervous for the rest of our day. But maybe the universe heard us because the clouds slowly thinned out during breakfast, and by the time we finished, the sun was beaming down on us.
We spent some time walking the streets of Niederdorf taking photos of alleyways and buildings that made you feel like you were on a movie set. At the southern end of the area is Grossmünster, which is on the way to Bürkliplatz, where our next destination was located. The church's structure is overwhelming as you crane your neck to the sky to take it all in. We didn't enter the cathedral, but if you are interested, there is a tower you can visit that gives you a view of Zurich.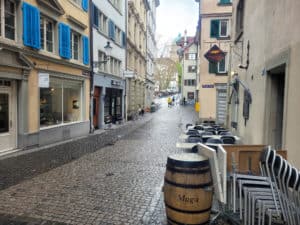 Lunch
By the time it was 12PM, we had reached Quaibrücke (Quay Bridge) and walked its length to get to Bürkliplatz, a town square next to the lake that is also a landing dock for boats. We followed some other tourists to the platforms, and there we asked some workers where we could take a boat cruise. Since we had the Swiss Travel Pass, he told us to choose between the ninety-minute or the four-hour ferries that were arriving soon. As much as we wanted to make the most of our Swiss Travel Pass, we decided on the ninety-minute cruise around Lake Zurich.
Eating on a Boat
The boat arrived, and once we got on board, we quickly shuffled towards the back of the ferry and claimed a bench outside. Shortly after we left the dock, a waiter came by to take food and drink orders while checking tickets. Since we planned on eating cheap during our cruise on Lake Zurich, we visited COOP the night before to load up on lunch items. We ordered Aperol spritzes from the bartender and while he made our drinks, we unpacked the sandwiches and chips we purchased the night before. We had a picnic lunch on the boat with our spritzes and sandwiches while enjoying views on the lake.
If you didn't pack a lunch, don't worry! The ferries typically have a restaurant with menus featuring simple cold and hot food. However, it's far from being considered cheap eats in Zurich so prepare to pay quite a premium for the dishes.
Cost of the Lake Cruise
If you are not using a Swiss Travel Pass or a discount card, the ninety-minute cruise loop will cost you about 8.80CHF. Please note that this boat cruise is also a commuter route that takes people to different points on the lake. So expect to stop at several ports as the ferry lets commuters get on and off.
Get a View of the River
After the lake cruise, we headed to Aldstadt (Old Town) towards Lindenhof to see a view of the Limmat river from above. We walked north and meandered through the streets of Aldstadt until we found ourselves on top of Lindenhof. Lindenhof is on the site of an old Roman castle, and it is now a park filled with trees and benches. You could take a seat on top of the ledges overlooking the river. We didn't want to risk falling over, especially after drinking a few spritzes! Instead, we chose to sit on a bench facing the river.
You can check off your list two other places of interest when walking from Bürkliplatz to Lindenhof. Along the way, you can stop to see St. Peter's Church and Fraumünster Church. Note that Aldstadt is hilly, and these sites are also on hills. Walking closest to the river will provide a more straightforward way to Lindenhof. Though you'd still need to go up a hill to the park!
Dinner
After going up and down hills, we made our descent from Lindenhof and walked back to Niederdorf. We walked to Swiss Chuchi, where we had a reservation for dinner which are essential for many establishments. Once seated, we ordered two essential dishes: raclette, and fondue. We also squeezed in an order of a traditional Swiss appetizer named capuns.
Capuns is spätzle dough with bits of meat rolled inside leaves of chard, and our particular dish was served in a cheese cream sauce.
Following that, our raclette and fondue arrived. The raclette comes in two parts, the first being a machine where you melt individual pieces of cheese. The second is the tasting plate that includes selections of things to be grilled or melted on the device. Raclette means "melting cheese" and the type of cheese is selected by the restaurant which they then consider raclette cheese - cheese to be melted!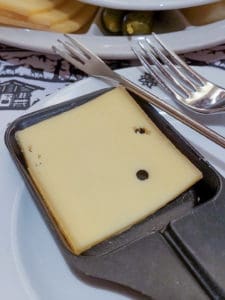 We ordered the fondue with morel mushrooms along a side order of vegetables to dip. We had various items to dip in the fondue such as bread, potatoes, and vegetables!
Bonus: A Cool and Friendly Bar Not to Miss!
Since we wanted to keep the party of drinks going later that night, we strolled through the streets looking for a cocktail bar. We saw a sign on the main road for Hotel Bourbon, which read, "I followed my heart. It led me to the bar." Intrigued by the signage, we walked up a narrow alley that led to a small square with a fountain.
A wave of pop music from the early 2000s and a smiling bartender warmly greeted us as soon as we walked through the glass-paneled door. We were seated for drinks and handed a menu that told us Hotel Bourbon is not a hotel but a contemporary restaurant and bar. The cocktail menu is innovative and experimental. But we were also invited to order traditional cocktails from the bartender. I ordered a martini and a drink called Englishman in New York from their menu. Both drinks were sublime and crafted well! The prices are far from what you consider cheap in Switzerland, but they are worth splurging on.
Our favorite part of our time at Hotel Bourbon was the relaxed mood of the service and the environment despite a setup that looked almost intimidatingly hip. This was our favorite bar on our trip to Zurich!
Groceries: The Cheapest Eats in Zurich
I hope this itinerary helped you create something interesting for your own trip to Zurich. Packing a bag of food while you enjoy the sites is the cheapest way to eat in Zurich and anywhere else in Switzerland. Of the places I mentioned today, I highly recommend a boat picnic around Lake Zurich on a bright and sunny day with things purchased from a local grocery store. If not for the gigantic red flag on the back of the ship waving within your periphery, the view of the mountains and the lake will really make you feel like you are in Switzerland!
Tip for Travel in Switzerland
We purchased a Swiss Travel Pass that allows you to board as many trains, boats, cable cars, and funiculars - pretty much all transportation under the SBB umbrella - throughout the country. Depending on your ticket and the number of days you selected for your travel pass, you can see as much as the allotted days allow. The cost of the Swiss Travel Pass was a definite splurge for us. But I did some serious planning to ensure that the total value of rides we took to visit Swiss destinations exceeded the pass price.
It's up to you how you justify the price of a Swiss Travel Pass. One of the advantages we had included hopping on different modes of transportation without worrying about price differences. We also never had to stop at a ticket booth which saved us time from standing in line. Our schedule was also open for flexibility since we didn't have to book tickets ahead of time. We did avoid points of interest that were not free on our passes, but since it was our first time in Switzerland, we justified it by knowing to visit those other areas next time.
What to Eat in Zurich Food Guide Breakdown
Recommended:
Spinatquiche (spinach quiche)
Croissant with konfi (jam)
Kaffee Melange (coffee topped with whipped cream)
Heisse Schokolade mit Schlagrahm (hot chocolate with whipped cream)
💡 There are supermarkets nearby where you can pick up some ready-made meals before boarding a ferry. Check out Migros and COOP, which are both located across the bridge from Bürkliplatz.
Tips on Chocolate Get some chocolate as dessert after your boat lunch in Zurich lake! Do not miss the chocolate aisle at the grocery store. There are hundreds of options to choose from at decent prices which let you try various styles and brands. The chocolate in the grocery store will also cost less than those purchased at standalone confectionaries.
Look out for these Swiss chocolate brands:
Lindt
Cailler
Frey
Camille Bloch
Halba
Villars
Toblerone
Recommended:
Fondue mit Morcheln (fondue with morel mushrooms )
Raclette Nature mit Rind Kalb und Poulet (Plain raclette with beef, veal, and chicken)
Capuns in Rahmsauce und mit Käse (Capuns - chard dumplings)
Disclaimer: I was not compensated for this blog post and did not receive a complimentary Swiss Travel Pass. This post is solely based on my own experience and I do not guarantee you will receive the same experience. All opinions written on this post are my own.
Curious for More Food Guides?
Check These Out 😎
Tried Some of These Places?
Please leave me a comment down below telling me how your trip went. Bonus: Let me and other readers know what you did to make this itinerary more interesting - 💫 let's inspire each other!
Also, follow me on Instagram [@seesfoodwilltravel] and send me a DM of the food you tried. I would love to share and celebrate YOUR experience with our budding community 💞
Check out Sees Food, Will Travel on Pinterest and Facebook for more delicious updates.