This beef rib nilaga or bulalo recipe uses beef ribs, and I'm so happy it turned out exactly as I expected! Filipino-style boiled beef has been one of my favorite comfort dishes to make. Initially, I had wanted to make bulalo following the original recipe that includes shanks, but it's hard to source those and similar collagen-rich bones in my area. I was surprised that I didn't miss the shanks when I made this dish with just beef ribs. I settled for beef ribs, and therefore this recipe ended up becoming nilaga instead of bulalo or is it kind of both? It's a boiled dish that doesn't take much to put together and then cooked over a long period of time.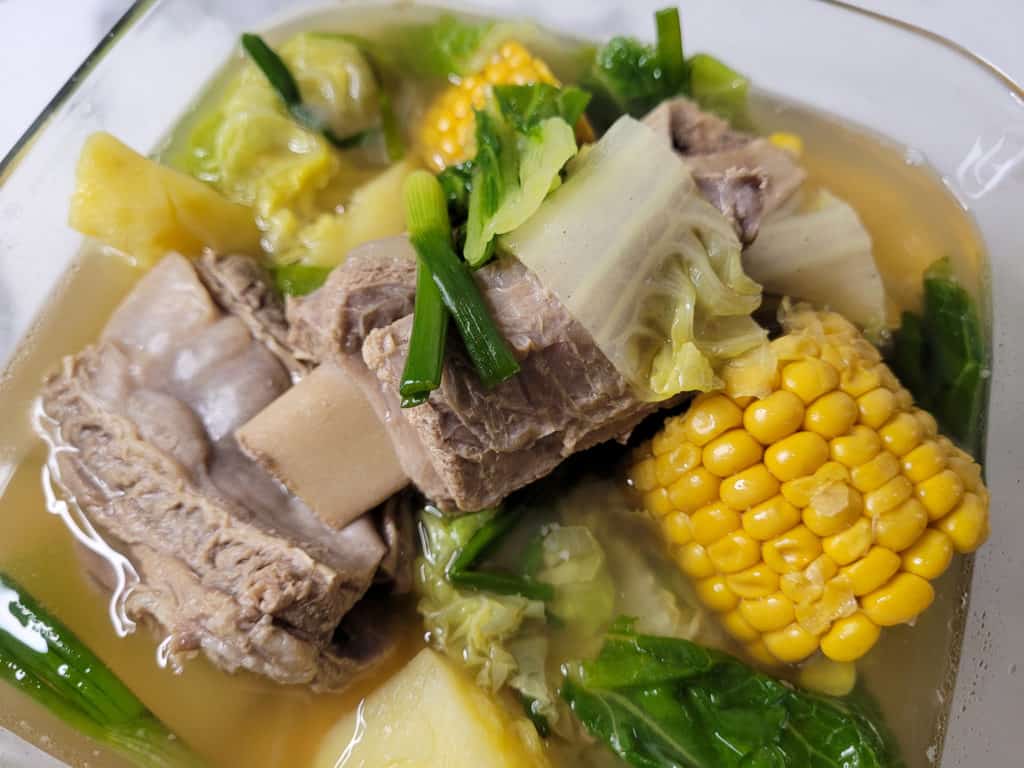 Bulalo vs. Nilaga
There are a lot of different opinions when it comes to the difference between bulalo versus nilaga. For some background, both dishes are soups with beef and some vegetables. The soup is light and cooked with the meat for a long time to glean its savory taste. Some bone shanks make bulalo because it features beef bone broth, and nilaga contains a beef stock from boiling meat and bone. The beef shanks in bulalo also have meat around the bones so I don't personally see a difference. It's one of my favorite comfort dishes along with arroz caldo and chicken adobo.
Nilaga means boiled, so any boiled meat with vegetables could be called nilaga. If the boiled meat is beef that includes collagen-rich bones like shanks or, in this case - ribs, you also have bulalo. You could say that bulalo is another type of nilaga. Therefore, bulalo can't be every nilaga, but very bulalo is a type of nilaga.
What is Beef Bulalo (Nilaga)?
I believe I made something in between a bulalo and nilaga. Since I didn't have shanks to cook, I used ribs with meat and boiled them for quite some time to get a lot of flavor from the bones. My other purpose in this process is tenderizing the meat. The soup becomes flavored from the meat and bones by simmering them in water for a long time. Then some vegetables can be added, such as potatoes, cabbage, bok choy, and corn. They help flavor the soup, but the magic sauce comes later - the fish sauce! The overall taste of this soup is a very mild beef broth. It's not supposed to kick you out of your socks with intense flavors. It's comfort food for when you feel sick or want something easy.
I used napa cabbage, corn, potatoes, and green onions for this beef bulalo (or nilaga) recipe. Bok choy wasn't readily available at the time I made this. But if you have access to bok choy, I highly recommend adding them to this dish! Feel free to add as many vegetables as you prefer. The recipe below provides suggestions on how much to add.
How to Make Beef Bulalo
Making this dish is very easy when it comes to the ingredients together. This beef nilaga (or bulalo) features beef ribs, onion, potato, corn on the cob, garlic, cabbage, green onion, and black peppercorns. The best part is that you don't need a lot of these ingredients to make this dish! You can also prepare everything ahead of time and then set them aside to use when required.
Wash Your Beef Ribs
Make sure that the beef ribs are at room temperature and washed thoroughly with cold water. Tip You may have to wash your beef ribs several times. If you do, it will help lessen the amount of scum you have to remove while boiling the ribs.
Start by filling up a pot with cold water and bring it to a soft simmer. Then place the ribs in the water.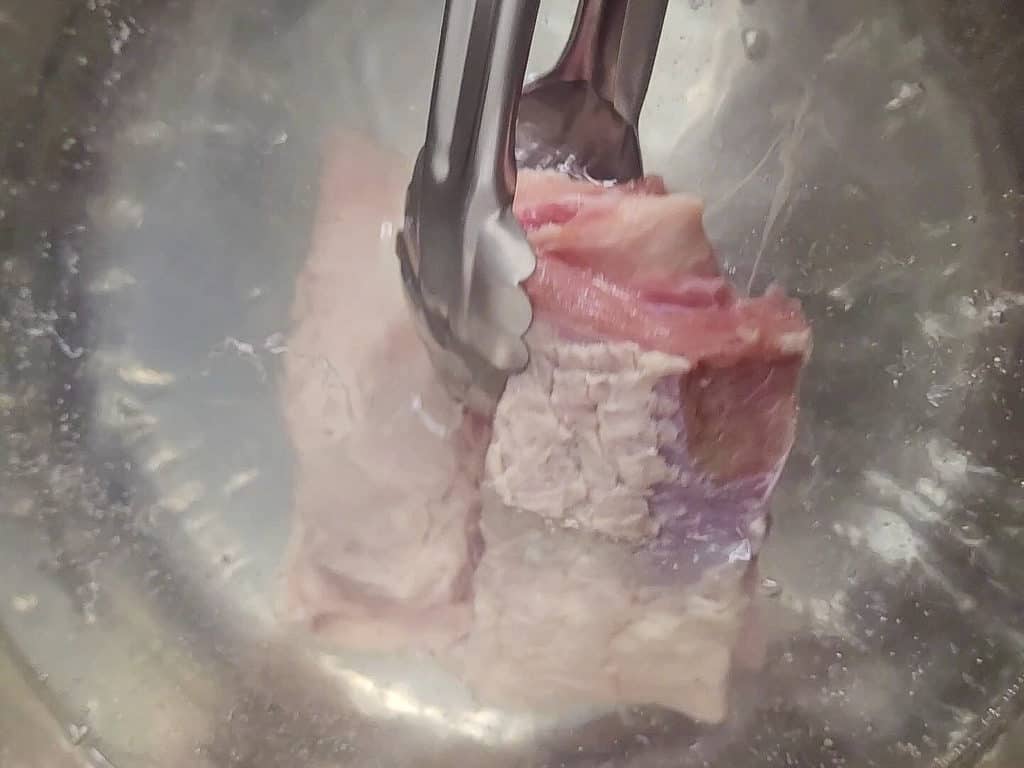 Cook The Ribs For a Long Time
Simmer the ribs for about thirty minutes while removing the scum that floats to the top. Do your best to remove as much scum as possible and be patient with it. Trust this process, and you will be rewarded with a tasty broth!
When you have finished simmering the beef ribs, add the onions, garlic, and black peppercorns. Then continue to simmer the ingredients in the pot for another hour and a half, depending on your preference for meat tenderness. Some of the onions and garlic will eventually disintegrate the longer you simmer the ribs, but that's okay! It enhances the flavor of the nilaga.
Add More Vegetables
Add the potatoes, and continue cooking for another ten minutes.
Tip Potatoes can become very soft and mushy fast when you leave them in the pot for more than fifteen minutes. You can't make the cooking time longer at this point. So ensure that the beef in your nilaga is soft enough before putting in the potatoes.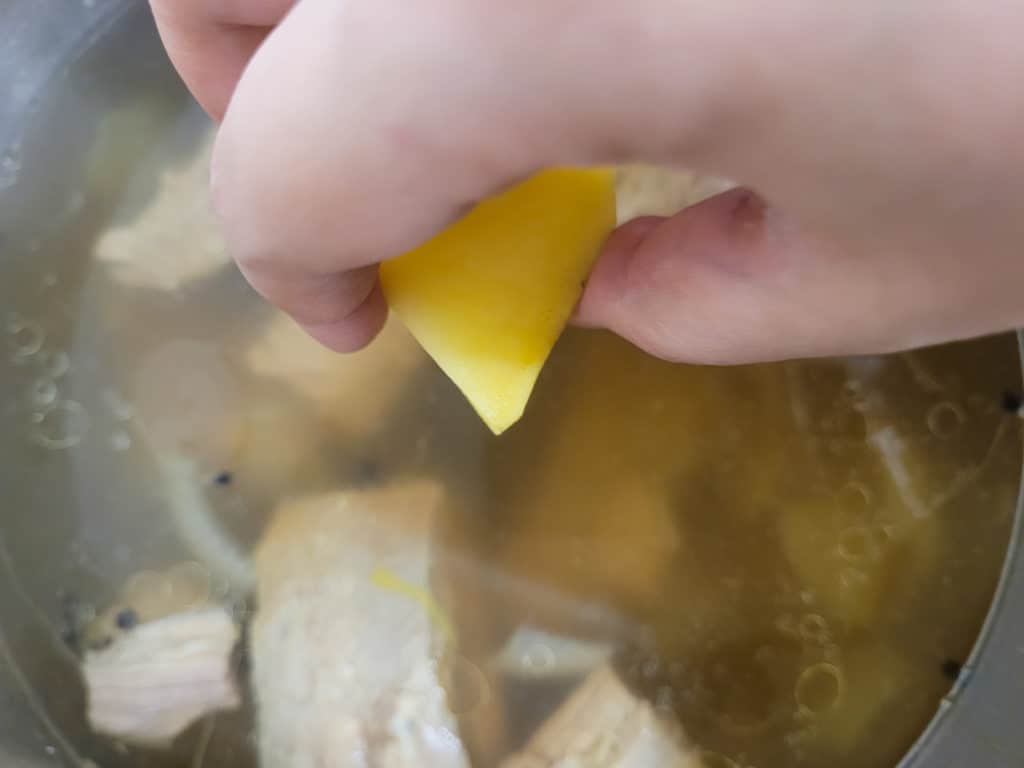 I used parboiled corn on the cob, so I put them in the pot with about ten minutes left of cooking after adding the potatoes. If you are using raw corn on the cob, add them before the potatoes and cook for an additional thirty minutes.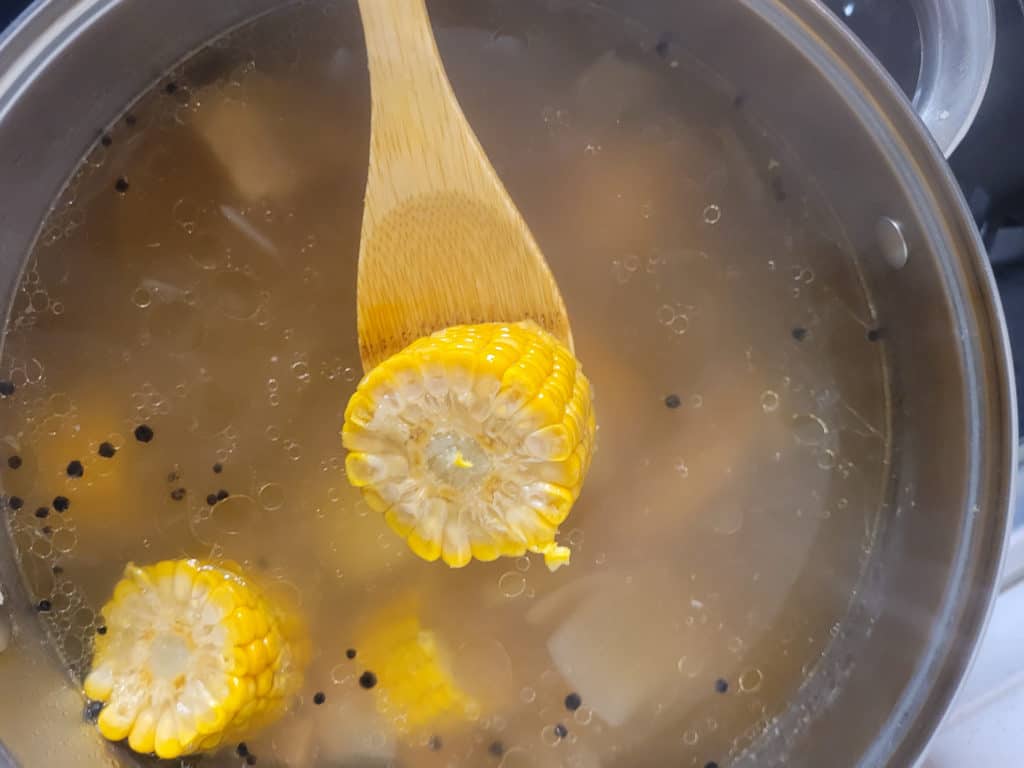 Add the fish sauce, cabbage, and green onions and continue cooking for five more minutes. You are almost there! Feel free to add additional fish sauce and salt at this point. Let the vegetables simmer until you are ready to turn off the heat.
How to Eat Bulalo or Nilaga
I would say the weather is a primary factor when it comes to making a soup recipe like bulalo or nilaga. Rainy, cold days are best if you want to eat this for either lunch or dinner. But cool nights are also a great time to indulge in this dish. It's not fried or too fatty, so you don't have to feel guilty about cozying up with comfort food like this.
Typically, you would also cook rice while in the middle of simmering the beef ribs. The steamed white rice would be ready by the time you finish making this beef nilaga, and you would serve it with a side of rice.
But in all honesty, it is good on its own! There are a lot of elements to eat through - beef ribs, potatoes, and my favorite - the pieces of corn on the cob! The corn absorbs the broth and mixes flavors inside each individual kernel!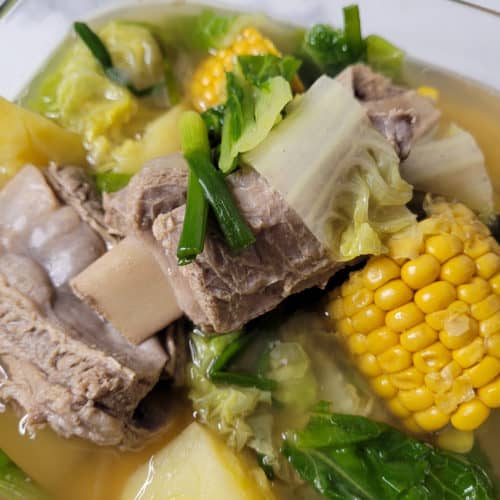 Beef Rib Nilaga (Bulalo)
This uses a bone broth technique to cook and get collagen and flavor from bones in the beef bulalo. It's a great choice when it comes to comfort food for cold days or when you are sick. Enjoy it with rice or by itself!
Ingredients
1

kilo

(~ 2 pounds) beef ribs, thawed and sliced

½

napa cabbage, sliced in chunks

1

tablespoon

black peppercorn

2

corn on the cob, each cob sliced in 4 pieces

2

onions, roughly chopped in large pieces

2

medium potatoes, cubed

3-4

tablespoon

fish sauce

1½ - 2

liters

water (for boiling)

salt & pepper

to taste
Instructions
Wash the beef ribs in cold water several times

Add the water to a pot and bring it to a low simmer. Submerge the beef ribs and let it simmer for 30 minutes skimming scum off the top.

Add peppercorn and onions and continue to simmer for 1.5 hours (up to 2 hours)

If using raw corn on cob: Add corn and continue to simmer for 30 more minutes.

Add potatoes and simmer 10 minutes

If using parboiled corn on cob: Add the parboiled corn on cob pieces with the potatoes

Add fish sauce, cabbage, and green onions plus the salt and pepper. Then cook for 5 minutes. Turn off the heat and remove from the stove when finished.
Have You Tried This Recipe?
Simply rate the recipe by clicking on the ⭐️s on the recipe card. Have something to say? Please leave me a comment down below telling me what you think of this recipe.
Bonus: Let me and other readers know what you did to make this recipe your own - 💫 let's inspire each other!
Also, follow me on Instagram [@seesfoodwilltravel] and send me a DM with a picture of what you made. I would love to share and celebrate YOUR creation with our budding community 💞
Check out Sees Food, Will Travel on Pinterest and Facebook for more delicious updates.