This rib nilaga or bulalo recipe uses beef or pork ribs, and I'm so happy it turned out exactly as I expected! Filipino-style boiled meat has been one of my favorite comfort dishes to this day.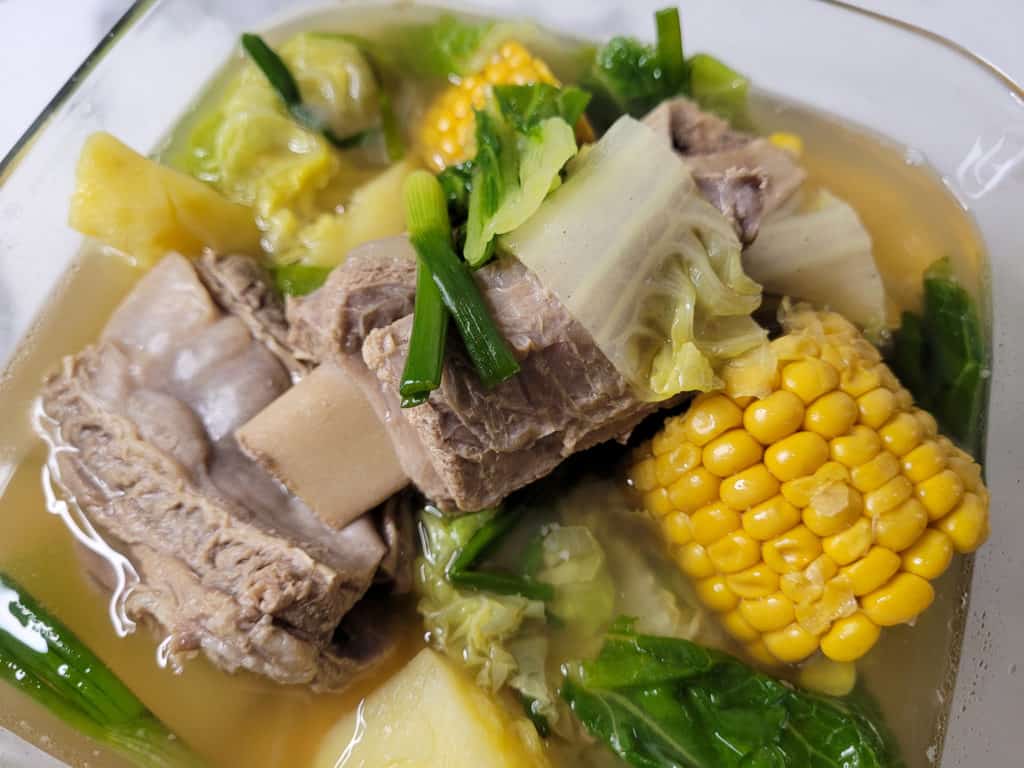 Update Disclosure: This post has been updated for one or more of the following reasons: easier reading, updated photos, clearer instructions, and just plain ol' improvements to the recipe (as noted).
Initially, I had wanted to make bulalo following the original recipe that includes shanks, but it's hard to source those and similar collagen-rich bones in my area. I was surprised that I didn't miss the shanks when I made this dish with just ribs!
Jump to:
Bulalo vs. Nilaga
There are a lot of different opinions when it comes to the difference between bulalo versus nilaga. For some background, both dishes are soups with meat and some vegetables. The soup is light and cooked with the meat for a long time to glean its savory taste. Some bone shanks make bulalo because it features bone broth, and nilaga contains a stock from boiling meat and bone. The shanks in bulalo also have meat around the bones so I don't personally see a difference. It's one of my favorite comfort dishes along with arroz caldo and chicken adobo.
Nilaga means boiled, so any boiled meat with vegetables could be called nilaga. You could say that bulalo is another type of nilaga. Therefore, bulalo can't be every nilaga, but every bulalo is a type of nilaga.
So What is This Recipe?
I believe I made something in between a bulalo and nilaga. Since I didn't have shanks to cook, I used ribs with meat and boiled them for quite some time to get a lot of flavor from the bones. My other purpose in this process is tenderizing the meat. The soup becomes flavored from the meat and bones by simmering them in water for a long time. Then some vegetables can be added, such as potatoes, cabbage, bok choy, and corn. They help flavor the soup, but the magic sauce comes later - the fish sauce! The overall taste of this soup is a very mild broth. It's not supposed to kick you out of your socks with intense flavors. It's comfort food for when you feel sick or want something easy.
Ingredients
Here is a sneak peek on ingredients:
Beef or Pork Ribs
Napa Cabbage
Black Peppercorns
Corn on the Cob
Onions
Potatoes
Fish Sauce
Water
Salt & Pepper
Substitutes
Pork or Beef Ribs: I used ribs in this recipe because they are easier to find in my area. But the original recipe calls for shanks. If those are available to you, give them a try!


Other Veggies: Other vegetables add ins include snake beans and hardy, leafy vegetables such as bok choy.

Recipe Tips
Wash The Ribs: You may have to wash your ribs several times. If you do, it will help lessen the amount of scum you have to remove while boiling the ribs.


Check the Potatoes: They can get soft and mushy fast when you leave them in the pot for more than fifteen minutes. You can't make the cooking time longer at this point. So ensure that the meat in your nilaga is soft enough before putting in the potatoes.
How to Make Rib Bulalo (Nilaga)
This is a straightforward recipe that requires a long time to simmer.
Check out the overview of the steps:
Boil the ribs alone.
Add potatoes and corn.
Simmer everything together.
Add the rest of the ingredients and simmer for longer.
Add fish sauce, mix it in, and turn off the heat!
How to Eat
I would say the weather is a primary factor when it comes to making a soup recipe like bulalo or nilaga. Rainy, cold days are best if you want to eat this for either lunch or dinner. But cool nights are also a great time to indulge in this dish. It's not fried or too fatty, so you don't have to feel guilty about cozying up with comfort food like this.
Typically, you would also cook rice while in the middle of simmering the ribs. The steamed white rice would be ready by the time you finish making this nilaga, and you would serve it with a side of rice.
But in all honesty, it is good on its own! There are a lot of elements to eat through - ribs, potatoes, and my favorite - the pieces of corn on the cob! The corn absorbs the broth and mixes flavors inside each individual kernel!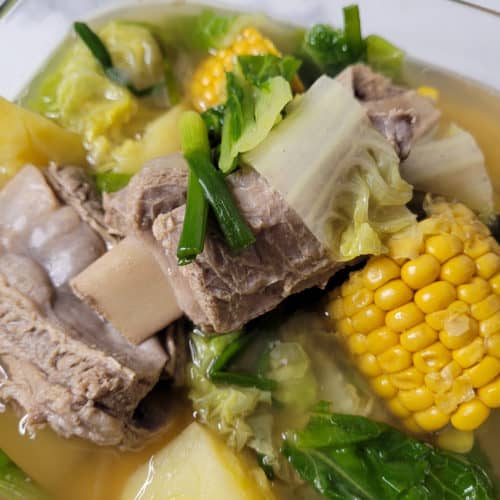 Rib Nilaga (Bulalo) Recipe
Bulalo or nilaga is a great choice when it comes to comfort food for cold days or when you are sick. Enjoy it with rice or by itself! This recipe has been adjusted to show that you can choose between using beef or pork ribs.
Ingredients
1

kilogram

(~ 2 pounds) beef or pork ribs, thawed and sliced

½

napa cabbage, sliced in chunks

1

tablespoon

black peppercorn

2

corn on the cob, each cob sliced in 4 pieces

2

onions, roughly chopped in large pieces

2

medium potatoes, cubed

3-4

tablespoon

fish sauce

1½ - 2

liters

water (for boiling)

salt & pepper

to taste
Instructions
Wash the ribs in cold water several times. Add the water to a pot and bring it to a low simmer. Submerge them in the water and let simmer for 30 minutes skimming scum off the top.

Add peppercorn and onions and continue to simmer for 1.5 hours (up to 2 hours). If using raw corn on cob: Add corn and continue to simmer for 30 more minutes.

Add potatoes and simmer 10 minutes

If using parboiled corn on cob: Add the parboiled corn on cob pieces with the potatoes

Add fish sauce, cabbage, and green onions plus the salt and pepper. Then cook for 5 minutes. Turn off the heat and remove from the stove when finished.
Nutrition
Calories:
487
kcal
Carbohydrates:
38
g
Protein:
41
g
Fat:
20
g
Saturated Fat:
8
g
Polyunsaturated Fat:
1
g
Monounsaturated Fat:
8
g
Trans Fat:
0.003
g
Cholesterol:
108
mg
Sodium:
1204
mg
Potassium:
1642
mg
Fiber:
6
g
Sugar:
8
g
Vitamin A:
460
IU
Vitamin C:
59
mg
Calcium:
144
mg
Iron:
6
mg
Disclaimer: Nutritional values were calculated with the Spoonacular Food API and should be used for informational purposes only.
Have You Tried This Recipe?
Simply rate the recipe by clicking on the ⭐️s on the recipe card. Have something to say? Please leave me a comment down below telling me what you think of this recipe.
Bonus: Let me and other readers know what you did to make this recipe your own - 💫 let's inspire each other!
Also, follow me on Instagram [@seesfoodwilltravel] and send me a DM with a picture of what you made. I would love to share and celebrate YOUR creation with our budding community 💞
Check out Sees Food, Will Travel on Pinterest and Facebook for more delicious updates.