Japanese curry has been around for a long time. I'll be honest, this curry recipe isn't made from scratch or is remarkably different from other Japanese recipes. It's simply a dish I enjoy making at home when I miss curry houses like Coco Inchibanya and want to satisfy my cravings thousands of miles away. This is a plate reminiscent of my go-to selections at a local restaurant I frequented growing up in Hawaii.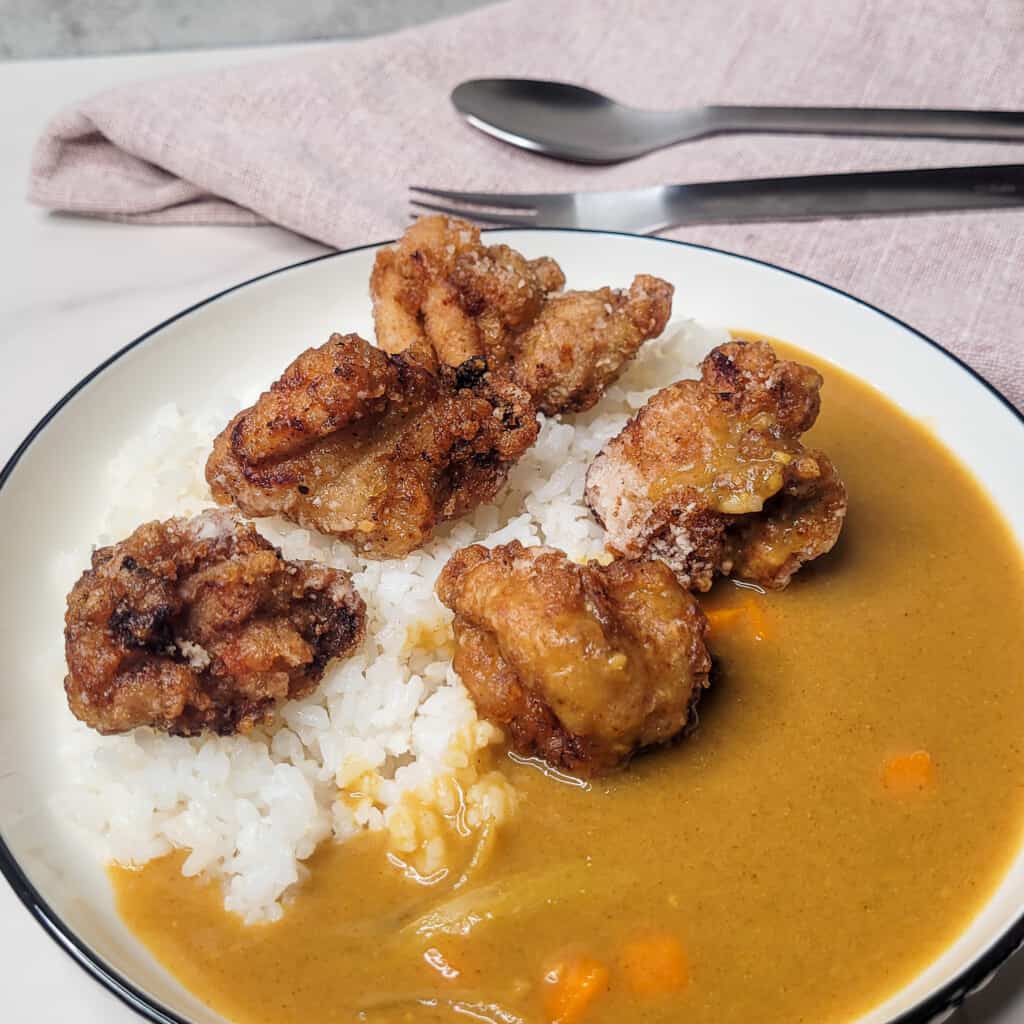 Before it was taken over by Coco Ichibanya, this Curry House had long been an establishment in Pearl City, Honolulu. I tried my first Japanese-style curry at that location and quickly fell in love. Back in middle school, they held an eating contest about who could finish a gigantic plate of curry and rice in the shortest time possible. Though I would not be able eat that size of a plate in one sitting, I love to indulge in Japanese curry every now and then.
What is Japanese Curry?
Japanese curry is an adaptation of Indian curry brought to the country in the 1800s according to our friends at Wikipedia. The Japanese developed something over the years to suit their palate and fit in with the rest of their cuisine. You'll typically find this style of Asian curry spooned over a bed of white rice or as a soup with udon noodles.
Nowadays, cooking Japanese curry at home is effortless thanks to brands such as Vermont and Golden curry. They come in dehydrated roux blocks that melt in water and thicken as it simmers. There are instructions on the box on how to cook them, so I'm not exactly innovating here! All you have to do is sauté some vegetables before adding water and the curry, making it an instant meal.
These blocks have different flavors, and you can choose your spice level too. I keep a box of all three spice levels in my pantry, depending on my mood and who I feed.
Ingredients For Curry with Chicken Karaage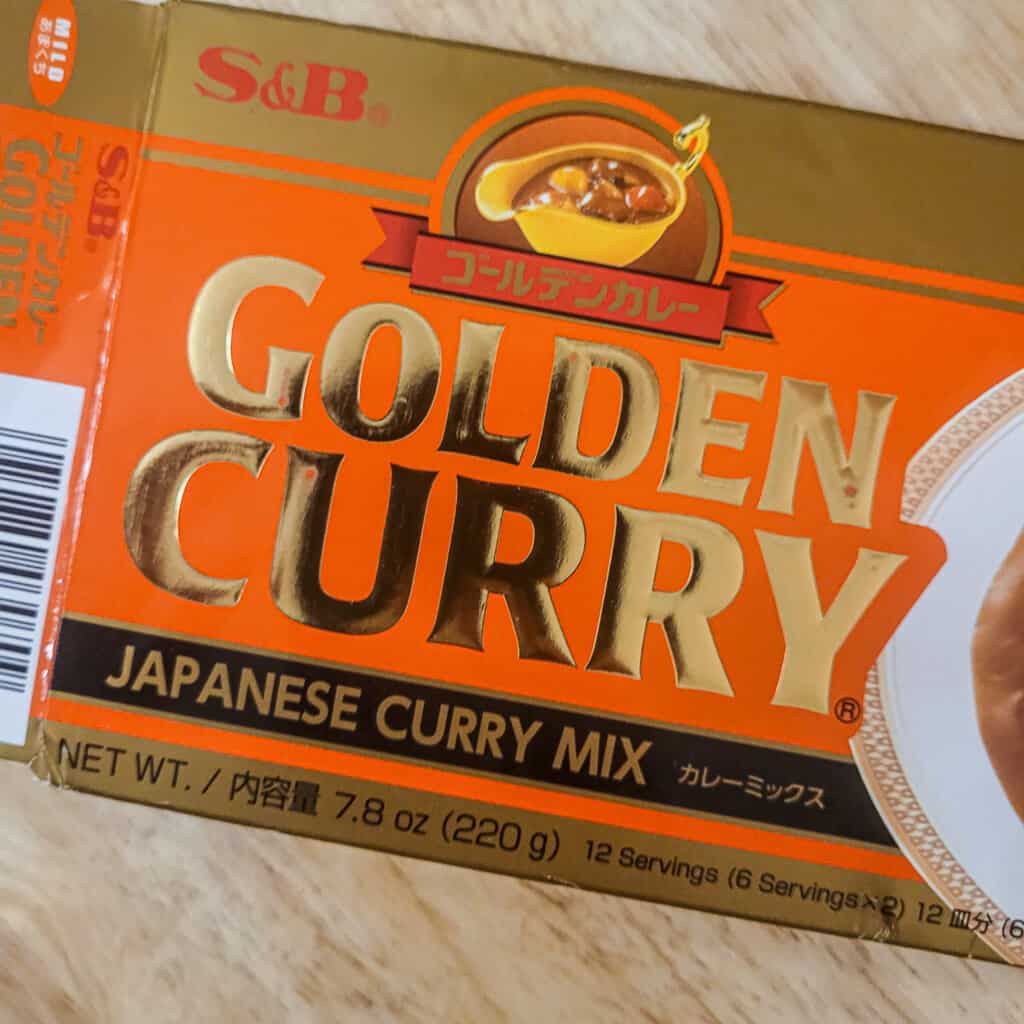 I like to add a generous amount of protein to accompany curry. That comes in form of chicken karaage on top of the rice. I made a separate post for the chicken karaage recipe since you can also make and eat it by itself. When I make the curry, I use a small amount of onions and carrots, much less than the box suggestions. For the rice, I use a combination of glutinous and short, round rice to make it a bit more sticky to absorb as much curry as possible.
Here are the ingredients for the curry base and rice:
Japanese Curry Blocks: There are different brands and flavors available for you at Japanese stores. I have used Vermont or Golden, but I also hear excellent things about Java. Make sure you buy the roux blocks only.
Carrots and Onions: I'm not particularly eager to overload Japanese curry, especially when it's eaten with a protein like fried chicken. So I use a smaller amount of carrots and onions than what the box instructions recommend.
Round and Short White Rice: Most Asian dishes have their version of round rice. In Japanese cuisine, it is used universally for many meals. It's soft and fluffy, unlike long-grain rice.
Glutinous White Rice: Adding this to the round rice helps absorb the curry liquid better. You get a spoonful of flavorful curry with each bite.
How to Make Japanese Curry with Chicken Karaage
The order of steps is important so you can be efficient with your time!
Make the Curry: Prepare the curry based on the instructions on the side of its box with a smaller amount of onions and carrots.

Sauté the onions and carrots in a small pot on medium heat with some oil for five minutes.
Add the water and bring it to a boil. Then lower the heat and allow the vegetables to simmer for ten minutes.
Break up curry blocks in a pack and add to the water. Stir until the blocks completely melted. Turn off the heat and set it aside while you make the rest of the components.
Make The Rice: Make this rice in less than fifteen minutes and set it aside to steam in the pot as you make the chicken karaage.

In a pot, add glutinous and white round rice.
Rinse the rice by adding cold water to the pot, then stir with your hand as it becomes cloudy. Remove the water and add more cold water. Repeat two more times or until the water is not as cloudy.
After cleaning the rice, add about one and a half cups of water to the rice.
Place on medium heat on the stove and bring it to a boil. Turn the heat all the way down and cover.
Cook for about fifteen minutes, then turn the heat off (do not remove the cover!). Set it aside.
Fry the Chicken Karaage:

Remember that you must fry the karaage twice at two different temperatures
Allow the oil to drain before adding the chicken to your plate.
How to Serve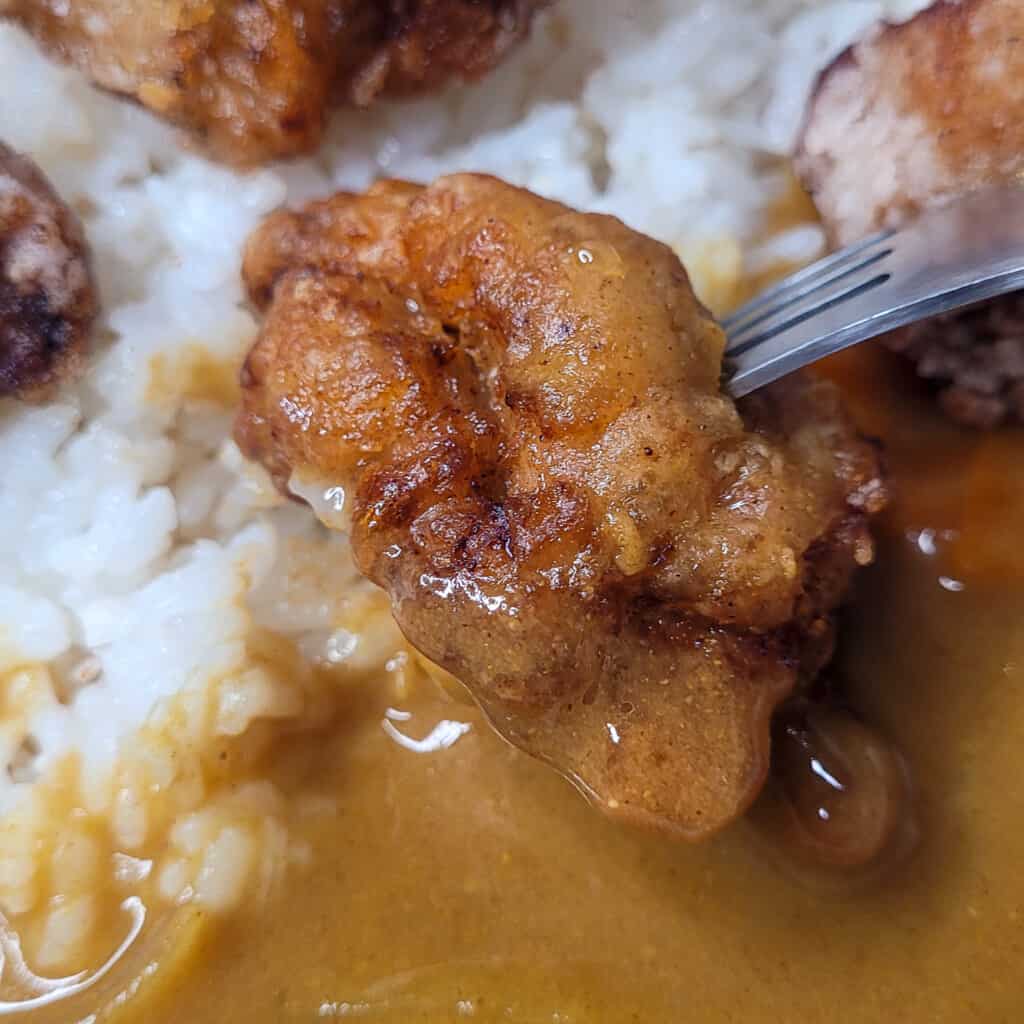 You can quickly reheat the curry, and the rice should still be warm when you build your plate. Scoop some of the rice onto one side of the plate. Then carefully add some curry to the other side. Place some pieces of chicken karaage on top of the rice. And there you have it! Eat while it's still hot!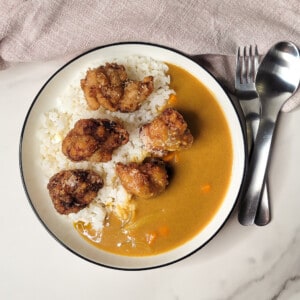 Japanese Curry with Chicken Karaage
My favorite way to dress up chicken karaage and eat Japanese curry. It's a simple meal and super delicious.
Disclosure
The equipment and ingredients sections contain affiliate links to products I love to use as well as items that I personally believe make this recipe the best version of itself.
Ingredients
Japanese Curry
half

medium onion, julienned

half

medium carrot, cubed small

1

tablespoon

neutral oil, for sautéing

1

liter

water

1

plastic square package of Japanese curry blocks

there should be 4 curry blocks
Rice for Curry
50

grams

glutinous white rice

140

grams

short, round white rice

240

ml

water
Instructions
Marinate the Chicken
Marinate the chicken karaage with garlic, ginger, soy sauce, mirin and sake. Then place in the fridge for 30 mins. See measurements here.
Make the Curry
Heat the oil in a pot. Add the chopped onions and carrots. Sauté for 5 mins.

Add about 1 liter (4 cups) of water to the pot. Simmer on low for ten minutes.

Add the curry blocks and allow it to melt into the water by gently stirring.

Once smooth remove from heat and set aside.
Make the Rice
In a pot, add both rice and rinse by adding some cold water until it turns cloudy. Then remove that water and add more. Repeat until the water is mostly clear. Remove all rinsing water.

Add 240 ml (1 cup) of water and place on high heat on the stove. Bring to a boil, then turn the heat down to low and cover. Cook for about 15 mins.

Turn off heat and do not remove the cover. Set aside.
Fry the Chicken Karaage
Double fry the chicken karaage per the instructions in this post.
Assemble
Add rice to half of a plate with some depth to it. Add some curry to the other half. Top with fried chicken and serve immediately.
Disclaimer: Nutritional values were calculated with the Spoonacular Food API and should be used for informational purposes only.
Have You Tried This Recipe?
Simply rate the recipe by clicking on the ⭐️s on the recipe card. Have something to say? Please leave me a comment down below telling me what you think of this recipe.
Bonus: Let me and other readers know what you did to make this recipe your own - 💫 let's inspire each other!
Also, follow me on Instagram [@seesfoodwilltravel] and send me a DM with a picture of what you made. I would love to share and celebrate YOUR creation with our budding community 💞
Check out Sees Food, Will Travel on Pinterest and Facebook for more delicious updates.