If you can't decide between pork adobo or chicken adobo, this recipe makes the choice easier for you: do both! This Filipino adobo recipe mixes pork and chicken to create a complex and delicious savory dish served with white rice. The versatile Filipino adobo could easily become a staple on your weekly dinner menu.
Why You'll Love This Recipe
This recipe brings both chicken and pork into one dish that makes a broth mixed with soy sauce and vinegar more complex. The additional step of marinating tenderizes the meat making the finished product so irresistible! 
It also uses fatty cuts of meat (pork belly and chicken thighs) that create a decadent oily broth perfect for spooning over rice. No one is saying this comfort food is healthy, but it sure is delicious!
Pork and Chicken Adobo Ingredients  
You don't need a lot of ingredients to make adobo, but there are some things to know about soy sauce and vinegar that will make this Filipino adobo taste more authentic. Check the substitutes for some tips on adjusting the ingredients.
Chicken Thighs
Pork Belly
Soy Sauce
Vinegar
Garlic
Onion
Sugar
Bay Leaves
Black Peppercorn
Water
Substitutes
Soy Sauce: The best type of soy sauce for a classic taste would be Black Swan. Black Swan is the most commonly used soy sauce brand among Filipinos. If you can't find it in an Asian grocery store, a dark-style Asian brand soy sauce also works. 


Vinegar: For an authentic flavor, cane vinegar is the way to go and Datu Puti is a popular brand in the Philippines. Other vinegar options include white vinegar, rice wine vinegar, or malt vinegar.


Chicken Thighs & Pork Belly: You can use different cuts and types of meat. But chicken and pork are the most common ingredients. Other cuts for chicken could be thighs and drumsticks. With pork, you can opt for shoulder, ribs, or tenderloin.


Sugar: I used white sugar and called out white sugar in the recipe card below. But you can use brown sugar as well.
Recipe Tips
Cook Rice First: I know I've mentioned this in other articles such as

onigirazu

and

cast iron chicken adobo

recipes. But trust me, this is something most people will easily overlook. Having rice cooked and ready for chicken and pork adobo is a must!


Marinate for a Specific Amount of Time: The marinade for this chicken and pork adobo will have vinegar in it so make sure that you marinate for no longer than two hours. Otherwise, the meat may break down and end up being mushy.


Brown the Meat: Browning the meat in hot oil will help seal juices in for the stew. You don't have to do it - I only did half of the meat - but it's something that will make a difference.
How to Make Pork and Chicken Adobo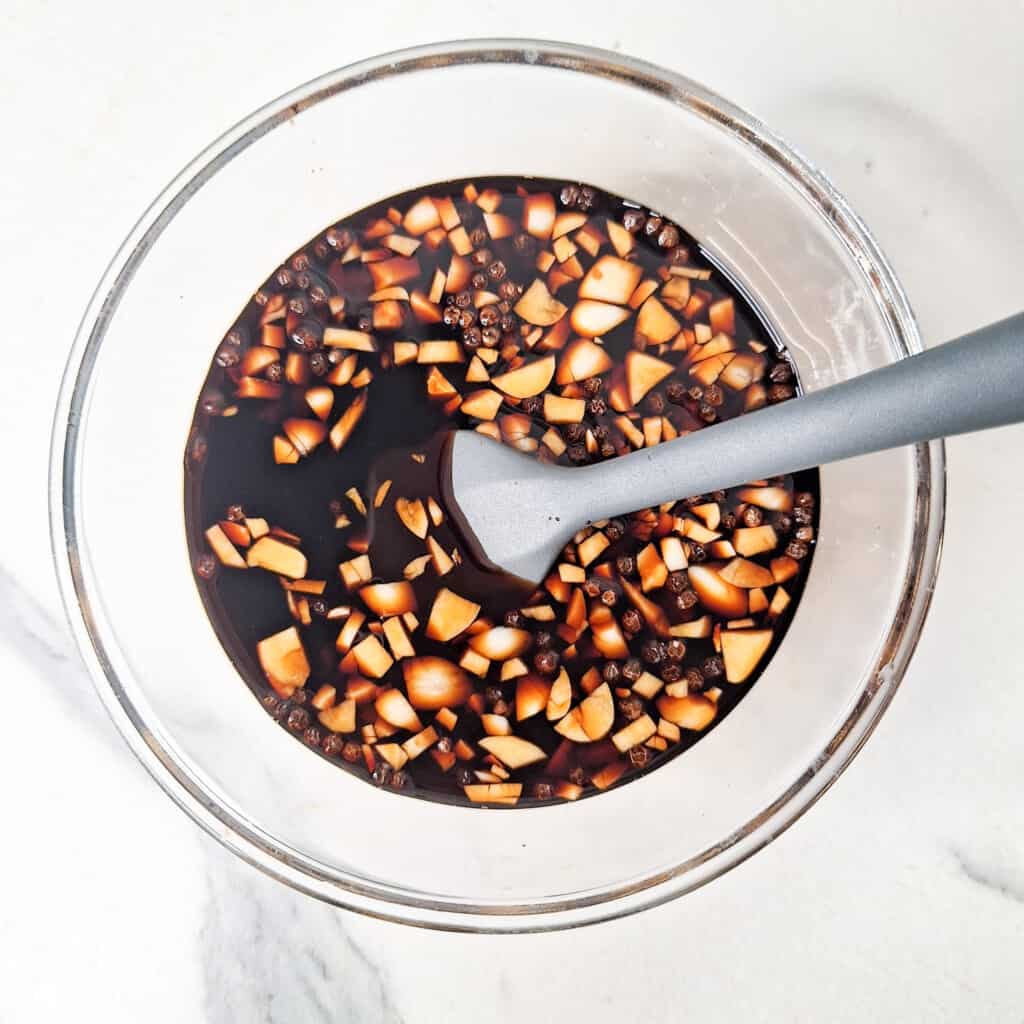 Marinade the chicken and pork pieces.
Heat oil in a pot and cook the garlic and onions.
Add marinated meat and brown for a few minutes.
Add the marinade and water to the pot. Add the bay leaves.
Bring everything to a boil and then lower to a simmer.
Simmer low for about thirty minutes or until the meat is tender.
How to Serve Filipino Adobo
You can serve Filipino adobo immediately after cooking it. Provide plates of white rice so that eaters can scoop their portion of the adobo to their preference. Make sure to also eat Filipino adobo with its sabaw, also known as soup, for a tastier experience!
Easy Filipino Adobo Variations
Filipino adobo, just like any other traditional food from the Philippines, comes in different styles and versions. Every family's adobo is slightly different and every cook adds their twist when it comes to ingredients and cooking techniques.
Adobo with Potatoes: Some people add peeled potatoes halfway through simmering so that they are soft by the time the meat is tender.


Adobo with Eggs: While marinating the pork, make some hard-boiled eggs and peel them. Then add them to the simmering pot ten minutes before the adobo finishes cooking.


Adobo with Coconut Milk: This version of adobo is called Adobo ng Gata, a popular regional dish in the Philippines. Instead of using water for boiling the dish, use one fourteen-ounce can of coconut milk. You'll end up with a creamy and unique tasting dish!
Frequently Asked Questions
What can I do with leftover Filipino Adobo?
You can fry it! The adobo has its own oil, so you can reheat some in a pan. But cook it past that, and the liquid will evaporate, and its oil will begin to fry the meat. This sauce might make it very salty so add some sugar to taste while the sauce is still watery.
Is Adobo Filipino or Spanish?
The word adobo for this dish is a borrowed from Spain during their colonization of the Philippines. When the Spanish people came to the Philippines, they noticed that the indigenous tribes had their own cooking techniques to make a stew, and it was termed adobo by the foreigners as a way to gain familiarity with the local food. Now, it is commonly known as adobo throughout the Philippines.
Tender Marinated Filipino Pork and Chicken Adobo
If you can't decide between pork adobo or chicken adobo, this recipe makes the choice easier for you: do both! This Filipino adobo recipe mixes pork and chicken to create a complex and delicious savory dish served with white rice. The versatile Filipino adobo could easily become a staple on your weekly dinner menu.
Ingredients
1

kg

pork belly, cut into medium sized pieces

1

kg

chicken boneless thighs, cut into medium sized pieces

6

teaspoon

minced garlic

1

teaspoon

black peppercorns

135

grams

dark soy sauce

2

tablespoon

granulated white sugar

60

grams

cane vinegar

or rice vinegar

1

tablespoon

oyster sauce

optional

1

large onion, julienned

yellow or white

1

tablespoon

vegetable oil

3

pieces

bay leaves

475

grams

water
Instructions
Add the soy sauce, vinegar, sugar, 4 teaspoon garlic, black peppercorns, and oyster sauce (optional) to a bowl and mix well.

In a large container, add the chicken thighs and pork belly then pour marinade mixture over the meat pieces. Marinate for 1 to 2 hours.

Heat oil in a large stock pot on medium low. Add the sliced onions and the rest of the minced garlic. Stir them for 2 minutes to keep them from browning until the onions are slightly softened.

Add the marinated meat (not the marinade) and brown the meat for a couple of minutes while stirring it around. You may have to do this in batches such as browning half first, removing it from the pot, then browning the other half.

Place all the browned meat back into the pot and then add the marinade, bay leaves, and the water. Increase the heat and bring to a boil. You can remove scum at this point.

Once boiling, bring it down to a simmer. Cover the pot and let it cook for about 30 - 40 mins. 10 minutes before you finish cooking, uncover the pot to reduce the liquid.

Serve immediately with white rice.
Disclaimer: Nutritional values were calculated with the Spoonacular Food API and should be used for informational purposes only.
Have You Tried This Recipe?
Simply rate the recipe by clicking on the ⭐️s on the recipe card. Have something to say? Please leave me a comment down below telling me what you think of this recipe.
Bonus: Let me and other readers know what you did to make this recipe your own - 💫 let's inspire each other!
Also, follow me on Instagram [@seesfoodwilltravel] and send me a DM with a picture of what you made. I would love to share and celebrate YOUR creation with our budding community 💞
Check out Sees Food, Will Travel on Pinterest and Facebook for more delicious updates.