Giniling means "ground meat" but it's also the name for a Filipino dish cooked with a blend of diced vegetables including carrots, potatoes, onions, and peas. This easy beef and pork giniling recipe will show you how to make a basic version which gives you lots of room for customizations.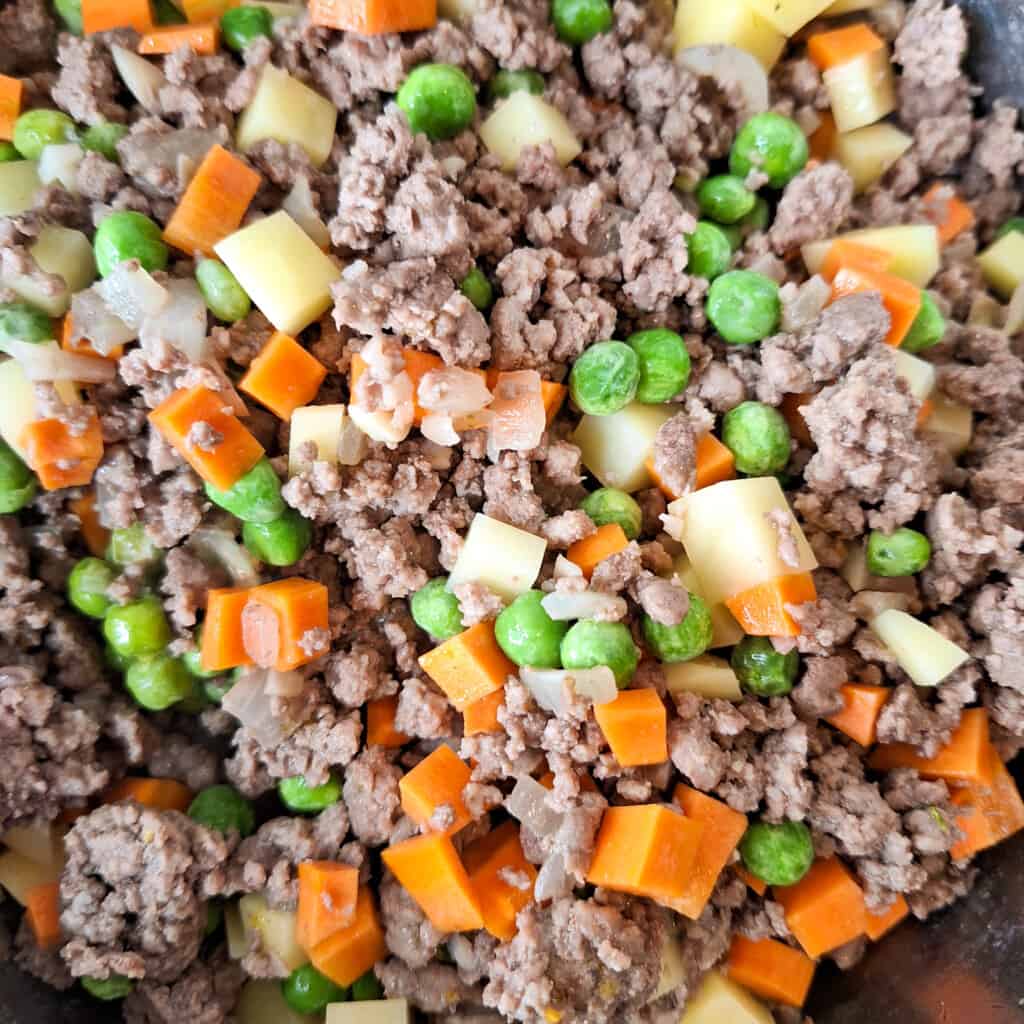 This recipe makes a basic giniling that will last for a few days. It's a versatile dish traditionally eaten with white rice but it's used to expand on other Filipino food such as empanadas or eggplant omelets (see: tortang talong recipe).
Jump to:
Republish Disclosure: This post has been republished with an updated recipe, ingredients list, and step-by-step photos.
Why You Will Like Giniling
It's Easy to Make: You basically use one pot to make this dish!


It's Flexible with Ingredients: You don't need much to make giniling and it's easy to add or take away ingredients as you'd like.


It's Tasty: It's a flavor bomb! The veggies, pork, beef, and chicken bouillon all blend together to develop some mouthwatering flavors while braising.


It's Great for Meal Prep: You can easily store it in the fridge to eat for the rest of the week. Add it to other meals!
Ingredients
Ground Pork & Beef
Onions
Potatoes
Carrots
Peas
Garlic
Water
Chicken Bouillon
Salt & Pepper
Neutral Oil
Substitutes
Ground Pork and Beef: This recipe calls for a combination of pork and beef. The traditional version uses pork but you can use any type of ground meat such as chicken, beef, and turkey.

Vegetables: Add or leave out as many diced veggies as you want. I've used other veggies lying around like green and red bell peppers, leeks, and even ginger. Tomatoes are also a main ingredient for other types of Filipino giniling.
Recipe Tips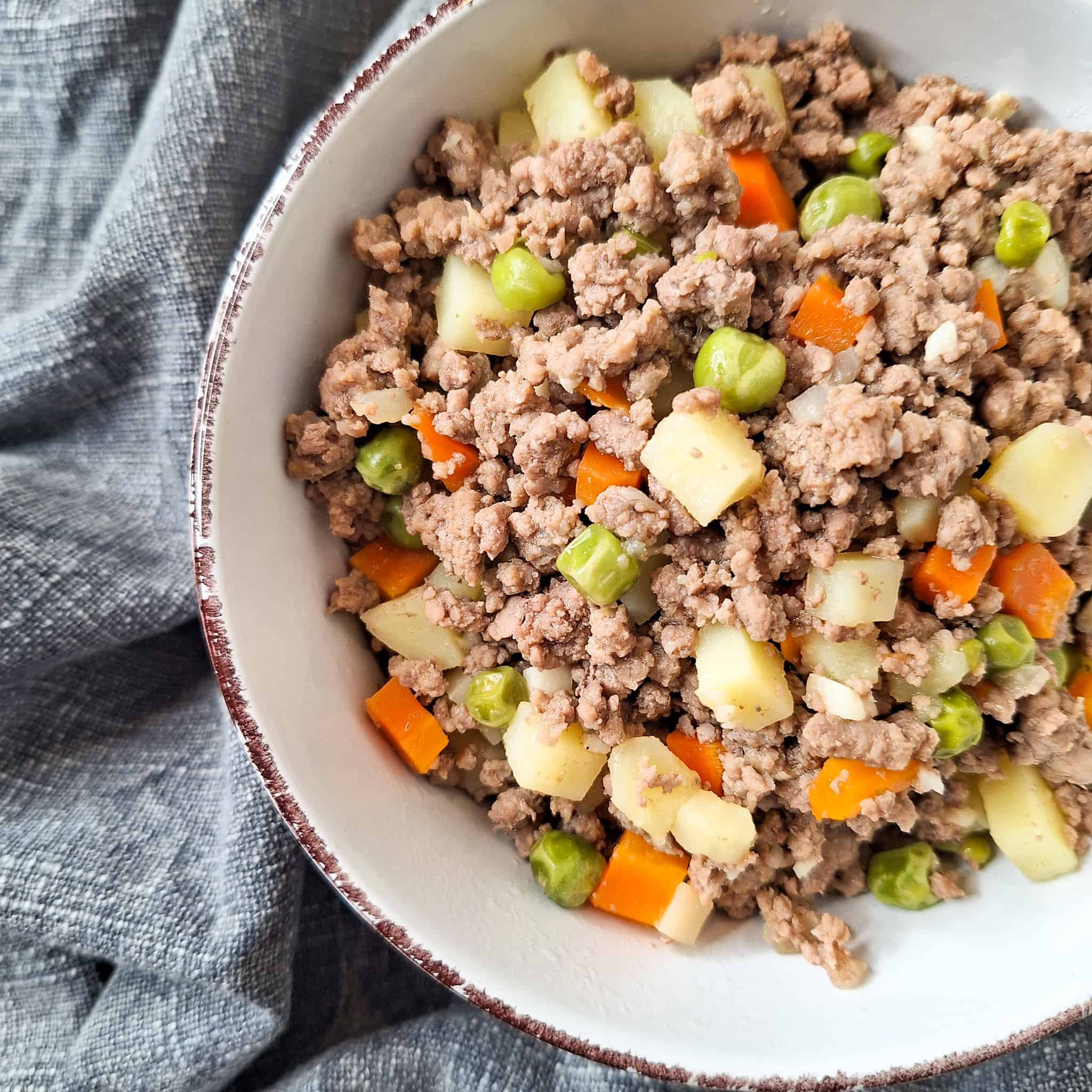 Let it Sit: Giniling is great right after you cook it, but I think it's even better when it's had time to sit in the fridge because flavors had time to further blend and settle in!
Variations
There are SO many types of giniling! Below are some versions you'll come across and could be your next inspiration when whipping up this dish:
Guisado Style: The most traditional and popular style to make giniling is braising the ingredients together in a pot. The recipe below uses this technique. Braising can take many forms, where you end up with something like a stew or something less soupy, like this recipe.


Afritada Style: This is where the meat and vegetables are braised slowly in tomatoes and tomato sauce.


Adobong Giniling: This starts with the basic recipe and then you would add vinegar, soy sauce, bay leaves, and peppercorn like you do with

chicken adobo

.


Giniling with Raisins: Adding raisins to giniling has been a popular debate among Filipinos. My personal opinion is to add them if you like raisins and leave them out if you don't (like me).


Quail Eggs: Another common addition to giniling are quail eggs. They bring another texture and flavor to the dish. If you want a more filling dish with rice, adding quail eggs to giniling is a great choice.
How to Make Giniling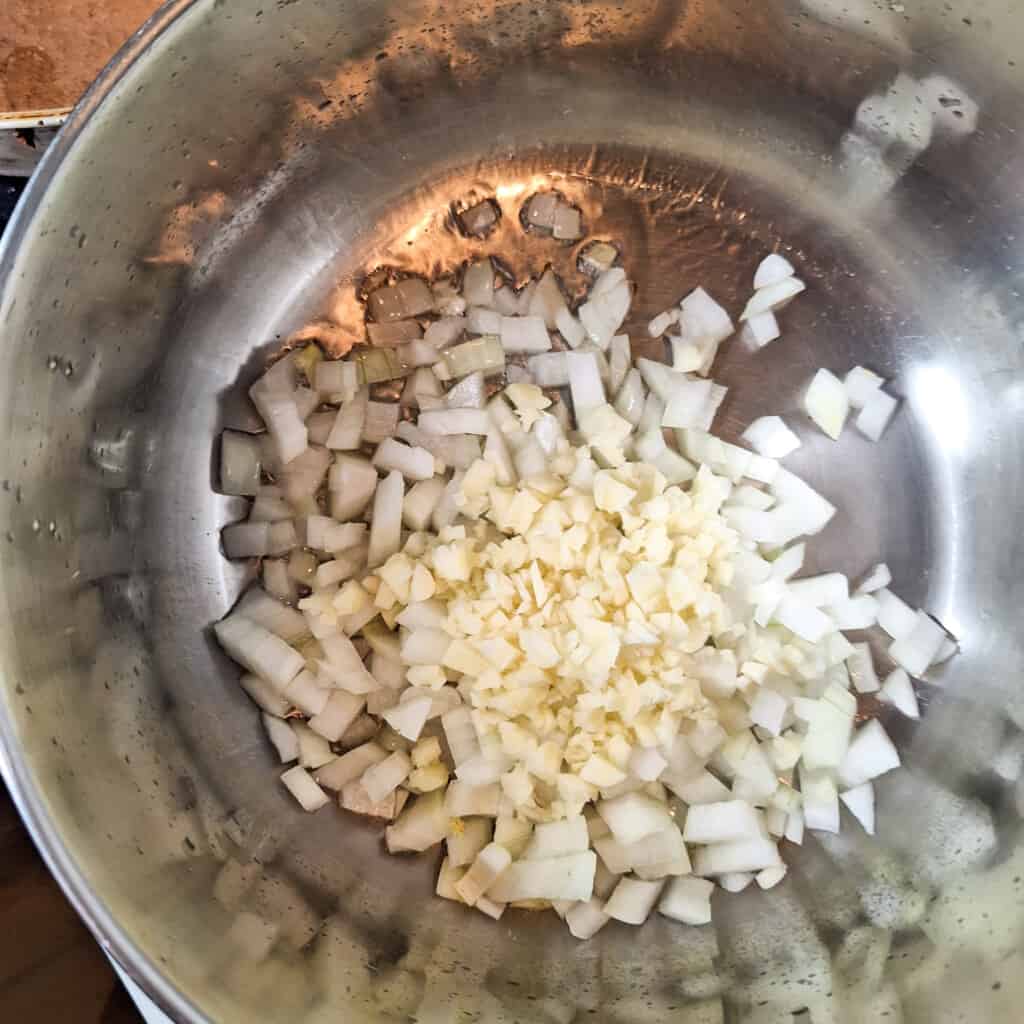 The recipe down below only has a few simple steps in order to produce this meat-filled dish.
Pan-fry the meat, onion, and garlic together until the meat is brown.
Add water, chicken bouillon, peas, carrots, and potatoes.
Bring to a simmer and continue cooking until the vegetables are cooked and most of the liquid has evaporated.
How to Serve
Serve the giniling next to some cooked white rice. Filipino food typically comes as ulam and kanin (a dish paired with rice). This is the most basic way to eat giniling, but you can just as easily add giniling to other recipes such as empanadas or tortang talong.
Frequently Asked Questions
Can I freeze giniling?
Yes, you can place giniling in the freezer for up to a few months. Reheat it by placing some in a pot and add some water to braise again.
How much soup should there be in giniling?
It's up to you! The liquid will evaporate as you braise giniling, so you'll end up with less broth in the end. Add more water as it cooks if you want something more similar to a stew or chili.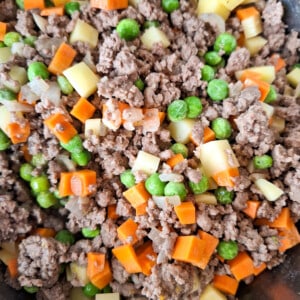 Classic Beef and Pork Giniling Recipe
Giniling is ground meat with diced vegetables simmered in a short amount of time together. It's eaten with white rice as traditional Filipino food.
Ingredients
250

grams

ground pork

250

grams

ground beef

1

small onion

diced

1

medium carrot

diced

1

medium potato

diced

70

grams

peas

frozen

3

garlic cloves

minced

235

ml

water

more as needed

10

grams

cubed chicken bouillon or powder

salt and pepper

to taste

2

tablespoon

neutral oil, such as vegetable oil

for frying
Instructions
Set a pan to medium-low heat and add oil.

Add the garlic and onions. Move them around the pot to keep them from browning and keep cooking until they are soft and glassy.

Add the ground beef and pork to brown them in the pot with the onions and garlic.

Add the chicken bouillon powder or cube with some salt and pepper. Mix the ingredients to incorporate all the flavors.

Add the peas, carrots, and potatoes. Then add the water. Gently stir everything and bring to a boil. Once boiling, lower the heat to get to a low simmer.

Leave it to simmer for about 25 minutes while stirring occasionally. Check if potatoes are soft, and if they are not soft, let it cook for another 5 - 10 minutes. Add more water if the meat gets dry while vegetables are still cooking.

Once the vegetables are soft, remove it from the heat and let it cool for 5 minutes before adding it on top of rice.
Nutrition
Calories:
270
kcal
Carbohydrates:
11
g
Protein:
16
g
Fat:
18
g
Saturated Fat:
7
g
Polyunsaturated Fat:
1
g
Monounsaturated Fat:
8
g
Trans Fat:
1
g
Cholesterol:
60
mg
Sodium:
462
mg
Potassium:
480
mg
Fiber:
2
g
Sugar:
3
g
Vitamin A:
1792
IU
Vitamin C:
14
mg
Calcium:
35
mg
Iron:
2
mg
Disclaimer: Nutritional values were calculated with the Spoonacular Food API and should be used for informational purposes only.
Have You Tried This Recipe?
Simply rate the recipe by clicking on the ⭐️s on the recipe card. Have something to say? Please leave me a comment down below telling me what you think of this recipe.
Bonus: Let me and other readers know what you did to make this recipe your own - 💫 let's inspire each other!
Also, follow me on Instagram [@seesfoodwilltravel] and send me a DM with a picture of what you made. I would love to share and celebrate YOUR creation with our budding community 💞
Check out Sees Food, Will Travel on Pinterest and Facebook for more delicious updates.