This oatmeal custard recipe was introduced to me by John. He and his dad made this creamy oatmeal recipe together when he was young. Now, this nostalgic breakfast has also become a part of our lives. This recipe yields a thick, creamy oatmeal with a custard-like consistency. We make this oatmeal when we want to indulge in the morning. I can't say this oatmeal recipe is healthy, but you get a bit of protein from the eggs mixed in! If you love oatmeal and feel like changing up your typical bowl, give this one a try.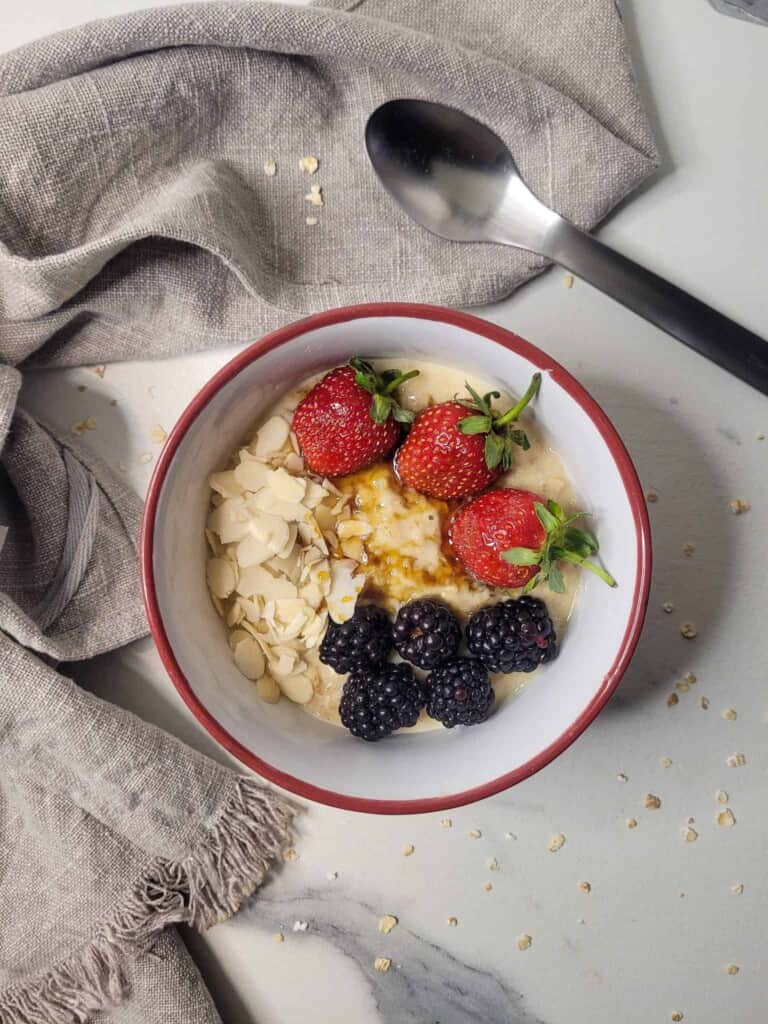 What Makes this Oatmeal Custard
According to our good friends at Merriam-Webster, custard is a cooked, thickened creamy product made with eggs and milk or cream. The oatmeal in this recipe is first boiled with milk and some water to cook thoroughly. Then we add the egg once the oats have finished cooking.
The key to this recipe is how you add egg to the oatmeal. If you simply plop the raw egg in the hot oatmeal, the egg will cook quickly. As you mix, you will end up with streaks of yellow and white. That is not what we want.
Tip To achieve the custard texture, we will use a technique called tempering. First, you will add some of the hot oatmeal to the raw eggs to increase the temperature of the raw eggs. Once the eggs' temperature is close to the temperature of the oatmeal in the pot, we pour them in the oatmeal and mix gently. The eggs won't bind quickly and scramble in the pot. Instead, it will create a creamy texture.
How to Make Creamy Oatmeal Custard
If you have made oatmeal before, you know that the cooking process will go very quickly. In less than three minutes, you will have a piping hot bowl of oatmeal! Because of this, pay attention to the cooking process and your stovetop's heat. Even if oatmeal is easy to make, the right consistency is also easy to mess up.
Prepare the Eggs
Prepare your eggs by cracking a couple in a bowl and whisking them together. Set the bowl aside until you are ready to use them.
Prepare the Oatmeal
Add the water plus the milk to a pot and bring to a slight simmer. Once it starts simmering, add the oatmeal and mix it in. Cook the oatmeal on low heat for about three minutes.
Temper the Eggs
Remove the pot from the heat. Take the bowl of eggs and add a spoonful of cooked oatmeal to the bowl. Mix the ingredients in the bowl. Then add another spoonful and mix again. Repeat this step until you feel the bowl has warmed up a bit.
Tip You should not be using all the cooked oatmeal. Just a few spoonfuls should temper the eggs.
Pour the mixture into the pot and gently mix everything. Place it back to the heat on the lowest setting and stir as you continue to cook for no less than two minutes.
Turn off the heat and add a pinch of salt and some spoonfuls of sugar (or brown sugar) to taste. If you think the oatmeal is too thick, you can also mix in some more milk at this point.
To Dress or Not to Dress
I leave it entirely up to you on how to top this creamy oatmeal recipe. For photography's sake, I added some strawberries, blackberries, almond slivers, and brown sugar syrup.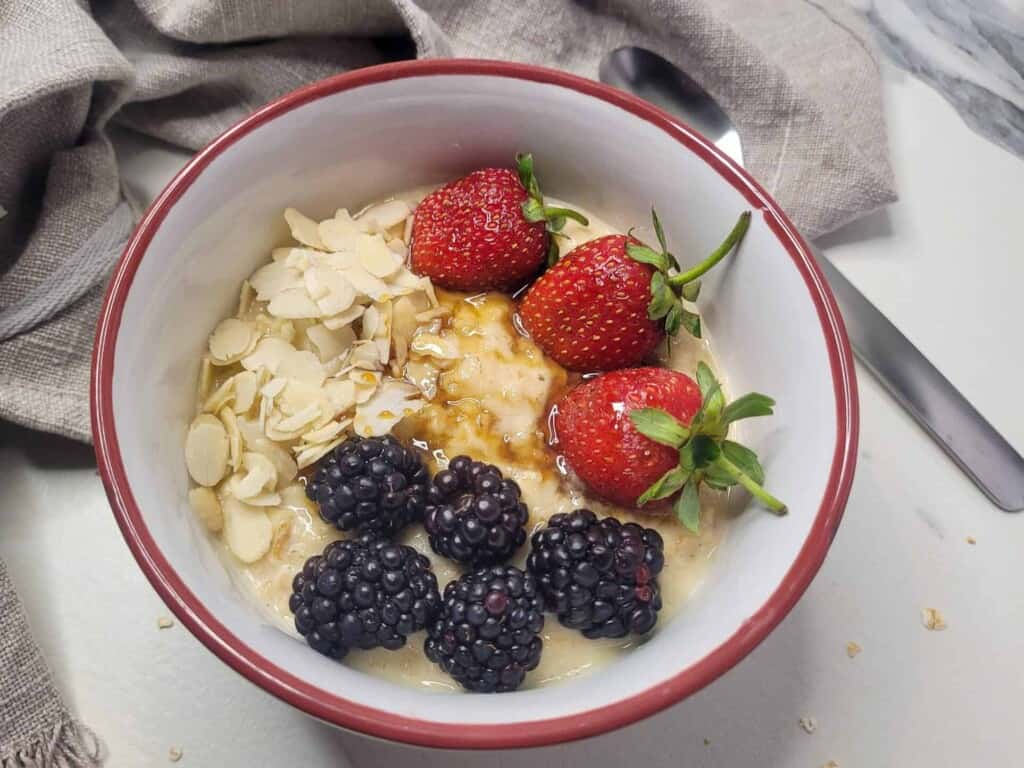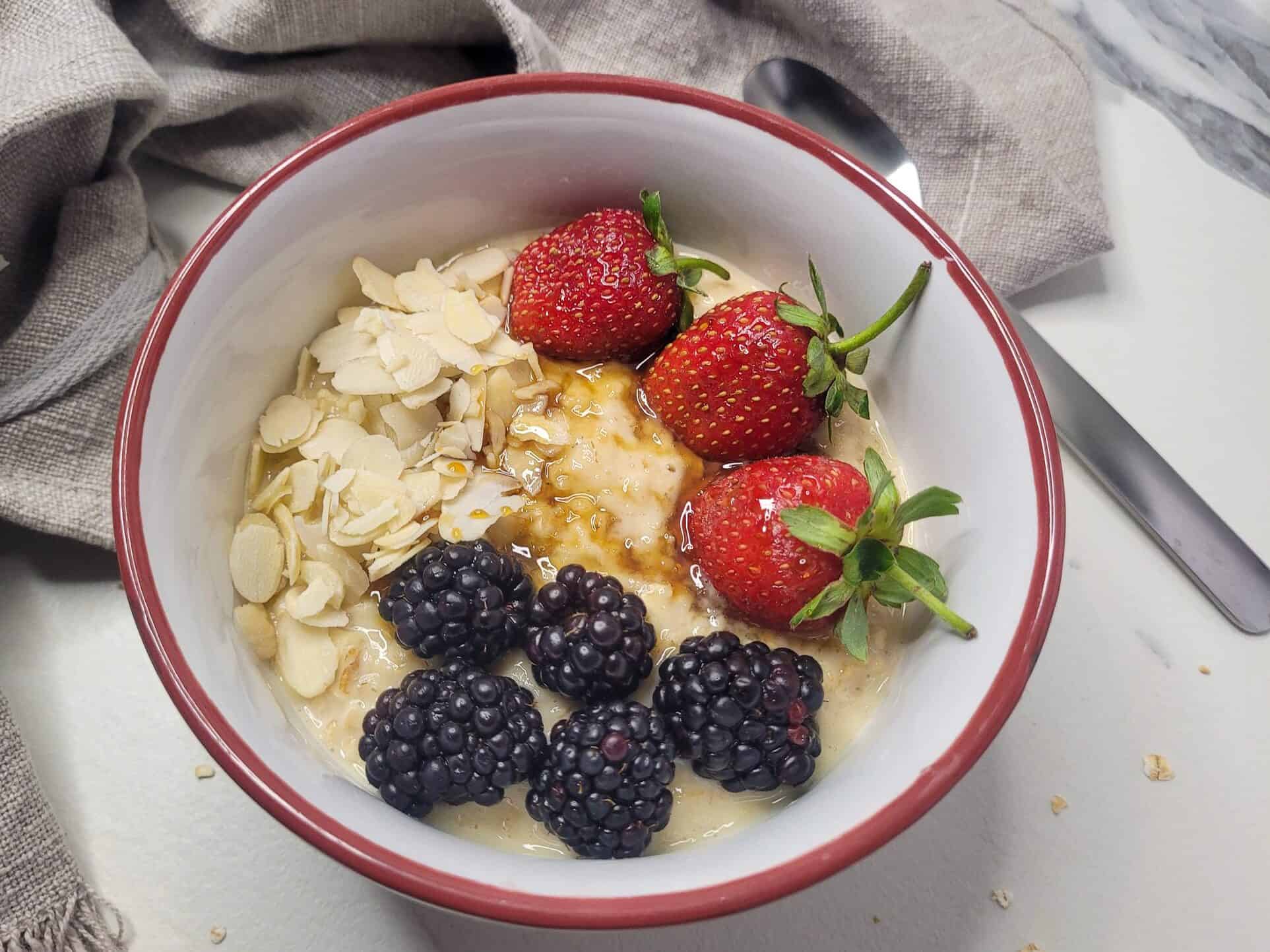 But to be honest, on regular days, all I have to do is add a spoonful of brown sugar to feel like I am eating a deluxe bowl of oatmeal. The creaminess of this oatmeal custard does a lot to make it feel luxurious!
Have You Tried This Recipe?
Simply rate the recipe by clicking on the ⭐️s on the recipe card. Have something to say? Please leave me a comment down below telling me what you think of this recipe.
Bonus: Let me and other readers know what you did to make this recipe your own - 💫 let's inspire each other!
Also, follow me on Instagram [@seesfoodwilltravel] and send me a DM with a picture of what you made. I would love to share and celebrate YOUR creation with our budding community 💞
Check out Sees Food, Will Travel on Pinterest and Facebook for more delicious updates.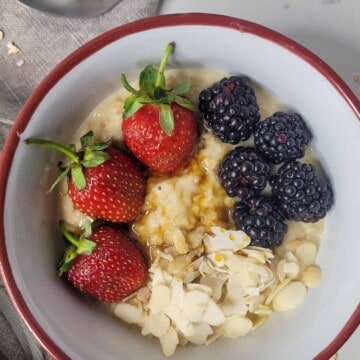 Oatmeal Custard
Try this creamy oatmeal custard recipe if you are interested in a rich, and decadent breakfast! It's made with eggs that are tempered in the hot oatmeal to achieve a custard like consistency.
Ingredients
1

cup

oatmeal

1

cup

water

1

cup

whole milk

2

eggs

pinch of salt

or more to taste

1

tablespoon

granulated sugar

or more to taste
Instructions
In a medium bowl, crack the two eggs and whisk. Set aside.

In a pot on low heat, add water and milk. Bring to a low simmer.

Add oatmeal and mix it in. Cook for about 3 minutes. Remove from heat.

Take a spoonful of oatmeal and add to the bowl of eggs and mix. Repeat this step until the eggs are slightly warm. Then pour the mixture back into the pot.

Place the pot back on low heat and mix the oatmeal gently for no more than 2 minutes. Remove from the heat and divide the oatmeal into two bowls.

Add your desired toppings such as brown sugar, cream, nuts, fruit, etc.