Arroz caldo is a memorable Filipino name dedicated to a type of inspired Chinese porridge recipe. It has a particular place in every Filipino's heart as one of the best comfort foods in the country. It's probably the perfect representative of Asian and European influence in the Philippines. Arroz caldo has a Spanish name, yet it's been said to have been inspired by the Chinese congee.
How I Learned to Love Arroz Caldo
I was a picky eater as a child. Everyone had difficulty convincing me to eat vegetables or anything that didn't come out of a frying pan. At my Filipino elementary school, the canteen served up all types of hot lunches. But on specific days the canteen served arroz caldo as well. So when those days came, I was first in line to receive a piping hot bowl of it.
I still remember that arroz caldo even nearly twenty years later. The bowl was picturesque because the recipe called for kasubha or safflower. The dried safflower plant dyed rice, stock, shredded chicken, and a cheery golden colored boiled egg that made it look as intriguing as it was appetizing. The image of safflower dotting a yellow porridge canvas like bright red strings of confetti serves as a core memory from my childhood. I would gobble up every last savory bite.
Arroz caldo falls into a category of comfort food that I loved to eat growing up. Beef nilaga and adobo were among them. These flavors of the dishes are mild and I usually consumed them on a cold day or when I felt sick.
Arroz Caldo Ingredients
This ubiquitous Filipino recipe requires quite a bit of local Filipino ingredients that could be difficult to source. If you follow my blog, you know that I like to make Filipino food accessible for everyone by providing some substitutions of the original ingredients, and you can get pretty close to the real deal. But most of all, it's still tasty!
Kasubha is the Filipino name for safflower. These are dried plants that look red but color food a lovely yellow. Safflower doesn't taste much like anything, but it could give the food some texture. A substitute for safflower could be saffron (which I used), but I recommend using only a pinch of saffron. Saffron gives off a specific herbal taste that can be overpowering depending on the quality you buy. Both safflower and saffron produce an excellent shade of yellow.
Calamansi is sometimes called Filipino lime or Filipino lemon. They are small compared to limes or lemons and taste like something in between. Feel free to use either one lime or one lemon. But remember to add the fresh squeezed lemon/lime juice after cooking the arroz caldo. If you add the juice while it is still simmering, you could run into the issue of producing a bitter flavor profile.
The rice involved in making arroz caldo is typically jasmine rice. But I have used round sushi rice. This recipe also calls for a mix of round short-grain rice and glutinous white rice to produce a thicker porridge with a fuller mouthfeel.
Different Styles of Arroz Caldo
As with all types of Filipino food, arroz caldo comes in different versions depending on where you are in the Philippines. But most of all, every family makes their style. Over time, I tweaked this Filipino arroz caldo recipe to be simplified, yet it makes you yearn for it. I believe the word is moreish - when you want more of something.
Depending on the country that I currently live in, I have had to make use with what was available to me. But the ingredients in this recipe include items that may or may not be readily available for you.
Do not feel like you have to follow this recipe with its exact ingredients. The beauty of Filipino food is capturing the foundational taste of the dish across different variations. Make arroz caldo or any other Filipino food enough times, and you will be able to understand what I mean by that.
How to Make Arroz Caldo
First, make sure all of your ingredients are chopped, thawed, and ready within arm's reach because this recipe goes pretty quickly. For most of the time, you are simmering all the ingredients together to make this delicious comfort food.
Make Garlic Chips First
Start by preparing the most irresistible topping for arroz caldo - the deep-fried garlic chips. Take some vegetable oil and sliced garlic chips (enough that they all fry together submerged in the oil. Deep-fry the garlic chips and set them aside.
Cook the Ingredients in One Pot
Then take some of the oil you used to fry the garlic chips and add it to a clean pot for the arroz caldo. Brown the chicken in the heated pot. Once all of the pieces have browned, add the minced onions and garlic. Let them cook together for about three minutes or until the onions are glassy.
Add the minced ginger, glutinous and round rice, as well as the chicken bouillon to the pot and stir the ingredients to incorporate.
Add some water to submerge the chicken and rice leaving about a one-inch space from the top.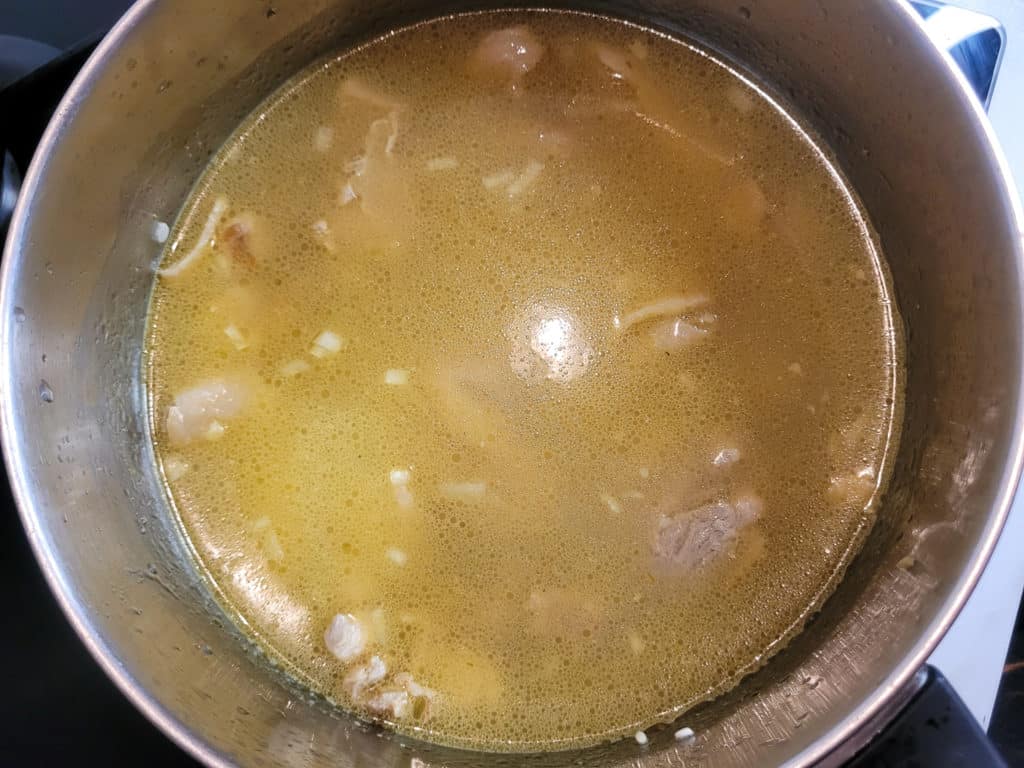 Then add the fish sauce and stir to combine.
Bring the arroz caldo to a low simmer. Be careful as you stir the ingredients making sure you don't break up the rice grains. At the same time, make sure to stir so that the bottom of your pot doesn't burn. Cover and simmer the arroz caldo for up to thirty minutes. You may need to keep adding water if you think the porridge is getting too dry.
Periodically check the arroz caldo as it cooks for the following:
that the chicken is braising and tender
that the bottom of the pot isn't burning the rice
that the rice is becoming tender
Once you have about five to ten minutes left to go, sprinkle a pinch of saffron or safflower on top of the arroz caldo and carefully mix it in. If you choose to add turmeric, do it at this stage as well. Then cover to continue simmering. The safflower/saffron will gently color your dish.
Once your arroz caldo is finished, turn off the heat and remove the pot from the heat. Squeeze some lemon or lime juice into the pot. I don't like to squeeze in too much acidic juice when I make this for other people. I usually give them slices of lime to add as little or as much as they prefer as they eat it.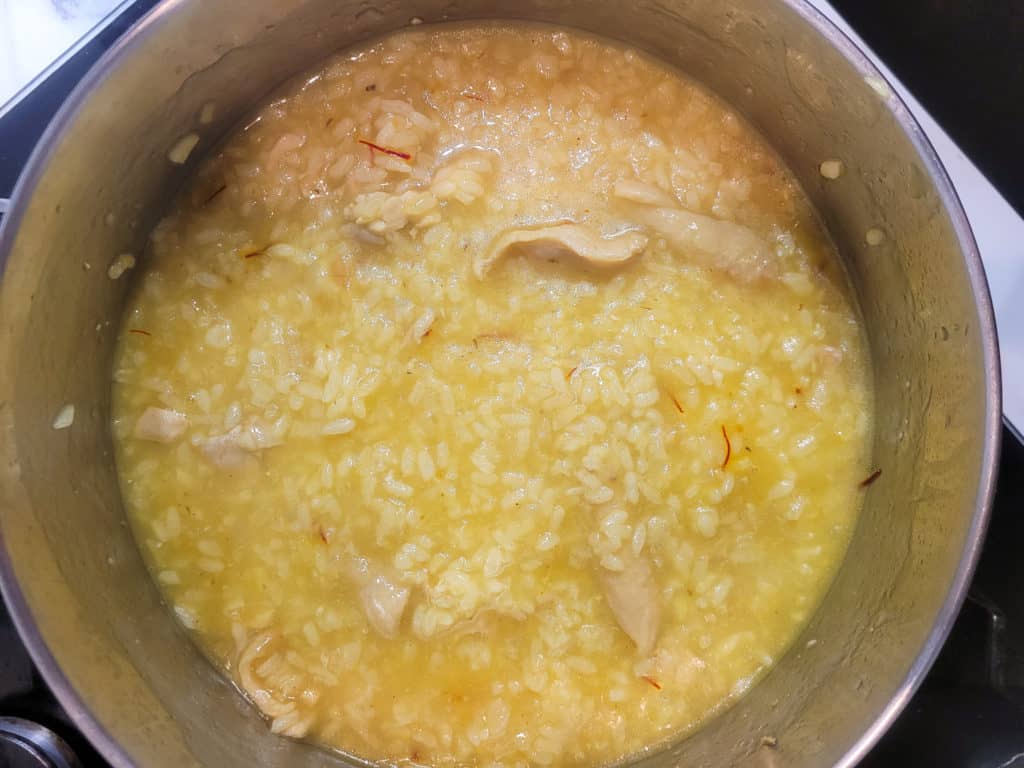 Adding Toppings
I love dressing up arroz caldo! In addition to topping this dish with some of those fried garlic chips, add a boiled egg plus green onions to add more flavor to the dish. Don't forget to serve it alongside some sliced limes and lemons for those that enjoy a tangier taste. But most of all, do not wait to eat this dish! Consume it hot for the ultimate comfort food experience on cold days or when you feel under the weather.
Have You Tried This Recipe?
Simply rate the recipe by clicking on the ⭐️s on the recipe card. Have something to say? Please leave me a comment down below telling me what you think of this recipe.
Bonus: Let me and other readers know what you did to make this recipe your own - 💫 let's inspire each other!
Also, follow me on Instagram [@seesfoodwilltravel] and send me a DM with a picture of what you made. I would love to share and celebrate YOUR creation with our budding community 💞
Check out Sees Food, Will Travel on Pinterest and Facebook for more delicious updates.
Arroz Caldo
Arroz caldo is a Filipino style porridge and one of the best comfort foods that the Philippines has to offer! It's perfect for cold days or when you aren't feeling great or fighting a cold.
Ingredients
500

grams

chicken thighs, skin on, cut in pieces

100

grams

round white rice

100

grams

glutinous rice

1

tablespoon

ginger, minced

4-6

cloves

garlic, minced

1

medium

onion, minced

2-3

tablespoon

fish sauce

use more if you prefer

1

chicken boullion

1 tbsp

¼

teaspoon

turmeric

optional

1

teaspoon

safflower (if using saffron, use a pinch)

1

small

lemon or lime
Instructions
Add oil to a pot and then brown the chicken. Make sure all sides are brown.

Add the garlic and onion and cook with the brown chicken for 5 minutes until onions are glassy and garlic looks tender.

Add ginger, glutinous rice, round rice, and chicken bouillon and mix together. Cook for 3 minutes.

Add water to the pot just enough to cover the chicken and rice so they are submerged in water.

Add fish sauce and stir, then bring to a simmer. Cover and simmer for about 30 minutes.

With 5 - 10 minutes left to simmer, add safflower/saffron and turmeric (if you are using it). Cover and continue cooking.

Once the arroz caldo is cooked, remove from the heat and add the juice of 1 small lemon/lime or as much as you desire.

Garnish with fried garlic chips, boiled egg, chopped green onions, and slices of lime/lemon
Make Fried Garlic Chips (Optional)
Slice garlic into thin pieces.

Take a small pot and add enough oil so all garlic chips would be submerged.

Heat up the oil and deep fry the garlic chips until they are golden brown.

Remove the garlic chips with a strainer and place them on a paper tower to soak up the remaining oil.
Disclaimer: Nutritional values were calculated with the Spoonacular Food API and should be used for informational purposes only.