Krakow was not part of our plan, but COVID, with its own agenda of lockdown after lockdown, caused countries we planned on visiting to close their doors to us. A dear friend recommended Poland, knowing that my stomach very much directs my trip planning. Before I continue with a brief background, click here to skip to the breakdown on where to eat food in the Kazimierz district of Krakow.
Long ago, Kazimierz was an independent city just outside Krakow. Eventually, it became a district of Krakow where both Jewish and non-Jewish Poles lived together. Nowadays, it's a vibrant community, full of (regulated) graffiti art, cafes, bars, and countless restaurants to keep you busy from when you first wake up to when you tipsily walk back to your accommodation at the end of the night.
There are many choices for a great meal within just over a one-kilometer radius. Our only problem was that we did not have enough time to get through the long list we quickly drew up. Here is an easy single-day food itinerary to help you eat well as you explore Krakow's Kazimierz district.
Have Some Delicious Eggs Near Plac Nowy
We started at Alchemia, which hosts a detached restaurant next to their bar along Plac Nowy ("new square"), the long-time main square of Kazimierz. Alchemia's restaurant serves an extensive brunch menu through 2 PM for those who like to sleep in. We picked two versions of their eggs Benedict along with two Americanos. The portions look massive but well-balanced. The bread that acted as seats for the eggs looked like logs on the plate, and I wondered if I could finish them. However, the bread was light and fluffy, and I finished my plate in less than twenty minutes.
What to See Between Breakfast and Lunch
Head towards the river and stop at the ethnographic museum located in the same square as the town hall (Plac Wolnica). If you want to do a longer trek, find the riverwalk and turn towards Wawel Castle. Take your time enjoying the views from the river as you head towards the statue of the Wawel Dragon (Smok Wawelski). You won't have to wait long to watch it spit fire, with the figure set to action every ten minutes. Take a few photos, and then head back to Plac Wolnica by the same riverwalk you came from. At that point, your stomach will be ready for lunch!
Have Your Midday Meal at a Local Kazimierz Restaurant
Marchewka z Groszkiem is located across Plac Wolnica in Kazimierz and serves local food to tourists and residents alike. If you come during the day, you will be invited to take a seat wherever is available. The menu choices present a lot of delectable options. After making some thorough and careful choices, we settled on starting with our own soups and sharing plates of pork ribs, potato pancakes, and duck-filled pierogi.
John started with the traditional sour rye soup with white sausage (Żurek na własnym zakwasie z białą kiełbasą). The soup was served with an entire sausage intact, and he had to carefully slice it without splashing everywhere.
I started with the easier chicken noodle soup (rosół z makaronem). It was very comforting with quite a flavorful broth. Since this was also a light soup, it was a nice setup for the dishes that followed.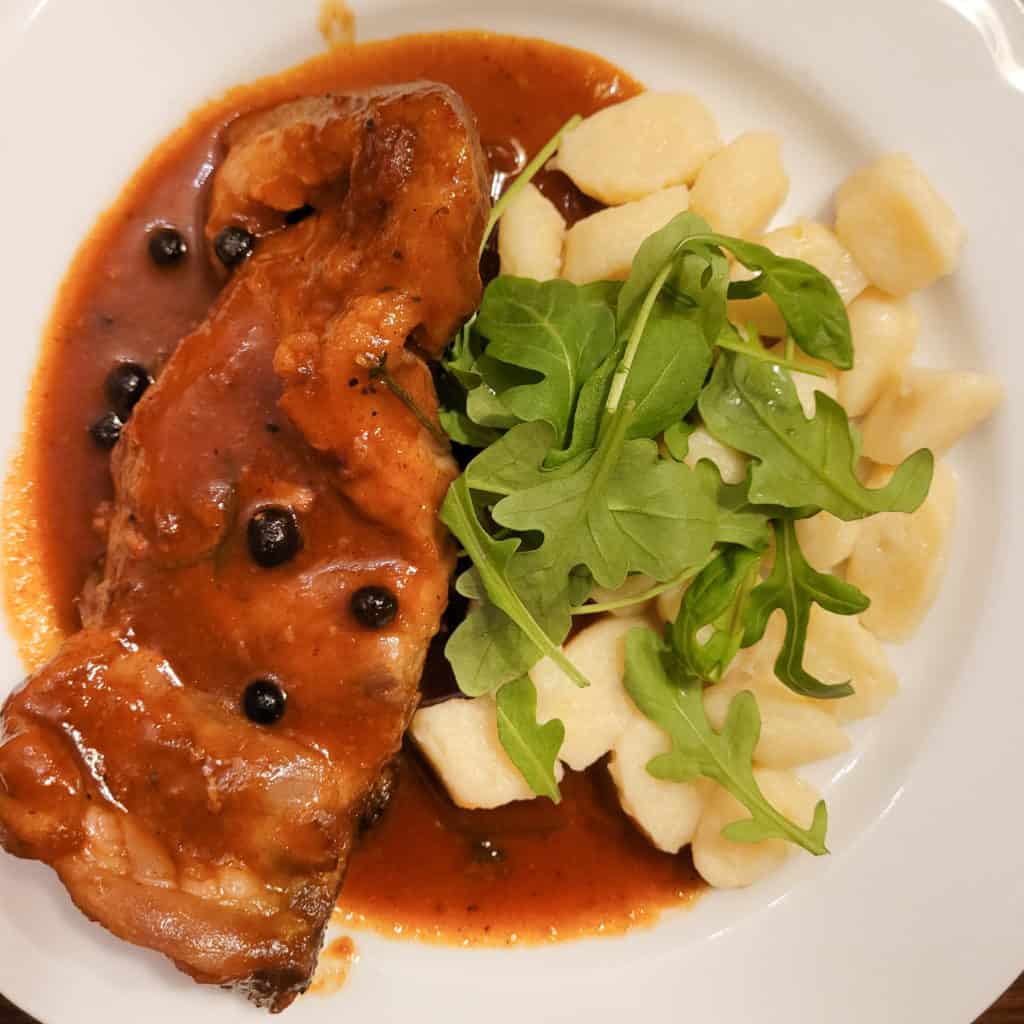 The pork ribs (Żeberka pieczone z miodem) were served with potato dumplings that absorbed the flavorful honey sauce. It was a savory, sweet dish and we couldn't eat it fast enough!
When you order potato pancakes in Krakow, they usually come with a choice of topping. Your options could include a variety of savory toppings, such as sour cream or pork stew. That day we chose the mushroom sauce to accompany the crispy pancakes.
There were also many options for pierogi fillings, but the ruskie-style duck filling stood out to us. We jumped at the premium duck option since we hadn't seen it as a choice in other restaurants.
What to See Between Lunch and Dinner
Afterward, we walked across the river by crossing Father Bernatek's Bridge (Kładka Ojca Bernatka). At this point, you won't be in the Kazimierz district but in an important part of Krakow. Here you can pay homage to the Krakow Jewish ghetto erected during the Second World War. We walked through the historical neighborhood which holds remnants of the ghetto wall and viewed the Ghetto Heroes Square (Plac Bohaterów Getta). Further along is the Krakus Mound (Kopiec Kraka) set on top of a park where you can steal a view of the city on a clear day. Since we happened to visit during the winter season, the cloud cover dispelled our hopes of Instagram-worthy shots. After our self-tour, we were ready to head back to Kazimierz to eat more Polish food.
Dinner at a Popular Kazimierz Restaurant in Krakow
After our afternoon expedition, we headed back towards the central area of Kazimierz and visited Zalewajka. It's a charming restaurant where you will find rustic fare with a modern twist. The servers at this restaurant are notably helpful and enjoy providing their expertise on their menu.
I started with the borscht pierogi soup (Barszcz Czerwony z Pierogami). Filled with earthy and porky flavor, this was my favorite soup of our entire trip.
I ordered the hunter's stew (Bigos), a medley of stewed meat, and mild sauerkraut along with sauteed onions. This rustic stew is meant to be eaten with big slices of bread used to scoop up the meat and vegetables. Bigos is an excellent choice if you are looking for a classic homestyle Polish dish.
John ordered a rack of baby back ribs (Żeberka wieprzowe), making the most of the delicious Polish take on barbecued pork.
We finished with a dessert of chocolate lava cake that came on a pretty decorated plate.
Final Tip This food day can be best described as somewhat leisurely as you traverse through Kazimierz and other parts of Krakow. But this itinerary does require a lot of walking so make sure to pack some water to keep yourself hydrated.
Where to Eat Food in Kazimierz, Krakow Breakdown
Recommended: Any eggs benedict option on their menu!
Recommended:
Potato pancake with mushroom sauce
Żeberka pieczone z miodem (honeyed pork bbq)
Duck pierogi
Recommended:
Barszcz Czerwony z Pierogami (red borscht with pierogi)
Bigos (hunter's stew)
Curious for More Food Guides?
Check These Out 😎
Tried Some of These Places?
Please leave me a comment down below telling me how your trip went. Bonus: Let me and other readers know what you did to make this itinerary more interesting - 💫 let's inspire each other!
Also, follow me on Instagram [@seesfoodwilltravel] and send me a DM of the food you tried. I would love to share and celebrate YOUR experience with our budding community 💞
Check out Sees Food, Will Travel on Pinterest and Facebook for more delicious updates.