I had a chance to visit Lisbon and was quickly overwhelmed with the choices of restaurants in this dense city! I used various sources in my research when it came to picking them, but honestly, I had a tough challenge selecting only a few to visit within my limited time. This short guide goes through the top three restaurants that left me enlightened (and full)! One is from watching the Lisbon episode of No Reservations, the second was a local recommendation, and the final restaurant stood out on Google reviews. All of them left an impression on me! I hope you will find something helpful for your own adventure should you decide to visit the restaurants on this short list!
How to Use this Lisbon Restaurant Guide
Feel free to go through each restaurant's details as I talk about what to know before visiting the restaurant, recommendations of what to eat, and what to expect as you dine. I hope to continue adding to this list so check back for new restaurants!
Cervejaria Ramiro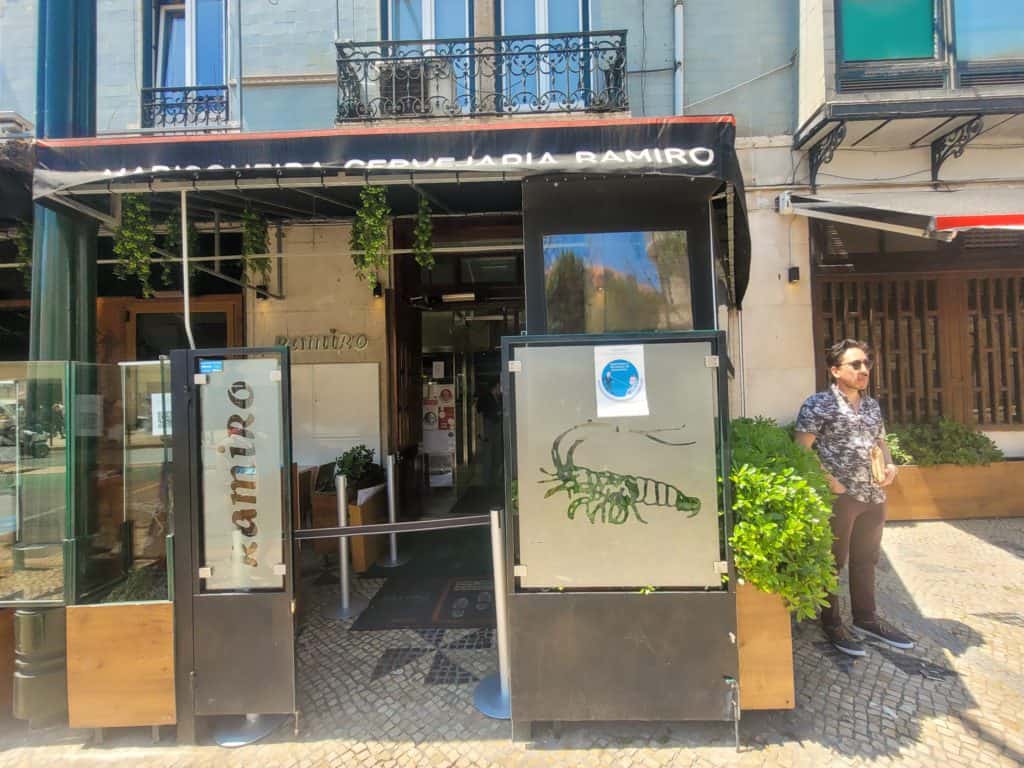 Oh, Ramiro, the once locals-only haunt now made famous by the late Anthony Bourdain. Before coming to Lisbon, I knew I needed to make the trip to Cervejaria Ramiro after watching the No Reservations Lisbon episode years ago. Cervejaria means a place to drink beer, though this establishment also serves some of the best shellfish in the city. I found it ironic that you must travel inland from the beaches to get to this famous restaurant.
Before Visiting
I must insist you make a reservation via email (they respond within the same day!) so you can get ahead of the line. In fact, for this specific guide, making a reservation for all these Lisbon restaurants would be a safe and smart move.
Arriving at Ramiro
Suppose you decide to risk it and show up without reservations. In that case, I suggest you arrive at least twenty minutes before the restaurant opens for the day. If you can swing it, an even better time would be a weekday just before opening. You can potentially avoid the nightmarish ticketing system that makes people wait hours outside.
If you come as a party of two, you may have to share a table with another group. There are many communal tables to accommodate the number of visitors in their limited space. So be careful when using your hammer and crab cracker tool! I saw that most tables sit four or six people, so if you plan accordingly with a large group, you and your friends can take up an entire table.
Ramiro is a bustling and hectic restaurant, and the servers will make you feel it. They are there for efficient, not necessarily friendly, service, so don't be surprised if they are brusque (yet professional). They have a lot of people to serve - three floors worth of customers!
How to Order at Ramiro
First off, they do not serve fish. They do serve the two types of shellfish (bivalves and crustaceans), such as crabs, prawns, and clams. I recommend going on their website and looking through the digital menu to make your selections before arriving.
If you are on the English version of their site, you will see words such as dose and unidade after some items. Dose means that the dish is served as a predetermined portion. For example, the clams will be served in the same size and amount for everyone who makes one order of clams in a pot. Unidade means one piece, so for items such as the scarlet shrimp, you may want to order two scarlet shrimps if you have two people in your party so each person can have a piece each. The unidade items are roughly the same weight per item, so you don't have to request a specific weight for those.
What to Eat
My first suggestion is to order a beer because it is a Cervejaria, after all! As a die-hard seafood/shellfish fan, I could have tried everything on the menu, but I had to choose wisely since there were only two of us. We demolished the clams in garlic sauce, stuffed crab (sapateira), tiger prawns, scarlet shrimp, and an order of buttered toast.
I enjoyed everything minus the tiger prawns, which I think were left on the grill for too long because the flesh was tough. My favorite was the stuffed crab with spoons so you can scoop the roe mixture inside the shell onto a buttered toast. The claws were sizable, and I would say that it took the longest time to finish eating.
If there was one item I regretted not trying, it would be the tenderloin sandwich called prego. A longstanding Portuguese tradition is to eat these beef sandwiches at the end of a seafood meal. One prego sandwich at Ramiro looked enough for two people.
How to Get There
If you are staying in the Baixa neighborhood, hop on the green line at Rossio station and take the northbound train to Intendente. Then walk south towards the restaurant along the main road, Av. Alm. Reis.
O Frade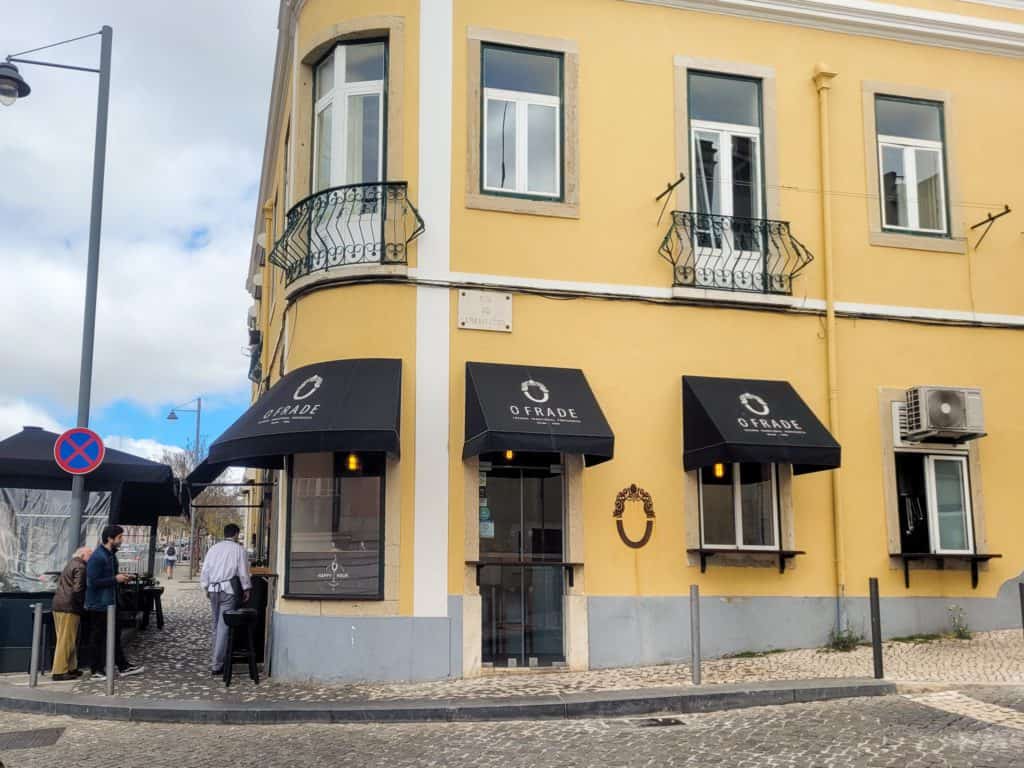 This Michelin Bib Gourmand restaurant was introduced to me by a Lisbon local. John and I were told if we didn't have time to travel to a village or town in Alentejo, I would have to go to O Frade. We didn't know what to expect, but the dishes at this restaurant were impeccable and unique. I had an excellent time sampling contemporary versions of Aletenjo cuisine at O Frade. The experience made me curious about the region's traditional dishes. On my next visit to Portugal, I will surely find myself in the renowned Aletenjo region to try the local delicacies that inspired O Frade.
Before Visiting
O Frade's setup is similarly fashioned like a tasca, a typical Portuguese family-owned restaurant serving cozy meals in a small space. A massive U-shaped bar takes up most of the restaurant. From what I counted, there are less than fifteen chairs. Make a reservation online at the Fork to get one of these intimate seats. They do have extra seating outside the restaurant, although less interactive.
Arriving at O Frade
Since we booked a reservation for lunch seating, we stood outside with other patrons. At the same time, the servers prepped inside the restaurant. They seem to do seatings in batches, so you will enter the restaurant at the same time as some parties.
How to Order at O Frade
Service at O Frade is attentive and friendly. The menu comes in the form of a rustic notebook. A server or the chef at this Lisbon restaurant will guide you through the menu to help make selections. We were recommended to try various small plates, then share a large portion of the main course. This was a good idea because we wanted to try a lot of small dishes on the menu.
What to Eat
We ordered three types of petiscos (snacks) served as shared plates at the restaurant. For your main, try the duck rice just as we had. Oh, and don't forget the amphora wine! The Alentejo region holds a traditional winemaking technique from the Romans, where wine is fermented in clay pots. The wine tastes drier and fuller-bodied than a glass of regular white wine.
The most unique dish I had at this restaurant would have to be the dried tuna fillets on top of a creamy omelette. It's a creative and unique dish that I haven't had before. The tuna was smoky, reminded me of jerky, slightly like bacon. I had to remind myself I was eating tuna!
How to Get There
You can walk from Cais do Sodre in central Lisbon or take a cab to the restaurant. While in the area, don't forget to stop at Pastel de Belém and take pictures in front of an impressive duck mural made with tiles. Of course, there are also many historical sites to check out, so make a day of your visit to the area!
Versiculo d'O Faia
I found Versiculo d'O Faia when searching on Google for our last dinner in Lisbon. When we arrived at this restaurant, I was confused by the neon sign above the building decked out in traditional azulejos (blue tiles). Perhaps it was just a way to stand out among the countless restaurants littered along the alleyways.
Though this restaurant can be found in the middle of the commotion within the Chiado neighborhood, I felt like we found a refuge from the busyness of the streets. The servers and staff are incredibly warm and approachable. They were easy to talk to and knowledgeable about the food, leaving me with the impression that they had been working at Versiculo d'O Faia for decades. Our last Lisbon dinner at this restaurant was executed perfectly, and that's why it made this guide!
Before Arriving
You can make a reservation at Versiculo d'O Faia directly through Google maps or their website (not in English). Since we had reservations, we had our choice of sitting either outside or inside the restaurant once we arrived.
What to Eat
The menu in this Lisbon restaurant is moderate but impactful as the waiter guided us through each section and carefully curated our dinner. For sharing, we had three appetizers: the mixed salad, sauteed poultry livers, and shrimp in garlic sauce.
For our main dish, we split the grilled black pork, which our waiter graciously divided into two plates, including the decorations!
The server also recommended his choices of wines to try with each course. I wanted to have one type of wine throughout my meal, and he quickly recommended a young green wine that would go well with our dishes.
How to Get There
If you are staying in the Chiado neighborhood, you can find Versiculo d'O Faia across an art center with a secret rooftop bar, Zé dos Bois gallery. Otherwise, you can hop on the metro and get off at Baixa-Chiado station, which is a few blocks from the restaurant.
Curious for More Food Guides?
Check These Out 😎
Tried Some of These Places?
Please leave me a comment down below telling me how your trip went. Bonus: Let me and other readers know what you did to make this itinerary more interesting - 💫 let's inspire each other!
Also, follow me on Instagram [@seesfoodwilltravel] and send me a DM of the food you tried. I would love to share and celebrate YOUR experience with our budding community 💞
Check out Sees Food, Will Travel on Pinterest and Facebook for more delicious updates.