Lisbon is huge. Although there are lots of areas to explore within Lisbon, the places around Lisbon are also worth visiting. We made sure to spend some time in Belém. An independent area but considered a district of Lisbon, Belém distinguishes itself from the other neighborhoods within Lisbon. Belém hosts its own collection of historical attractions. Because this is a food guide, I will show you what I ate for breakfast and lunch in Belém and dinner back in central Lisbon.
My first impression of Lisbon's westernmost district was that it felt immediately slower. Central Lisbon is busy, and I felt Belém partly exists to remind tourists of Portugal's relaxed culture. Belém is worth a day trip from Lisbon if you plan this food guide accordingly.
Breakfast at Pastéis de Belém
The first stop of this Belém/Lisbon food guide is evident if you are already researching where to eat in Lisbon. Throughout our time in Portugal, locals and tourists alike told us not to skip Pastéis de Belém. Pastel de nata doesn't exist here, and if you want to eat these flaky egg tarts, you must ask for a pastel de Belém. These internationally famous egg tarts are said to have been invented by monks at the Jerónimos Monastery in this specific district. So Belém is entitled to its own distinguished moniker compared to egg tarts made outside the district.
We arrived at Pastéis de Belém soon after they opened. There are two lines as you approach this restaurant/bakery. On the right side is the entrance of the take-out counter and on the left is the restaurant's entrance.
Tip on Visiting Pastéis de Belém
A few days before this visit, our Uber driver advised us to come to Pastéis de Belém within an hour of their opening and get a table inside. It's a quick way to order their coveted pastries with a cup of galão (coffee with milk) at a table.
How to Get a Table at Pastéis de Belém
We stood in a short line for the restaurant, where we had a chance to select our orders from the massive displays of numerous menus in the receiving room. Soon, a host unclipped the velvet rope preventing visitors from spilling into the restaurant. A group of us were let loose on our own into the cavernous room half-filled with patrons midway through their meals. We walked around scoping out empty tables (there will be empty tables when the host allows you to enter) and decided on one in the center of the room. Shortly after, a waiter arrived to take our orders. We were wise to pre-select our food because once the waiter retrieved our orders, he didn't return until it was time to pay.
What We Ate for Breakfast
We ordered two types of savory pastries and four (yes, four!) pieces of pastéis de Belém alongside tall cups of galão. Their extensive menu guides you through their food offerings, most of which you'll also find in pastelerias across Lisbon. We selected two savory pastries to share, folhado de carne (meat in puff pastry) and rissóis (fried prawn turnover).
The plate of pastéis de Belém came with a tin of cinnamon powder, so you can add as little or as much cinnamon as you'd like.
Trekking to Belém Tower
After breakfast at this famous hotspot, we thought it would be a good idea to walk to Belém Tower. It turned out to be a good idea because it was a considerable walk and there were lots to explore in the park surrounding the Tower.
Lunch at A Michelin Bib Gourmand Restaurant
We headed back to the area near Pastéis de Belém, where O Frade is located. Before visiting Belém, I was lucky enough to book a couple of chairs at their central u-shaped dining bar. I had pored through the Lisbon Michelin Guide online, and O Frade's food stood out the most.
O Frade's Specialty
The restaurant is family-owned, serving their native Alentejo cuisine and wine. Here we were serviced by a chef behind the bar who educated us on the menu and guided us with choosing our food. We settled on sharing three appetizers, a main and two glasses of wine. The atmosphere was far from stuffy for a restaurant listed by the Michelin Guide. The chefs, servers, and wait staff were chatty and loose. The host's attentiveness was subtle but precise - expertly checking in on us with a tone as if we've known each other before.
Another worthy mention at O Frade is their amphora wine. Alentejo is a lush wine region about southeast of Lisbon and home to a wine-making style that entails keeping wine in clay vessels as they ferment. Like Georgia's qvevri wine, it takes on the clay's properties and flavors. The wine I had was reminiscent of earth, figs, and honey, albeit dry. I also had a chance to try aged wine from the Madeira region.
O Frade's Unique Dishes
The dishes on the menu change at O Frade, but I can tell you that if you see muxama atum com ovos (dried tuna filet with eggs), get it as a shared plate! The dishes were simply delicious but complex. Save for the beef tartare, they were nothing like I've had before. A lunch at this restaurant alone is worth a side trip to Belém if you find yourself in Lisbon.
Evening at Cais do Sodré
We made our way back to Lisbon and hung out at the Cais do Sodré area to continue our exploration of the riverside. We completed our historical Lisbon pilgrimage by stopping at Arco da Rua Augusta, Praça do Comércio, and Cais das Colunas.
Food at Sol e Pesca
We wanted to see the famous nightlife area named Pink Street and visit a sardine restaurant, Sol e Pesca. Sardines in Lisbon are a must, and Sol e Pesca serves some delicious food. Anthony Bourdain made the seafood restaurant Ramiro extra famous, which I believe overshadowed the other restaurants he patronized, including Sol e Pesca.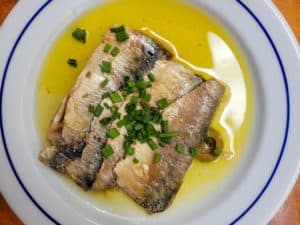 Maybe it's the idea of dining on a table with canned sardines, but sardines in Portugal aren't just any other sardines which they serve in varying styles. Sol e Pesca has other options, such as mussels and bacalhau (codfish), tuna, and mackerel.
As I ate I imagined myself, after a night of drinking, stumbling into this restaurant to order sardines. I would slather a piece of bread with olive oil from a plate of sardines, then place a filet on top of the bread before shoving the entire toast in my mouth. It would be drunk food heaven. Just to let you know, Sol e Pesca closes at one o'clock in the morning.
How to Use This Belém/Lisbon Food Guide
This food guide does require some pre-planning before you visit Lisbon. But I found this food itinerary helpful in ensuring I could enjoy some important Portuguese food during my trip. Making reservations at O Frade is vital if you want to sit up close and personal with the chef. From my experience, going to a restaurant during off hours is always an advantage, so at places like Sol e Pesca and Pastéis de Belém, show up at shoulder times between typical meal times.
Belém, Lisbon Portugal Food Guide
Recommended:
Galao (coffee with milk)
Pastel de Belém (egg custard tart)
Folhado de Carne (meat in puff pastry)
Rissóis (fried prawn turnover)
Recommended:
Arroz de Pato (duck rice)
Muxama Atum com Ovos (dried tuna filet with eggs)
Empada de Bochecha de Porco (pork cheek pie)
Aged Beef Tartare
Recommended:
Sardines! (let the waiter pick the sardines for you)
Mussel à Bulhão Pato (mussels in lemon, white wine, olive oil)
Bacalhau com Broa (codfish with cornbread)
Curious for More Food Guides?
Check These Out 😎
Tried Some of These Places?
Please leave me a comment down below telling me how your trip went. Bonus: Let me and other readers know what you did to make this itinerary more interesting - 💫 let's inspire each other!
Also, follow me on Instagram [@seesfoodwilltravel] and send me a DM of the food you tried. I would love to share and celebrate YOUR experience with our budding community 💞
Check out Sees Food, Will Travel on Pinterest and Facebook for more delicious updates.