These eggplant rolls are stuffed with a savory and garlicky walnut paste to make a combination that will impress your dinner guests! Best of all, these tasty Georgian-style appetizers, also known as badrijani nigvzit, are surprisingly easy to make!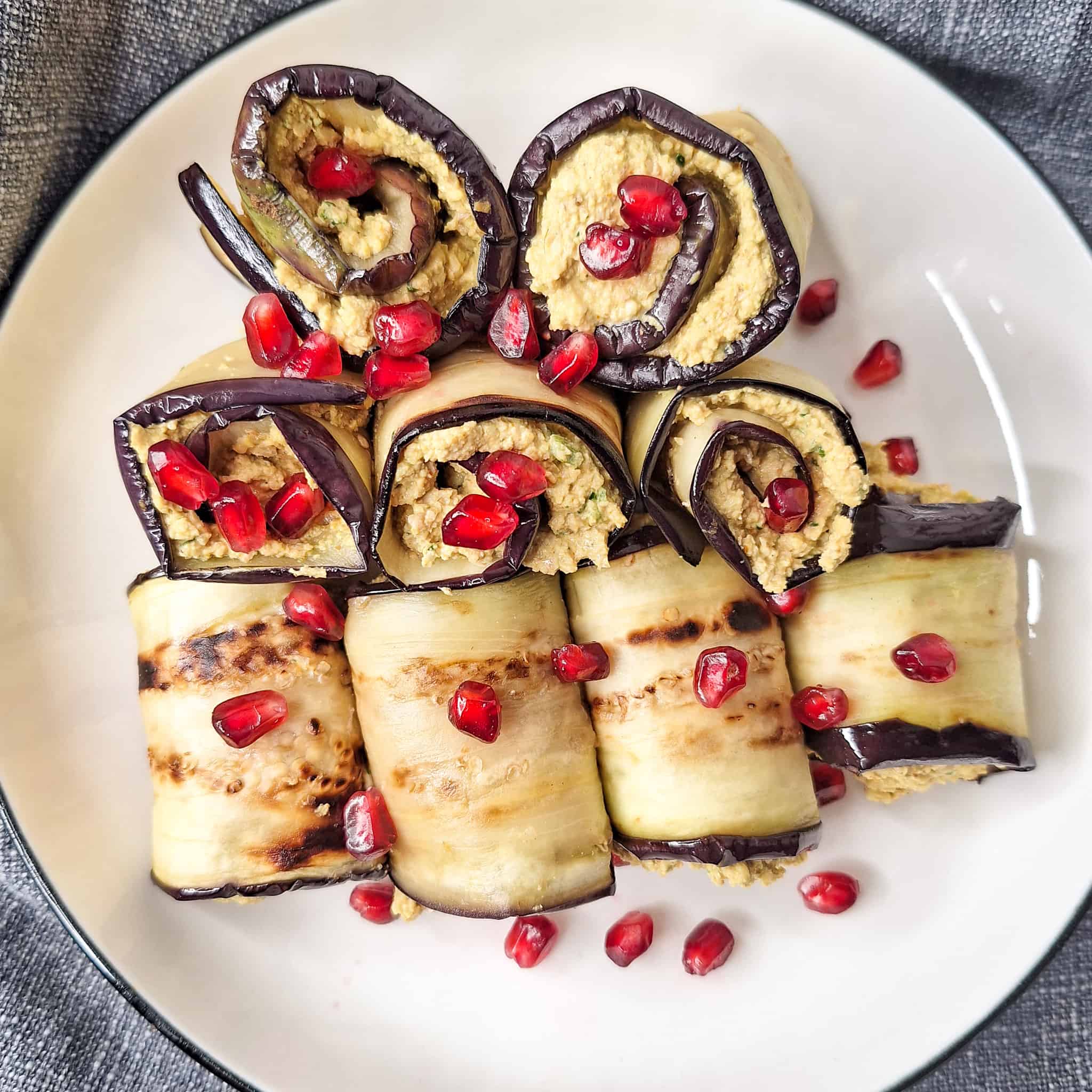 Why You'll Love It
Eggplants are featured in a variety of Georgian dishes. Most of these dishes are appetizers, stews, and salads to start the supra or feast. Eggplants, or aubergine, in Georgian cooking are an essential ingredient because they take on the remarkable flavors of the nation's brilliant spices and herbs.
These Georgian eggplant rolls are filled with a savory paste that's also essential to the national cuisine. You can check out a more detailed description of this ingredient on the walnut paste recipe post.
Ingredients
Walnut Paste

Garlic
White Wine Vinegar
Coriander Powder
Blue Fenugreek Powder
Marigold Powder
Fresh Green or Red Chilies (optional)
Fresh Parsley
Water
Salt

Eggplants
Garlic
Salt
Pomegranate Seeds
Parsley
Substitutes
Pomegranate Seeds & Parsley: These are used as decoration, so you can choose to leave them out.


Eggplant: You can use zucchini to automatically change this recipe to zucchini rolls.
Recipe Tips
Pick Specific Eggplants: The best eggplants for rolls are elongated purple eggplants. The best ones to go for are the straight ones that are not as narrow.


Draw Out Water from Eggplants: You can skip salting the eggplants. But they draw out the water from the eggplants, which helps lessen the bitter taste.


Make it Ahead: Badrijani nigvzit are usually served cold or room temperature, so these are great make-ahead appetizers. If you allow them to sit for an hour in the fridge, the depth of flavors get a chance to develop.
How to Make Georgian Eggplant Rolls with Walnuts
If you haven't made the walnut paste ahead of time, the following steps guide you through the most efficient way to make these eggplant rolls:
Slice and salt the eggplants to draw out the water.
Make the walnut paste by adding all the ingredients in a food processor and blending them together.
Remove the excess water from the eggplants and wipe down the slices.
Heat the pan and brush on a bit of oil.
Place them on the preheated pan and cook each side until slightly brown.
Remove from the heat and let the eggplant slices cool, then spread a spoonful of the walnut paste down its length.
Begin rolling the eggplants by folding the curved end first, then rolling all the way to the straight edge.
How to Serve Badrijani Nigvzit
Although you can serve badrijani nigvzit immediately, the optimal way is to serve them at room temperature or cold. Make them as early as a day ahead to let ingredients meld and bring out more complex flavors.
These are great on their own as appetizers before starting a meal, but you can also eat them with other starters such as the Georgian tomato cucumber salad and some Georgian bread called shoti.
Georgian Style Eggplant Rolls with Walnuts: Badrijani Nigvzit Recipe
These eggplant rolls are stuffed with a savory and garlicky walnut paste to make a combination that will impress your dinner guests!
Ingredients
200

grams

whole walnuts

1

teaspoon

blue fenugreek powder

or fenugreek powder

1

teaspoon

marigold powder

or saffron powder

1

teaspoon

coriander powder

or caraway powder

3

garlic cloves

3

tablespoon

white wine vinegar

3-4

pieces

parsley

or cilantro or mint

4

tablespoon

water

or more

½

teaspoon

salt

to taste

1

chili pepper, small and diced

optional
Eggplant Wrapper
2

eggplants

american or long & purple

½

teaspoon

salt

neutral oil for frying

vegetable or sunflower

1

garlic clove

optional
Dressing
1

tablespoon

chopped parsley

optional

1-2

tablespoon

promegranate seeds

optional
Instructions
Slice eggplants into long flat strips about ⅔ cm thick or ¼ inch thick. You should get 6 six slices per eggplant.

Place the slices in a bowl and add the salt. Gently toss the eggplants with the salt to spread the salt. Let it sit for 20 to 30 mins to draw out water.

Meanwhile make the walnut paste: Add the caraway powder, blue fenugreek powder, marigold powder, parsley, walnuts, and garlic cloves to a food processor. Pulse for a few seconds or until roughly chopped. Add a tablespoon of water and vinegar then pulse again. Repeat the previous step until you get a somewhat smooth yet nutty texture. Finally, add the salt to taste. Set the paste aside.

Remove the excess water from the bowl of eggplants. Wipe down each slice on both sides with a paper towel.

Brush some oil onto a flat frying pan and let it heat up. Place some slices on the heated pan. Fry both sides until they have some browning, then remove and set them aside to cool.

While the eggplants cool, slice a garlic clove in half and rubbed it along one side of each slice. This should be the side where you will spread the walnut paste.

Take about 1-2 tablespoon of the walnut paste and spread it along one strip of an eggplant. Begin making the roll by folding the curved end first then rolling it all the way to the straight edge.

Place the rolled eggplant seam side down on a plate.

Finish the dish by dressing it with some greens like parsley or more traditionally, pomegranate seeds.
Nutrition
Calories:
133
kcal
Carbohydrates:
8
g
Protein:
4
g
Fat:
11
g
Saturated Fat:
1
g
Polyunsaturated Fat:
8
g
Monounsaturated Fat:
2
g
Sodium:
197
mg
Potassium:
272
mg
Fiber:
4
g
Sugar:
3
g
Vitamin A:
78
IU
Vitamin C:
8
mg
Calcium:
28
mg
Iron:
1
mg
Disclaimer: Nutritional values were calculated with the Spoonacular Food API and should be used for informational purposes only.
Have You Tried This Recipe?
Simply rate the recipe by clicking on the ⭐️s on the recipe card. Have something to say? Please leave me a comment down below telling me what you think of this recipe.
Bonus: Let me and other readers know what you did to make this recipe your own - 💫 let's inspire each other!
Also, follow me on Instagram [@seesfoodwilltravel] and send me a DM with a picture of what you made. I would love to share and celebrate YOUR creation with our budding community 💞
Check out Sees Food, Will Travel on Pinterest and Facebook for more delicious updates.