This Georgian walnut paste, also known as nigvzis sakmazi, is a rustic recipe made of nuts, herbs, water, and seasonings. This versatile component comes in many forms when combined with dishes across the Georgian cuisine. Once you make it, you have basically done half of some Georgian recipes!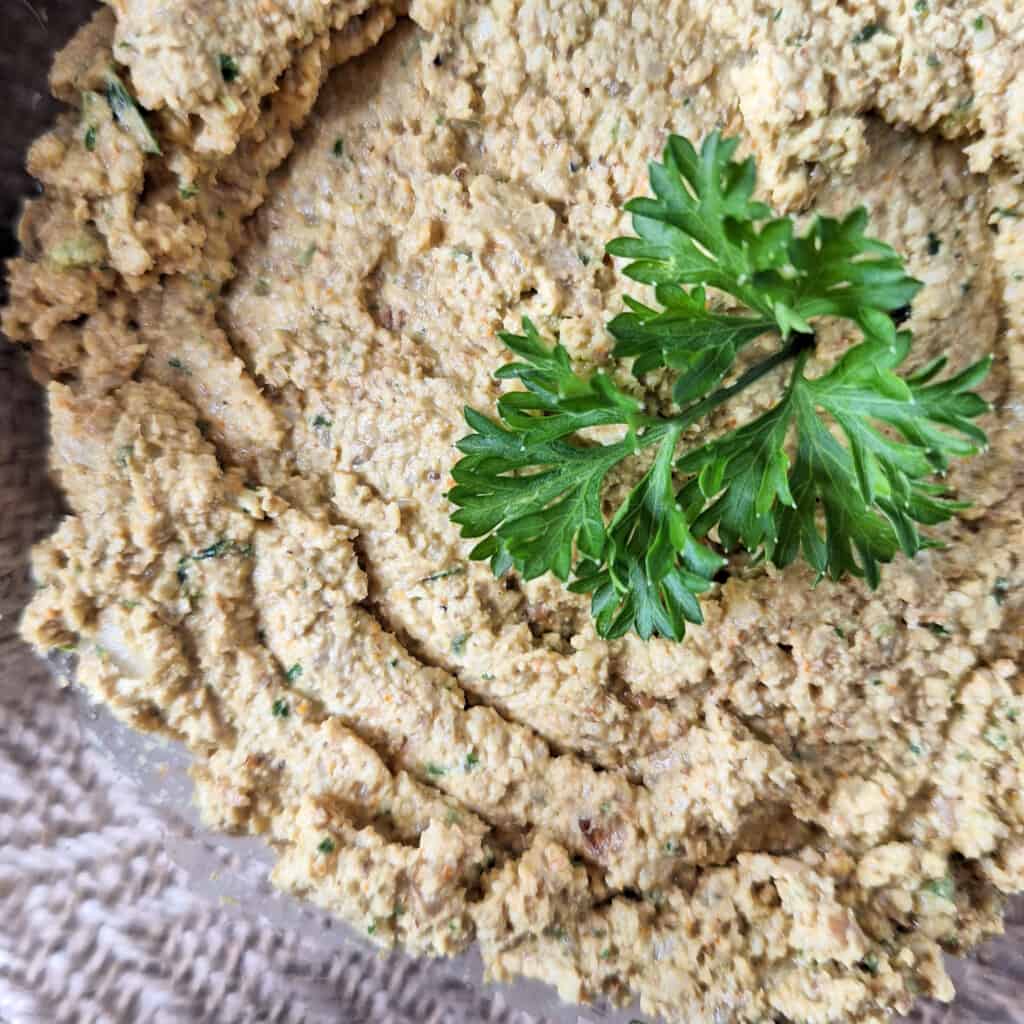 Jump to:
Why It's Important
The walnut is a permanent and essential ingredient across traditional Georgian food. You'll find them in Georgian main dishes such as the Megrelian version of the kharcho - a stew with large pieces of veal. You'll see a variation of a Georgian dressing with walnuts in tomato and cucumber salads.
Most of all, Georgian walnut paste make up half of the ingredients in many of the nation's appetizers. For example, you willl see walnut paste inside Georgian eggplant rolls, marinated red bell peppers, and compacted minced vegetable dishes called pkhali.
Ingredients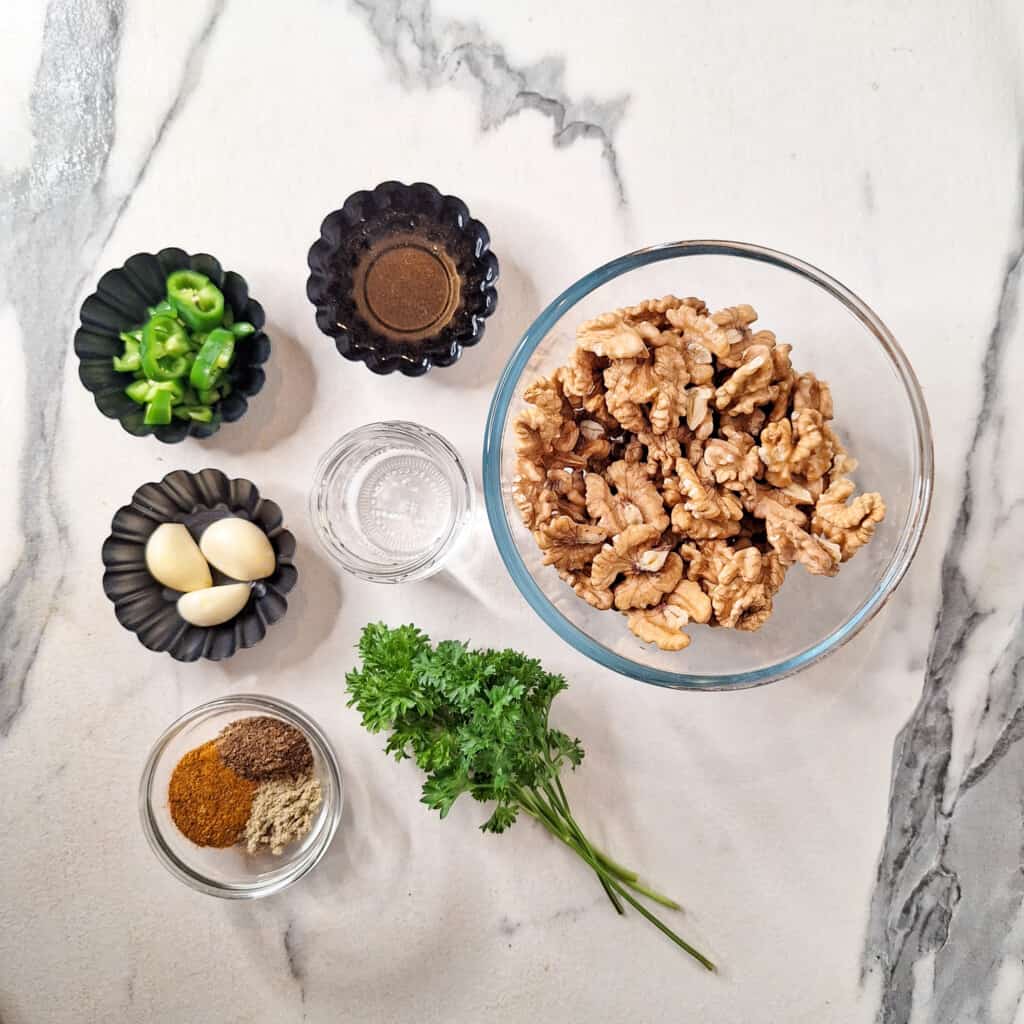 Full disclosure: there are some spices of this list that are going to be difficult to find outside the country of Georgia. But the substitutes section provides information on how to replace them with more commonly found ingredients.
Walnuts
Garlic
White Wine Vinegar
Coriander Powder
Blue Fenugreek Powder
Marigold Powder
Fresh Green or Red Chilies (optional)
Fresh Parsley
Water
Salt
Substitutes
Blue Fenugreek: This spice is uncommon outside the Caucasus mountains since it comes from flowers that only grow in the area. You can use regular fenugreek to replace this one.


Marigold Powder: This spice is used as a natural colorant to give a vibrant hue to the paste. Saffron powder will work just as well.


Coriander Powder: Caraway powder is a great alternative to dry coriander.


Parsley: Most herbs in Georgian cuisine are flexible substitutes for each other. Other options for walnut paste include fresh cilantro and mint.


White Wine Vinegar: Vinegar from grapes is another vital element of Georgian food. So red wine vinegar will work just as well, but will have a slightly stronger flavor. Another substitute you can use is apple cider vinegar.
Recipe Tips
Choose Your Walnuts: You can use raw or toasted walnuts. Make this recipe a few times to decide which one you prefer.


Add Water a Little at a Time: Water will make the crushed walnuts spread easier, but you don't want it to get too watery. Mixing water a little a time will help you reach the best consistency in the most efficient way.


Taste Test: Add the vinegar and salt a little at a time to get your desired taste. This walnut paste recipe is a guideline, and I want you to enjoy your creation! By doing this, you can decide on what exact flavor works best for you.


Paste Consistency: The end product shouldn't be smooth. Nutty bits in Georgian walnut paste are authentic and traditional.
How to Make Georgian Walnut Paste
This one is an easy recipe to follow:
Place ingredients minus vinegar, water, and salt in a food processor.
Pulse the ingredients until you can a rough paste.
Add vinegar and water one tablespoon at a time to get the taste you like.
Add salt and pulse until you get your desired consistency.
How to Serve
Walnut paste goes well spread across grilled or fried vegetables. You can mix some of the paste with more water or olive oil to make a salad dressing that goes well with tomatoes and cucumbers.
Frequently Asked Questions
Can I store Georgian walnut paste?
Yes, place the walnut paste in an airtight container and put it in the fridge. It should stay fresh for two weeks.
Is Georgian walnut paste vegan?
Absolutely! Georgian walnut paste is made with water, garlic, walnuts, herbs, and vinegar in addition to some powdered herb spices. That's it!
Georgian Walnut Paste Recipe
This Georgian walnut paste, also known as nigvzis sakmazi, is a rustic recipe made of nuts, herbs, water, and seasonings. This versatile component comes in many forms when combined with dishes across the Georgian cuisine.
Ingredients
200

grams

whole walnuts

1

teaspoon

blue fenugreek powder

or fenugreek powder

1

teaspoon

marigold powder

or saffron powder

1

teaspoon

coriander powder

or caraway powder

3

garlic cloves

3

tablespoon

white wine vinegar

3-4

pieces

parsley

or cilantro or mint

4

tablespoon

water

or more

½

teaspoon

salt

to taste

1

chili, small and diced

optional
Instructions
Place all ingredients except for vinegar, salt, and water in a food processor.

Pulse until you get a rough paste. Add a tablespoon of vinegar and water at a time.

Pulse a few seconds and use a spatula to push the sides down. Add more vinegar and water. Repeat until you get a slightly softer consistency. Add more water if needed, but do not use more vinegar.

Add salt and keep pulsing until you get a smoother consistency that still have some nutty bits.
Nutrition
Calories:
338
kcal
Carbohydrates:
9
g
Protein:
8
g
Fat:
33
g
Saturated Fat:
3
g
Polyunsaturated Fat:
24
g
Monounsaturated Fat:
5
g
Sodium:
4
mg
Potassium:
253
mg
Fiber:
4
g
Sugar:
1
g
Vitamin A:
74
IU
Vitamin C:
3
mg
Calcium:
61
mg
Iron:
2
mg
Disclaimer: Nutritional values were calculated with the Spoonacular Food API and should be used for informational purposes only.
Have You Tried This Recipe?
Simply rate the recipe by clicking on the ⭐️s on the recipe card. Have something to say? Please leave me a comment down below telling me what you think of this recipe.
Bonus: Let me and other readers know what you did to make this recipe your own - 💫 let's inspire each other!
Also, follow me on Instagram [@seesfoodwilltravel] and send me a DM with a picture of what you made. I would love to share and celebrate YOUR creation with our budding community 💞
Check out Sees Food, Will Travel on Pinterest and Facebook for more delicious updates.