If you've ever heard of "Georgian cheese boat," this would be it! This traditional Georgian cheese bread recipe has everything a cheese-lover wants: loads of cheese on top of toasty, yeasted bread.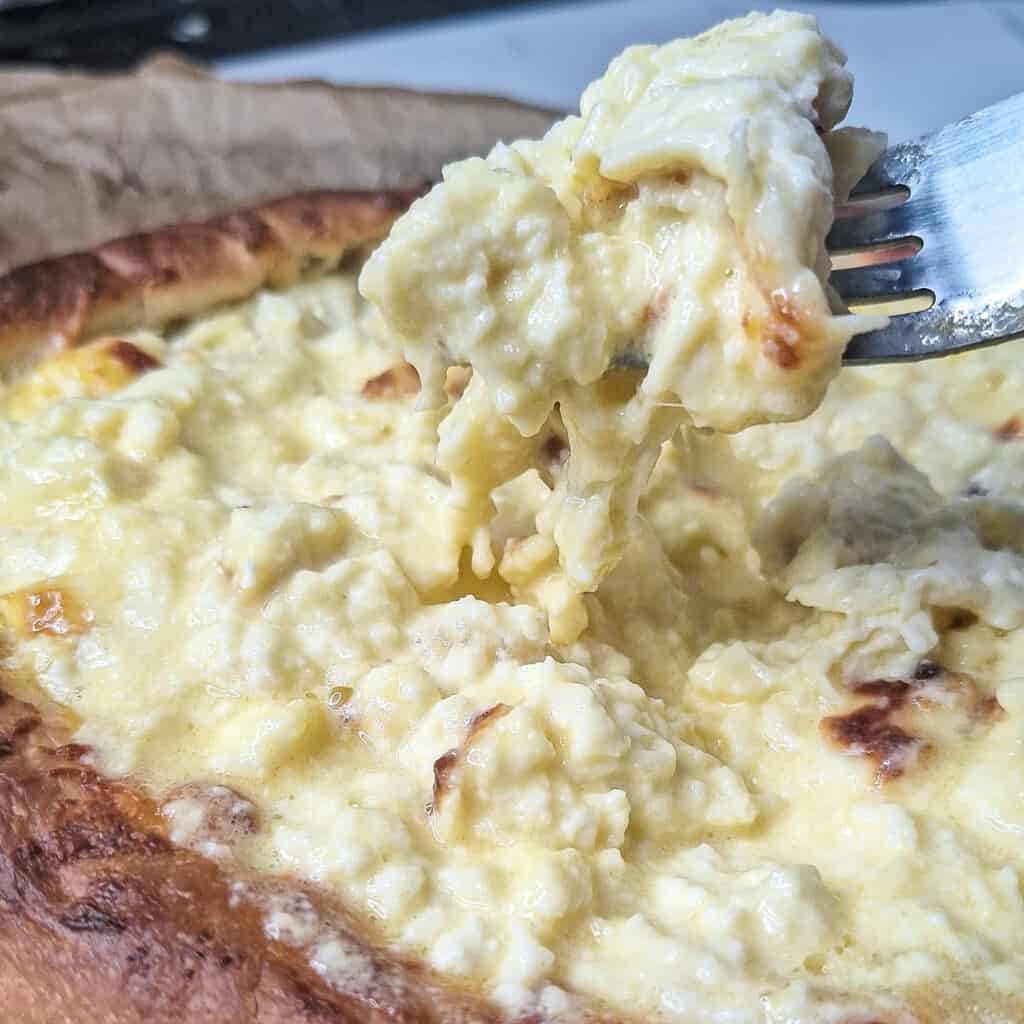 Jump to:
If you're interested to learn more about other Georgian cuisine, you can start by checking out this list of Georgian cheese breads.
What is Adjarian Khachapuri
The word khachapuri literally translates to "cheese bread", and there are alot of them in the country of Georgia! Variations are regional, and every area has their famed version. The Adjarian khachapuri comes from the southwest corner of the country. It takes on its region's name, Adjara, to distinguish itself from other khachapuri.
The bread has a bold look - it looks like a boat of melted cheese! It is purposely made this way to represent the boats that fare along the region's Black Sea. This khachapuri is filled with fresh sulguni cheese and Imeruli cheese. Both are from cow's milk, and they come together to create a mildly salty, tangy, and creamy flavor.
Ingredients
The first two items for this khachapuri recipe are specific cheeses local to the country, and they are not easy to find anywhere else. The following substitutes section discusses how to replace them with more widely available options.
Sulguni Cheese
Imeri Cheese
Eggs
All-Purpose Flour
Water
Active Dry Yeast
Butter
Milk
Sugar
Salt
Substitutes
Sulguni Cheese: If you want the ultimate gooey cheese effect, opt for a fresh mozzarella that's not too soft and easy to tear. Since Adjarian khachapuri is an indulgent treat, choose the full-fat version.


Imeri Cheese: Select a young, fresher feta cheese that is both soft and crumbly. The taste to go after is one with a milder briney taste.
Recipe Tips
Adding Butter: You can choose to add butter to your bread dough to make it richer. I have the measurements written below in the recipe card. But not using butter also works in my experience.


Water Temperature: Warm water will help the dry yeast reactivate and multiply. So heat some water to about 40℃ or 105℉. You should still be able to touch the warm water with your finger. If it's too hot for your finger, then it's too hot for the yeast.


Less Dough: Halfway through baking, you can scoop out the inner parts of the sides of the khachapuri so you're left with more crispy bread. It's a technique created by Chef Gia at Retro, a famous Adjarian khachapuri restaurant in Georgia.
How to Make Adjarian Khachapuri
This Adjarian khachapuri recipe is surprisingly easy to follow - the proofing just takes time! Here is a quick recap of what you'll do:
Make the khachapuri dough in a bowl and proof.
While the khachapuri dough sits, mix the cheese in a bowl.
Roll out the dough, fold it over, and add the cheese.
Bake in the oven at 220℃ or 425℉ for ten minutes.
Scoop out dough if you want to.
Bake for another 10 minutes until sides dark and golden brown.
Top with egg yolk and butter.
How to Eat Adjarian Khachapuri
It's best to stir Adjarian khachapuri before you eat, with or without the egg yolk. It will usually come with butter on top, and to make the cheese more scoopable, you will want to mix the butter in. Gently mix the bread's insides until they are well combined while enjoying cheesy eye-candy! Then, break off an end tip of the bread and use it to scoop up some of the cheese. Begin tearing the khachapuri (by hand!) along the sides as you continue eating.
Variations
These days, we see people taking liberties in adding their own ingredients on top of the cheese filling, and it's hard not to. The bowl-like shape of Adjarian khachapuri is basically an open-invitation for some extra ingredients. Even in Tbilisi, modern Georgian restaurants have brought on their own Adjarian khachapuri flairs.
Here are some of my favorites:
Spinach: Mix in some defrosted frozen spinach to the cheese filling.

Mushroom: Sauté diced mushrooms and top the khachpuri with them instead of egg.
Frequently Asked Questions
Can I store khachapuri leftovers?
Yes! Slice the khachapuri in smaller pieces and store it inside an air-tight container in the fridge for a few days. Reheat the pieces in the oven at 150°F or 65°C for ten minutes.
Can I make Adjarian khachapuri without egg?
If you leave out the egg in both the cheese filling and as a topping, your Adjarian khachapuri will still taste good. However, it won't be as rich as it is with the eggs.
Traditional Adjarian Khachapuri Recipe
Loads of cheese on crispy, toasted bread. Need I say more? Oh, there's also egg and butter!
Ingredients
Dough
150

ml

water, heated to 40℃ or 105℉

275

grams

all-purpose flour

2

teaspoon

salt

1

tablespoon

granulated white sugar

50

grams

butter, melted

optional

2

teaspoon

neutral oil

i.e. vegetable oil

15

grams

active dry yeast
Cheese Filling
125

grams

sulguni or mozarella cheese, shredded

200

grams

imeri cheese or feta crumbled

175

grams

sulguni or mozarella cheese, shredded

for topping

2

tablespoon

milk

1

egg
Toppings
1

egg yolk only

2

slices of cold butter
Instructions
Make the Khachapuri Dough
In a bowl, add the sugar, warm water, and active dry yeast. Stir until well combined and bloom for 10 minutes. Then add melted butter and whisk again.

Combine flour and salt in a bowl by whisking them together. Add the activated yeast water to the bowl a third at a time. Incorporate the water to the flour, then add more yeast water. Continue until you get a dough that comes together.

Knead the dough in the bowl for about 6 mins until you can form a ball and then cover to let it proof for 40 - 60 mins until doubled in size.
Make Cheese Filling
In a bowl combine 125 grams of sulguni (or mozarella) and 200 grams of imeri (or feta) cheese. Add the egg and milk, then stir everything together. Keep stirring until they clump together.
Bake and Serve
Preheat your oven to 220℃ or 425℉. Once the dough has proofed, punch out the air and form a ball. Roll it out to a large circle about a quarter inch thick.

Fold over two sides so they meet in the middle. They can touch, but they should not overlap.

Pinch the open ends closed to make the handles. You can choose to make the handles' length longer in order to use them as dipping bread.

Open up the center by pushing out the folded sides and revealing the bottom of the khachapuri.

Add all the of the cheese filling at the center of bread and spread it out using the back of a spoon to create a flat surface.

Add the shredded sulguni topping on the cheese mixture.

Bake in the oven for 20 minutes until bread is golden brown and the cheese has some good char. Optional: After 10 minutes you can choose to remove excess dough under the folded sides by using a fork to scoop out the raw dough.

Once you remove it from the oven, immediately top with an egg yolk and slices of butter. Mix the center to incorporated the egg yolk and butter before digging in.
Nutrition
Calories:
779
kcal
Carbohydrates:
61
g
Protein:
35
g
Fat:
44
g
Saturated Fat:
25
g
Polyunsaturated Fat:
3
g
Monounsaturated Fat:
12
g
Trans Fat:
0.4
g
Cholesterol:
222
mg
Sodium:
2312
mg
Potassium:
232
mg
Fiber:
3
g
Sugar:
4
g
Vitamin A:
1179
IU
Vitamin C:
0.01
mg
Calcium:
663
mg
Iron:
4
mg
Disclaimer: Nutritional values were calculated with the Spoonacular Food API and should be used for informational purposes only.
Have You Tried This Recipe?
Simply rate the recipe by clicking on the ⭐️s on the recipe card. Have something to say? Please leave me a comment down below telling me what you think of this recipe.
Bonus: Let me and other readers know what you did to make this recipe your own - 💫 let's inspire each other!
Also, follow me on Instagram [@seesfoodwilltravel] and send me a DM with a picture of what you made. I would love to share and celebrate YOUR creation with our budding community 💞
Check out Sees Food, Will Travel on Pinterest and Facebook for more delicious updates.