Let me open your eyes to a world of Georgian bread or, as they call it, puri. I will walk you through some of the popular bread from this country that is sure to help you navigate your way around a Georgian menu. This compiled list consists of items I have tried so far while living in Tbilisi, Georgia. If you love bread and cheese, this one is definitely for you!
Khachapuri (Cheese-Stuffed Bread)
When you think of Georgian food, khachapuri (cheese-stuffed bread) is probably one of the first things that come to mind. Social media such as TikTok made it popular after all! But did you know the Georgian Journal states that 53 cheese bread varieties exist throughout the country? Different regions make their own styles of khachapuri varying in shape, cheese, and dough. This is a short list of khachapuri I have tried (so far!) myself.
Adjarian Khachapuri
Let's start with the most popular khachapuri, which comes from the southwesternmost region in Georgia - Adjara. Adjarian khachapuri is synonymous with Georgian food. Purposely shaped like a boat, it's a reminder of Adjara's lush location in the Caucasus right along the Black Sea. The center is filled with melted and salty sulguni cheese, slabs of butter, and raw egg yolk. The yolk is pierced and mixed into the cheese before you tear it apart with your bare hands. Just be careful, because it is hot!
If you're interested in recreating this internet sensation at home, you can check out my recipe on Adjarian khachapuri.
Megrelian Khachapuri
Samareglo shares a coastline of the Black Sea. Their khachapuri is simple. A circular dough is prepared and then topped with Megrelian-style cheese that is less salty than sulguni before being placed in the oven. Sound familiar? Yes, you can think of it as a sauceless pizza topped with creamy and salty melted cheese.
Imeretian Khachapuri
Cheese is stuffed inside the dough of Imeretian khachapuri, and then you would slice wedges brimming with mild melted cheese as you serve. You will love pairing this stuffed Georgian bread with pkhali and spreadable cheese.
Gurian Khachapuri
This khachapuri sets itself apart by its crescent-shaped dough (think calzone) stuffed with not just cheese but also boiled egg. The Gurian khachapuri translates to pie instead of cheese bread. These crescents are a treat during Christmastime in Guria and are aptly named "Christmas pie." But through Georgia, they are known as "Gurian pie."
Meskhetian Khachapuri
This bread is a bit more difficult to find in Georgia because it primarily exists in the Samtskhe-Javakheti area. The bread's base is puff pastry cut into squares with pockets of melted cheese. The raw dough is layered in a particular way to get varying levels of flakiness throughout. The version I tried also has slivers of cheese on top.
Khachapuri on a Spit
From what I know, this doesn't come from a specific place, but is rather a modern take on cheese-stuffed bread. A long piece of sulguni cheese is pierced through a metal barbecue skewer. Then a length of raw bread dough wraps around the cheese before the skewer is placed over a hot bed of coals. It would be rotated as it "bakes" over the heat. The outside is crispy, and the inside is incredibly soft and gooey.
Penovian Khachapuri
You will find yourself biting into this flaky, pastry bread instead of a yeasted bread. I found Penovian khachapuri lighter than other styles because of this. The other distinguishing factor is its folded design. So in Georgia, when you see a pastry similar to the image above, you can safely guess it's likely to be this bread.
Achma
This khachapuri is an interesting one. The multiple layers of alternating bread dough and cheese remind me more of a plain lasagna than stuffed bread, yet it is considered by many as khachapuri. This cheesy lasagna bread hybrid comes from Abkhazia and Adjara. Give it a try to decide for yourself whether this layered dish is more like bread versus lasagna.
Other Georgian Bread
It's not uncommon to see a Georgian dinner table with various gluten options to pair with pkhali and other dishes. In fact, some of them serve a purpose. Besides cheese-stuffed goodness, there are plenty more types of Georgian bread. Below is a list of some other bread to familiarize yourself with.
Shotis Puri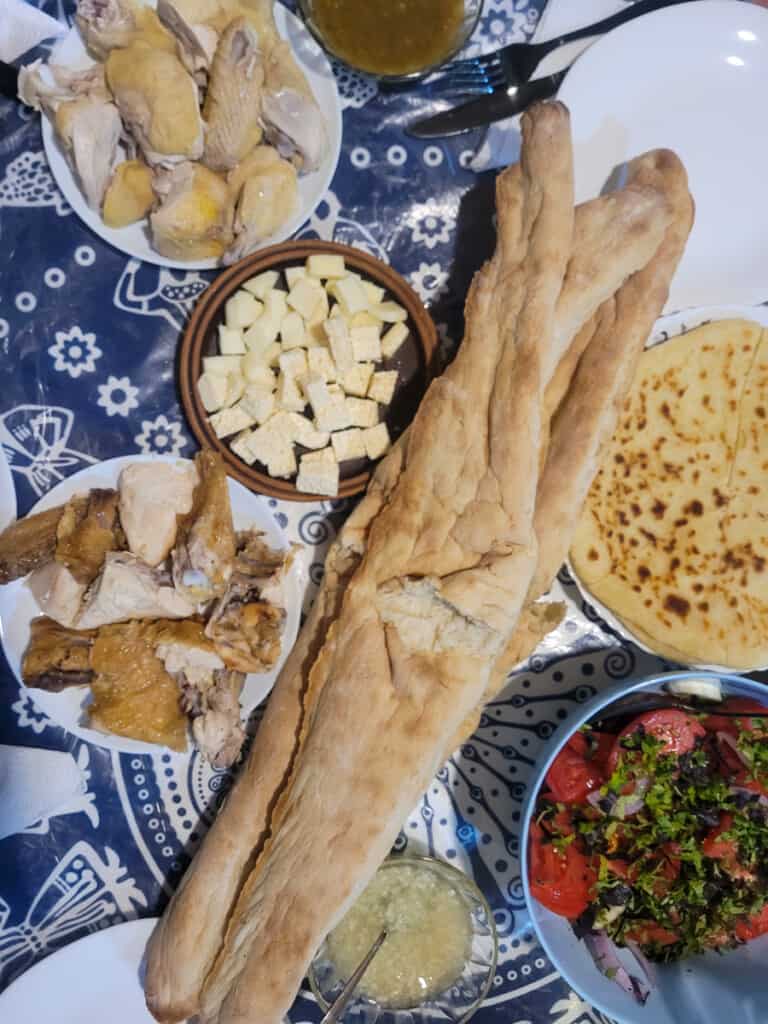 The most important word for bread you need to know, even more than khachapuri, is shotis puri or for short, shoti. Shoti is the lifeline of many Georgian meals, and frankly speaking, you can't eat some other dishes without it! You can purchase this fresh from tone (pronounced ton-eh), which are free-standing Georgian ovens resembling a tandoor. Specialty bakeries, also called tone, make fresh bread daily from this oven and are easy to find. A local walking from their favorite tone with freshly baked bread tucked in their arm like a clutch is a common sight in Tbilisi, Georgia.
Mchadi
Georgians also use corn flour to make bread. Mchadi is shaped like a disc and then fried in a pan with oil. You might think this is similar to cornbread, but they are drier and much more structured. Mchadi is best paired with stewed items, such as lobio, or spreading pkhali on top of it.
Chvishtari
Chvishtari is another Georgian-style bread made with corn flour. It is basically mchadi stuffed with sulguni cheese, albeit sometimes thicker. It adds a notably salty element to any pairing.
Lobiani
Imeretian khachapuri and lobiani look precisely the same on the outside until you cut into them! Beans are smushed and stuffed inside this flattened bread. It's perfect for those who love beans (the primary type used is the basic red bean within reach) and a great addition to any appetizer course.
Kubdari
Hailing from the Svaneti region, kubdari is bread filled with the chef's choice of meat with minced vegetables packed with spices. The meat filling can be anything from beef, lamb, goat, or pork. I love ordering these as a hearty starter.
More to Look Forward to
Although this is an exhaustive list of Georgian bread, this is just the start! There are many more regional specialties to try in addition to other types you can find in mom-and-pop bakeries. Check back on this post as I add more Georgian bread waiting for you to discover!
Tried Some of These?
Please leave me a comment down below telling me what you think of Georgian bread.
Also, follow me on Instagram [@seesfoodwilltravel] and send me a DM of the food you tried. I would love to share and celebrate YOUR experience with our budding community 💞
Check out Sees Food, Will Travel on Pinterest and Facebook for more delicious updates.