Disclosure: Some of the links in this post are affiliate links. This means if you click on the link and purchase an item, Sees Food, Will Travel will earn a commission at no extra cost to you. See terms and conditions for details.
In Georgia (the country, not the state!), breakfast is a simple affair of eggs, bread, and condiments. Kikliko is the equivalent of Georgia's version of a simple French toast. This Georgian egg bread, or kikliko, recipe uses a national staple ingredient called adjika. It makes the egg bread savory, salty, and a tad spicy!
How is Kikliko Different From French Toast?
Kikliko, the Georgian egg bread, consists of sliced day-old bread dipped in an egg batter and then fried in a pan. This Georgian breakfast dish sets itself apart from the popular French toast because it is typically served with a variety of savory toppings. You'll find local ingredients such as vegetables, cheese, butter, and spices on top of kikliko.
This Georgian toast is not meant to be sweet, and I wanted to integrate another popular ingredients in the form of butter. So this recipe uses an easy-to-make adjika butter consisting of the dry version of the seasoning.
What is Adjika?
Adjika is a popular seasoning made with mashed spicy red peppers, garlic, coriander, oil, and salt, along with specialty spices. The spices added to this seasoning will depend on the region. Traditionally, adjika comes as a paste. But a modern alternative is the dry, powdered version.
Its main taste profile consists of salty and garlicky with just a slight kick from the peppers. It's not the spiciest chili seasoning, but it brings some heat to any food you pair it with.
Ingredients
Wheat Bread
Egg
Milk
Dry Adjika
Unsalted Butter
Garlic
Salt
Substitutes
Wheat Bread: You can use any type of sliced bread for this recipe, as long as it can absorb the egg milk mixture.


Milk: You can use cream and even water to replace the milk. It's to help thin the egg.
Equipment You'll Need
You won't need a lot of equipment for this Georgian egg bread recipe. But the following recommendations will make things easier for you!
A shallow bowl/deep plate for dipping the bread into the egg and milk mixture.


A crepe pan will provide a large flat surface area and even cooking for with bread slices with butter.


A food processor will quickly blend the butter ingredients giving you more time to enjoy this Georgian breakfast!
Recipe Tips
Use Room Temperature Butter: Softened butter will make it easier for the ingredients to integrate together.


Make Butter Ahead: You can quickly make the adjika butter ahead of time, such as the night before. Then, the flavors will be more integrated the next day when you are ready to use it.

How to Make Georgian Egg Bread (Kikliko)
Throw butter ingredients into a food processor.
Make the butter by blending them together, then place in the fridge.
Whisk the egg and milk together in a plate.
Dip both sides of one slice of bread into the mixture.
Add the dipped bread and let it cook on one side until crispy and golden brown.
Repeat the process on the other side.
Cook the other bread slices.
How to Serve Savory French Toast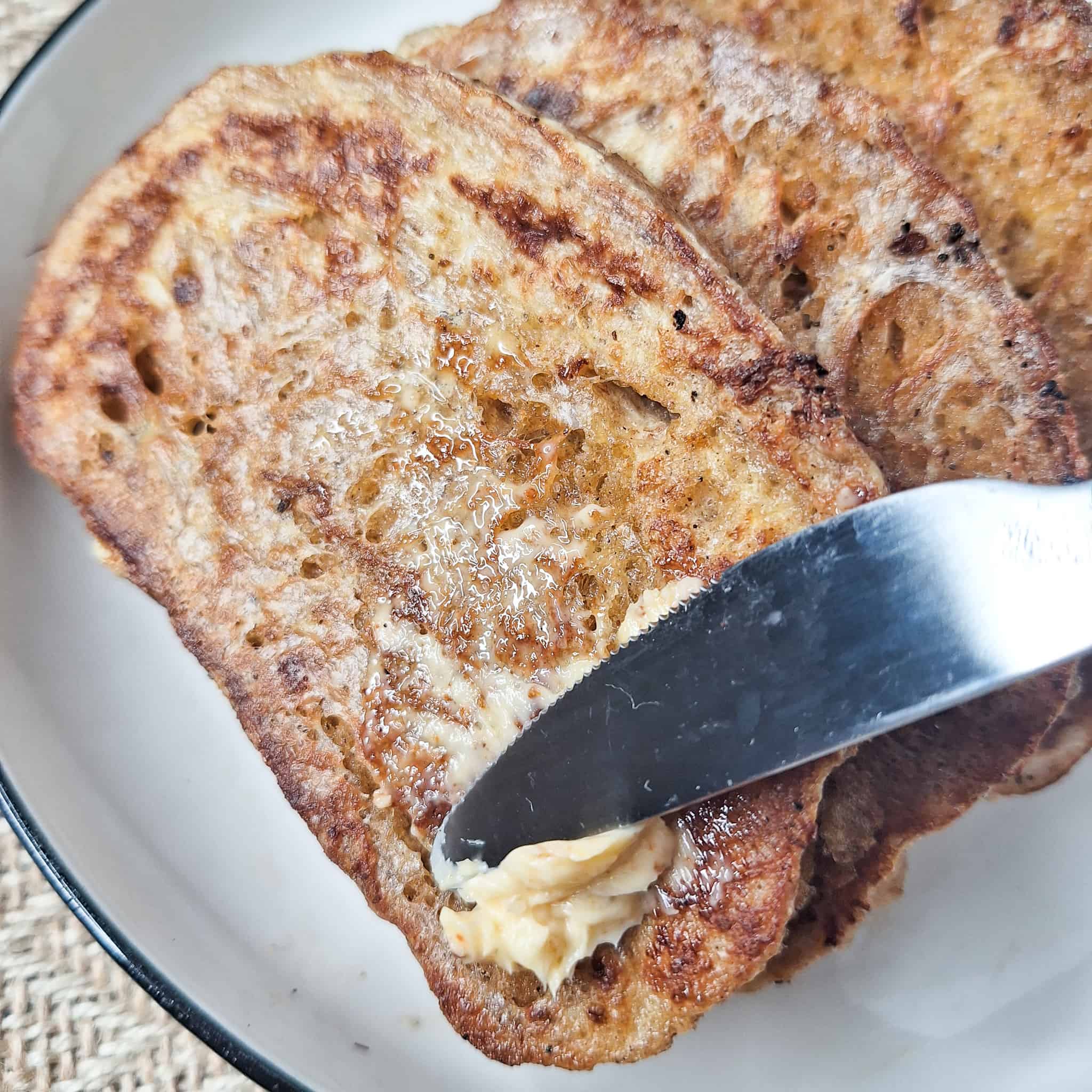 You should serve these Georgian egg bread slices immediately while they are warm and slightly crisp. If you're the type that likes a saltier taste, you can serve the adjika butter with it too. You can also serve them with other savory toppings such as tomatoes, cucumbers, and cream cheese.
Variations of Kikliko
Here are some other toppings (classic and fusion) for this savory french toast.
Cheese and Sour Cream: Shred two pieces of mozarella string cheese and mix it with a tablespoon of sour cream. Add it on top of the bread slice along with thin slices of tomatoes. This is a rendition of tenili, a regional string cheese typically mixed with sour cream in Georgia.


Make a Benedict: Poach some eggs and make hollaindaise sauce to add them on top of kikliko. The adjika butter will add some spicey notes and garlic flavor to this fusion variation.
Frequently Asked Questions
Can I use fresh adjika?
You can use the paste version of adjika in this recipe but you may have to adjust the ratios.
What should I eat with kikliko?
You can eat kikliko as a fancy toast next to fried eggs and a hot mug of coffee. 
Georgian Egg Bread (Kikliko) with Adjika Butter
In Georgia (the country, not the state!), breakfast is a simple affair of eggs, bread, protein, and condiments. Kikliko is the equivalent of Georgia's version of a simple French toast. This Georgian egg bread, or kikliko, recipe uses a national staple ingredient called adjika. It's savory, salty, and just a tad spicy!
Disclosure
The equipment and ingredients sections contain affiliate links to products I love to use as well as items that I personally believe make this recipe the best version of itself.
Ingredients
Adjika Butter
100

grams

unsalted butter

room temperature

1

clove

garlic

grated

1-2

teaspoon

adjika powder

¼

teaspoon

salt
Egg Bread
4

slices

wheat bread

1

egg

60

ml

milk
Instructions
Make Butter
Add the butter, grated garlic, adjika powder and salt to a food processor. Pulse until smooth, you may have to push the sides down a few time to incorporate the ingredients better.

Place the adjika butter in a container and place in the fridge to solidify.
Make Egg Bread
Crack the egg into a shallow bowl and add the milk. Whisk them together.

Optional: Spread some butter on a bread slice.

Dip the bread slice and submerge both sides until fully coated with the egg batter.
Cook the Egg Bread (Kikliko)
Heat a pan on low heat and add a spoonful of adjika butter. Let it melt slowly on the pan. Cook one side of the bread slice until crispy and golden brown. Cook the other side.

Repeat the step above for the rest of the bread slices. Serve the kikliko with the adjika butter and sliced tomatoes.
Nutrition
Calories:
717
kcal
Carbohydrates:
0.1
g
Protein:
1
g
Fat:
81
g
Saturated Fat:
51
g
Polyunsaturated Fat:
3
g
Monounsaturated Fat:
21
g
Trans Fat:
3
g
Cholesterol:
215
mg
Sodium:
11
mg
Potassium:
24
mg
Sugar:
0.1
g
Vitamin A:
2499
IU
Calcium:
24
mg
Iron:
0.02
mg
Disclaimer: Nutritional values were calculated with the Spoonacular Food API and should be used for informational purposes only.
Have You Tried This Recipe?
Simply rate the recipe by clicking on the ⭐️s on the recipe card. Have something to say? Please leave me a comment down below telling me what you think of this recipe.
Bonus: Let me and other readers know what you did to make this recipe your own - 💫 let's inspire each other!
Also, follow me on Instagram [@seesfoodwilltravel] and send me a DM with a picture of what you made. I would love to share and celebrate YOUR creation with our budding community 💞
Check out Sees Food, Will Travel on Pinterest and Facebook for more delicious updates.