Before diving in, let me first say that I tried all these dishes myself. I live in Tbilisi and eat Georgian food on a weekly basis. But sometimes I forget to take pictures of food because I'm just too hungry and Georgian food is irresistible! Check back in once in a while on this post for updates with images and more types of Georgian soups and stews!
It's my opinion that it is essential to try a number of local soups and stews when visiting the country of Georgia in cooler weather. They contain a wide range of ingredients and, when combined, result in a comforting and delectable bowl that will keep you warm during your trip! So make sure to take advantage of the soup section on local restaurant menus.
Most Georgian soups are meaty and usually come with a savory broth base. I like to consider some of them standalone meals because of the tendency for these soups to be heavy. You will find yourself full after you finish an entire bowl of chikhirtma (Georgian chicken soup) or gupta soup (Georgian meatball soup). Some Georgian stews, such as ostri or chakhokhbili, are so thick that they require a side of shotis puri or bread so you can soak up the flavorful sauce.
Georgian food in general will also warm your heart regardless of what catches your eye on the list below. They will show you that Georgians are creative and experts in utilizing local ingredients to create distinct dishes.
Chakapuli
Chakapuli is a popular and unique Georgian comfort food that also comes in many variations. The most classic version incorporates delicate and soft lamb. But all chakapuli dishes contain tarragon leaves, local plums, and Georgian dry white wine. Its unique flavors are savory, salty, and tangy from the plums used in the stew.
Gupta
Easily one of my favorites, gupta is a style of meatball added to this simple soup. The small meatballs consist of rice, minced meat and various spices. A meat-based broth features these meatballs and chopped vegetables such as potatoes and carrots.
Ostri
This tomato-based spiced Georgian stew is filled with chunks of tender beef and chopped vegetables. I like eating spicy ostri with bread. It's a filling meal for one that can be found in many restaurants throughout Georgia.
Khashi
Every strong food culture has its hangover soup, and this would be it for Georgians! Khashi uses various parts of cow organs, such as the tripe and intestines. All the cuts would be slowly simmered and then combined with vegetables and seasonings. The other important component is milk mixed with the flavorful broth to produce a pungent yet creamy soup.
Mushroom Soup
Mushroom is an integral component of Georgian food, and it's only fitting that it gets featured in its soup. There are two mushroom soups available in Georgia, broth-based and cream. I love mushroom cream soups in this country because they are made with fresh mushrooms, and the taste has a phenomenal punch of umami.
Chikhirtma
This quintessential Georgian chicken soup is a favorite because of the unique way it is made and its distinguishable flavor. It consists of shredded chicken in a special broth with other ingredients such as onions, garlic, coriander, and dill. The broth is also chicken based that's thickened with egg yolks. The taste is a striking combination of citrus, tang, and cream.
Chakhokhbili
Chicken pieces are slow-cooked in a rich tomato-based stew and fresh herbs. The shredded tender chicken in this velvety dish can be easily picked up with a piece of bread. Another traditional version uses pheasant, which is more flavorful.
Chashuhuli
What chakhokhbili is to chicken, chashushuli is to beef. Beef is cooked until tender in this thickened stew. It resembles a goulash full of red spices that come together in a mild, but hearty dish. Eat this Georgian beef stew with shotis puri or cheese bread.
Tatariakhni
The most minimalist soup on this list is tatariakhni. The idea of this soup is to make a rich beef broth with hunks of meaty cuts that become very soft over time. Some chopped herbs are added for color and taste. But I like having the option to season this myself with salt, minced garlic, and crushed red pepper.
Tutmaji
Tutmaji is a regional specialty from Meskheti that consists of a savory broth made with matsoni, local Georgian yogurt, and handmade noodles. It's more simple and humble that what the image above portrays, utilizing a few local ingredients. This yogurt soup is served warm.
Mawvnis Supi
This is another soup made with matsoni yogurt. But it also includes chopped fresh dill, coriander, and beaten eggs. Some versions also include chopped basil. Though you can eat this soup warm, there are also cold refreshing options in hot weather.
Kharcho
Kharcho is another beef broth soup, and there are two popular styles you can find in restaurants in Tbilisi. The first style is a thin beef broth with various spices such as paprika and red pepper powder. The second version, better known as the Megrelian style, is thickened with crushed walnuts and has a brighter color. Both types can be eaten with or without rice.
Lobio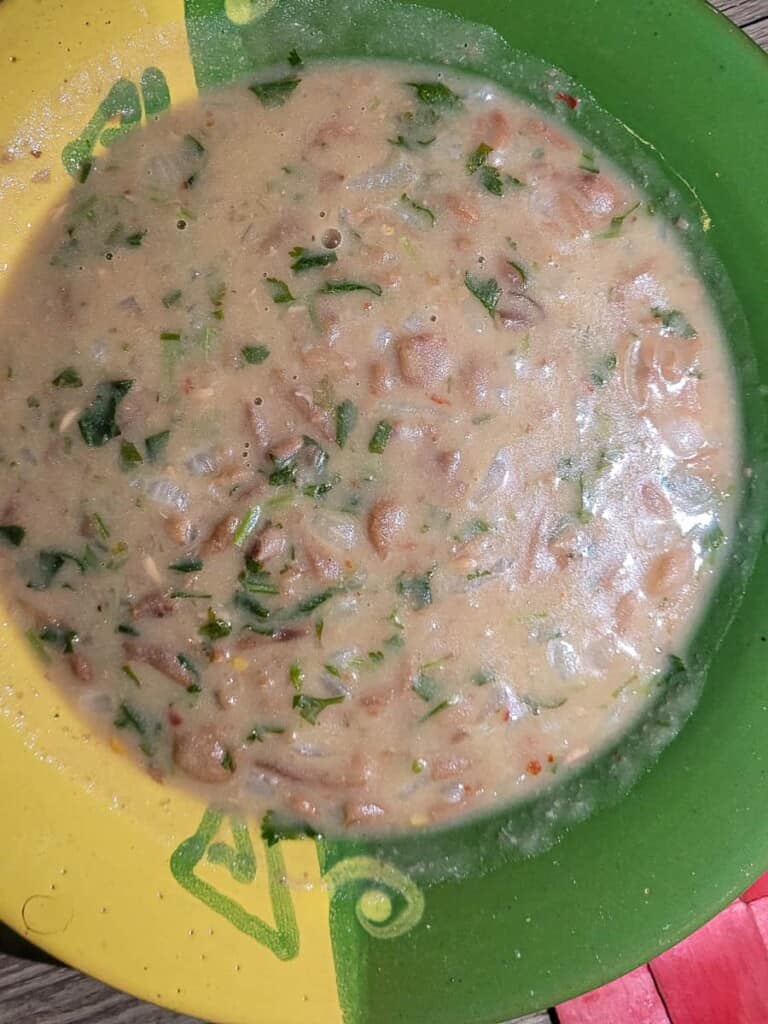 Beans are also a very important part of Georgian food culture and you will find it in different forms across the cuisine. This time, it's a stew and mixed with some strong savory spices. Sometimes you'll find pieces of Rachan ham in the soup as well.
Where to Try Soups in Georgia
Here are five local restaurants where I tried some fantastic soups in Tbilisi, Georgia. Some of them carry the listed items as a seasonal offering, so what is available to you may be different.
Sakhli #11

: This restaurant can be found just off Liberty Square. They serve some interesting regional cuisines as well as national dishes. Try the lamb

chakapuli

, and veal

chashushuli

.

Bread&Wine: A cozy restaurant tucked in the Vera district across from Stamba hotel. Walk through their human-sized barrel and you'll be introduced to a variety of Georgian cuisine. Try their herb-laden

chashushuli

and

kharcho

.
Barbarestan

: This establishment is more formal, with recipes and dishes developed from a historical Georgian recipe book. Their

tutmaji

is a featured soup that involves some pomp and circumstance with its serving.
Kazbegi Good Food

: This establishment is located at the base of Mount Kazbek - or Kazbegi - Georgia's premier sight. The jolly owners serve

chakhokhbili

, consisting of an entire pheasant chicken with tender fall-of-bone meat. Order it with a side of Kazbegi beer after a day of hiking.
Sormoni

: Make a reservation before visiting this popular restaurant and request a table in the garden. Here you can try matsoni soup - mawvnis supi - and broth-based kharcho.
During your visit to Tbilisi, peruse other restaurant menus to see their year-round and seasonal soup offerings. Let me know in the comments below if you find a place worth mentioning and what soup you tried!
Tried Some of These?
Please leave me a comment down below telling me how you like Georgian soups or if I missed anything. Bonus: Let me and other readers know what you enjoyed eating - 💫 let's inspire each other!
Also, follow me on Instagram [@seesfoodwilltravel] and send me a DM of the food you tried. I would love to share and celebrate YOUR experience with our budding community 💞
Check out Sees Food, Will Travel on Pinterest and Facebook for more delicious updates.