This Chinese-style pork and cabbage dumpling recipe is very easy to make. I love making a batch of these to freeze so John and I can cook pork dumplings whenever we crave some. As easy as it is to buy frozen dumplings, I find that homemade ones are always better, and I can control how they taste. This dumpling recipe is a great foundational formula that allows you to add your own twist to it. Click here for tips on how to make the delicious dumpling filling!
How I Started Making Dumplings
Asian dumplings have always been a part of my life growing up. In Hawaii, Chinese dim sum dumplings are full of pork without cabbage. The Chinese dumplings I grew up with looked like they were achingly ready to burst. When John and I started dating, I attended his family gatherings for Chinese New Year. I learned that homemade jiaozi (饺子 - dumplings) are more modestly sized. It was there that I had the opportunity to help make and prepare them.
For me, the experience of making dumplings or any Chinese food always involves a social element. I love the sense of community that dumpling-making seems to always generate. When John and I were stuck at home for the first year of COVID, dumpling-making became our quiet time together. The activity helped strengthened our bond by creating a space to talk and feel safe. The act of making dumplings together is magical that way.
Pork and Cabbage Dumpling Tips
Make This Pork and Cabbage Dumpling Filling Your Own
Every family has their pork dumpling recipe, and everyone uses their own type and amount of ingredients differently than what I have listed in the recipe section below. So approach this recipe more like a guideline than a directive. Different dumplings are a favorite across many cultures because they are versatile, so make this recipe your own! If you don't like cabbage, feel free to add other greens - I've used spinach, chives, and my favorite, green onion. The images on this post also consist of a blend of beef and pork because I find fatty beef tastier in dumplings.
Make Sure Your Ingredients Are Not Too Wet
The recipe below requires you to squeeze the salt out of the cabbage leaves because you want to remove as much water as possible from your leafy vegetable. Too much water in your filling will cause your ingredients to separate. Likewise, your dumpling wrapper might end up getting too wet from the filling, making the assembly stage very difficult (and messy!).
Check Your Mixing Strategy
You should aim for the ingredients in the bowl to be mixed well, without looking like one blob of meat. The tried and true method for me has been to mix by hand in only one direction. Mixing the ingredients in a steady motion with your hand continuously for one minute achieves a solid texture for your dumpling filling. Do not overmix, or you will get that dreaded ball of meat that shrinks away from the walls of your dumpling.
Consider Marinating
If you have the time, place your mixed filling in a fridge to sit for no more than a day before putting the dumplings together. Doing so will help the ingredients' tastes come together. If you do this, you can also check to see if your filling still has too much water, and you get an opportunity to scoop out excess moisture that may pool in the container.
Taste Test Your Filling
After you are satisfied with the look and texture, put a spoonful of the mixture in a pan to cook for a taste test. This is a crucial step. After all, you just made about three pounds of dumpling filling and will be making a lot of dumplings from this mix - you need to make sure it's up to your standard! I have made a lot of dumplings with many different people, and I notice not enough people do this. If you want to go above and beyond frying the meat, test it steamed and microwaved as well. It will give you an idea of whether the filling will taste just as good across different cooking methods.
Sauce Ideas for Pork and Cabbage Dumplings
My friends and I have argued about whether or not sauce is the prominent flavor when eating dumplings. To be fair, this is a foundational pork and cabbage dumpling recipe, so you can add a whole lot more to it. But everyone agrees that sauce is a must when eating dumplings. Frankly speaking, I haven't had a dumpling sauce that only involves soy sauce. More often than not, the most basic sauce is usually one part soy sauce and two parts vinegar mixed together with either sliced garlic or ginger. This dipping sauce is an easy-to-remember classic that anyone can quickly make.
In general, my favorite part about dumpling sauces is that they are effortless to put together and require a limited amount of ingredients. I have a few recommended sauces that are easy to whip up while cooking your dumplings.
Green Onion & Garlic Sauce
Typically found next to Hainanese chicken plates, this sauce was my favorite to eat with dumplings throughout my COVID self-quarantine.
3 tablespoon of neutral oil such as vegetable oil
3 tablespoon of chopped green onion
2 tablespoon minced garlic
2 tablespoon of grated ginger
salt and pepper to taste
Put all ingredients except the oil in a bowl. Pour oil in a small saucepan and heat on high for 2 minutes, then pour over the other ingredients. Be careful when you pour the hot oil as it will sizzle and splatter, but you will also look cool doing it!
Korean Style Dipping Sauce
For just barbecue alone, Koreans love showing their flair in dipping sauces. Every restaurant has its own concoction, and I also developed various sauces of my own with Korean ingredients while living there. Mandu (만두), the Korean-style dumpling, also gets its own array of sauces. Although this pork cabbage dumpling recipe is Chinese-style, Korean dipping sauces go well with just about everything!
2 tablespoon soy sauce
2 teaspoon white vinegar
2 teaspoon sesame oil
1 teaspoon sugar
1 crushed garlic clove
1 teaspoon gochujang (Korean chili paste)
Optional: some slices of green chili
Ways to Cook Your Pork Cabbage Dumplings
This recipe filling is flexible for all cooking styles. Of course, that will also depend on the type of dumpling wrapper used. You can also make your own wrapper here. I highly recommend the pan-frying and steaming method. Add oil to the pan then place dumplings in the pan. Then turn on the heat to a low setting. Let the dumplings fry while checking for a crispy golden bottom. Once the bottoms are crispy, add water to about a third of the height of your pan. Cover the pan and let steam until all the water has evaporated. Eventually, you will hear the pan sizzling, indicating that the water is all gone. Once you hear the sizzle, remove the cover and enjoy!
Have You Tried This Recipe?
Simply rate the recipe by clicking on the ⭐️s on the recipe card. Have something to say? Please leave me a comment down below telling me what you think of this recipe.
Bonus: Let me and other readers know what you did to make this recipe your own - 💫 let's inspire each other!
Also, follow me on Instagram [@seesfoodwilltravel] and send me a DM with a picture of what you made. I would love to share and celebrate YOUR creation with our budding community 💞
Check out Sees Food, Will Travel on Pinterest and Facebook for more delicious updates.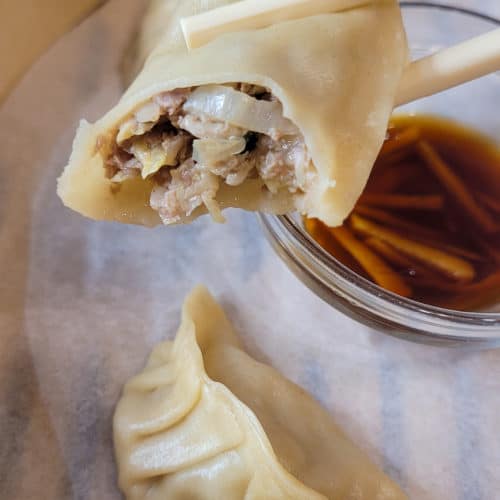 Pork And Cabbage Dumplings
This recipe is a great place to start your dumpling journey! Pork and cabbage is a fundamental filling that many people have use for a very long time. Make sure to add your own twist to this filling once you become more comfortable with making dumplings at home.
Ingredients
1

package

dumpling wrappers

400

grams

pork (~1 pound)

optional: pork beef 50/50 mix

500

grams

napa cabbage, chopped (~1 small head)

1½

teaspoon

salt

3

stalks

green onions, chopped

2

teaspoon

grated ginger

3

tablespoon

minced garlic

2

teaspoon

sesame oil

2

tablespoon

soy sauce

1

cube

chicken boullion

1

large egg
Instructions
Make Filling
Put chopped napa cabbage and salt in a bowl and mix until combined

Set cabbage aside for 10 minutes, then squeeze all the water out of the cabbage and put the cabbage in a different large bowl

In the bowl with the squeezed cabbage, add meat, green onions, ginger, garlic, soy sauce, sesame oil, and break up chicken bouillon to powder, then add the egg

With one hand, stir the filling in one direction steadily for one minute nonstop

Optional: Place in fridge for one day
Assemble Dumpling
Take a dumpling wrapper and place some of the filling on the center of the wrapper

Wet the edges of dumpling wrapper and fold the wrapper over the filling to make a dumpling

Close the dumpling by pinching the edges
Disclaimer: Nutritional values were calculated with the Spoonacular Food API and should be used for informational purposes only.