Note: This recipe is for pan-fried or steamed dumpling wrappers.
I know what you are thinking. It is easier to buy dumpling wrappers at a store and spare the mental and physical exertion for assembling dumplings instead of making dough from scratch. I never found making dumpling wrappers easy despite having done this recipe countless times. From my experience, it could easily be the longest part of making dumplings.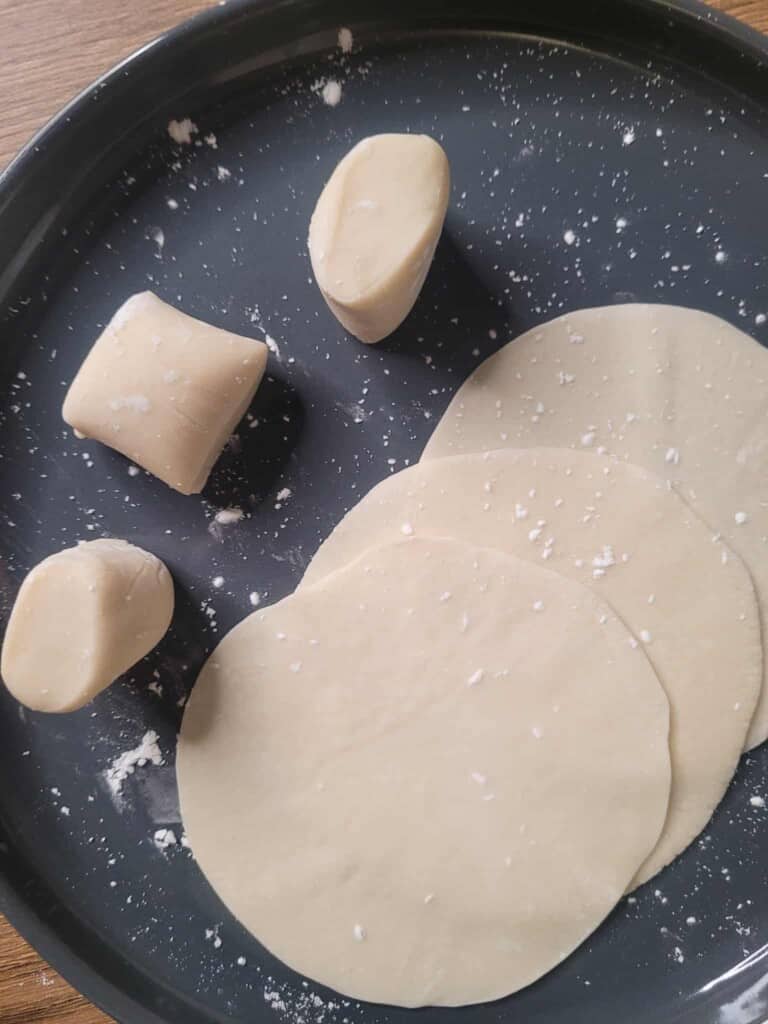 But time and time again, you'll hear that dumplings represent tokens of love. If I am making dumplings for a small group of people, I do not want to dilute that love by buying dumpling wrappers!
This basic dumpling wrapper is a great from-scratch recipe that is simple with few technical aspects to it. The best part is that as long as you have flour and water, you can make dumplings pretty much anywhere in the world! Because you will be using hot water, there will be less gluten in the dough. You can pan-fry or steam your dumplings with this wrapper recipe.
Tip This dumpling wrapper recipe needs one condition, and that would be the temperature of the water. After making so many dumpling wrappers from scratch, I've determined that a temperature of 150 - 160°F (65 - 70°C) water will form a resilient but soft dough.
How to Make Dumpling Dough
Making dumpling dough is simple, but I would not call it easy. Only because it requires exact measurements than other typical Chinese recipes. Also, time and patience are both necessary to let the dough rest.
The first step is to weigh the flour. Using a scale, put about 180 grams of flour in a bowl and then set it aside.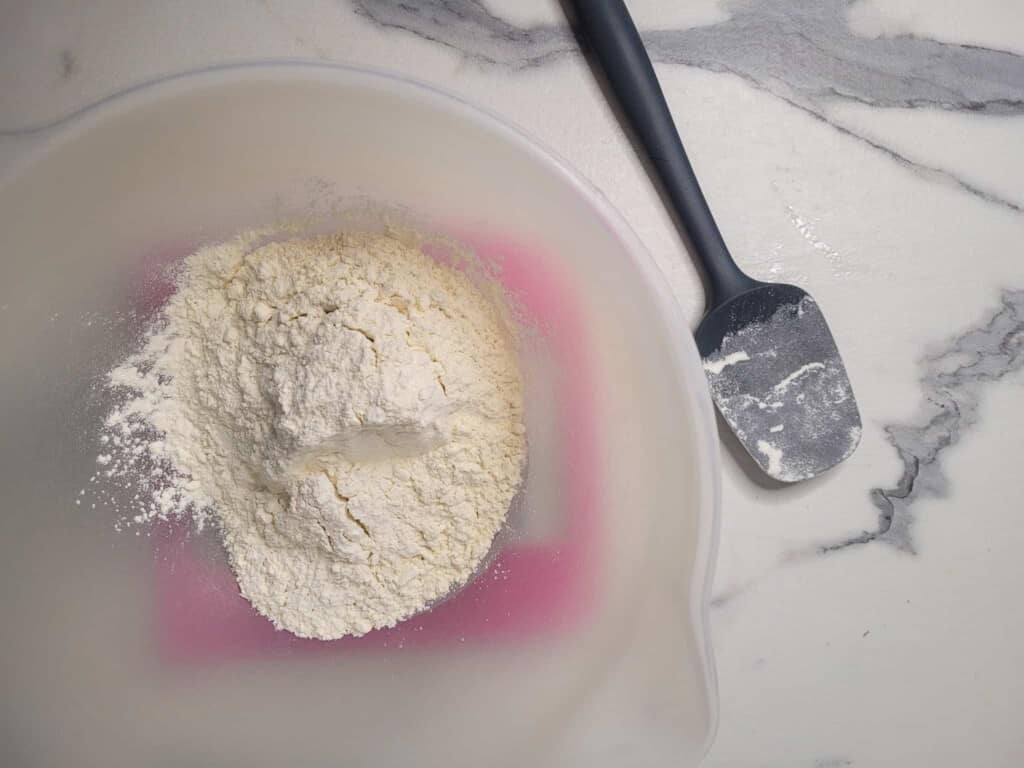 Next, boil some water and check the temperature with a food thermometer. Boil it up to 160°F (70°C) and no more. You want to weaken the gluten but not completely destroy it. If the temperature is higher than 160°F (70°C), let it sit to bring the temperature down.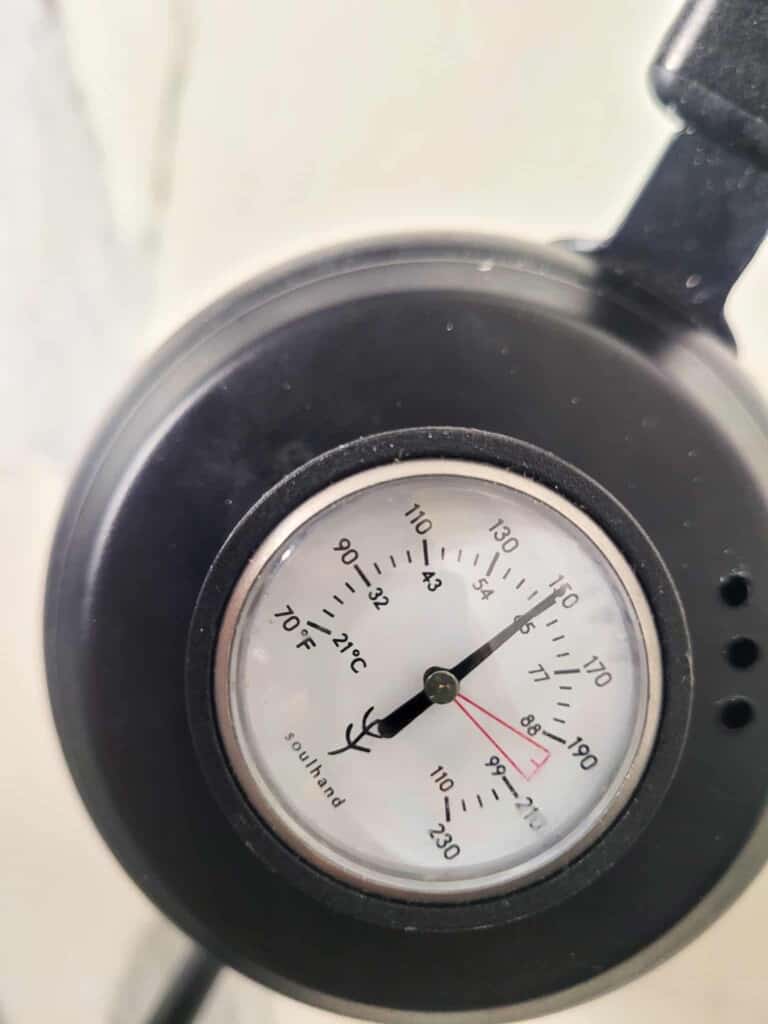 Weigh out 80 grams of the heated water and pour it into the bowl of flour.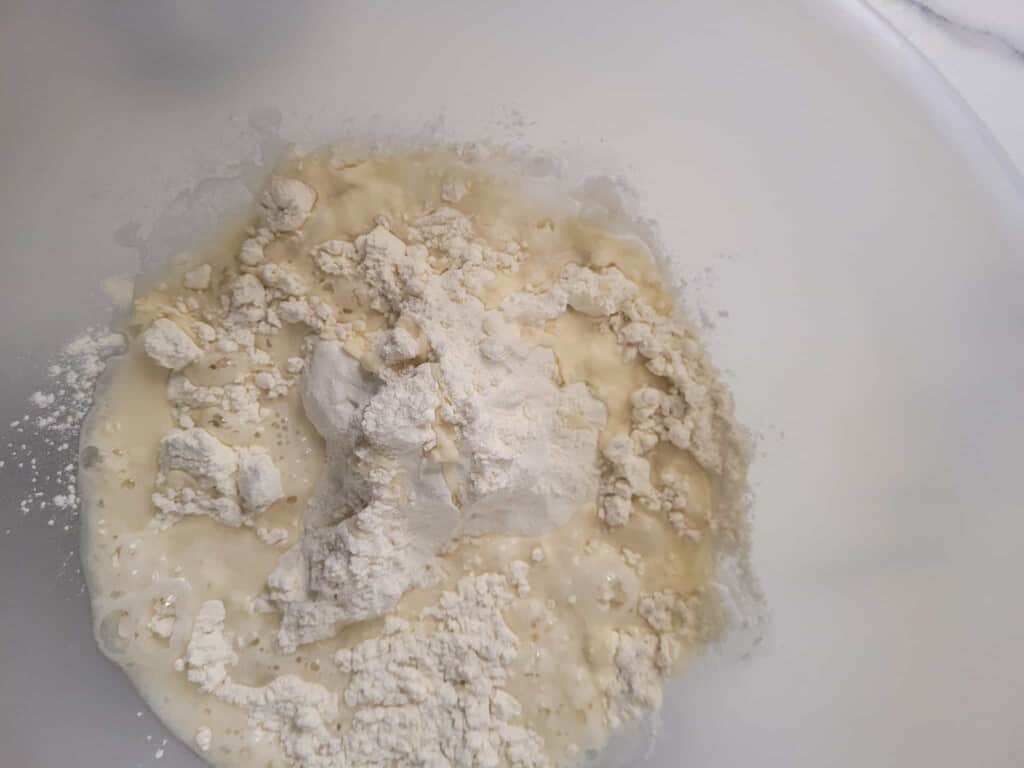 You can choose to use an electric mixer and knead the dough for about four minutes before letting it rest. But I believe using bare hands to knead the dough is what adds some of the love in dumplings.
Kneading By Hand
Mix the flour and water until it forms a shaggy dough. Then knead the dough with your hands for eight minutes until you can form a smooth ball.
During the process, you will notice that the dough will pull the flour from the walls of bowl. So you should end up with a clean bowl at the end!
Once you form the dough in a bowl, cover it and let it sit for fifteen minutes. Tip Place the dough ball in a ziplock bag so it retains more steam which softens the dough even more.
Making Dumpling Pieces
Once the fifteen minutes are up, remove the dough from the bag. It should feel soft to the touch. Make a donut by poking your finger through the center and slightly stretch it out.
Set up a clean work surface and dust a little bit of cornstarch on top. Tip I use cornstarch, so I don't add more flour to the dough; extra flour could cause cracking.
Use a knife to slice opposite sides of the donut so that you have two pieces that can be rolled to logs.
Cut the dough in pieces weighing about twelve to thirteen grams. Place the pieces back in the ziplock bag or keep them covered until you are ready to use them.
Forming Dumpling Wrappers
Take a dumpling piece and press down on it with the palm of your hand.
Use a small rolling pin made for dumplings (or an evenly shaped small glass) and begin rolling the edges while you turn the dough disc a quarter turn per roll.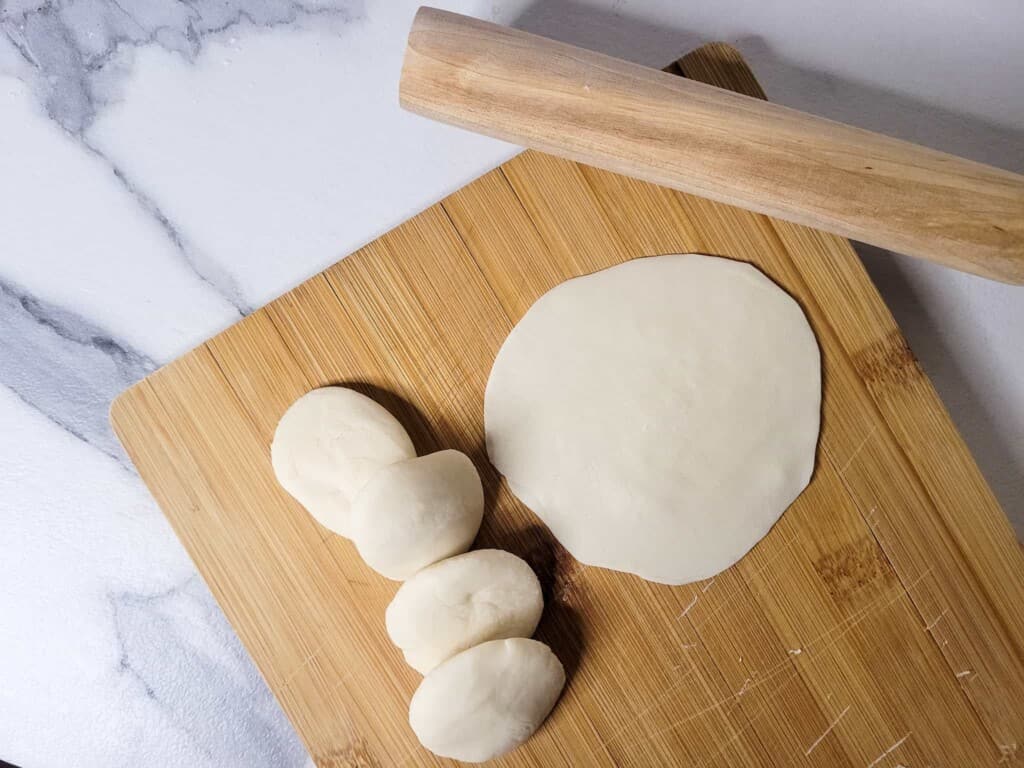 You can run a rolling pin down the middle of a dough disc as long as you keep it thicker in the center.
Lightly dust each side of the round dumpling wrapper with cornstarch. Set aside and keep covered until you are ready to use the wrappers.
When to Use Dumpling Wrappers
The best time to use fresh dumpling wrappers is as soon as you make them. If you want to pre-make dumpling wrappers, you can make each piece and then brush each side with cornstarch, so they don't stick together.
Place the wrapper pieces stacked on top of one another in a ziplock bag and put them in the refrigerator for up to two days before using them. I haven't used fresh dumpling wrappers that sat in the fridge longer than two days.
And that's it! Use this recipe to make Chinese style pork and cabbage dumplings here. Or use any filling your heart desires!
Interested in more Asian recipes??
Check These Out 🤤
Have You Tried This Recipe?
Simply rate the recipe by clicking on the ⭐️s on the recipe card. Have something to say? Please leave me a comment down below telling me what you think of this recipe.
Bonus: Let me and other readers know what you did to make this recipe your own - 💫 let's inspire each other!
Also, follow me on Instagram [@seesfoodwilltravel] and send me a DM with a picture of what you made. I would love to share and celebrate YOUR creation with our budding community 💞
Check out Sees Food, Will Travel on Pinterest and Facebook for more delicious updates.
Basic Dumpling Wrappers
These basic dumpling wrappers are perfect for pan-fried or steamed dumplings. It's.a basic recipe with a specific temperature requirement to ensure you have a soft, yet resilient dough for your filling of choice.
Ingredients
180

grams

all-purpose flour

80

grams

hot water, heated to 150 - 160°F (65 - 70°C)

cornstarch, for dusting
Instructions
Heat water to any temperature between 150 - 160°F (65 - 70°C) and add to the flour

Mix until you get a shaggy dough then use your hands to knead for 8 minutes until you can shape a smooth ball and the bowl is clean of flour

Cover or place in a ziplock bag to sit for 15 minutes

Shape into a donut by poking a hole in the ball with your finger and stretching the hole. Slice two opposite sides of the donut so you have two halves.

Working with one half of donut at a time, roll the piece out to the shape of a log. Then cut into pieces that weigh about 12-13 grams each.

Work with one piece at a time. Prepare a work surface and sprinkle some cornstarch on the surface. Flatten the dough piece with the palm of your hand.

Use a rolling pin to flatten and shape the dough: flatten the edges and roll as your rotate the dough piece a quarter turn at a time. Keep the center of the dough thicker than the edges

Dust some cornstarch on both sides of the dumpling wrapper. Use the dumpling wrappers immediately or place the wrappers in a ziplock bag until you are ready to use them.
Disclaimer: Nutritional values were calculated with the Spoonacular Food API and should be used for informational purposes only.