I developed this siu mai recipe to fulfill a nostalgia from childhood! I was lucky to grow up in an area in the Philippines where there were many different types of food. Siu mai has a special place in my heart. Chinese food was the first non-Filipino cuisine I ate, and siu mai was one of those first dishes. It was a type of street food or fast food in our neighborhood that you purchased on the go, and ate with soy sauce and calamansi juice.
What is Dim Sum?
Siu mai is just one of a thousand-something dishes in the dim sum category. From how I've learned it, dim sum is first and foremost a concept more than a thing. Before dinner, you eat small dishes that don't entirely make you full. The idea evolved into an entire category of small dishes eaten with tea, called dim sum. The spirit of dim sum was easy for me to understand. As a child, I typically ate siu mai as a snack. When I grew up, I learned about all the other dim sum dishes available and felt like I unlocked an entire world!
When I lived in the United States, it was fun to make an event out of inviting friends to visit a dim sum restaurant together to eat various dishes. I loved ordering from the women who walked around the restaurant pushing their silver carts or carrying large trays ladened with bamboo steamers. It was interesting to see what my friends' favorite dishes were, but everyone agreed that some staples had to be ordered regularly, such as siu mai, har gow, and in general any dumplings available. Sometimes we manage to even sneak in noodles! But I digress. It is was also easy to drive to any Asian market and pick up a bag of frozen siu mai to microwave at home. But now that it's harder to find siu mai where I live, I decided to make my own recipe with the ingredients available to me.
Ingredients for This Siu Mai
I don't have all the ingredients for a wide range of variations readily available, such as water chestnuts or wood ear mushrooms. Therefore this is a simplified version of siu mai with pork shoulder, shrimp, soy sauce, sesame oil, sugar, and two specific Chinese ingredients - Shaoxing wine and shiitake mushrooms. Chicken bouillon is a magical ingredient for me because if I miss an ingredient or two in savory dishes, chicken bouillon most likely solves my problem without having to use an insane amount of MSG.
How to Make Siu Mai at Home
I like using fresh pork from the butcher that isn't frozen. I wash the pork several times in cold water to remove the blood and create a milder taste. This process is easier to do when the pork hasn't been frozen because there is less washing needed. Before chopping the pork, I pat it dry to remove as much moisture as possible.
Watch the Size of Your Pork Pieces
The most time-consuming part of making siu mai involves breaking down the pork shoulder to a rough minced cut before adding the shrimp. The pork pieces should be larger than the size of ground pork to get the right mouthfeel and texture when you bite into the siu mai. It should also have a lot of fat incorporated throughout to add some juiciness when cooked.
I thaw large frozen shrimp, remove the skin, devein them, and then chop them roughly. Use a cutting board and a knife to blend the pork and the shrimp. I spread the pork on a cutting board, then sprinkle the shrimp on top and lightly chop the shrimp into the pork. I know it is ready when I see the bits of gray shrimp throughout the pink of the pork.
Making a Cohesive Filling
After this step, the rest is straightforward. Add the pork mixture and ingredients minus the mushrooms in a bowl and mix. Mix in one direction gently to bind the ingredients together to ensure they stick together when steamed. Then finally, fold in the mushrooms as the last step of mixing. Putting this mixture in the fridge for a few hours will help marinate the ingredients better and produce a prominent taste. I like my siu mai milder, so I usually don't let it marinate for more than an hour.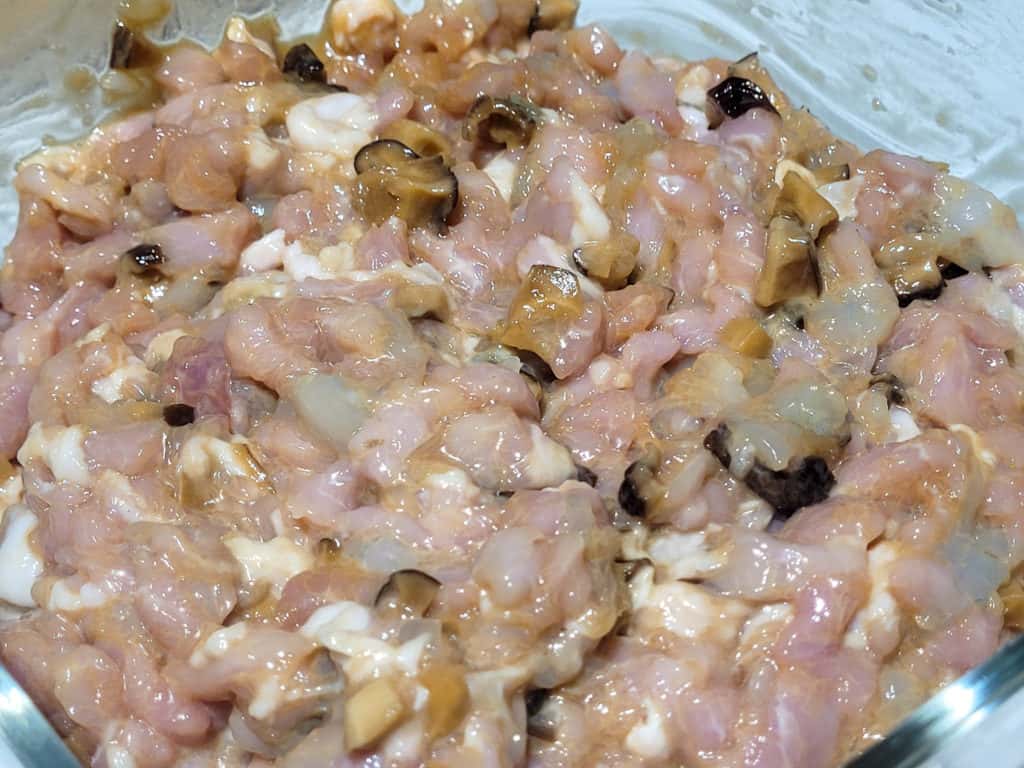 Add about two tablespoons of the filling to the center of a siu mai wrapper and cup the wrapper around the filling. You may have to rotate the siu mai several times in your cup hand to ensure the shape stays put.
Siu Mai Wrapper Recipe
I want to make this siu mai filling recipe is as simple as possible for you. So if it is available where you live, go out and buy a pack of siu mai wrappers that you can keep in your fridge for a while. I highly recommend you buy it because it means you will get to eating that much faster!
But if you are like me who can't buy dumpling wrappers at stores in your town, or you are interested in making them yourself, I have a quick recipe for you!
You will need the following:
150 grams all-purpose flour (1 ¼ cups)
⅛ teaspoon salt
6 tablespoons of just-boiled water ( use more if needed)
¼ teaspoon of turmeric
Add flour, salt, and turmeric in a bowl, and mix together. Then boil some water, turn off the heat, and wait about two minutes. Measure out about six tablespoons of water and add to your flour mix. Use your hands to bring the dough together and knead for about 10 minutes until smooth. You know you have completed kneading when you press a finger into the dough, and the dough springs back. Cover the dough and let it sit for 15 - 20 minutes. Depending on your dough, you will notice that it may be easier to manage after a longer rest time.
After it has rested for the proper amount of time, roll out the dough as thin as you can without breaking it. Then use a round cookie cutter about 8 centimeters in diameter (3 & ¼ inches) to cut out the wrappers.
Helpful Tips for Making Siu Mai Wrappers
Your Flour Might Require More Resting Time
I have used flour that requires as long as an hour before I felt comfortable rolling it out. Dumpling wrappers for dim sum such as siu mai should be easy to roll out after resting. They shouldn't shrink when you roll them out. If you notice shrinking after spreading it out with your rolling pin, form it back into a ball and let it rest longer. Check every fifteen minutes for the right texture.
Use Cornstarch to Keep Your Wrappers Separated
The wrappers will be moist after being rolled out, and you should keep them separated; otherwise, they will stick together. Most of us have a limited workspace, and there may be a need to stack the wrappers. Brush some cornstarch on both sides of the wrappers before stacking them. Cornstarch - unlike flour - doesn't have gluten, so the dumpling wrapper won't absorb it and will create a barrier between the sheets. Be careful not to use too much cornstarch per sheet because it can dry out the wrapper.
Cooking Freshly Made Siu Mai
Line a bamboo steamer with wax paper, and place siu mai in the steamer with some space between each other. Bring a pot of water to boil, then add the bamboo steamer on top. Steam the siu mai for eight minutes. Do not oversteam your siu mai, or they will dry out and separate the wrapper from the dumpling filling.
Cooking Frozen Siu Mai
You can make this siu mai recipe ahead of time, freeze them on a lined baking sheet dusted with cornstarch, and put them in freezer bags after an hour on the baking sheet to enjoy at a later time. You don't have to thaw frozen uncooked siu mai. Cooking frozen siu mai is similar to cooking fresh siu mai. Steam them longer - for fifteen minutes - to ensure they have cooked through. These siu mai taste just as fresh because they are homemade!
Have You Tried This Recipe?
Simply rate the recipe by clicking on the ⭐️s on the recipe card. Have something to say? Please leave me a comment down below telling me what you think of this recipe.
Bonus: Let me and other readers know what you did to make this recipe your own - 💫 let's inspire each other!
Also, follow me on Instagram [@seesfoodwilltravel] and send me a DM with a picture of what you made. I would love to share and celebrate YOUR creation with our budding community 💞
Check out Sees Food, Will Travel on Pinterest and Facebook for more delicious updates.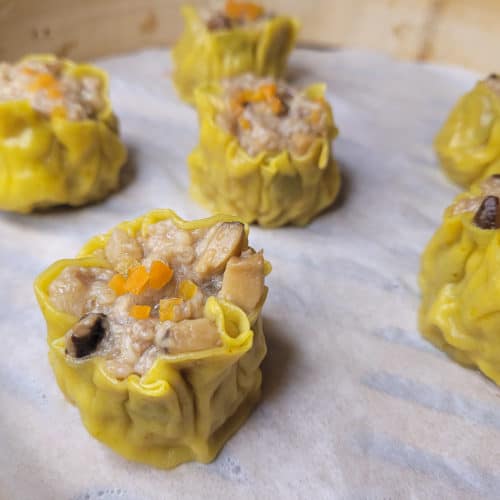 Siu Mai
These traditional dim sum treasures are surprisingly easy to make. You can consider siu mai as a type of open-faced dumpling. This is a simple and straightforward recipe that will help you make siu mai quickly.
Disclosure
The equipment and ingredients sections contain affiliate links to products I love to use as well as items that I personally believe make this recipe the best version of itself.
Ingredients
300

grams

pork shoulder (~ ½ pound)

100

grams

shrimp, peeled and deveined (~¼ pound)

4

reconstituted dried shiitake mushrooms, chopped to tiny pieces

4

teaspoon

chicken bouillon powder

1

tablespoon

shaoxing wine

1

tablespoon

soy sauce

2

tablespoon

cornstarch

1

tablespoon

sesame oil

1½

tablespoon

granulated sugar

use less or more to your taste

1

package

siu mai wrappers

carrot, minced

optional topping for siu mai
Instructions
Put pork in cold water for 5 minutes then remove the water. Repeat one more time.

Take the pork and pat it dry. Dice pork into tiny pieces but do not over mince it. It should be slightly bigger than ground pork.

Take the shrimp and dice into tiny pieces.

Mix pork and shrimp on a cutting board until it looks cohesive.

Add pork and shrimp to the bowl and mix well.

Add soy sauce, shaoxing wine, chicken bouillon powder, cornstarch, sesame oil and sugar. Mix thoroughly until cornstarch clumps have disappeared.

Fold in shiitake mushrooms.

Put in the refrigerator to marinade for at least 30 minutes to as long as overnight.

Take a siu mai wrapper and add about 30 grams (1 ounce) of pork filling and wrap the dumpling, while keeping the top open.

Add some pieces of the minced carrot on top

Bring a pot of water to a boil, meanwhile place the siu mai on a parchment paper lined bamboo steamer.

Once the water is boiling, place the steamer of siu mai on top and steam for 8 minutes.

Turn off the heat and let the steamer sit for 2 minutes before opening.
Disclaimer: Nutritional values were calculated with the Spoonacular Food API and should be used for informational purposes only.