I will be honest and say that I didn't know about these Cantonese crispy pan-fried noodles until John introduced me to them years ago. I also admit that I am not big on noodles since I grew up in a Filipino household that cooked pancit (Filipino fried noodles) only for special occasions. Needless to say, I am Team White Rice all the way! But these noodles have found a way to my heart, unlike other styles. Maybe it's the fact that they can be both crispy and soft at the same time. Skip to here for my step-by-step guide with tips.
These Pan-Fried Noodles Go by Many Names
This Cantonese crispy noodle style has many names. I don't know how to look for it in Hong Kong restaurant menus since pan-fried can mean other things. It may go by Hong Kong style chow mein or sometimes crispy pan fried noodles. We have to check with waiters on making sure the noodle dish we just ordered comes out crispy. Sometimes 'pan-fried' on a menu simply means cooked in a pan and not necessarily crispy.
I don't eat noodles regularly like other Asians, but I reserve special times for when I do. I seek noodles out during the lunar new year season because it symbolizes longevity. This habit came about from participating in John's family activities and living in South Korea for a few years.
This dish first fascinated me because there isn't a specific or anecdotal background that I can easily find. I only recently discovered its proper Chinese name is liangmianhuang - 两面黄. After looking further into this dish, I learned that it's a Cantonese specialty. I have only seen it served in Hong Kong-style cafes and restaurants. Someone I know has referred to these noodles as Hong Kong-style chow mein, but I think that is an Americanized term. An array of various protein and vegetables make up this dish. I have seen a seafood and chicken mix with a light sauce. Liangmianhuang could also include darker 'house sauces,' based on the restaurant's variation. I also saw it on a menu in Los Angeles once, but John told me the sauce was not his expected style.
Why Pan-Fried Noodles are Special to Me
Pan-fried noodles are in a league of their own because they are not sauteed, but instead typically deep-fried in a big wok of hot oil. To maintain the crispiness, you cook the topping in a different pan, so the noodles don't absorb the sauce before you eat them. A notable requirement is you must add the sauce at the last minute, right before you eat it. When you finally consume it, you end up with crispy and soft noodle textures unique only to this dish!
I made a simple variation of this pan-fried crispy noodle recipe at home with some greens and a choice of protein. All recipes require egg noodles to make this dish, and the individual noodles should not be too thick in diameter. Thinner noodles will have an easier time frying and come out crispier. I find making noodle dishes outside of instant ramen intimidating because of the precision required to create a balanced plate. But this noodle dish is very forgiving and allows you to be more creative.
Make This Dish Your Own
There are many interpretations of this dish, so I decided to develop a homemade recipe that can be an easy go-to when I want to indulge in these pan-fried noodles. I use some greens easily found in different parts of the world - Chinese Napa cabbage, green onions, and spinach. Then I use either pork shoulder or chicken thighs cut into thin strips. The sauce is a simple combination of sugar, soy sauce, cornstarch, and fish sauce.
Pan-fried noodles are also a fun way to eat a single-plate lunch without having to worry about whether you are eating enough vegetables or protein. You can choose to add as much or as little of the ingredients I listed in the recipe section below. If you have access to an Asian store that sells produce, I highly recommend using bok choy and Chinese broccoli as substitutes for leafy vegetables.
How to Make Cantonese Crispy Pan-Fried Noodles
Cut and Marinade the Protein
Cut the protein into thin, long strips and then put it in a bowl. Add the soy sauce, Shaoxing wine, and sugar for the marinade, then mix. Leave the meat in the fridge to marinate while you make the noodles.
Prep the Egg Noodles
Boil the noodles to fully cook them before deep frying. Bring a pot to boil and cook the noodles until they are al dente. Pull the noodles out and spread them on a plate to cool for up to an hour. Gently pat them dry with a paper towel, so the oil doesn't splash you due to leftover moisture.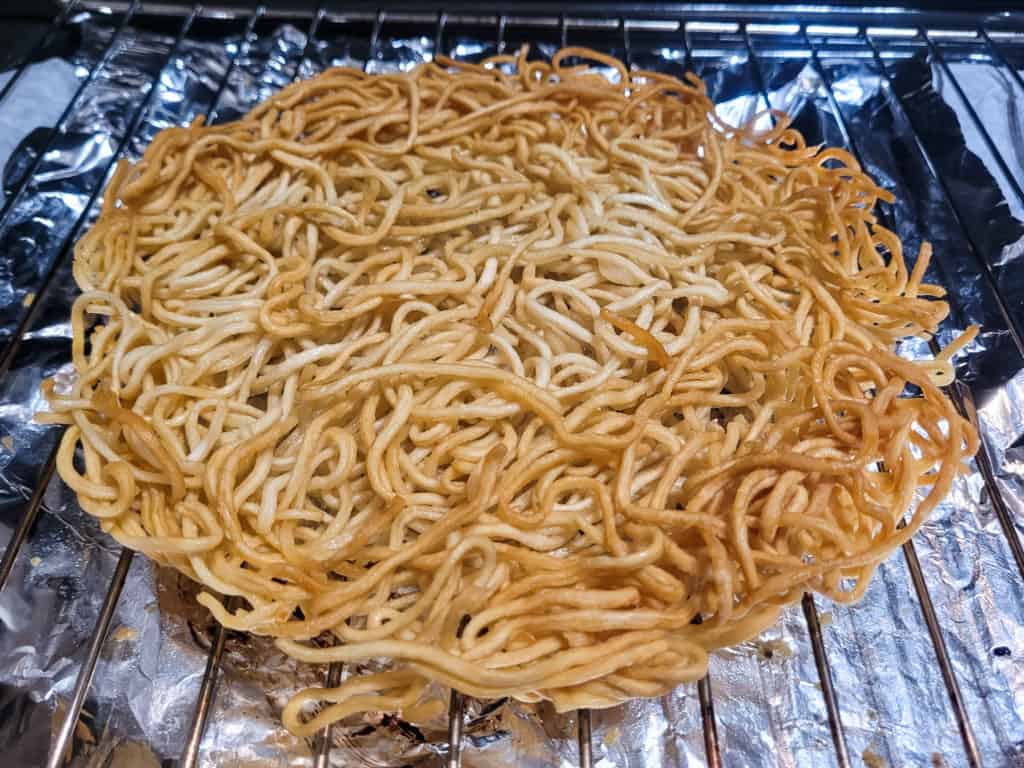 After an hour, take a pan and fill it with neutral oil. When the oil is hot enough, shape the noodles roughly to a disc and slide it gently into the oil. This process will deep fry the noodles to get the desired crunch all over. You must carefully watch the noodles so they don't burn. When the noodles start to look golden brown and crispy at the bottom, flip the noodles over to fry the other side. After a few minutes, pull them out and set them on a rack over a lined baking sheet to drain the oil. Leave it to rest in an open area. A closed space such as an oven might collect moisture from the heat and soften the noodles.
Set Up Your Cooking Sauce and Cornstarch Slurry
Before you begin cooking your protein, it's best to cut the vegetables and set up your sauce ingredients. The cooking portion will happen pretty fast. I recommend putting together the oyster sauce, sugar, Shaoxing wine, and soy sauce in one bowl and mixing them all. Then make the cornstarch slurry in a separate bowl. The chicken broth should also be ready in its own container. Set these aside next to your pan and set up another area where you can prepare your vegetables.
Cook the Topping
Add the marinated meat to a frying pan with hot oil, and stir-fry until browned. Then add your carrots. Since vegetables cook at different rates, adding the carrots at this step will ensure they cook thoroughly. Add the sauce mix, cook the protein and carrots for two minutes, and add the chicken broth.
Let the meat simmer in the chicken broth for two minutes, and then add your vegetables. Cook them for one minute until the vegetables of your choice start to shrink. Then, make a well in the middle of your pan and add the cornstarch slurry to thicken the sauce. Quickly fold over your vegetables onto each other to mix the slurry in and then turn off the heat, continuing to stir until the sauce has thickened.
Put your fried noodles on the plate and top with the cooked meat and vegetables, making sure to add as much of the sauce as possible. The sauce will seep into the noodles in the middle, making them soft. In the meantime, most of the outer edges will remain crispy.
How to Eat Pan-Fried Crispy Noodles
Serve immediately to experience the crunch of your Cantonese crispy pan-fried noodles. You can keep leftovers in the fridge and microwave to reheat them, but do not expect the noodles to be crunchy as they were before. These noodles are best eaten fresh because the crispy texture will disappear as soon as the noodles absorb the saute sauce. But do not worry about leftovers because these noodles will be devoured!
If you are interested in more Chinese-style cooking, check out my latest posts on siu mai and pork and cabbage dumplings!
Have You Tried This Recipe?
Simply rate the recipe by clicking on the ⭐️s on the recipe card. Have something to say? Please leave me a comment down below telling me what you think of this recipe.
Bonus: Let me and other readers know what you did to make this recipe your own - 💫 let's inspire each other!
Also, follow me on Instagram [@seesfoodwilltravel] and send me a DM with a picture of what you made. I would love to share and celebrate YOUR creation with our budding community 💞
Check out Sees Food, Will Travel on Pinterest and Facebook for more delicious updates.
Cantonese Pan-Fried Noodles
Crispy, crunchy and soft all at the same time is the best way to describe these noodles. They are also very easy to make and you can load up on as much vegetables as you like!
Ingredients
150

grams

protein of your choice

Options: pork loin, chicken thigh, beef tenderloin, hard tofu

150

grams

egg noodles

1

teaspoon

salt

4

cloves

garlic, minced

1

tablespoon

vegetable oil

for the saute

80

grams

carrots, sliced thin

optional

60

grams

leafy vegetables

Options: napa cabbage, spinach, chinese broccoli, bok choy

3

stalks

green onions or chives
Marinade
1

teaspoon

soy sauce

1

teaspoon

Shaoxing wine

1

tsp

sugar
Saute Sauce Mix Recipe
1

tablespoon

oyster sauce

2

teaspoon

soy sauce

+1 teaspoon more if you want it more salty

2

tsp

sugar

1

tablespoon

Shaoxing wine

100

grams

chicken broth

1

tablespoon

cornstarch

mixed with 2 tablespoon water
Instructions
Marinade Your Protein
In a bowl, add minced garlic, Shaoxing wine, soy sauce and sugar then mix.

Add protein and mix until well incorporated, let rest for 30 minutes in the fridge.
Make the Noodles
Bring a pot of water to a boil and add salt.

Add noodles and cook until al dente and cool for at least 30 minutes.
Make Saute Mix
In a bowl mix oyster sauce, sugar, shaoxing wine and soy sauce, set aside.

Make the cornstarch slurry and place chicken broth in a bowl, set aside.
Deep Fry the Noodles
Once the noodles have cooled, put a frying pan on low to medium heat and add oil about halfway up the pan.

Once it has heated, add the noodles gently into the hot oil and flatten to a circular disc.

When the noodles turn golden brown and crispy at the bottom, flip them over.

Fry until the other side also turns brown and crispy.

Remove from the pan and set it on a wire rack on top of a lined baking sheet to drain excess oil.
Saute the Protein
In a frying pan, heat about 1 tablespoon oil and add the marinated protein plus carrots (if you are using carrots).

Cook until brown, then add the saute mix, cook for 2 minutes.

Add the chicken broth and let simmer for 2 minutes.

Make a well in the middle of the pan and add the cornstarch slurry while slowly mixing.

This will quickly thicken the sauce so watch carefully and turn off the heat when the sauce has reached your desire consistency.

On a plate arrange the noodles, by placing the pan-fried noodles first then adding the sauteed topping. Serve immediately.
Disclaimer: Nutritional values were calculated with the Spoonacular Food API and should be used for informational purposes only.