When you think of dim sum, what do you think of? I will bet that siu mai makes your top three list. Sweet, porky, salty, and juicy siu mai was my gateway dumpling to the world of dim sum. Over time, I learned to make a simple siu mai recipe for those times when dim sum restaurants are unreachable. As easy as it is to buy ingredients for siu mai filling in Tbilisi, my location doesn't give me immediate access to the correct type of wrappers. This siu mai wrapper recipe works in a pinch!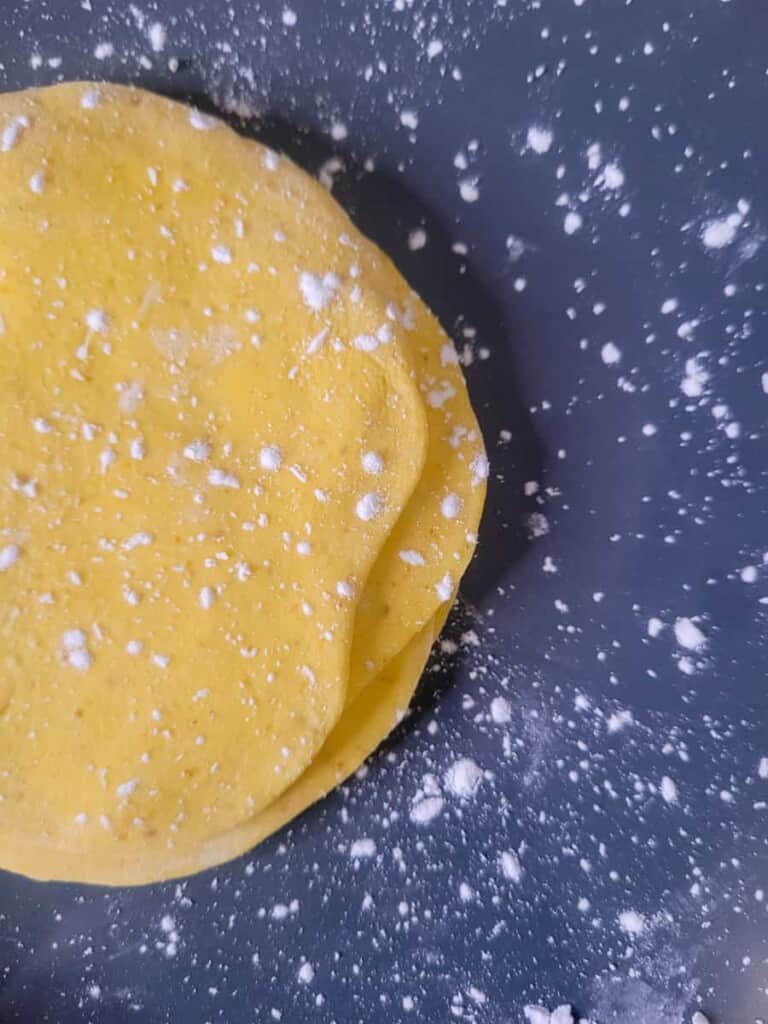 Parts of the Siu Mai
There are two main parts to siu mai dumplings as with other dumplings - filling and wrapper. Dumpling wrappers are not multi-purpose and certain fillings require specific types. Siu mai wrappers don't completely cover the shrimp and pork filling. They 'wrap' around the meat like a cup rather than a blanket. So they must be structured enough to hold the shape of siu mai. Wrappers for siu mai should be more resilient than a regular dumpling wrapper. We add salt to the dough to make it resilient.
Coloring Siu Mai Wrappers
The most popular siu mai wrapper color is yellow, but natural wrappers are white. I wanted to create that popular dim sum look with the yellow wrappers, so I used a bit of turmeric to color the dough in this siu mai wrapper recipe. The amount of turmeric mixed in the dough does not add taste to the dough.
How to Make Siu Mai Wrappers
Making siu mai wrappers consists of a similar process as steamed or pan-fried dumpling wrapper recipes with the hot water dough technique.
Start by measuring about 160 grams of flour in a bowl. In the bowl, add salt and turmeric. Mix the dry ingredients together. You might not see the turmeric after you mix it in. But once you add water, it will color the dough yellow! Then boil water to 150-160°F (65-70°C).
Add the water to the bowl of dry ingredients and combine until it forms a shaggy dough. Knead until the dough removes all the dry flour from the walls and creates a smooth ball (about eight minutes).
Cover and let it sit for fifteen minutes.
Making Siu Mai Pieces
Below are two options for making the individual pieces of siu mai wrappers. Based on my experience, there isn't much of a difference in taste or texture. But with regards to efficiency, Option #2 is the faster route!
Option #1
Make a donut by poking the center with your finger and stretching out the hole. Slice one section and gently roll under your palms until you have a long log. Then cut the dough into pieces weighing about thirteen grams each.
Shaping Siu Mai Wrappers (Option #1)
Keep the pieces covered until you are ready to roll them. Work with one piece at a time and flatten with the palm of your hand. Use a small rolling pin made for dumpling wrappers to roll out a circle that is about 2.5-3 inches in diameter (6-7 cm).
Option #2
Divide the dough in half by making two smaller balls. Dust a large work surface and a large rolling pin with cornstarch. Work with one ball at a time, and roll out the dough until you get a large flat surface about an eighth of an inch thick (or a third centimeter).
Shaping Siu Mai Wrappers (Option #2)
Use a large cookie cutter with a diameter of 2.5-3 inches (6-7 cm) and cut out circle shapes from the dough.
After Shaping Dumpling Wrappers
Dust both sides of each wrapper with cornstarch and keep covered until ready to use.
How to Make Siu Mai Filling
I have a dedicated post to making siu mai here. You can use this homemade recipe for the wrappers to make a 100% from-scratch dumpling!
When to Use Siu Mai Dumpling Wrappers
I highly recommend using siu mai dumpling wrappers as soon as you make them. They are fresh, and using new wrappers are easier to pleat around the filling.
Have You Tried This Recipe?
Simply rate the recipe by clicking on the ⭐️s on the recipe card. Have something to say? Please leave me a comment down below telling me what you think of this recipe.
Bonus: Let me and other readers know what you did to make this recipe your own - 💫 let's inspire each other!
Also, follow me on Instagram [@seesfoodwilltravel] and send me a DM with a picture of what you made. I would love to share and celebrate YOUR creation with our budding community 💞
Check out Sees Food, Will Travel on Pinterest and Facebook for more delicious updates.
Siu Mai Wrappers
This is a homemade siu mai wrapper recipe that holds the meat filling and has that signature dim sum restaurant yellow color with the help of a bit of turmeric.
Ingredients
160

grams

all-purpose flour

⅛

teaspoon

salt

¼

teaspoon

turmeric

230

grams

water (about ⅓ cup), 150-160°F (65-70°C)
Instructions
In a bowl, add flour, salt, and turmeric. Whisk together

Add heated water as you stir, keep adding until you get a shaggy dough

Knead the dough until smooth (about 8 mins) and you can form a smooth ball

Cover the ball of dough and let it rest for 15 minutes
Option #1
Make a donut by piercing a hole in the center of the ball. Stretch out the hole then slice one section to make a log. Gently roll under your palm to make a longer log.

Cut pieces of the log weighing about 12-13 grams.

Work with one piece at a time. Press down on one piece until you have get a flat disc. Use a small rolling pin to flatten the disc with a 2.5-3 inch (6-7 cm) diameter

Repeat the step above until all pieces are fully shaped. Use as soon as possible and keep the pieces covered before adding the filling.
Option 2
Split the dough in half and work with one half at a time. Use a rolling pin to roll the dough until you have a rectangle shape about ⅛ inch (⅓ cm) thick

Use a round cookie cutter with a diameter of 2.5-3 inches (6-7 cm) to cut out shapes.

Repeat the step above with the second ball until all you made as many pieces as possible.. Use as soon as possible and keep the pieces covered before adding the filling.
Disclaimer: Nutritional values were calculated with the Spoonacular Food API and should be used for informational purposes only.