This Filipino-style ice candy recipe made with condensed milk makes a creamy base for all types of flavors. It's a flexible recipe for someone to experiment with different types of milky ice pop flavors. I made strawberry, ube, and (one!) vanilla.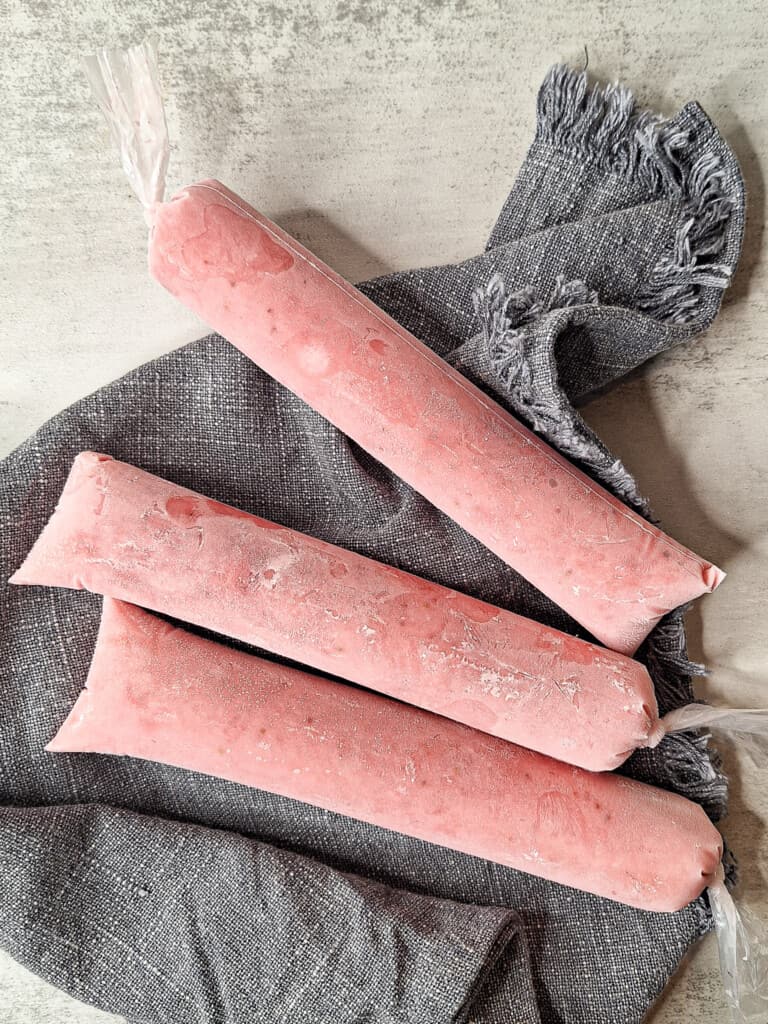 Jump to:
As someone who is Filipino, a love for sweet desserts is in my blood and I'm fond of making Filipino-inspired desserts such as this creamy maja blanca recipe and ube pot de creme. Now that it's hot again, I'm excited to finally try making my version of these homemade ice pops!
What is Ice Candy?
This sweet treat is a popular summer snack in the Philippines made by freezing fruit juice in thin narrow plastic bags. They come in many flavors: strawberry, ube (purple yam), mango, buko (young coconut), avocado, and more!
The most popular types are creamy ice candies, usually made with evaporated milk, cream, or coconut milk. They are halfway between ice cream and juice pops with a smooth, milky consistency along with icy bites to keep you cool.
Ingredients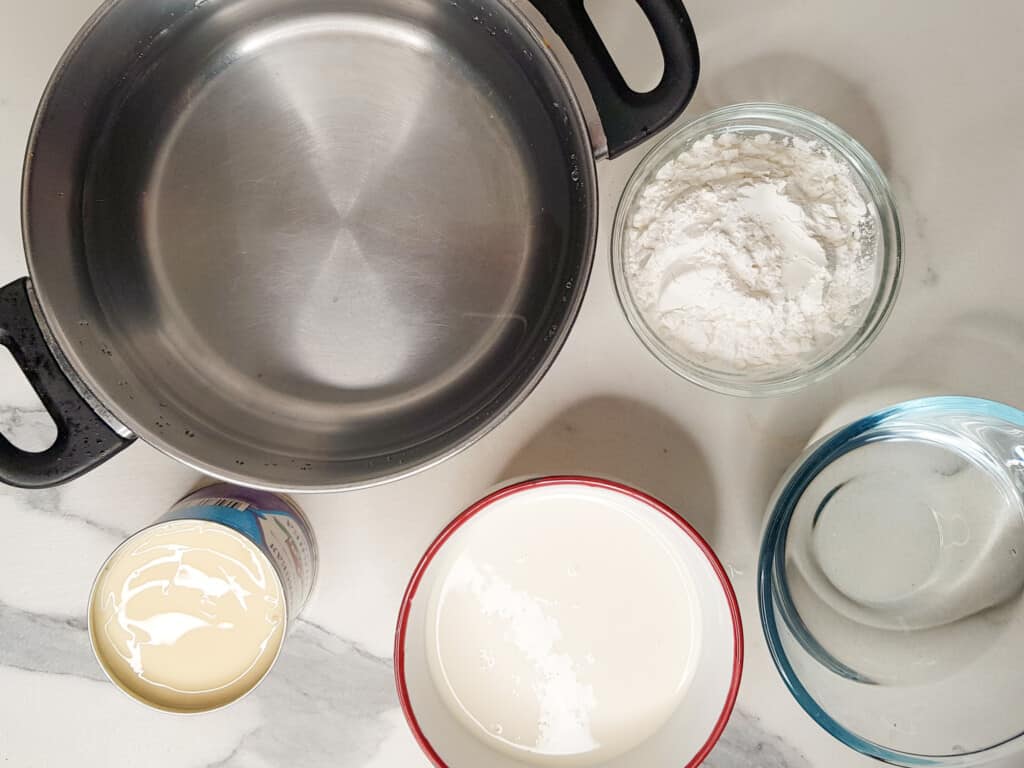 You will need the following items for a creamy ice candy base. The recipe card below also suggests flavoring for the ube, vanilla, and strawberry flavor!
Water
Cornstarch
Evaporated Milk or Cream

Check the substitutes below for what I used and other options if you don't have evaporated milk in your area.

Condensed Milk
Granulated Sugar
Substitutes
Evaporated Milk: Use heavy cream or whole milk as alternative dairy. Heavy cream will make it more creamy and whole milk will do the opposite. Another great option is coconut milk.
Cornstarch: Tapioca starch and cassava starch work just as well as cornstarch. Mix them with water to avoid clumps in your pot.
Sugar: You can use any sweetener you'd like here, as long as it blends along with the base mixture as it thickens.
Special Equipment You'll Need
Since you are making pops you will need some items that you probably don't just have lying around in the kitchen.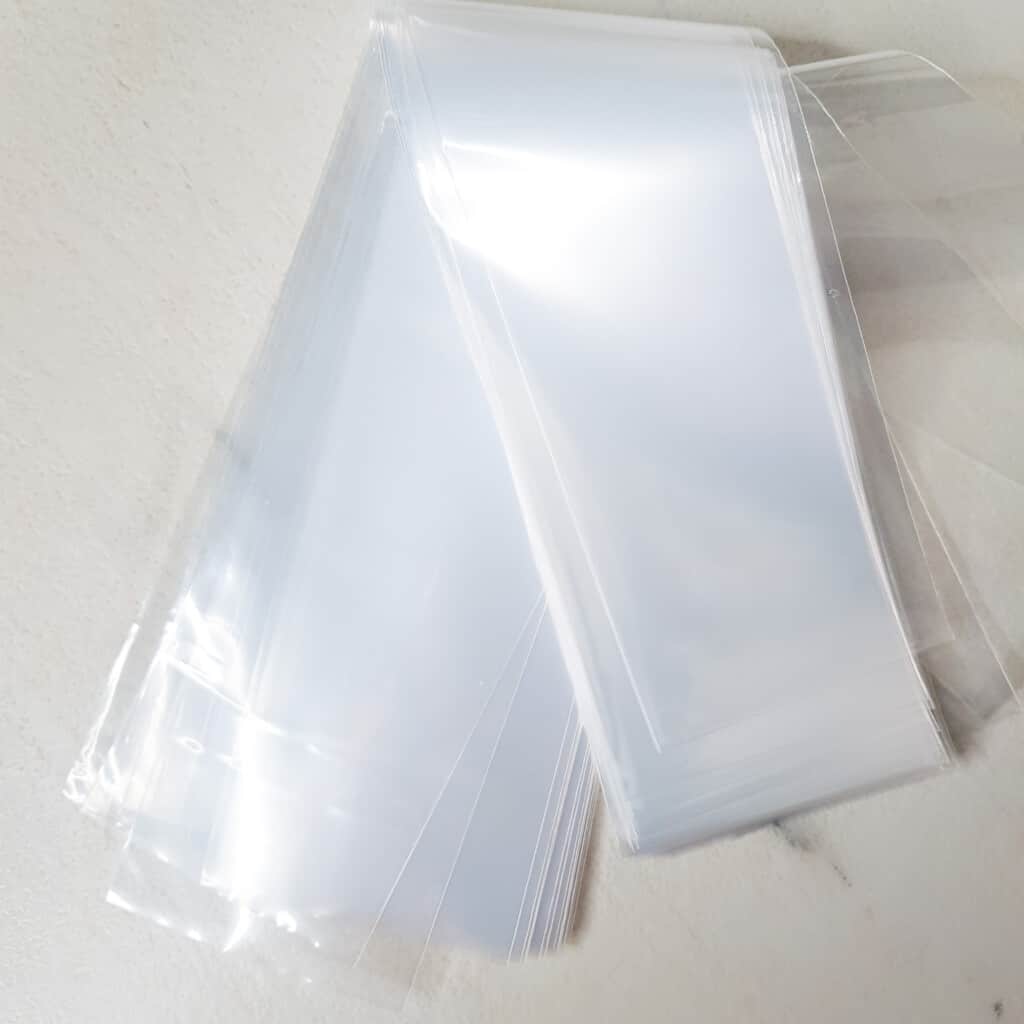 Ice Candy Plastic Bags: These are listed on Amazon as popsicle bags. You will want to get the pack with the size 2 inches by 12 inches.
Funnel: You will need a funnel with a big enough hole to allow the thickened mixture to fall through the funnel into each bag.
Recipe Tips
Be Patient: Since you will cook the filling before freezing the pops, you need to keep the mixture smooth. To do that, keep the fire on low heat as you continuously stir to ensure that you thicken everything evenly.
Adding Sugar: I have a suggested amount of sugar in the recipe card below, but you may want to customize this. Add sugar a tablespoon at a time and taste test the mixture until you get a sweet flavor you enjoy. When the pops freeze, they will taste the same.
Prepare Your Workspace: Dedicate and ready an area where you can assemble the popsicles while the mixture cools. That way, you can work efficiently without making too much of a mess. Yes, it can get messy!
Practice Tying: Before you start on this creamy Filipino ice candy recipe, I suggest practicing how to tie the ends of the popsicle bag. Once filled, the bags should be taut and upright when tied. It's an art, but this ice candy knot-tying tutorial is a helpful start!
How to Make Ice Candy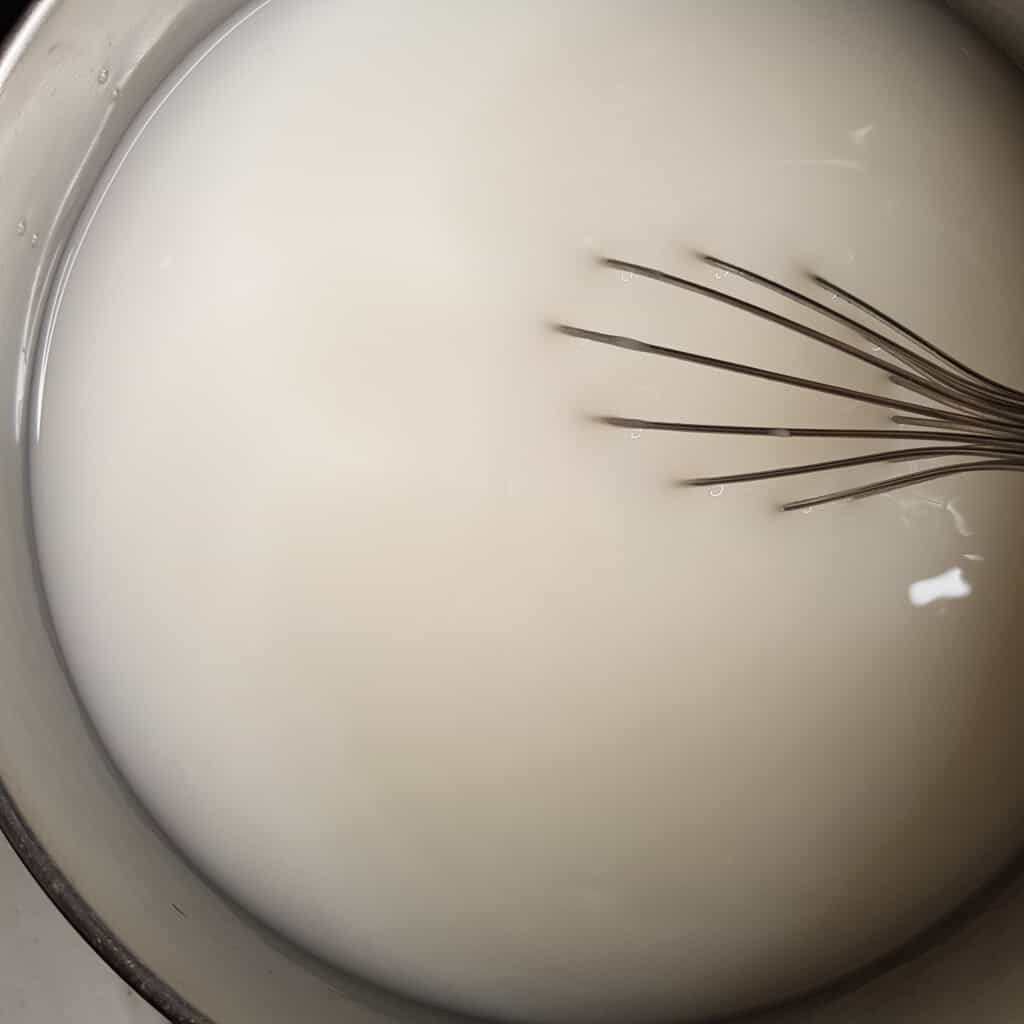 You will cook the filling before flavoring them while maintaining a thick and loose custard-like consistency. Below is a quick preview of what to do:
Mix cornstarch, water, and condensed milk together.
Boil together until the mixture has a thick soupy consistency.
Add flavoring and additional ingredients.
Cool the filling.
Assemble the ice candies.
Freeze the ice candies overnight.
It doesn't sound too bad, eh? The hardest part will be assembling them. Funnels are fussy and sometimes don't play nice! Plus, you need to keep the bag taut as you tie a knot at the ends of each pop.
Variations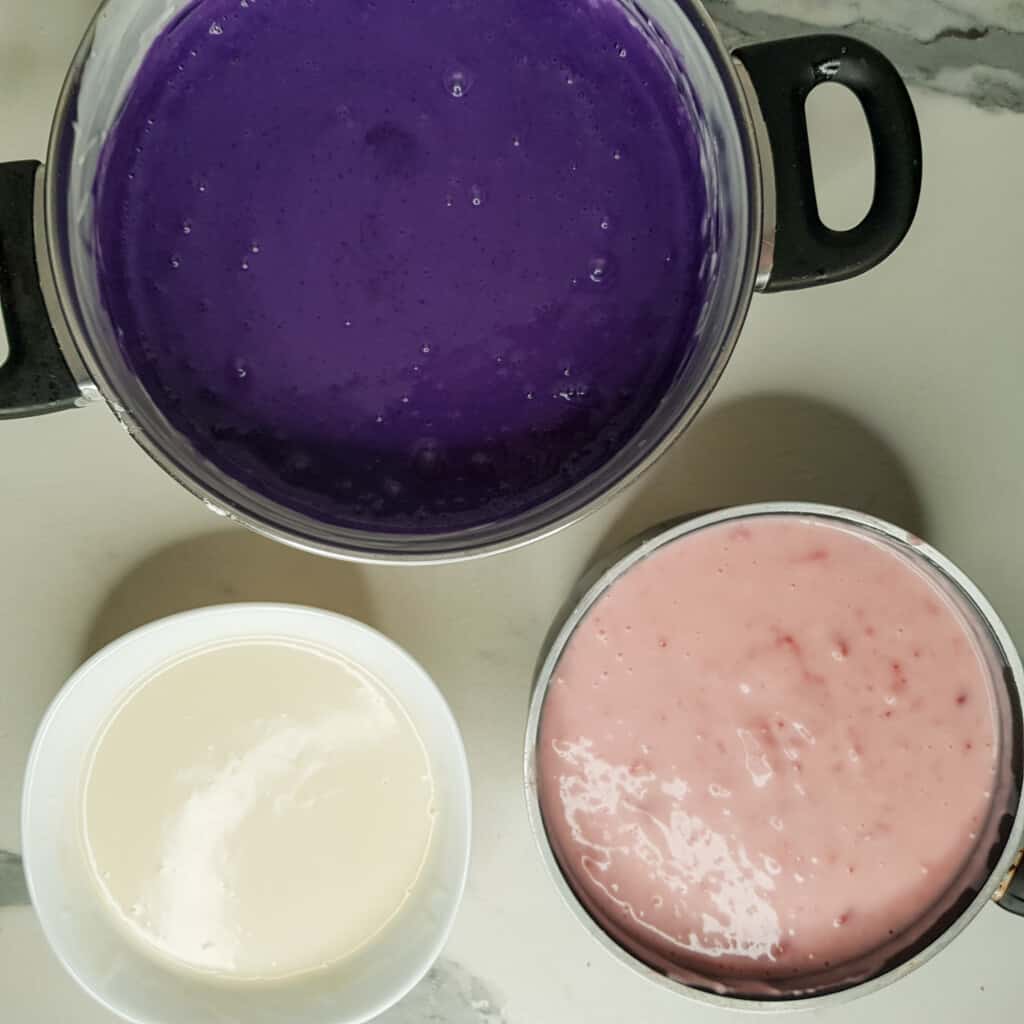 You can split the ice candy base in different containers and add additional ingredients to each mix. I don't specify exactly how much of each flavor to add because this recipe is meant to be flexible for you! So taste test as you go along to make sure the flavor make is how you want it to taste.
These are the variations of ice candies I made (included in the recipe card:
Strawberry: Add some mashed strawberries to the thickened cream and heat the pot a bit more to combine the flavors and integrate the fruit.
Ube: I used a few drops of ube extract and mixed everything thoroughly to keep the consistency smooth. If I were to make this again (in a future post!), I would use coconut milk instead of cream for a more pronounced flavor.
Vanilla: I think vanilla gets often overlooked because it can be boring, but adding a few drops of vanilla extract to the ice candy base elevates the flavor!
Other Fruits and Flavors:

Make this recipe your own by adding mashed fruit that plays well with cream such as avocado, mango, passion fruit, jackfruit, pineapple - anything you desire!
I encourage you to get creative and weird - I've seen milk and cornflakes, halo-halo, cheese, and corn fillings.
The magic of Filipino ice candy is that all you need is a solid base filling to take on whatever flavor you want to create!
Frequently Asked Questions
Is ice candy a dessert?
You can call ice candy a dessert, but it is also considered a snack on hot days in the Philippines. Ice candies are street food made for walking and eating.
How long does ice candy last in the freezer?
If they aren't gobbled up within days, they can sit in the freezer for up to one month.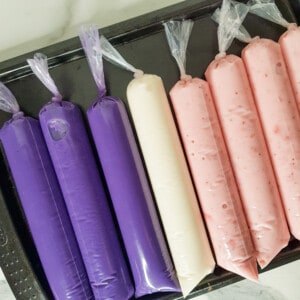 Creamy Filipino-Style Ice Candy Recipe
This recipes makes a creamy ice candy base that is flexible for you to add your own flavors! You can make about 12 - 14 popsicles with this recipe to conveniently have in the fridge during the summer season!
Equipment
1 food grade funnel

12-16 ice candy plastic bags

size: 2 inches by 12 inches
Ingredients
Creamy Ice Candy Base
120

grams

cornstarch

1900

grams

water

360

grams

evaporated milk

optional: heavy cream

300

grams

condensed milk

100

grams

granulated sugar
Strawberry
mashed strawberries

lemon juice
Instructions
Make the Base
In a pot mix the cornstarch with water until there are no lumps left.

Slowly stir in the evaporated milk (or heavy cream) until everything is blended well.

Place the pot on medium low heat and begin stirring as it thickens. Keep stirring to avoid clumps as the mixture thickens. Stop when the mixture has the consistency of a loose custard. Remove from the heat and add the sugar a tablespoon at a time until you get your desired sweetness. It may be less or more than the ingredient measurement above.

Making Different Flavors: Split the mixture into different containers and make the flavors that you would like. Strawberry: Mash some strawberries (it can however much you want) and add a bit of lemon juice. Taste test to see if it needs more sugar or strawbery flavor. If the mixture gets too thin, place the mixture on low medium heat to thicken again.Ube: Add a few drops of ube extract and mix very well. Taste test to see if you want to add more ube extract. Vanilla: Add a few drops of vanilla extract and mix until the mixture is white again. Taste test to see if you need to add more extract.

Set the mixture aside to cool.
Assemble
Take a plastic sleeve and open the end. Place the funnel inside the opening and hold it tight enough so the two pieces do not separate.

Add about 1.25 cups of the mixture to the plastic sleeve.

Once filled, pinch the end where the liquid ends close to the opening to make the popsicle sleeve taut.

Twist the end and tie a knot close to where you pinched the bag.

The ice candy should be taut and be able to stand on its own.

Place the finished ice candies on a baking sheet to freeze overnight.

Serve once they are frozen and hard all the way through.
Nutrition
Calories:
191
kcal
Carbohydrates:
34
g
Protein:
4
g
Fat:
4
g
Saturated Fat:
3
g
Polyunsaturated Fat:
0.2
g
Monounsaturated Fat:
1
g
Cholesterol:
17
mg
Sodium:
72
mg
Potassium:
184
mg
Fiber:
0.1
g
Sugar:
25
g
Vitamin A:
138
IU
Vitamin C:
1
mg
Calcium:
154
mg
Iron:
0.2
mg
Disclaimer: Nutritional values were calculated with the Spoonacular Food API and should be used for informational purposes only.
Have You Tried This Recipe?
Simply rate the recipe by clicking on the ⭐️s on the recipe card. Have something to say? Please leave me a comment down below telling me what you think of this recipe.
Bonus: Let me and other readers know what you did to make this recipe your own - 💫 let's inspire each other!
Also, follow me on Instagram [@seesfoodwilltravel] and send me a DM with a picture of what you made. I would love to share and celebrate YOUR creation with our budding community 💞
Check out Sees Food, Will Travel on Pinterest and Facebook for more delicious updates.