Disclosure: Some of the links in this post are affiliate links. This means if you click on the link and purchase an item, Sees Food, Will Travel will earn a commission at no extra cost to you. See terms and conditions for details.
This creamy bacon, garlic, avocado, and cream cheese dip recipe needs only a few ingredients to make a perfect flavor-packed appetizer! The avocados and cream cheese give it creaminess, the bacon adds a salty smokey flavor, the garlic gives it a kick, and kewpie mayo rounds out this flavor bomb with a tangy background. Make this avocado and cream cheese dip for your next potluck, and get ready to receive compliments!
I LOVE unique dips (see: sardine pate) and this one has spoken to a lot of people over the several get togethers I brought it to. I'm sure this will make a hit at your next gathering too!
Why You'll Love It
I developed this quick and easy dip recipe loaded with avocados and garlic for a friend's birthday party. He has five favorite foods he swears make every dish even better when added: avocado, garlic, egg, cheese, and bacon.
For this dip you will use straight up bacon, garlic, and avocados. Since there are many types of cheese available, this recipe calls for cream cheese - an easy-to-find item also used across many types of dips. For the egg component, you will use mayonnaise (kewpie) to make an even creamier texture.
Does It Have A Name?
When I debuted this loaded cream cheese dip, I didn't have a name for it and asked the guest of honor to name the dish. He immediately termed it "jammus," but it doesn't contain chickpeas.
So the next day (and soberly) he decided to coin it OJare. O (pronounced as "oh") is a word for "five" in Korean giving a nod to the number of main ingredients. His name starts with J, and because it isn't quite hummus (which literally means "chickpeas"), he went for Jare. OJare!
So what was the result when I made a dish that included all these ingredients? An empty dip bowl!
Ingredients For Avocado Cream Cheese Dip
You will need the five ingredients: avocados, cream cheese, garlic, kewpie mayo, and bacon. But feel free to add your own twist when it comes to seasoning the dip!
Avocados
Cream Cheese
Garlic
Kewpie Mayo
Crisped Bacon
Lemon Juice
Salt
Crushed Chili Flakes
Substitutes
Kewpie Mayo

: Any type of mayonnaise works for this dish. For me, my preferential mayonnaise is kewpie because I find it to be richer than others.


Cream Cheese: I've made this with mascarpone cheese as well and it comes out even lighter than when cream cheese is used.


Chili Flakes: You don't have to add chili flakes, but the flakes give the dip an additional kick.
Equipment You'll Need
Food Processor: You are essentially adding all the ingredients together and blending them until the dip is smooth, light, and fluffy.


Grater: You will need to grate the raw garlic over the other ingredients.


Spatula: Use a flexible spatula such as one made with silicone to scrape the unblended avocado from the sides of the food processor.
Recipe Tips
Taste Test: I can't say this enough, but since this dip is for you to enjoy, make sure you that like the amount of salt, lemon, and chili flakes in the dip.


Refrigerate: The flavors are EVEN better after you've given it time to sit in the fridge for at least an hour.
How To Make This Creamy Avocado Cream Cheese Dip
Follow these very simple steps to make this quick and easy bacon avocado cream cheese dip!
Add all ingredients to a food processor.
Pulse a few times until smooth; scraping along the sides every so often.
Spoon the blended dip into a bowl.
What To Eat With Avocado Dip
This appetizer goes great with tortilla chips, but I've seen people add it as a spread on sandwiches, or just as a topping to other snacks, such as empanadas. You have a lot of options when it comes to choosing what to eat with this delightfully flavor-packed avocado dip!
Frequently Asked Questions
What's the difference between this avocado dip vs. guacamole?
The main difference is that guacamole uses a number of fresh ingredients such as tomatoes, onions, and cilantro. This dip uses cheese and guacamole does not have cheese in it.
How long will avocado cream cheese dip last?
This dip should last for about 3-4 days in a tightly sealed container in the refrigerator.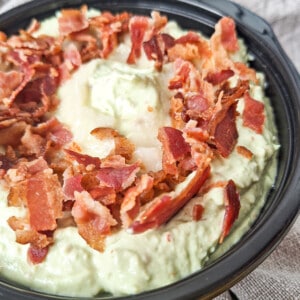 Creamy Avocado, Bacon, Garlic, and Cream Cheese Dip Recipe
This creamy garlic bacon avocado dip is the perfect appetizer or snack for your next get-together! It's made with just a few simple ingredients, but it's packed with flavor. Not only is it amazing as a dip, but you can use it as a spread or topping for other snacks that need dressing up.
Disclosure
The equipment and ingredients sections contain affiliate links to products I love to use as well as items that I personally believe make this recipe the best version of itself.
Ingredients
2

ripe avocados

½

teaspoon

lemon juice (half a lemon)

or more to taste

4

pieces

cooked bacon, crumbled

2

cloves

garlic

2

tablespoon

kewpie mayo

225

grams

cream cheese, softened

¼

teaspoon

salt

or more to taste

¼

teaspoon

red pepper flakes

garlic oil spread and bacon bits

optional topping
Instructions
Slice the avocados in half and remove the pit. Scoop out the flesh and add to a food processor.

Add the crumbled bacon, cream cheese, kewpie mayo, salt, and chili flakes. Grate the cloves of garlic on top of the ingredients (for a stronger flavor).

Squeeze the juice of about half a lemon into the food processor. Pulse a few seconds then open it to scoop down the unblended ingredients along the side of the food processor.

Pulse again until everything is incorporated and well-blended. Remove the cream cheese dip from the food processor and place in a bowl to refrigerate for at least an hour.

Optional Before serving, make a garlic oil spread by mixing half a teaspoon of neutral oil, a pinch of salt, half a teaspoon of water, and one clove of minced garlic. Mix it together and spread it on top of the dip. Sprinkle with some more crumbled bacon.

Once it's been refrigerated, serve with tortilla chips.
Nutrition
Calories:
275
kcal
Carbohydrates:
8
g
Protein:
4
g
Fat:
26
g
Saturated Fat:
10
g
Polyunsaturated Fat:
4
g
Monounsaturated Fat:
11
g
Trans Fat:
0.01
g
Cholesterol:
40
mg
Sodium:
262
mg
Potassium:
385
mg
Fiber:
5
g
Sugar:
2
g
Vitamin A:
630
IU
Vitamin C:
7
mg
Calcium:
47
mg
Iron:
0.5
mg
Disclaimer: Nutritional values were calculated with the Spoonacular Food API and should be used for informational purposes only.
Have You Tried This Recipe?
Simply rate the recipe by clicking on the ⭐️s on the recipe card. Have something to say? Please leave me a comment down below telling me what you think of this recipe.
Bonus: Let me and other readers know what you did to make this recipe your own - 💫 let's inspire each other!
Also, follow me on Instagram [@seesfoodwilltravel] and send me a DM with a picture of what you made. I would love to share and celebrate YOUR creation with our budding community 💞
Check out Sees Food, Will Travel on Pinterest and Facebook for more delicious updates.