Want to impress your guests at your next dinner party? This easy ube pot de crème recipe will definitely help! The color of this ube dessert is a lovely deep lavender color on your spoon. The pot de crème taste is delicate, but you can taste the notable ube flavor.
Update Disclosure: This post has been updated for one or more of the following reasons: easier reading, updated photos, clearer instructions, and just plain ol' improvements to the recipe (as noted).
Jump to:
Why Pot de Crème?
I think pot de crème is easily overlooked as a dessert option because there are easier alternatives such as mousse and pudding. But mousse or pudding can't give the same richness as pot de crème. I also have the impression that many people think it is hard to make pot de crème because it has to bake in a water bath. But it is not that intimidating as it seems.
Ingredients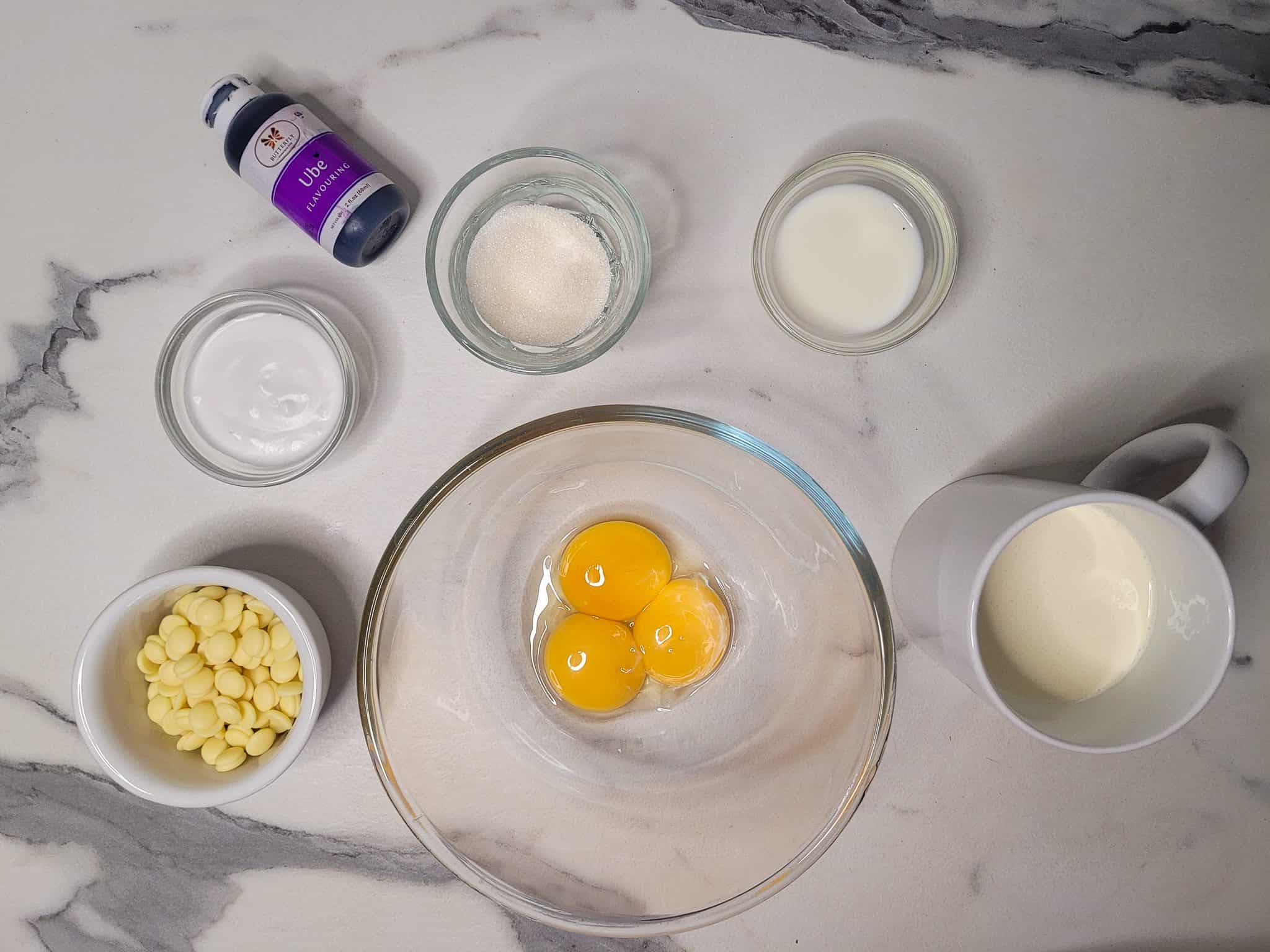 Here are the very few things for this recipe:
Heavy Cream
Milk
Coconut Milk
White Chocolate
Egg Yolks
Granulated Sugar
Ube Extract
Substitutes
Milk: You can replace the heavy cream listed above for whole milk.
Tips Before Making
Make it Ahead of Time: Make sure you carve out a few hours for setting the custard in the fridge. Three hours should do the trick. But giving the flavors time to intensify overnight is better.

Cool the Heated Milk Slightly: When you heat the milk and melt the white chocolate, allow the mixture to slightly cool before adding to the eggs. This way, you can avoid curdling the eggs.

Be Careful with the Extract: The extract gives the finished product an intriguing taste and eye-catching color, but it sucks to clean up when it's spilled.

Keep the Ramekins Close: Prepare your ramekins and a deep dish close to your prep area, so you don't slosh purple ube custard liquid all over your kitchen.

Strain: Do not skip straining the mixed custard through a sieve. You will achieve a smoother texture than if you were to pour the custard straight from the bowl to the ramekins.

Use Hot Water for the Bain-Marie: One of the times I was testing this recipe, I forgot to use hot water for the bain-marie, and the custard on the bottom portion of the ramekin took longer to cook than the top. Don't be like me!

Tap Away: As extra caution against air bubbles, you could strain it a second time when you pour the custard into the ramekins and then gently tap the ramekins on the counter to pop extra air bubbles.

Check the Custard: After baking, jiggle a ramekin. If the middle wiggles more loosely than the outer parts, you should continue baking for about five minutes. However, the custard should still be slightly jiggly overall. They will solidify while chilling in the fridge later on.
How to Make Ube Pot de Crème
Here is a detailed rundown of the process:
Preheat the oven to 150°C (300°F).
Mix egg yolks with sugar in a bowl and set aside.
Add the white chocolate, cream, milk, and coconut milk to a pot and whisk together.
Heat the pot and allow the chocolate to melt.
Slowly and gently combine the heated milk mix, egg yolks, and ube extract.
Strain and pour into individual ramekins.
Place the ramekins in a deep baking dish and fill it with hot water halfway up the ramekins.
Bake in the preheated oven for thirty minutes, then pull it out to cool on the countertop.
Transfer to the fridge to set.
Topping Options
I personally think this unique dessert doesn't need a topping. In my testing, I added fruits in addition to whipped cream, but the fruit will overpower the flavor of the ube. Plain whipped cream works if you do want to add something simple.
Another option is to make an ube whipped topping with the leftover egg whites. I made a meringue swiss cream by adding ube halaya and extract. Topping the pot de crème with it elevated this dessert. But it is a rich topping to something already decadent.
A good middle ground would be to take a bit of extract and add it to whipped cream. The topping will be light, and the flavor of ube will carry through. But let's be honest, the only way to know what you like would be to make this ube pot de crème!
Other Filipino Inspired Desserts
Cream is a key characteristic to many Filipino desserts and these recipes serve it up in a hearty dose:
Ube Pot de Crème Recipe
Ube pot de crème is a decadent dessert made with white chocolate and ube extract. Once baked you should let it rest for at least three hours in the fridge before you can enjoy it. But once the custard has set, all you have to do is make sure not to eat it too fast!
Ingredients
240

grams

heavy cream

2

tablespoon

milk

2

tablespoon

coconut milk

65

grams

white chocolate

3

egg yolks

2

tablespoon

granulated sugar

¼

teaspoon

+ ⅛ teaspoon ube extract
Instructions
Preheat the oven 150°C (300°F). In a bowl add egg yolks and sugar. Whisk and set aside. In a pot, add heavy cream, coconut milk, milk, and white chocolate then place on a stove on low heat. Gently stir as the white chocolate melts. When the white chocolate has completely melted, remove from the stove.

Add the hot mixture to the bowl of egg yolks slowly as you whisk the egg yolks. Then add the ube extract and mix all the ingredients together until well incorporated.

Strain the custard mix into a container with a spout.

Pour the mixture into ramekins and gently tap the ramekins to remove air bubbles. Then place the ramekins in a deep baking dish. Add hot water to the baking dish filling it up about halfway of the height of the ramekins.

Bake for 30-35 minutes until the custard is slightly jiggly. Remove the ramekins from the hot water and let it sit on the counter to reach room temperature.

Cover the cooled ramekins and place on the fridge for about 3 hours. Serve it plain or topped with whipped cream.
Nutrition
Calories:
377
kcal
Carbohydrates:
18
g
Protein:
5
g
Fat:
32
g
Saturated Fat:
20
g
Polyunsaturated Fat:
2
g
Monounsaturated Fat:
9
g
Cholesterol:
218
mg
Sodium:
41
mg
Potassium:
146
mg
Fiber:
0.03
g
Sugar:
18
g
Vitamin A:
1094
IU
Vitamin C:
1
mg
Calcium:
100
mg
Iron:
1
mg
Disclaimer: Nutritional values were calculated with the Spoonacular Food API and should be used for informational purposes only.
Have You Tried This Recipe?
Simply rate the recipe by clicking on the ⭐️s on the recipe card. Have something to say? Please leave me a comment down below telling me what you think of this recipe.
Bonus: Let me and other readers know what you did to make this recipe your own - 💫 let's inspire each other!
Also, follow me on Instagram [@seesfoodwilltravel] and send me a DM with a picture of what you made. I would love to share and celebrate YOUR creation with our budding community 💞
Check out Sees Food, Will Travel on Pinterest and Facebook for more delicious updates.