Disclosure: Some of the links in this post are affiliate links. This means if you click on the link and purchase an item, Sees Food, Will Travel will earn a commission at no extra cost to you. See terms and conditions for details.
Langos, a fried yeasted bread, is a Hungarian street food that is sure to make your mouth water! It comes piping hot, after deep frying, then loaded with a simple combination of garlic oil, sour cream, and cheese! Of course, there are other toppings available, but this langos recipe provides you with a simple, traditional version.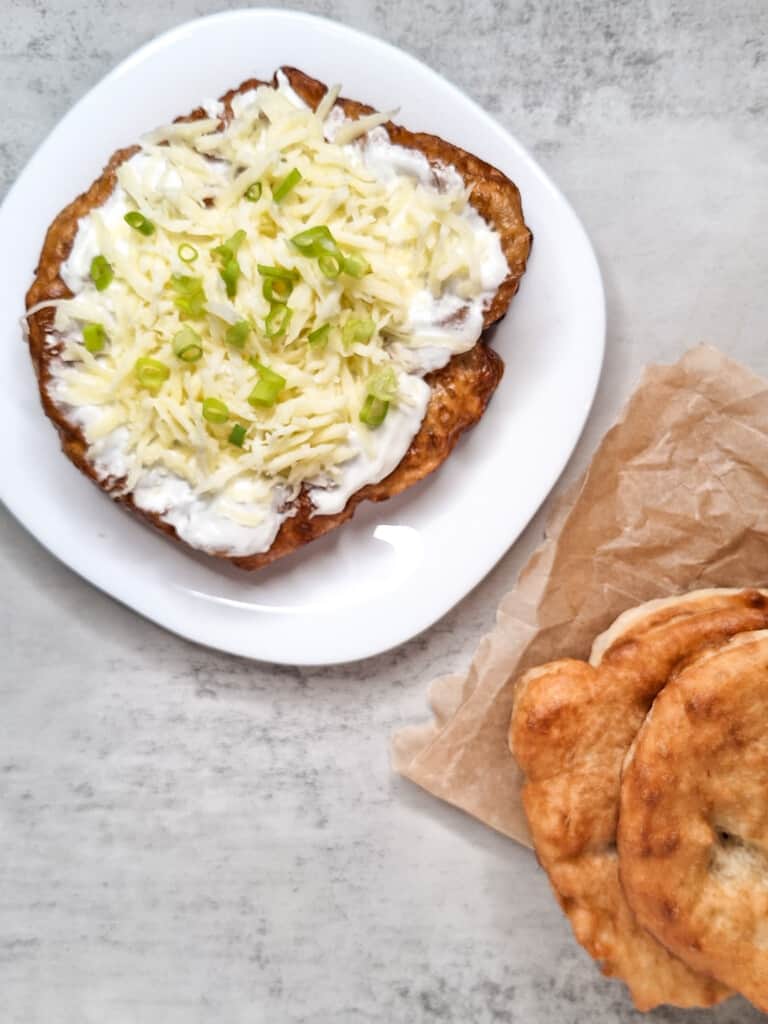 What Is Hungarian Langos and Why You'll Love It
Although its origins are a little blurry, langos has been mentioned in Hungarian literature as early as the 14th century. It is a Hungarian fried dough dish typically served with sour cream, cheese, and garlic. Other toppings that are sometimes used include ham, sausage, bacon, onions, and mushrooms. It can also be found in other parts of Central Europe.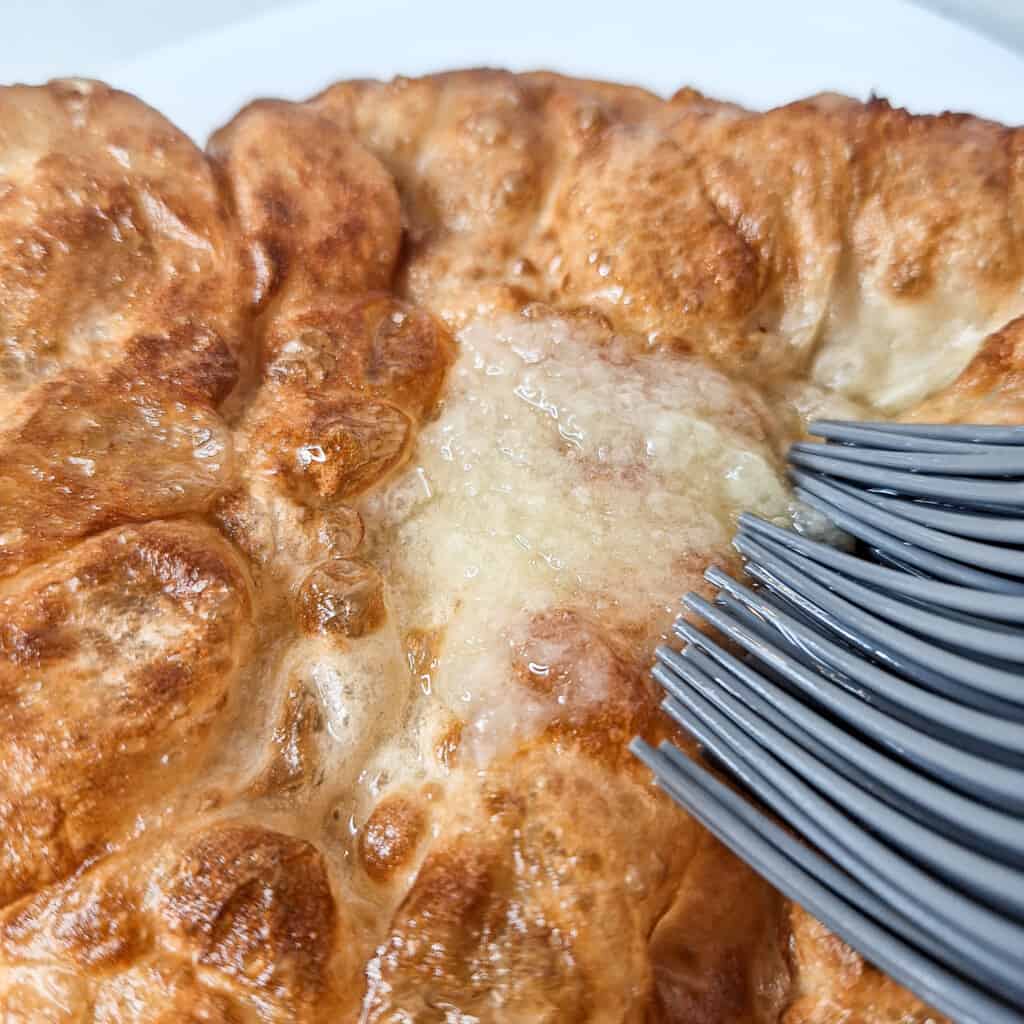 Langos is made from a simple dough of flour, water, yeast, and salt. The dough is kneaded until smooth, then allowed to rise for about an hour. Once the dough has risen, it's rolled out into thin circles and fried in hot oil until golden brown.
These days, it's a popular street food snack all over the country. It's great for anyone looking for a simple and affordable snack. In Budapest, this is the number one option for a late-dining drunk snack or morning-after hangover meal in the city!
Ingredients
You need a few ingredients and a bit of time (more on that later) for this langos recipe.
Flour
Milk
Water
Active Dry Yeast
Sugar
Salt
Garlic
Shredded Cheese
Neutral Oil
Sour Cream
Substitutes
Cheese: I prefer to use mozzarella since it is mild and makes a great accompaniment to the strong flavor of grated garlic. But feel free to change up the cheese to your preference.

Sour Cream: A thick, high-fat content sour cream works great for langos (it's a treat!) but you can also use cream cheese.

Yeast: You can use any type of yeast available in your kitchen, just make sure to adjust the amount and resting time based on what kind you end up using.
Equipment You'll Need
In addition to a large mixing bowl, you'll need some special items to make Hungarian fried bread.
Food Frying Thermometer: You'll need to specify how hot oil needs to be for frying.


Shallow Frying Pot: You can use a flattened pan, but if you want to truly deep fry, you'll need a shallow pan with a bit higher walls.
Recipe Tips
Give it Time: Give the langos dough time to completely rise in a lightly humid and warm environment based on the recommended proofing time. The end product will be a beautiful crispy, yet chewy texture.


Get Wet: Use water (not oil!) to wet your hands so you can handle the yeasted dough more precisely. Damp hands will not stick to the dough, just be careful not to splash water into your heated oil!
How to Make Hungarian Langos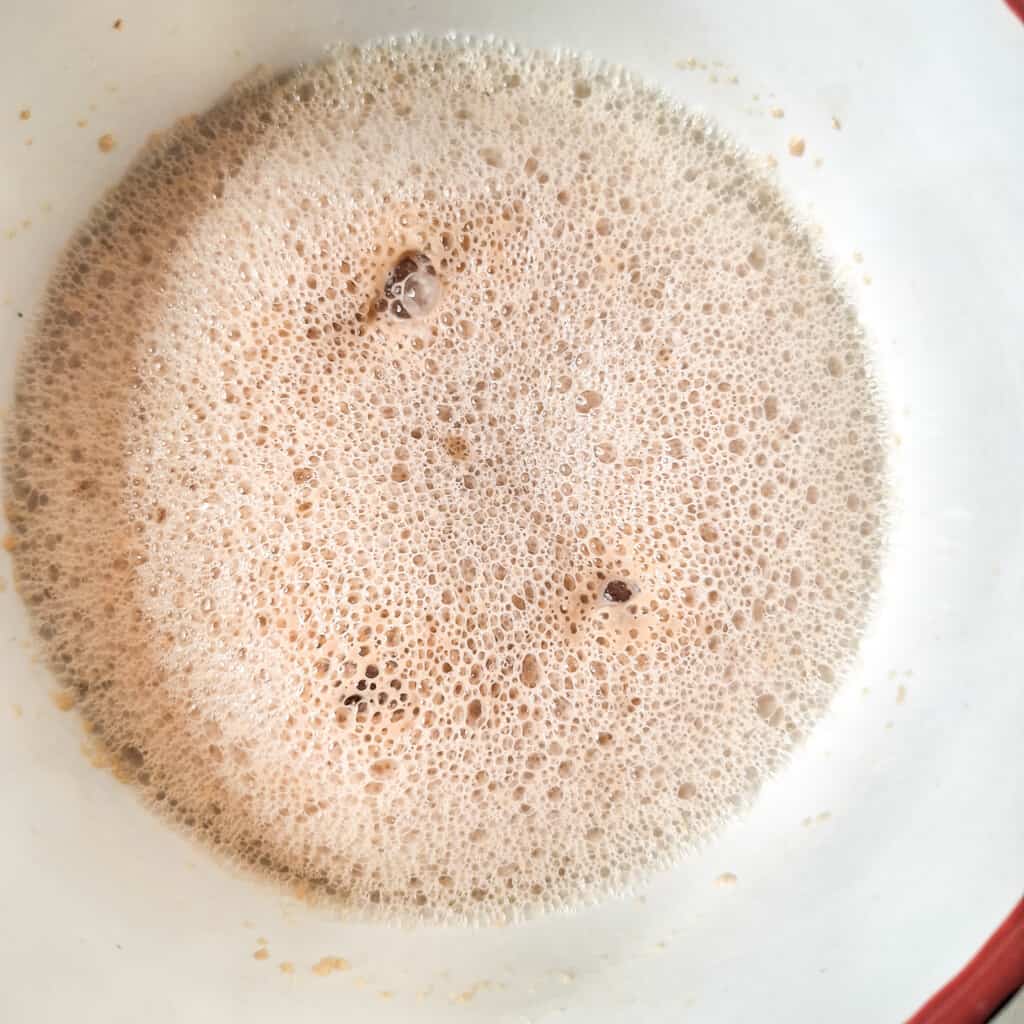 Remember when I said you'd need some ingredients and time on your hands? Here is what you'll do and why you need to set aside time:
Activate yeast in a bowl of warm milk, and sugar for ten minutes.
Add flour to a large bowl, then add salt and sugar.
Mix the dry ingredients, then add water to it.
Add the activated yeast to the bowl as well.
Cover and let it sit for forty minutes or until double in size.
Heat oil in a frying pan and add some of the proofed dough to fry.
Fry each side until golden brown.
Top with garlic oil, sour cream, and shredded cheese.
How to Serve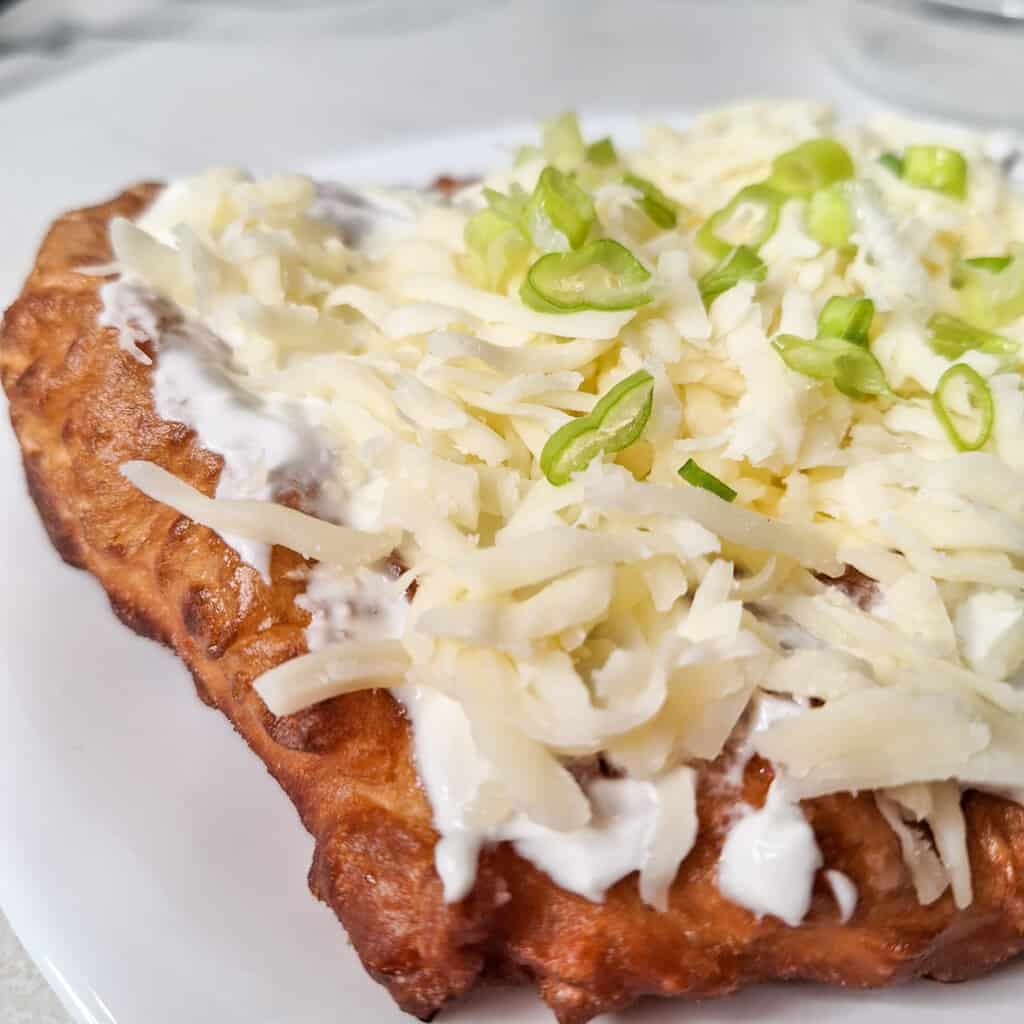 Serve langos immediately after cooking. It's best when it is still very crispy and warm. You can have it plain and add whatever topping you'd like to it.
Frequently Asked Questions
How do you pronounce langos?
Langos is actually natively spelled as lángos and pronounced as "lung-ish". 
How can I make an authentic langos?
You can make an even more classic version by frying the langos in some lard. This will create a more savory and crispy dough.
Can I store leftover langos and reheat it?
Yes! Do not add toppings to the leftover langos and you can keep them in a sealed container for two to three days in the refrigerator. To reheat, gently re-fry in a pan (very light oil or no oil if using nonstick). It should crisp up again and may have a deeper color due to the second cooking.
Garlicky and Crispy Lángos (Hungarian Fried Bread) Recipe
Lángos is a delicious and versatile dish that can be enjoyed as a snack or meal. It is a great way to experience Hungarian cuisine, and is sure to please even the pickiest of eaters!
Disclosure
The equipment and ingredients sections contain affiliate links to products I love to use as well as items that I personally believe make this recipe the best version of itself.
Ingredients
250

grams

all-purpose flour

50

ml

whole milk

warm

125

ml

water

room temp

5

grams

granulated white sugar

for activating yeast

13

grams

active dry yeast

3

grams

salt

10

grams

granulated white sugar

shredded mozarella cheese

for topping

sour cream

for topping
Garlic Oil for Topping
½

teaspoon

salt

1

tablespoon

oil

1

tablespoon

water

6

garlic cloves

grated
Instructions
Make Langos Dough
Activate yeast by combining active dry yeast, warm milk, and 5 gr of sugar. Mix together and cover. Let it rest for 10 minutes until bubbley (like in the picture).

Once the yeast is frothy, mix together flour, sugar, and salt in a separate large bowl. Add the room temperature water and the yeast mixture.

Mix the dry and wet ingredients, then use a beater with hook attachments to knead until dough comes together - about 5 mins. It will look like a loose dough, not a tight dough ball.

Cover to let it rise for about 40 mins or under double in size (like in image).

While the Dough Rests: Make the garlic oil by mixing grated garlic, oil, water, and salt in a bowl. Set aside.
Fry the Langos Dough
Add enough neutral oil to a shallow frying pan, deep enough to submerge half of the pancake in the oil. The temperature reading should be about 185℃ (365℉).

Once the dough has proofed punch out air. Wet hands and take a handful of dough and stretch it out, like you would a pizza. Then gently place in the heated oil.

The uncooked side will begin to bubble, this is normal. Fry first side for about 2 minutes or until crispy and golden brown. Then flip over and fry the other side.

Place the fried dough on a rack to cool so that it stays crispy for about 1-2 minutes.

Spread the garlic oil across the top of the fried langos, then add sour cream, then sprinkle shredded cheese all over. Serve immediately.
Nutrition
Calories:
199
kcal
Carbohydrates:
37
g
Protein:
6
g
Fat:
3
g
Saturated Fat:
0.4
g
Polyunsaturated Fat:
1
g
Monounsaturated Fat:
2
g
Trans Fat:
0.01
g
Cholesterol:
1
mg
Sodium:
394
mg
Potassium:
90
mg
Fiber:
2
g
Sugar:
3
g
Vitamin A:
14
IU
Vitamin C:
1
mg
Calcium:
24
mg
Iron:
2
mg
Disclaimer: Nutritional values were calculated with the Spoonacular Food API and should be used for informational purposes only.
Have You Tried This Recipe?
Simply rate the recipe by clicking on the ⭐️s on the recipe card. Have something to say? Please leave me a comment down below telling me what you think of this recipe.
Bonus: Let me and other readers know what you did to make this recipe your own - 💫 let's inspire each other!
Also, follow me on Instagram [@seesfoodwilltravel] and send me a DM with a picture of what you made. I would love to share and celebrate YOUR creation with our budding community 💞
Check out Sees Food, Will Travel on Pinterest and Facebook for more delicious updates.