Maja blanca is one of those Filipino dessert recipes that gets overlooked because it is too simple. But let me tell you about this treat. Making this sweet treat is straightforward. Maja blanca is an underrated dish that is the perfect answer for those interested in Filipino food, but intimidated by the complexity of most Filipino recipes. Jump to the step-by-step section for a quick take on this dessert!
What is Maja Blanca?
Maja blanca is a Filipino dessert best described as a thick coconut pudding with corn kernels throughout, then topped with desiccated coconut. Yes, you heard that right - coconut pudding with corn! This is probably one of the most quintessential Filipino foods out there. Most sweet treats in the Philippines must have a savory element. Whether it's ube (purple yam) ice cream or cheese on ensaymada, a striking balance of sweet and savory must exist. Maja blanca is only one of many desserts in the Filipino cuisine that involve corn. If you are more intrigued than weirded-out, read on to learn how maja blanca came to be!
The History of Maja Blanca
You can assume that maja blanca has Spanish roots just by its name. Indeed, it is another derived moniker that came out of the Spanish colonization in the Philippines. From what I researched, maja blanca is a form of the Spanish dessert manjar blanco, which translates to 'white delicacy.' Manjar blanco is essentially dulce de leche where milk and sugar are cooked until you end up with a highly dense cream. The Filipino maja blanca is an adapted recipe of manjar blanco made with coconut milk and corn added for texture. If you want to surprise, confuse, and delight someone with a distinctive dessert, consider making maja blanca!
How to Make Maja Blanca
Making maja blanca is a simple and easy process. You pretty much mix all the ingredients in a single pot and leave the cooked pudding to cool and set until it's ready to eat.
Make Your Cornstarch Slurry
Cornstarch is the key ingredient for this maja blanca recipe in order to thicken it while keeping it creamy. The problem with cornstarch is that it's hard to mix in as a solid along with other ingredients, so you may end up with a clumpy or uneven mixture. In a separate bowl, add water and cornstarch and whisk vigorously until the cornstarch disintegrates into the water. You can set this aside but remember to mix it again before pouring it in with other ingredients.
Add Ingredients in a Big Pot
The mixture will bubble and rise when heated, so to prevent spillage and burns, make sure you use a big enough pot. Add the coconut milk, heavy cream, condensed milk, and cornstarch slurry. Then, whisk them together until they are all integrated.
Watch Your Heat
Put the pot on the stove on low heat and stir it as it cooks. This pudding needs your vigilance because it will clump up, or the bottom could burn quickly if left unstirred. Stirring will avoid these things. Maja blanca has to set to a solid-state, so continue stirring until the mixture starts to feel heavy against your spatula or whisk. Keep mixing until you see ribbons - this means you are going in the right direction!
Add Corn and Coconut
When the texture is similar to a medium-set custard and you can make ribbons with your spatula, remove it from the heat and immediately add the corn kernels and desiccated coconut. Put it back on the heat and mix in the new ingredients gently.
Tip Some people like to add whole kernels, but I have also seen people use drained and crushed sweet corn. Adding crushed sweetened corn will make the maja blanca more uniformly sweet, so if you have a sweet tooth, give this version a try!
Check the Consistency of Your Maja Blanca
The pudding will further thicken, and once you get the consistency of a thick paste, you have finished cooking. If you lift your spatula from the mixture, the pudding should hang onto it and simply dangle off the spoon, but not drip down.
Tip It is okay to undercook the maja blanca as long as the mixture has thickened. You may need to put the maja blanca in the fridge to set for much longer (up to 48 hours).
Pour out the maja blanca into a baking pan - I used a 22x13 cm baking dish to make the maja blanca slices higher. Then I allowed it to cool to room temperature before setting it in the fridge.
Tip You can also see that I lined the dish with parchment paper. I did this to pull the solidified pudding out of the pan and then slice it. However, I do not recommend it for your first time making this recipe. The parchment paper could end up tearing, and you may find yourself with pudding all over the floor. However, if you feel brave enough, give this serving style a go.
How to Serve Maja Blanca
After the pudding sets, you should be able to slice it in squares and remove it one slice at a time with a flat spatula. Before you serve the square, you can take some desiccated coconut and cook it in a shallow pan for five minutes on medium heat. Keep stirring the coconut pieces so they don't burn at the bottom of the pan. Once you get your desired golden brown color, put it on top of the pudding slice.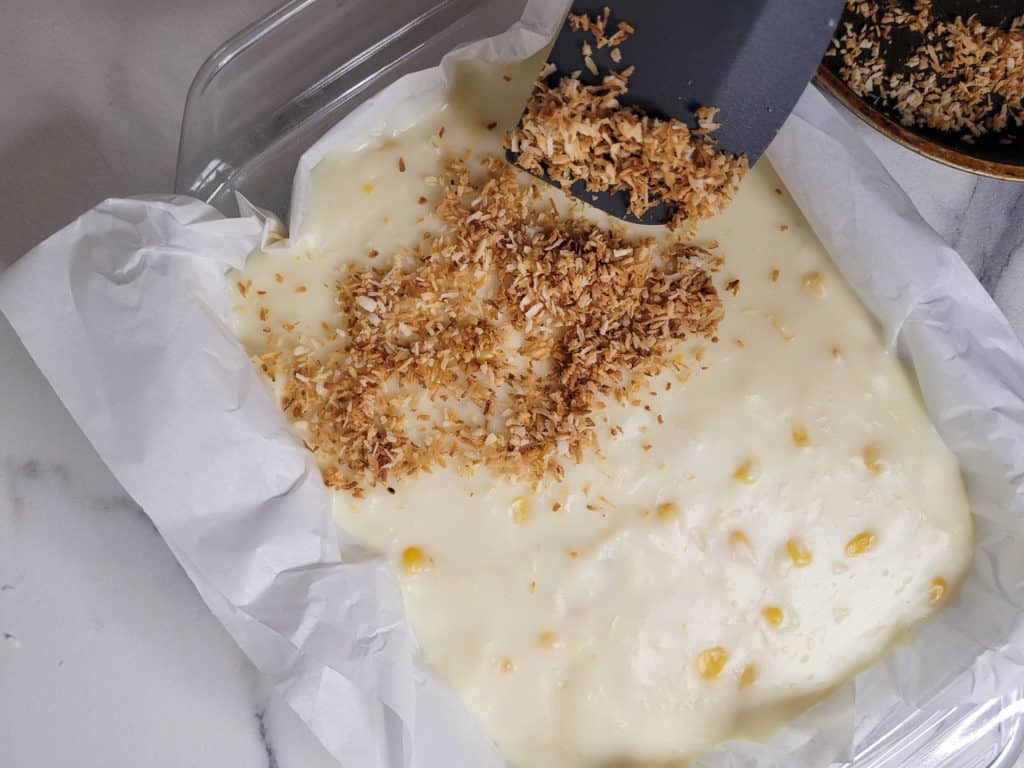 Tip: You can also make some latik by boiling down coconut milk. Latik will give the pudding an earthy and nutty taste. If you are curious about it, go to this section of the biko recipe to learn how to make it. It's very simple and adds another level of complexity to your dessert!
Storing Maja Blanca
You can store maja blanca in the fridge for a week but make sure you cover the top of the pudding with cling wrap. The plastic should touch the pudding so that it doesn't develop a hard surface. You deserve to enjoy this creamy, soft and surprising dessert in its best form!
Have You Tried This Recipe?
Simply rate the recipe by clicking on the ⭐️s on the recipe card. Have something to say? Please leave me a comment down below telling me what you think of this recipe.
Bonus: Let me and other readers know what you did to make this recipe your own - 💫 let's inspire each other!
Also, follow me on Instagram [@seesfoodwilltravel] and send me a DM with a picture of what you made. I would love to share and celebrate YOUR creation with our budding community 💞
Check out Sees Food, Will Travel on Pinterest and Facebook for more delicious updates.
Maja Blanca
Maja blanca is a distinctive dessert that is made with coconut milk and corn kernels. It's a sweet and savory recipe that you will find curiously addictive. If you love coconut and corn, try this creamy dessert recipe and you'll find the unique combination of ingredients pleasantly surprising!
Ingredients
1

can

coconut milk (~400 grams)

200

grams

heavy cream

150

grams

whole milk

1

can

condensed milk (~300-400 grams)

75

grams

cornstarch

150

grams

water

80

grams

corn kernels

20

grams

desiccated coconut

40

grams

desiccated coconut

for topping
Instructions
Mix cornstarch and water together in a bowl. Set aside.

In a saucepan, mix coconut milk, heavy cream, and condensed milk until well incorporated. Then mix in the cornstarch slurry.

Place on the stove on medium heat and cook while stirring

When the pudding begins to thicken, remove from heat and stir in desiccated coconut and corn kernels

Place saucepan back on heat and continue to cook while stirring until it further thickens. It's done cooking when you lift the spatula up from the mix and pudding doesn't drip down.

Pour the mixture into a lined baking dish and let it sit at room temperature to cool completely. Place the baking dish in the fridge to set until firm.

Optional: Take some desiccated coconut and put on a shallow pan for a few minutes on medium heat. Stir them as they brown, making sure the coconut doesn't burn. Once they turn a golden brown color, remove from the heat.

Slice the pudding into squares and serve with toasted desiccated coconut on top.
Disclaimer: Nutritional values were calculated with the Spoonacular Food API and should be used for informational purposes only.