I discovered sardine pâté (patê de sardinha) in Portugal while gulping down an embarrassing amount of Portuguese green wine (vinho verde) and eating other local dishes. One of my guilty pleasures is to crack open a bottle of dry white wine and dive into a charcuterie board. Nowadays, I add sardine pâté on occasion and it's always a delightful surprise.
Update Disclosure: This post has been updated for one or more of the following reasons: easier reading, updated photos, clearer instructions, and just plain ol' improvements to the recipe (as noted).
Jump to:
This Portuguese-style recipe is salty, buttery, herbal, and just a little sharp. There are different ways of making this spread. From what I ate through Portugal, I noticed most variations are made with butter or mayonnaise. This one consists of butter. I just enjoyed the thicker texture and more decadent flavor of the ones made with it.
Ingredients for Sardine Pâté
This pâté comprises a short list of ingredients you can adjust to your taste.
Canned Sardine in Olive Oil: Look for a short list of ingredients when it comes to canned sardines.
Unsalted Butter: The second essential ingredient that builds the texture. Using unsalted butter will help you control how much salt to use.
Onions: I used red onions here, but you can also use yellow sweet onions if you want to achieve a milder taste.
Fresh Lemon Juice: This brightens up the otherwise rich spread. Use less lemon juice if you are using canned sardines that already include its own lemon juice.
Small Bunch of Parsley: You can choose to use green onions, cilantro, or other types of herbs for your own version.
Salt & Pepper (to taste): I recommend adding an eighth teaspoon of salt at a time and adding more based on your preference. Sardines can emphasize the taste of salt since they already consist of salt, so adding it incrementally will give you more control.
Tomato Paste (optional): You don't have to add it to your pâté. I just love sardines in tomato sauce, so I added it to this base recipe.
Substitutes
Butter: You can use mayonnaise or margarine instead of butter. When you use mayonnaise, you'll end up with a lighter and watery consistency.
Recipe Tips
Find a Quality Can: A Portuguese food tour guide imparted this advice to me: it doesn't matter what brand of sardines to buy. It's more important to check the ingredients list of your canned sardines. A quality can consists of three things at most: olive oil, salt, and lemon juice.


Use Fillets: The sardines can be fillets or whole, but for this recipe, it's easier to use fillets to make a smooth texture. You can mash up the bones from whole sardines, and they would be more authentic.
How to Make Canned Sardine Pâté
Making this from start to finish takes literally fifteen minutes! It's an easy snack or appetizer to prepare for a dinner party.
Open a tin of sardines and add the fillets to a food processor but set the olive oil aside because you will add the oil later.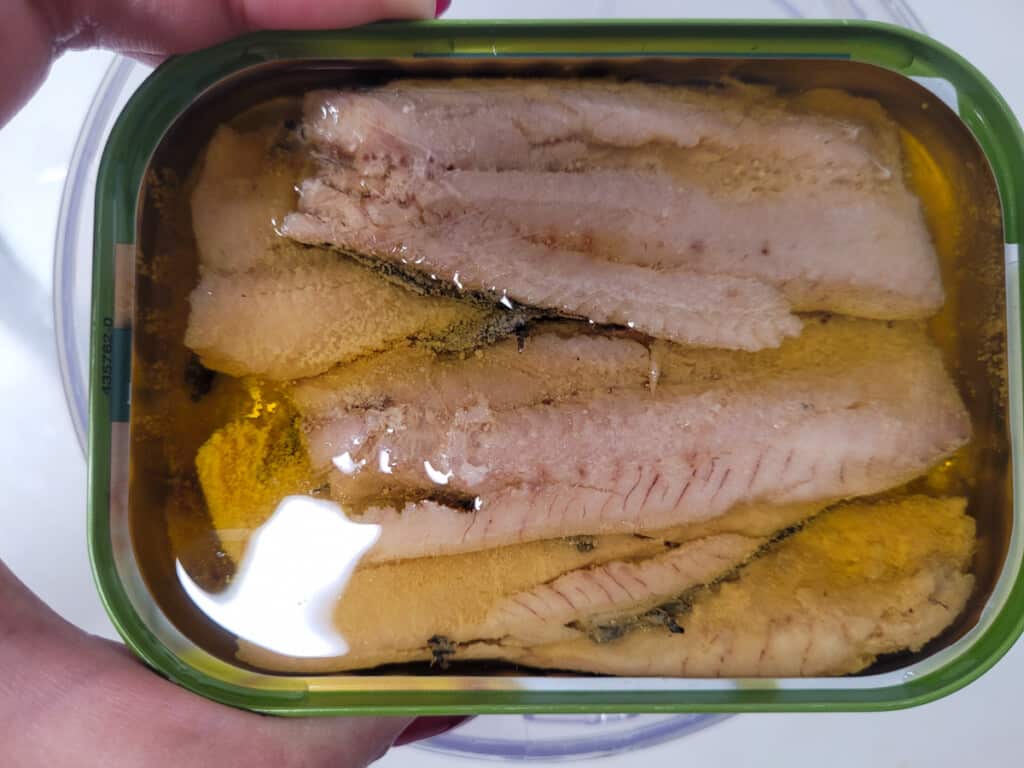 Prep the onions and parsley by dicing the onions and the parsley. Then measure the butter and slice it into cubes.
Slice a lemon in half and set aside the other half; you will use only the juice of half a lemon.
Add the butter, onions, parsley, lemon juice, and tomato paste (optional) to the sardines in the food processor.
Pulse the ingredients for a few seconds until they are roughly combined and minced. Add a spoonful of olive oil from the tin and an eighth teaspoon of salt to the food processor.
Pulse again until smooth. If the texture is too thick, add more olive oil until you reach the consistency you want.
Add more salt and pepper to your preference as you pause between each pulsing. Make sure to taste your canned sardine pâté as you adjust it.
How to Serve
Serve it alongside a stack of toasted bread or crackers. To recreate a Portuguese restaurant experience, add a small bowl of olives too. Don't forget to enjoy it with a glass of dry white wine!
Frequently Asked Questions
Can I make sardine pâté ahead of time?
If you plan on making this ahead of time, place the sardine pâté in an airtight container and let it sit in the fridge. Take it out of the refrigerator and let it sit at room temperature for about ten to fifteen minutes before serving so it spreads more easily.
Can I store leftover sardine pâté?
Yes, you can store sardine pâté in the fridge for a few days if you don't finish it in one sitting!
Sardine Pâté (Paté de Sardinha)
If you love seafood and spread, well this one is for you! This sardine pâté recipe is a great option for an easy appetizer to spread on toast. Surprise people with this as a delicious addition to any charcuterie board.
Ingredients
1

can

sardine fillets (~100 grams) in olive oil

75

grams

unsalted butter, sliced into cubes

½

medium onion, diced

1

small bunch of parsley, roughly chopped

juice of half a lemon

salt & pepper, to taste

1-3

teaspoon

tomato paste

optional
Instructions
Add all the sardines minus the olive oil from the can in a food processor. Set aside olive oil in the can.

Add juice of lemon, diced onions, chopped parsley, butter cubes, and tomato paste (optional) to the food processor.

Pulse for a few seconds until roughly combined, add a spoonful of olive oil from the can and continue to pulse. Pause and taste the spread, then add salt and pepper to taste. Add more olive oil if the consistency is too thick. Keep pulsing until you get a smooth texture adding more olive oil as needed.

Serve with toasted bread or crackers.
Nutrition
Calories:
138
kcal
Carbohydrates:
1
g
Protein:
5
g
Fat:
13
g
Saturated Fat:
7
g
Polyunsaturated Fat:
1
g
Monounsaturated Fat:
3
g
Trans Fat:
0.4
g
Cholesterol:
56
mg
Sodium:
74
mg
Potassium:
110
mg
Fiber:
0.2
g
Sugar:
1
g
Vitamin A:
364
IU
Vitamin C:
1
mg
Calcium:
85
mg
Iron:
1
mg
Disclaimer: Nutritional values were calculated with the Spoonacular Food API and should be used for informational purposes only.
Have You Tried This Recipe?
Simply rate the recipe by clicking on the ⭐️s on the recipe card. Have something to say? Please leave me a comment down below telling me what you think of this recipe.
Bonus: Let me and other readers know what you did to make this recipe your own - 💫 let's inspire each other!
Also, follow me on Instagram [@seesfoodwilltravel] and send me a DM with a picture of what you made. I would love to share and celebrate YOUR creation with our budding community 💞
Check out Sees Food, Will Travel on Pinterest and Facebook for more delicious updates.