Every family household has a version of their own Filipino empanadas. For this special empanada, I developed a pork adobo filling that is saucy and flaky.
Update Disclosure: This post has been updated for one or more of the following reasons: easier reading, updated photos, clearer instructions, and just plain ol' improvements to the recipe (as noted).
Jump to:
What is Adobo?
Filipino adobo is usually made with pork or chicken. Before cooking, you marinate the meat with soy sauce. Then it simmers for a long time with bay leaves, garlic, black peppercorn, and some vinegar. If you want to try a more traditional version, check out this cast iron chicken adobo recipe!
The adobo empanada filling in this recipe honors this classic Filipino dish with slight tweaks to the recipe. Instead of peppercorns, I used crushed pepper because I didn't want to spend time picking out tiny bits of peppercorns that otherwise would end up in the empanadas. I added more sugar than I usually would to bridge the flavors of the sweet buttery pastry and the filling. 
Ingredients
Here are the things you'll need to make adobo empanadas:
Pork Belly
Garlic Cloves
Black Pepper
Soy Sauce
Cane Vinegar
Water
Bay Leaves
Sugar
Cornstarch
All-Purpose Flour
Salt
Unsalted Butter
Apple Cider Vinegar
Eggs
Whew - That's a pretty extensive list! But it's what makes it all worth it!
Substitutes
Pork Belly: Any fatty cut of pork will do such as pork neck or pork shoulder. You can also use a different type of meat. Chicken is another alternative to adobo dishes.

Cane Vinegar: Typically you use cane vinegar in Filipino cooking, but if you don't have that you can use white vinegar.
Recipe Tips
Watch the Dough: When you pulse the dough, you will notice that it will not clump together, but you need to ensure the texture is sandy so that the butter doesn't make massive holes in the empanadas when baking.


Taste Test: Once you finish braising the adobo, check that it isn't too salty. If you find the adobo to be too salty, you can add more sugar.


Refrigerate for Longer: If you have the time, place the cooled filling in the fridge to further cool overnight. This will help you handle the dough and filling better in the next stage, where you assemble Filipino empanadas.


Sealing Empanadas: For a leak-proof seal, press down on the edges with a fork lightly dusted with flour. Then, pull the fork away from the empanada horizontally while continuing to press. Do not lift up the fork because that will pull the edge up, opening the seal.
How to Make Filipino Adobo Empanada
This Filipino adobo empanada recipe is for someone whose love language is feeding those they care about. There are multiple steps to be aware of so you should also set aside time for this recipe.
Marinate the Pork Filling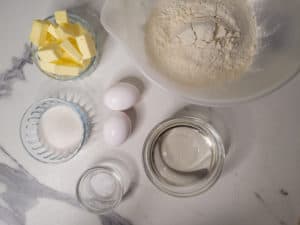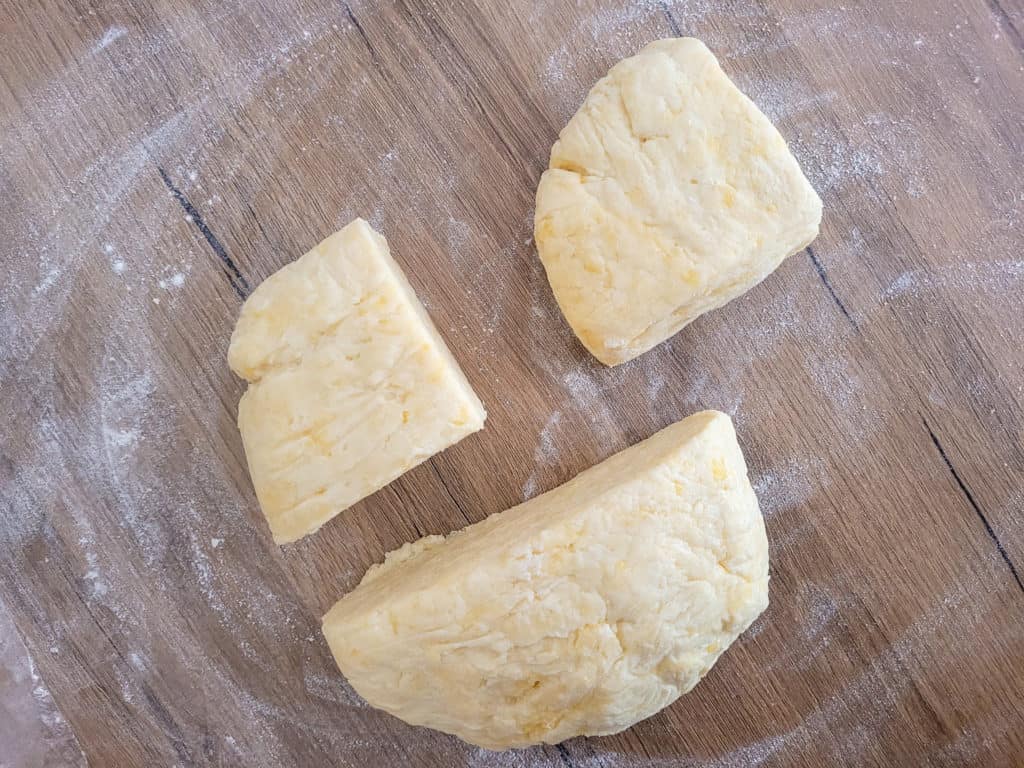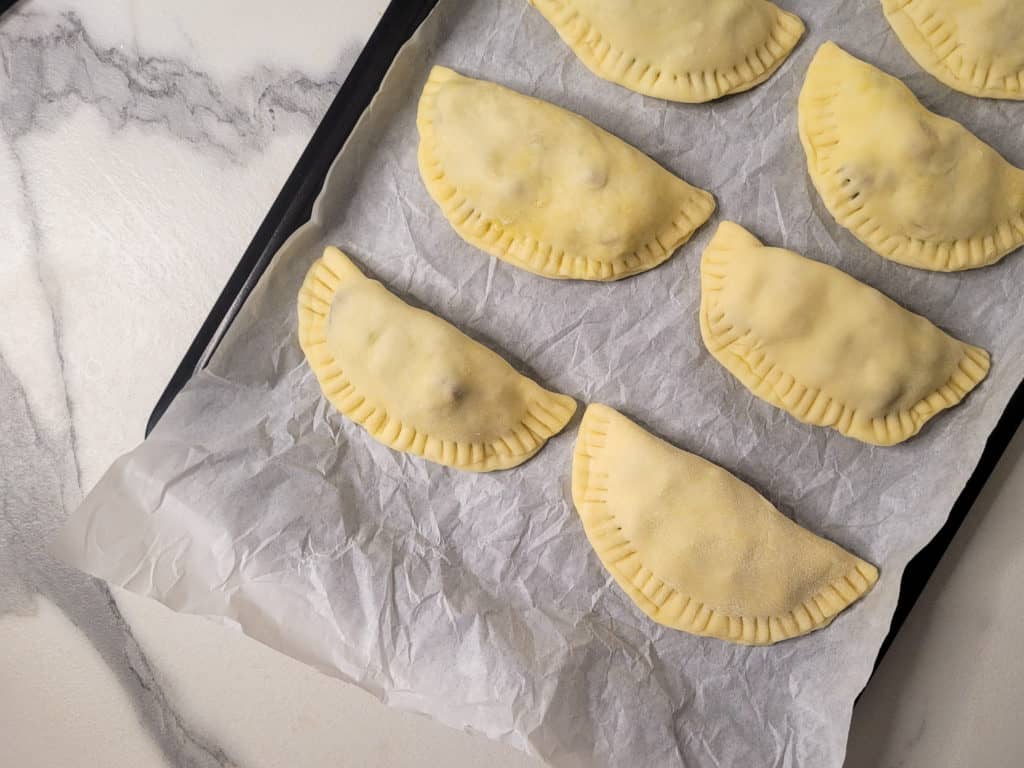 How to Serve
You can serve these after they cool down just a little bit. But you can also eat them at room temperature. If you have leftovers, you can put them in a container and refrigerate. Later on, you can microwave it for about ten to twenty seconds before consuming!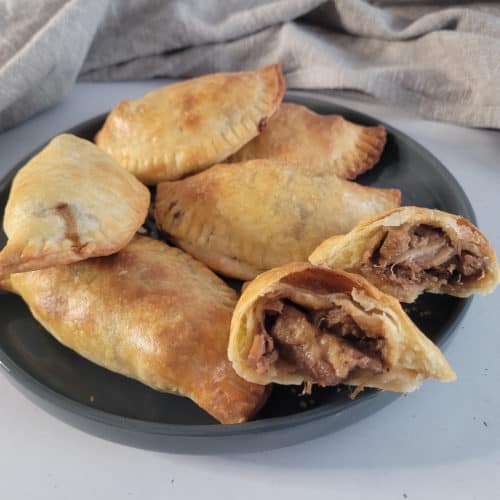 Filipino Adobo Empanada Recipe
Filipino adobo in empanada form. Garlicky, savory, and buttery (from the crust). It's quite an addictive snack!
Ingredients
Filipino Adobo Filling
1

kg

pork belly or shoulder or neck, cut into cubes

1

teaspoon

crushed black pepper

6-8

garlic cloves, minced

8

tablespoon

soy sauce

6

tablespoon

vinegar

235

grams

water

or more as needed

6

bay leaves

2

tablespoon

granulated sugar

add 1 tablespoon during cooking to lessen salt if preferred

2

tablespoon

cornstarch
Empanada Dough
400

grams

all-purpose flour

½

tsp

salt

140

grams

unsalted butter, cubed

120

grams

water

2

teaspoon

apple cider vinegar

55

grams

granulated sugar
Egg Wash
1

egg

1-2

tablespoon

water
Instructions
Make Empanada Dough
Mix the water and apple cider vinegar in a separate bowl. Set aside.

In a food processor, add flour, sugar, and salt. Pulse for a few seconds. Add the butter cubes and pulse until the texture is sandy or the large chunks of butter have disappeared. Pour into a large bowl.

Add eggs to the bowl of flour/butter mixture then slowly add the water mixture a little at a time until the dough becomes shaggy. Form a rough ball and wrap the dough in cling wrap. Refrigerate at least 1 hour.
Make the Filling
In a container add the pork, soy sauce, minced garlic, and sugar and mix together. Marinate for at least 1 hour.

Remove the pork from the marinade container. Set the marinade aside. Brown the pork in a pot with black pepper.

Add the water, bay leaves, and saved marinade, then simmer for at least 1 hour.

Remove the pork from the pot and shred with a fork. Set aside.

Remove the bay leaves from the pot. Add cornstarch and whisk it in to remove clumps. Add the pork back to the pot and simmer until the sauce is thick.

Place in a bowl to cool completely or allow it to cool in a refrigerator overnight. The filling will thicken even more in the cold, don't freak out from the clumpy result. It's part of the process!
Set Up Empanada Dough
Cut the refrigerated dough in four equal sections. Work with one piece at a time. Take one piece and put it on a floured surface. Roll it out until it's about 1 cm thick.

Using a round cookie cutter, cut out circles. Place the pieces on a floured plate and cover then refrigerate again.

Repeat the first three steps for the other 3 dough sections.
Assemble
Place a spoonful of cooled adobo filling on the center of a cut out dough.

Fold one half over to the other side to make a half moon shape. Using a fork, pinch down on the edges to seal the empanada.

Place the empanadas on a lined baking sheet and refrigerate for 20 mins.
Baking Empanadas
Preheat the oven to 180°C (350°F). In the meantime, in a small bowl make an egg wash by beating one egg with 1 tablespoon of water. Set aside.

Bake the empanadas for 20 minutes then pull them out of the oven.

Brush the empanadas with the egg wash and bake for 5 minutes. Brush another layer of egg wash and bake for another 5 minutes.

Allow to cool at least 10-15 minutes before eating.
Nutrition
Calories:
513
kcal
Carbohydrates:
26
g
Protein:
10
g
Fat:
41
g
Saturated Fat:
17
g
Polyunsaturated Fat:
4
g
Monounsaturated Fat:
17
g
Trans Fat:
0.3
g
Cholesterol:
74
mg
Sodium:
602
mg
Potassium:
173
mg
Fiber:
1
g
Sugar:
5
g
Vitamin A:
242
IU
Vitamin C:
1
mg
Calcium:
16
mg
Iron:
2
mg
Disclaimer: Nutritional values were calculated with the Spoonacular Food API and should be used for informational purposes only.
Have You Tried This Recipe?
Simply rate the recipe by clicking on the ⭐️s on the recipe card. Have something to say? Please leave me a comment down below telling me what you think of this recipe.
Bonus: Let me and other readers know what you did to make this recipe your own - 💫 let's inspire each other!
Also, follow me on Instagram [@seesfoodwilltravel] and send me a DM with a picture of what you made. I would love to share and celebrate YOUR creation with our budding community 💞
Check out Sees Food, Will Travel on Pinterest and Facebook for more delicious updates.