As an adult, I find myself constantly looking back to my childhood where I took for granted the abundance of food that was prepared for me. When you show up to a Filipino-style party, you can expect to arrive with an empty stomach and leave with a styrofoam container of leftovers to last you a week. The aunts and uncles slaved all day in the kitchen while I, as a young guest, had the privilege of showing up just to eat. Leche flan was a staple at all Filipino-style gatherings my family attended. When I attended college and exposed myself to other cuisines, I realized I didn't appreciate this dessert enough. I frequently compared all other flans to the Filipino leche flan standard.
A Brief History on Leche Flan
A dessert that has its roots in Europe (called "crème caramel" there), the leche flan evolved from the Spanish colonization of the Philippines. The historians say that Spanish missionaries used egg whites to build churches, leaving the yolks behind without a purpose. Filipinos learned to make crème caramel during that time. Fast forward to the American colonization, when soldiers introduced canned goods to the Philippines. This is where canned condensed milk is first attributed to the modern-day leche flan's dense characteristic.
Why Filipino Style Flan Stands Out
The Filipino version is much heavier than the Spanish version and all other flans derived from Spanish cuisine. Because more egg yolks and condensed milk are incorporated into the recipe, the texture is creamier and thicker. This flan is not jiggly and cute. This flan is impactful and has a substantial presence. It will provide you with a level of richness not found in other flans. You can call me biased, but I bet once you try this take on flan, you will see it in a whole new way.
This Dessert is So Easy to Make
This flan recipe is simple, and all you have to do is follow the ratios. The typical, three llanera (mold) recipe requires the following:
twelve egg yolks
396g of condensed milk
340g evaporated or whole milk
½ cup of sugar
This classic recipe is made for feeding quite a bit of people at a party. You would usually split these ingredients between three molds baked in a hot bath in the oven. But since it's only John and me eating, my recipe covers a more humble number and cuts the ingredients by a third. Regardless, it's easy to whip up this recipe if you already have these items in your pantry.
Despite being an effortless recipe, the finalized flan looks challenging to make so it easily wins people over. One time, we had friends over for supper and I had forgotten to make a dessert. I quickly made this flan as everyone worked up to their second helpings of dinner. By the time we finished our last bottle of wine, the flan was ready. Needless to say, this dessert impressed the guests, but I owe it all to the leche flan's delicate appearance juxtaposed against its creamy and velvety texture.
Tips for Making a Perfect Filipino-Style Flan
Before you go to the kitchen to give this recipe a shot, please read the tips carefully so that you make a fail-proof flan.
Tips #1 Use a sieve to strain so that you can eliminate eggy chunks from the flan mixture. This ensures a consistent, well-incorporated texture for the finished product. Otherwise, you might catch a clump of egg white here and there in your flan.
Tip #2 Tap the molds to remove air bubbles. This technique also further enhances the smooth texture of your flan. You may find air pockets throughout your dessert if you don't do this.
Tip #3 Let it sit in the fridge to allow the taste to grow richer. I served leche flan cooled from the oven. However, leaving the flan to sit in its essence builds up a level of complexity that you won't get when you serve it immediately after cooling.
Tip #4 Top other desserts with your leche flan. Filipino-style leche flan has more structure than other flans. So Filipinos also use it as a topping to other desserts like halo-halo. One of my favorite things to do with the flan is to add it to vanilla ice cream to elevate a creamy and milky indulgence.
Tip #5 Watch your mold size. Flans are famous for cracking, and when you use a large mold, you increase the risks. A smaller but deeper mold, such as a ramekin, will avoid cracks. I recommend using multiple small ramekins to achieve the flan's characteristic glassy and slick top.
Watch Out for Overcooked Flan
I had to do several iterations of the baking to get the flan consistency just right. The first time I baked it, there were so many bubbles on my flan. If there are a lot of bubbles in the flan, it means the custard has curdled and hardened. The inside of the flan would also have a cottage cheese texture. Filipino style flan is well-known for its smooth texture and that is what I wanted to achieve.
My second time, I baked it for just over an hour, and it was slightly bubbly (see below), not as curdle, but still not smooth. It would be good enough to serve people. But I knew that timing-wise, I just needed to leave it in the oven for less time
On the last try, I baked it for fifty minutes. Before taking it out of the oven, I checked one of the flans under the aluminum foil and saw that the edges were set and the middle was still jiggly. I pulled them and then left them out of the oven to sit with the foil covers still on. The flan continues cooking as it sits in the hot water bath. When the water cools, that's when the rest of the flan continues to set its structure.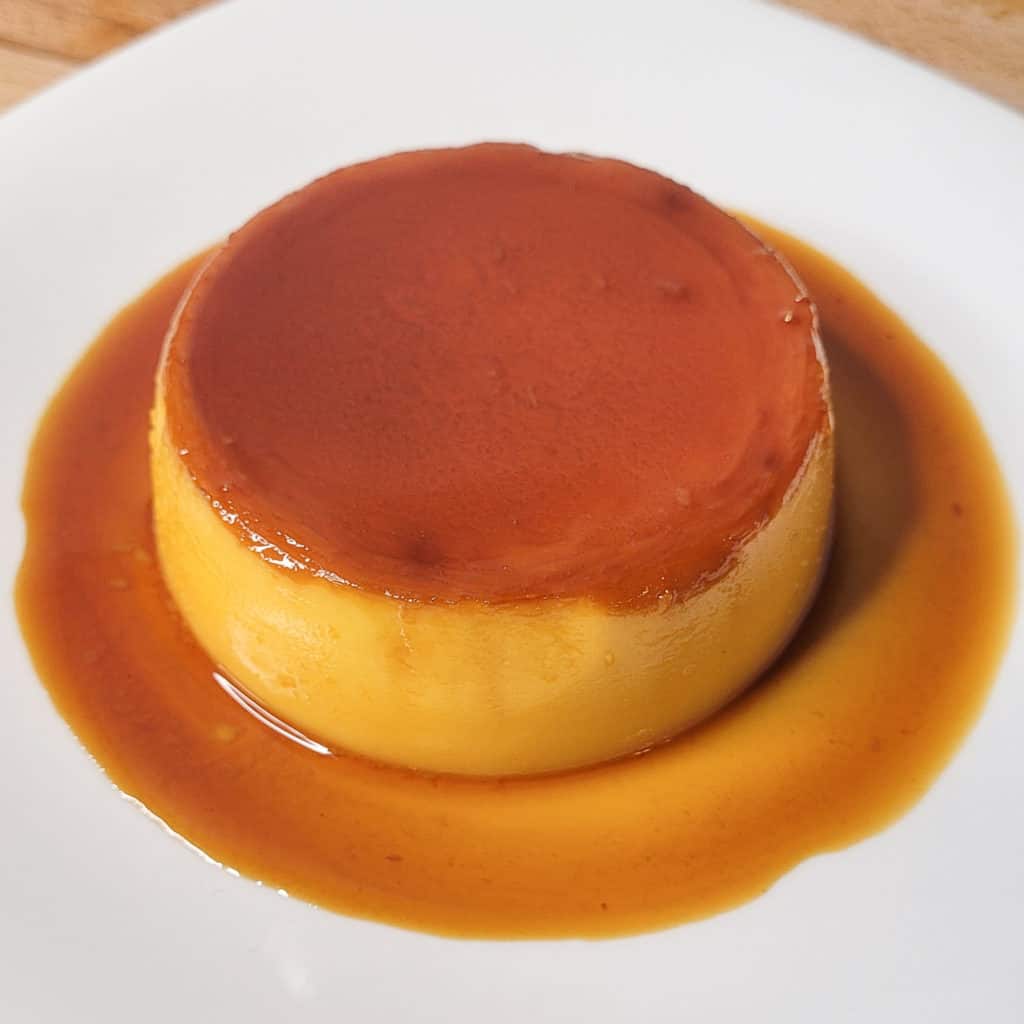 To be extra safe, you can put the cooled ramekins in the fridge for a day and then heat up some water to loosen the caramel before you flip it upside down on the plate.
Have You Tried This Recipe?
Simply rate the recipe by clicking on the ⭐️s on the recipe card. Have something to say? Please leave me a comment down below telling me what you think of this recipe.
Bonus: Let me and other readers know what you did to make this recipe your own - 💫 let's inspire each other!
Also, follow me on Instagram [@seesfoodwilltravel] and send me a DM with a picture of what you made. I would love to share and celebrate YOUR creation with our budding community 💞
Check out Sees Food, Will Travel on Pinterest and Facebook for more delicious updates.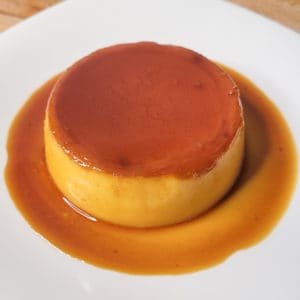 Filipino Leche Flan
Try this Filipino-style flan and see the hype for yourself. A thick flan that requires your attention as you eat it. You will be addicted!
Ingredients
4

tablespoon

white sugar

4

large egg yolks

60

ml

heavy cream (35% or more)

60

ml

full fat milk

135

ml

condensed milk
Instructions
Preheat the oven to 175°C or 350°F

Put sugar in a pot and melt the sugar down to a caramel.

Take two 10 cm ramekins and pour the caramel equally into each ramekin

Wait for the caramel to cool to a hard candy. It may crack, but leave it alone.

Put the egg yolks, condensed milk, cream, and milk into a bowl and whisk together

Pour the egg mixture equally over a sieve into the ramekins

Put the ramekins in a deep baking dish and and pour hot water into the baking dish until it is about one inch deep

Put into the oven and bake for 50 minutes

Let cool and flip onto a plate
Disclaimer: Nutritional values were calculated with the Spoonacular Food API and should be used for informational purposes only.