Spam musubi is getting very popular nowadays, and I will make this recipe easier for you by showing step-by-step how to shape rice without a mold! Click here to go straight to the instructions on shaping rice with just your hands.
Who Created Spam Musubi
Spam musubi is a Hawaii local food (not Hawaiian!) with a slice of Spam on top of white rice wrapped in nori, a type of dried seaweed. This snack was born from the popularity of military canned goods introduced to Hawaii during the Second World War. It was combined with the cooking styles of local Japanese residents. The original version of Spam musubi was created over thirty years ago in the 1980s by a woman from Kauai named Barbara Funamura. The first style of musubi was shaped more like a triangle and it eventually evolved to its familiar rectangle form as Barbara sold more over time.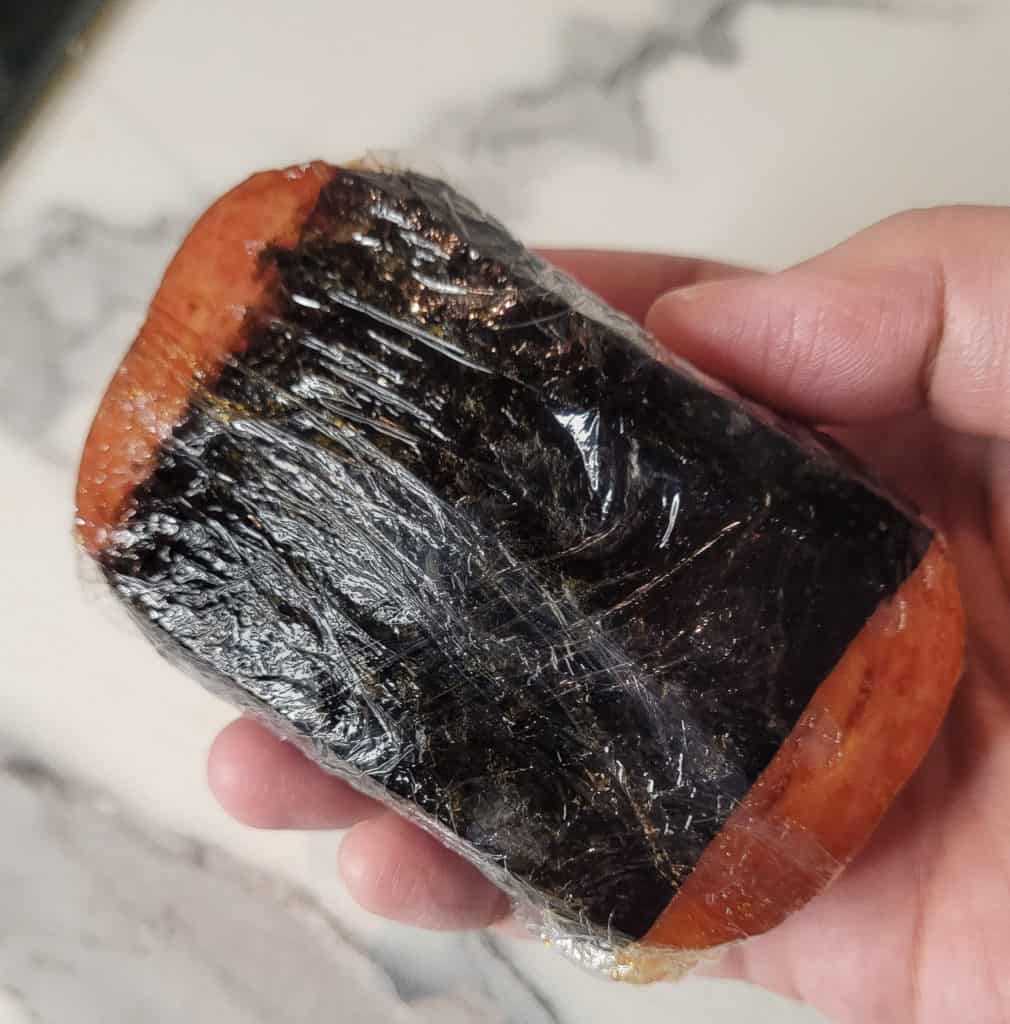 The Meaning Behind Musubi
In Japanese, the word musubi means rice ball, and Spam musubi refers to resting a slice of Spam on top of a bed of white rice. Traditionally, people would use their hands to shape musubi without using a mold. The original Spam musubi was pieces of Spam and seaweed mixed with rice, similar to Japanese onigiri. As a side note, onigiri and musubi have the same meaning in Japanese, but in the USA the words separately identify specific creations. When demand for Barbara's Spam musubi increased, she could no longer go without a mold and started utilizing one, leading to her recipe changing into sliced Spam on top of rice.
Life With Spam Musubi
I grew up on Oahu and lived there from elementary school through high school graduation. If you ask anyone who grew up eating Spam musubi, you'll learn that everyone has their personal preference for how it's made. The things listed below are adjustments people make to their Spam musubi recipes.
Spam Size
A can of Spam will generally yield eight slices, which I think is perfect for the musubi recipe below. If you decide to make thicker slices, be mindful that Spam cooks fast on the outside and may not cook all the way through. I have not met anyone who wants a thinner Spam slice, but it's your choice!
Rice
The Spam to rice ratio has long been debated. If it's your first time in Hawaii and you hit a 7-Eleven, you'll see Spam musubis with a 1:4 balance. Some people who enjoy eating rice will prefer this style, but others who want less rice use closer to a 1:3 ratio. Some people like to eat it with even less rice than that. It's up to you to figure out what amount of rice you want to eat with your Spam slice.
Nori
The amount of seaweed can also be adjusted to your choice. Whether you want the entire Spam musubi covered by nori or prefer using a thin strip, it's your choice. The smell of nori is very nostalgic to my hanabata (childhood) days, so I wrap it with a wider-sized strip. I personally enjoy a width that covers about 75% of the musubi, with just a bit of Spam and rice peeking out on both ends.
Sauce
The teriyaki sauce recipe for Spam musubi has a wide range. It can be a simple combination of just sugar and soy sauce, or it can require more complex ingredients. The bottom line is that Spam musubi needs a type of sauce in between the musubi and Spam. A snack store I visited in elementary school is the inspiration for my sauce recipe. I fondly remember this sweet and salty sticky sauce dribbled throughout the rice. When I got older, I spent some time trying to figure out something reminiscent of that, and I feel like I got my ratios of the sauce ingredients just right.
How to Make Spam Musubi Without a Mold
The trick to making the rice bed is to wet your hands enough so that the rice won't stick to your fingers as you work with it. Make sure you use Asian-style rice that sticks together. Sushi rice and Thai white rice are good options since they are known for clumping together when cooked. Cook the rice and let it cool completely. It's also ok if the rice is lukewarm when you start working with it. Throughout this process, have a bowl of water nearby or do it by the sink so you can rewet your hands as needed. Use the Spam musubi recipe at the bottom of this page and then follow the steps in this section to shape the rice without a mold.
Step 1
Start by wetting your hands and then taking a handful of white rice. Do not take more rice than what your palm can manage. It will explode between your fingers.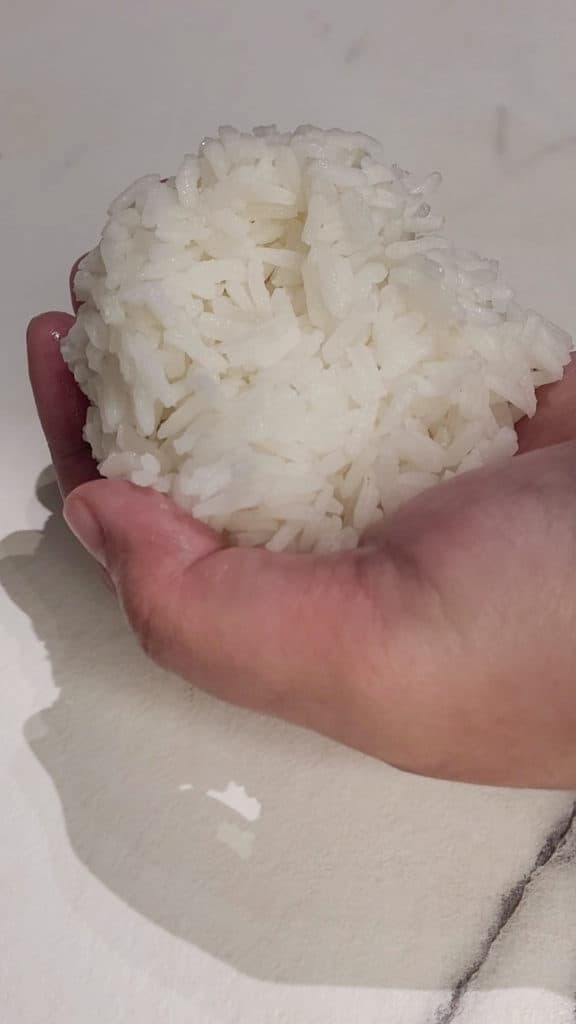 Step 2
Make a rice ball by packing the rice hard while making a fist with your hand. You may have to squeeze several times to ensure the ball is secure. Release the rice ball and check that it is packed tightly and doesn't fall apart.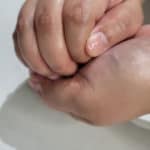 Step 3
Eyeball the Spam slice so you can get the idea of how wide the rice ball should be. Flatten the rice ball in between the palms of your hands to that size.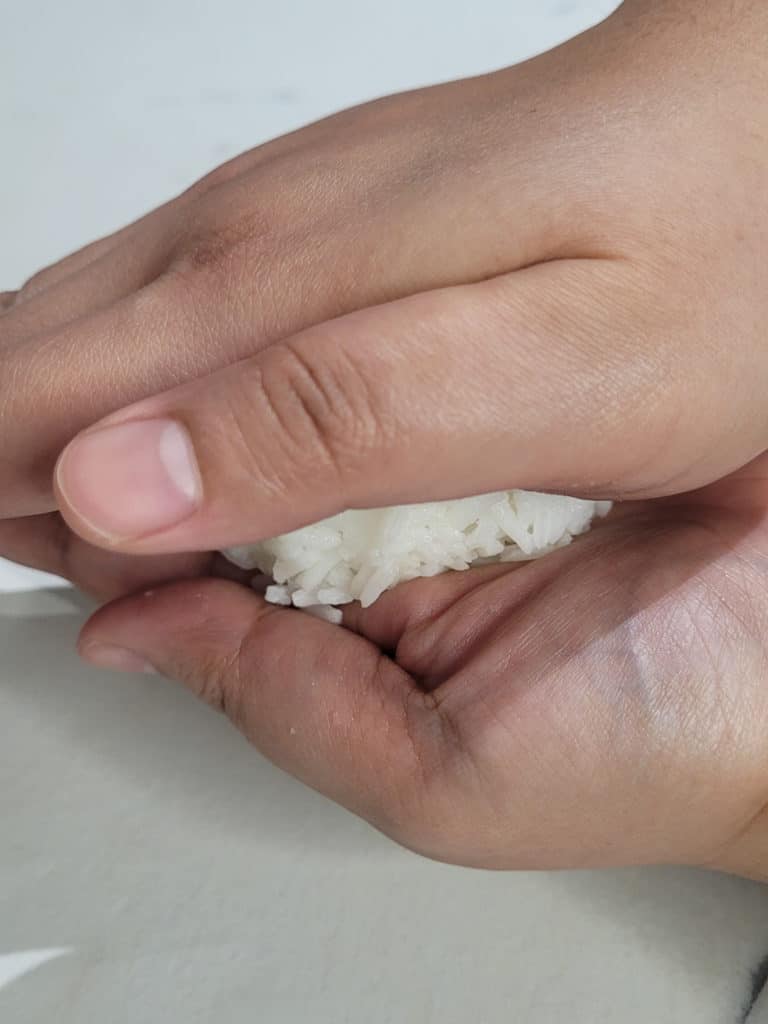 Step 4
Roughly shape the rice ball into a rectangle. See the two pictures below. Please don't spend too much time overshaping the rice, or it will fall apart.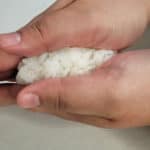 Step 5
Let's make an indent for the musubi sauce. Press down lightly and gently down the long side of the rectangle with your thumb. Do this while keeping the shape of the rice with your other hand. Then flip the rice ball over (without turning it upside down) and do the same on the other side.
Step 6
Check the shape of the musubi rice bed, if it's rectangular and has a slight indent in the middle, you are ready to assemble!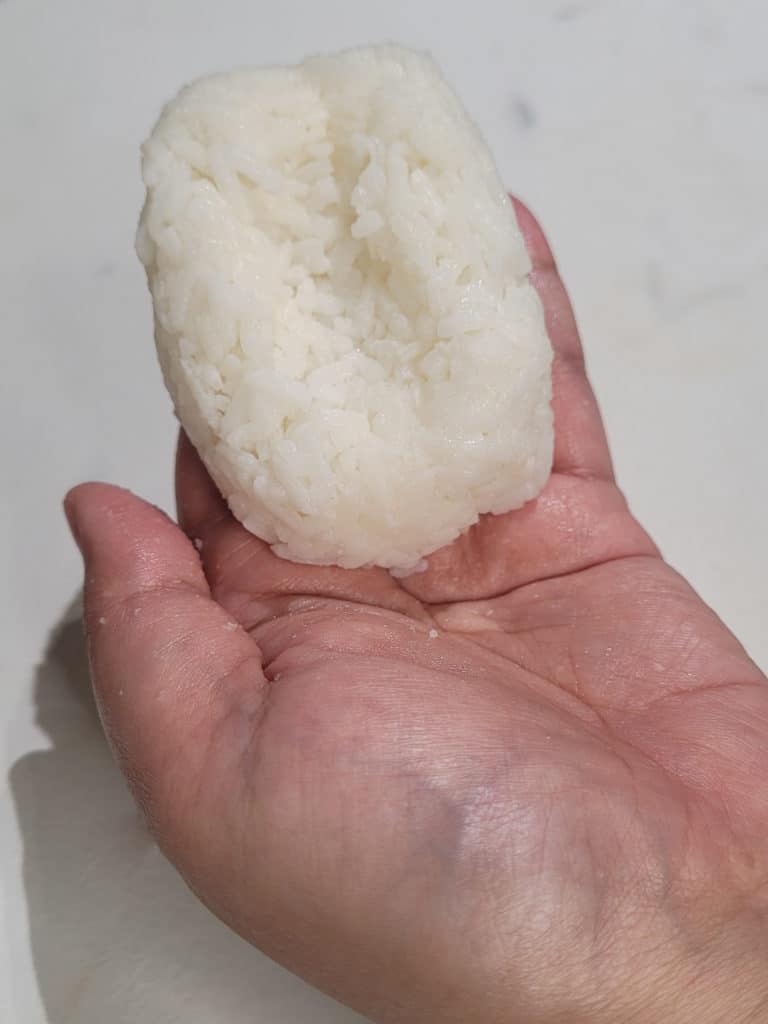 Spam Musubi Without a Mold Tip #1 Do not worry if your rice beds are not exactly identical. Since musubi is not meant to be eaten right way, it typically comes in clingwrap. So after putting one together, wrap it tightly with the stretchy plastic and shape it further. Doing this will help maintain the shape of the musubi.
Spam Musubi Without a Mold Tip #2 If you want to be more organized, mold the rice beds ahead of time and lay them out on a plate and then follow the Spam musubi recipe. By the end of the recipe, you won't have to stop to shape rice for every musubi.
Other Shaping Options
If you find shaping Spam musubi without a mold to be tedious, there are other recipes that call for using a plastic mold specific for Spam musubi. If you don't want to buy the musubi mold, there is also the option to use the Spam can with some clingwrap.
How to Use This Spam Musubi Recipe Efficiently
Making this Hawaii local snack can be tedious if you are not prepared. I have some suggestions to help you be as efficient as possible with your time. Follow the steps below to assemble your Spam musubi quickly.
Cut three sheets of nori into thirds and set aside
Mold the eight rice beds with your hands, put them on a plate and cover them with plastic, set aside
Slice the Spam into eight pieces, then fry and put on a paper towel-lined plate and set aside
Put sauce ingredients in a wide shallow pan and let them boil together until thick, then turn off the heat
Set up your plates of rice, Spam, and nori next to the pan
Stretch out clingwrap on a flat plate or a cutting board and lay a piece of nori in the middle
Your assembly will go much faster when you streamline your process by having the prepared ingredients in front of you!
How to Eat Spam Musubi
When you unwrap a Spam musubi, open only one side and use the wrapped side to hold it. I once saw a friend fully unwrap a musubi and was frustrated with getting sauce all over their hands. He was a first-time eater, but he learned his lesson! He has eaten a lot more musubis since then with sauce-free hands. The best part of Spam musubi is that you can eat it hot or cold. If made just right, the temperature of musubi should not matter. Since musubi lives as an on-the-go food, you can eat it for breakfast, lunch, or dinner. I eat Spam musubi whenever I crave it, which could be any time of the day.
Living abroad made me crave Spam musubi more. Whenever I make it, I also reminisce on my elementary school days. I think of the gigantic old tree that shaded my friend and me as we sat on its thick, low branches eating our store-bought musubis after school. It would always be hot, but some trade winds blew on our backs and whipped our hair into our saucy musubis. I never cared about my sticky hair because everything felt so perfect.
Other Hawaiian Local Goodies
Check out the recipe for local style beef stew or try making a chocolate haupia pie for more local style comfort food!
Have You Tried This Recipe?
Simply rate the recipe by clicking on the ⭐️s on the recipe card. Have something to say? Please leave me a comment down below telling me what you think of this recipe.
Bonus: Let me and other readers know what you did to make this recipe your own - 💫 let's inspire each other!
Also, follow me on Instagram [@seesfoodwilltravel] and send me a DM with a picture of what you made. I would love to share and celebrate YOUR creation with our budding community 💞
Check out Sees Food, Will Travel on Pinterest and Facebook for more delicious updates.
Spam Musubi Without a Mold
This recipe is the most basic and simple way to make Spam musubi. I will take you through the cooking and assembly steps that will help you form a perfectly shaped musubi without needing a mold! If this is your first time making it, remember to be patient with yourself. It takes a few times to make the perfect musubi, but you will get there!
Ingredients
1

can

SPAM (25% less sodium)

1

tablespoon

vegetable oil

½

cup

soy sauce

½

cup

granulated sugar

¼

cup

mirin

8

cups

cooked white rice (use more or less to your preference)

3

sheets

nori, cut into thirds (you will have 9 pieces total)
Instructions
Cooking Spam and Musubi Sauce
Slice the Spam into 8 equal pieces

In a pan, add oil and fry the Spam slices on medium heat

Fry both side of each piece for one minute each, then set slices aside

In a bowl, mix soy sauce, sugar and mirin together

In the same pan, add the soy sauce mixture and let boil together

Sauce is ready when you dip a spoon in the pan and the spoon is coated with the thickened sauce

Turn off heat and get ready to assemble
Assembly
Take a piece of cut nori and lay it on a flat surface on top of a sheet of cling wrap

Wet your hands, the wetter your hands the less rice will stick

Take a cup of cooked rice and press it firmly into a ball

Once the rice has stuck together into a ball, it should be easy to shape into a rough rectangle the size of the Spam slice

Take your thumb and press down the middle of the length of the rice rectangle to make an indent for the sauce

Lay the rice on the middle of the nori strip, indent facing up

Add a spoonful of sauce in the indent of the rice

Take a piece of cooked Spam and put it in the sauce mixture, turn it over 4 times in sauce mixture

Lay the Spam slice on top of rice

Wrap the Spam and rice with the nori by folding the nori around the musubi

Wrap it tightly with the cling wrap - this is how it will maintain its shape

Repeat process 7 more times
Disclaimer: Nutritional values were calculated with the Spoonacular Food API and should be used for informational purposes only.
Interested in Asian food?
Hawaii local food is a convergence of many styles of Asian cooking. If you are interested in Asian dishes check out my list of recipes here.