I LOVE pie and anyone who knows me well knows that about me. On my birthdays, close friends get together to decide on what pie to give me as a substitute for cake. Not that I hate cake, it's just that I really love pie. One pie that holds a special place in my heart is the chocolate haupia pie from Hawaii.
Growing up in Oahu, Hawaii, you could have called me a "townie kid". I did not spend much time at the beach or in sun. But I did hang out in cafes, malls, and libraries with my friends. I took for granted an abundance of local-style food ranging from spam musubi to plate lunches and chantilly puffs. If you ever meet someone who grew up in the islands, ask them about their food and they will always have something good to say.
I started to develop my love for food in high school. My part-time high school paychecks afforded meals at a local diner called Anna Miller's. Their chocolate haupia pie stole my heart from the first bite (in addition to their famous strawberry pie!). Unfortunately, Anna Miller's and even Ted's Bakery in Maui keep their recipes locked up so I've been tweaking mine for years pursuing that nostalgic feeling while living abroad.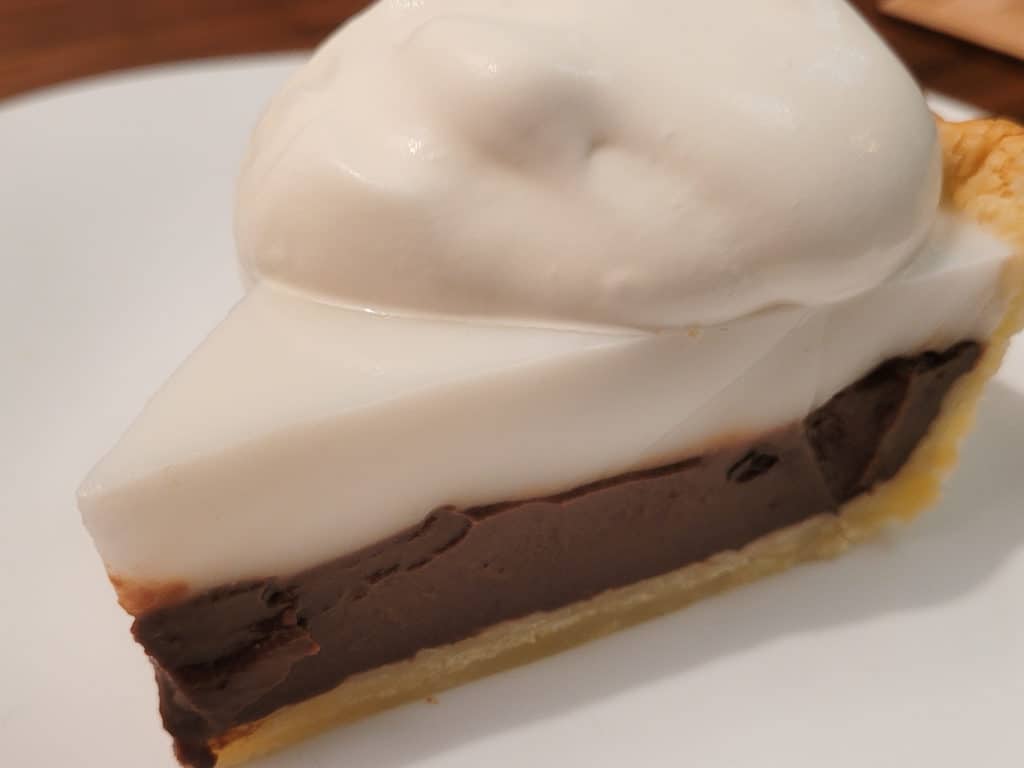 What is Haupia Pie?
Haupia is a word for a flan-like Hawaiian dessert with three simple ingredients: coconut cream, sugar, and cornstarch. This pie is simple, yet cleverly layered from bottom to top with chocolate pudding, haupia, and whipped cream. The subtlety of the coconut creates a delicate balance with the chocolate that is both rich and light. Every time I have a bite of one nowadays, I wish I was still 16 when I could easily run off the calories because this pie is a love bomb of fat and cream.
Some Tips Before Starting
Tip #1 Care About Your Crust
When it comes to pie crusts, I believe that Four & Twenty Blackbird's all-butter pie crust is a versatile recipe that can be used in a variety of pie recipes. I let this sit for two days before blind-baking. Good things take time! But you can use whatever raw pie crust you have available. A baked pie crust helps form the pie so you can pick up the pie with your hands like a pizza. The ability to hold up the pie slice like a pizza provides a structured texture to contrast the custard.
Tip #2 Level Up On Chocolate
Needless to say, living abroad thousands of miles away from the islands, I have resorted to making my own local-style treats. Surprisingly, I do not have a difficult time finding coconut milk in any major city. But the chocolate quality I use in the pie varies based on location. Now that I live close to Europe and have access to better quality chocolates, I would say that my version of haupia pie has only gotten better.
For the chocolate layer, I give myself more flexibility. I use one bar of 65% - 70% dark chocolate and one bar of milk chocolate. The bars must be solid chocolate – no nuts or fruits or anything else added. If you want it sweeter, just use more milk chocolate than dark chocolate. You can even choose to go up to 1 cup of sugar instead of three-fourths of a cup listed in the recipe.
The Right Set Up Is Key
The haupia pie filling is surprisingly easy to make, but you have to move fast because the cornstarch can easily make the filling clumpy if you are not vigilant with the heat and mixing. First, don't make the pie filling while the pie crust is still cooling. You will end up setting the haupia pie filling in the bowl instead of inside the pie crust. You will be ready to make the haupia pie filling once your pie crust has completely cooled. Patience is a virtue!
A tip for making this filling seamlessly is to put the cornstarch water mixture and the bowl of chopped chocolate within a hand's reach from the stove. Other recipes call for melting the chocolate in the microwave first. But if you transfer half of the hot haupia pie filling immediately to the bowl of chocolate, the heat will melt the chocolate right away. This saves you a step in the process. You will also avoid potentially burning the chocolate in the microwave.
Putting all the elements of this pie together takes a little bit of prep time. If you choose to make your own crust, I recommend refrigerating your crust for two days to make sure the ingredients have time to meld together. The haupia pie filling can be made and then the pie can be assembled in one day. I promise that the effort and time are worth it. This pie will be gobbled up by your friends and family!
Have You Tried This Recipe?
Simply rate the recipe by clicking on the ⭐️s on the recipe card. Have something to say? Please leave me a comment down below telling me what you think of this recipe.
Bonus: Let me and other readers know what you did to make this recipe your own - 💫 let's inspire each other!
Also, follow me on Instagram [@seesfoodwilltravel] and send me a DM with a picture of what you made. I would love to share and celebrate YOUR creation with our budding community 💞
Check out Sees Food, Will Travel on Pinterest and Facebook for more delicious updates.
Chocolate Haupia Pie
I highly recommend you bring this to your next potluck party to make some new friends. For the holidays, this is a great alternative to bring to gatherings such as Thanksgiving dinner. If you know someone who is not a pie person, but is into coconut, this will change their mind about pies. Haupia pie is the 'ono kine grindz that gives chicken skin and makes you go cheehoo!
Ingredients
1

9-inch

raw pie crust of your choice
Haupia Pie Filling
1

bar

70% dark chocolate (90 grams)

1

bar

milk chocolate (90 grams)

1

can

coconut milk

1

cup

milk

¾

cup

granulated sugar

½

cup

cornstarch

1

cup

water
Whipped Topping
¼

cup

granulated sugar

1½

cups

heavy whipping cream
Instructions
Blind Bake Your Raw Pie Crust
Preheat oven to 425°F/220°C

Poke holes in the dough (don't worry, the holes shouldn't cause the pie filling to leak)

Line the dough with aluminum foil or parchment paper

Take some uncooked rice or pie weights and fill up the pie pan

Put the pie crust with weights in the oven for 15 minutes

Take out the pie crust and turn the oven temperature down to 350°F/150°F

Put crust back in oven and continue to bake the pie for another 10 minutes

Set the pie aside to cool for at least an hour
Make Your Filling
Roughly chop the dark chocolate and milk chocolate then put in a mixing bowl, set aside

Mix water and cornstarch until no clumps are visible and set aside

Heat coconut milk, sugar, and milk together in a saucepan until it starts to slightly bubble

Add the cornstarch slurry as you whisk the coconut mixture to avoid clumping

At this point, the mixture will start getting thick fast! So continue stirring until you see soft peaks forming. As soon as that happens, turn off the heat and remove it from the stove.

Take half of the cooked haupia pie filling and immediately add it to the bowl of chocolates

Using a whisk mix the chocolate and haupia mix together

Carefully layer the chocolate haupia at the bottom of the crust

Add the white haupia gently on top of the chocolate haupia filling being careful not to mix the layers

Refrigerate the pie for at least 8 hours until the filling has set