Hotteok was my gateway snack to the world of Korean food. In 2013, I took an opportunity to take Incheon Airport's free eight-hour Seoul layover tour. A portion of the time had its visitors walk around the famous Insadong street to take advantage of the potential for travelers to become patrons of the local stores. At the end of the street was a famous stand serving a puffy hotteok. After biting into one, I was hooked! Two years later I move to South Korea (coincidentally) and long story short, I now know that it comes in many styles and forms across different cities, from Seoul to Jeonju, to Busan.
What is Hotteok?
Hotteok is best described as somewhere between a crispier version of a donut without a hole and a thick smaller version of a stuffed fried pancake.
Popular Styles
A hotteok must be filled, and a variety of savory and sweet fillings are available to do the job. You could probably make a lunch out of eating just hotteok! Below is a quick list of the more popular fillings I'm aware of.
Hotteok with Japchae
Japchae is a Korean side dish with potato starch noodles, vegetables, and a soy sauce base. Making japchae hotteok is more involved because you have to prepare japchae ahead of time. The taste is caramelized, salty, and savory.
Hotteok with Brown Sugar
Hotteok is commonly considered a sweet snack, so the classic brown sugar filling is most popular. You mix brown sugar with sesame seeds and ground nuts, depending on what you feel like adding. In Busan, there is a version called ssiat hotteok, or seed hotteok. I lived in Ulsan, about a twenty minutes' drive north of Busan, and would visit frequently. Whenever I got the chance, I would get hotteok at a specific place in the area across the street from the Jagalchi Fish Market. It is essentially an elevated version of the original, but cut open and filled to the brim with assorted seeds and nuts. It's my favorite type of hotteok!
How to Make Hotteok
The most important part of making hotteok is making the yeasted pancake. The pancake must be crispy on the outside and soft on the inside. Rice flour will help make the pancake crispier, and the yeast with the flour makes for a fluffy center.
In a bowl, mix warm milk, yeast, and sugar together. Cover the bowl and let it sit for at least five minutes. You should see some bubbles and foam on the surface of the yeast mix, and then you will know it's ready.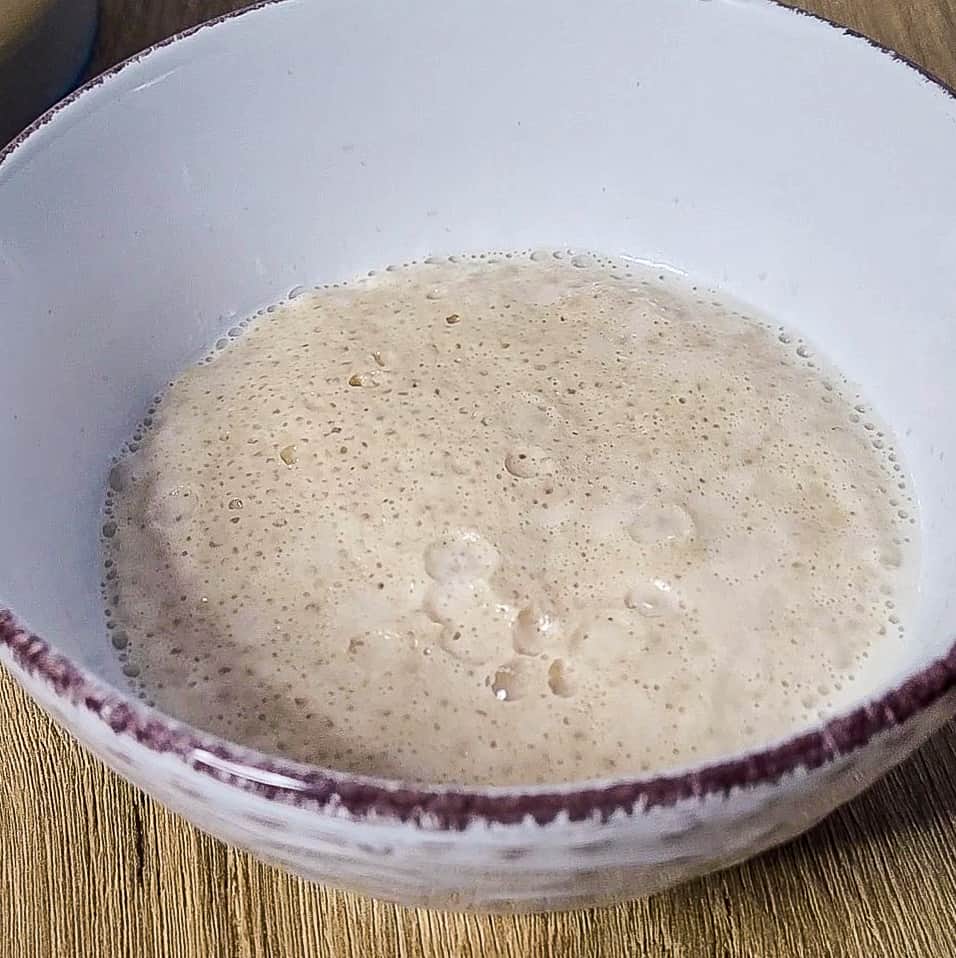 While the yeast is sitting, add the two flours and salt, then whisk them together. Add the teaspoon of vegetable oil to the yeast mix and then pour it into the bowl of flour. Then mix together, adding in a tablespoon of water at a time as needed. The dough should look like a very thick brownie batter, sticky but not too liquidy.
Cover the bowl and let it sit in a dry and humid spot until it has doubled in size. I'm writing this post during the winter season with very cold and dry weather, so it took my dough about two hours to rise.
Tip for Rising Dough If you want to speed up the process, create a humid and warm climate in your oven by turning it on to 50°C (120°F) for no more than three minutes. Then turn it off and put your bowl of covered dough inside the oven.
While the dough is rising, make your fillings. I have two options for stuffing in my recipe at the bottom of this post, brown sugar cinnamon ssiat and savory cheese.
Make Ssiat Hotteok
This lesser-known filling is easy to make but does take some prep time. Mix the nuts and seeds in a shallow pan and roast them on low heat for ten minutes or less, stirring occasionally. Then set it aside to cool. Once it's cool, you can choose to add a few tablespoons of brown sugar to the mix if you want something sweeter.
Meanwhile, in another bowl, mix the cinnamon and sugar together. This mix will go inside the hotteok before cooking.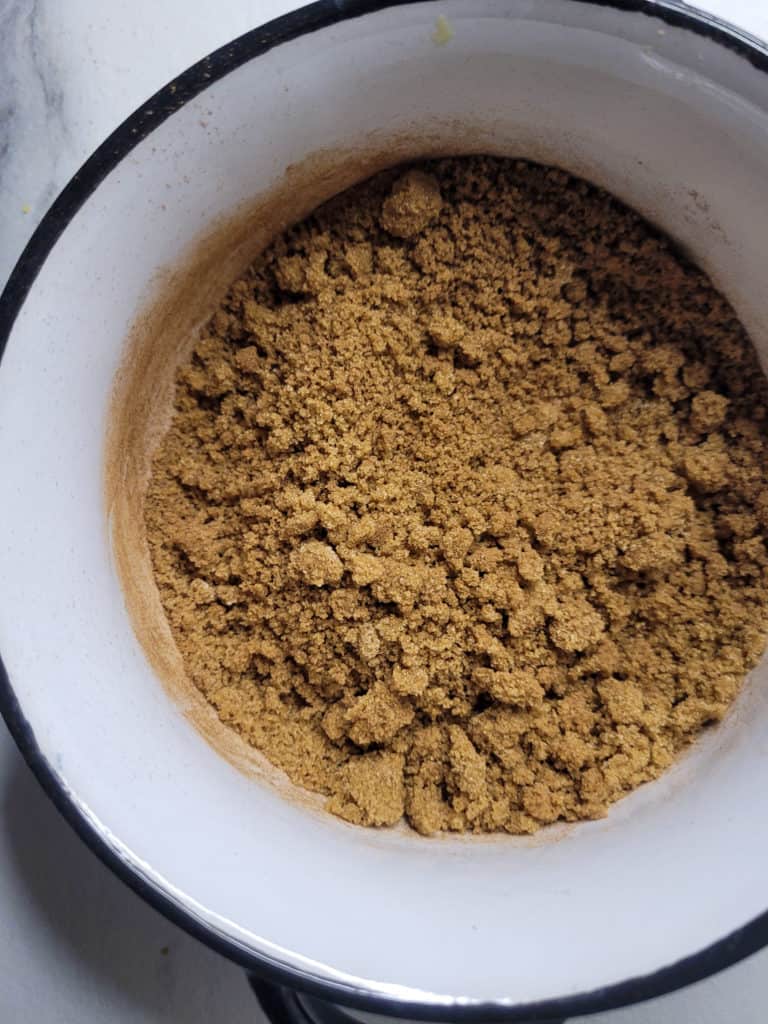 Add the brown sugar and cinnamon mix prior to cooking the hotteok by taking a piece of dough and placing a spoonful of it in the middle.
After cooking the hotteok, cut it open to access the hollow inside. Take a spoonful of the nuts and seed mix, then carefully spoon it inside.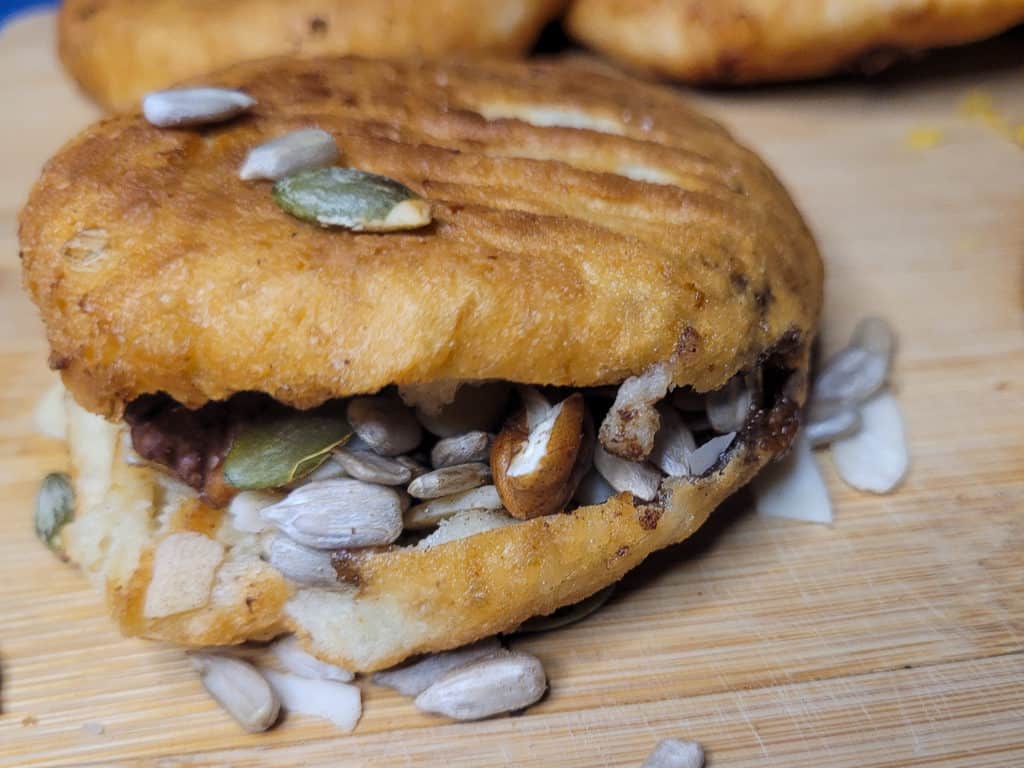 Make Cheese Hotteok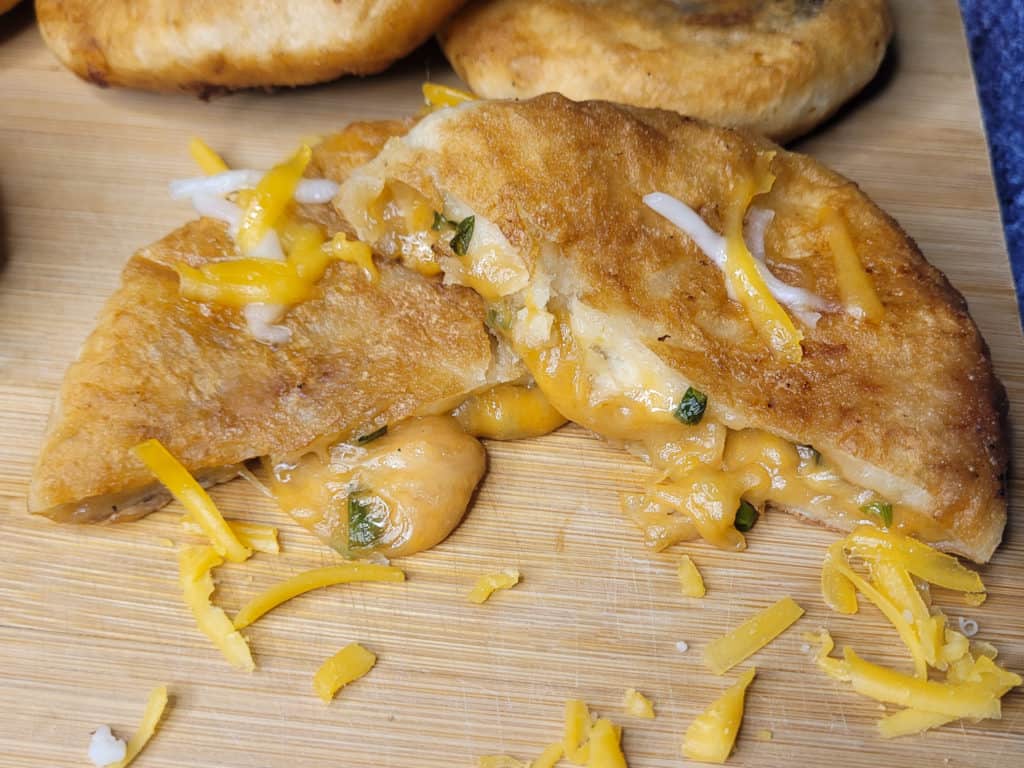 Cheese hotteok is a style that you only find in certain places. Although not as popular as japchae or ssiat, it has become a more common find nowadays. There is no actual standard for making a cheese filling. Most cheese hotteok are simply stuffed with shredded mozzarella cheese. I made a savory version below and I hope you try the mix. It is tasty!
Add mozzarella cheese, cheddar cheese, and chopped green onions in a bowl. Measure out the soy sauce and sugar, then pour them into the bowl of cheese and green onions. If I want something with a slight kick, I sometimes add a teaspoon or two of crushed red peppers. Mix the ingredients until the sugar has dissolved. Set it aside until it is ready for use.
Assembling
Add oil to your hands before touching the dough. Make sure they are well-oiled, otherwise the dough will make this process very difficult for you! I tend to fight with the stickiness of the dough, so I use oiled plastic gloves.
To start, push the air out of the dough and measure out eight individual pieces. I usually eyeball them, so feel free to do this step based on what is comfortable for you. Flatten the dough on one palm, then make a small indent in the middle. Use a spoon to add your filling to the dough, and then press the filling into the dough using the back of the spoon. Doing so will help close the hotteok easier. Carefully pinch the edges together to seal in the filling.
Since I don't have a hotteok press, I flatten the dough with the filling again in between the palm of my hands before frying.
Frying
Slowly place it in the pan that has heated on a low setting. I gently splash some oil on the top and press down on it with the back of my spatula. When the bottom is golden brown, I flip it over and press down again.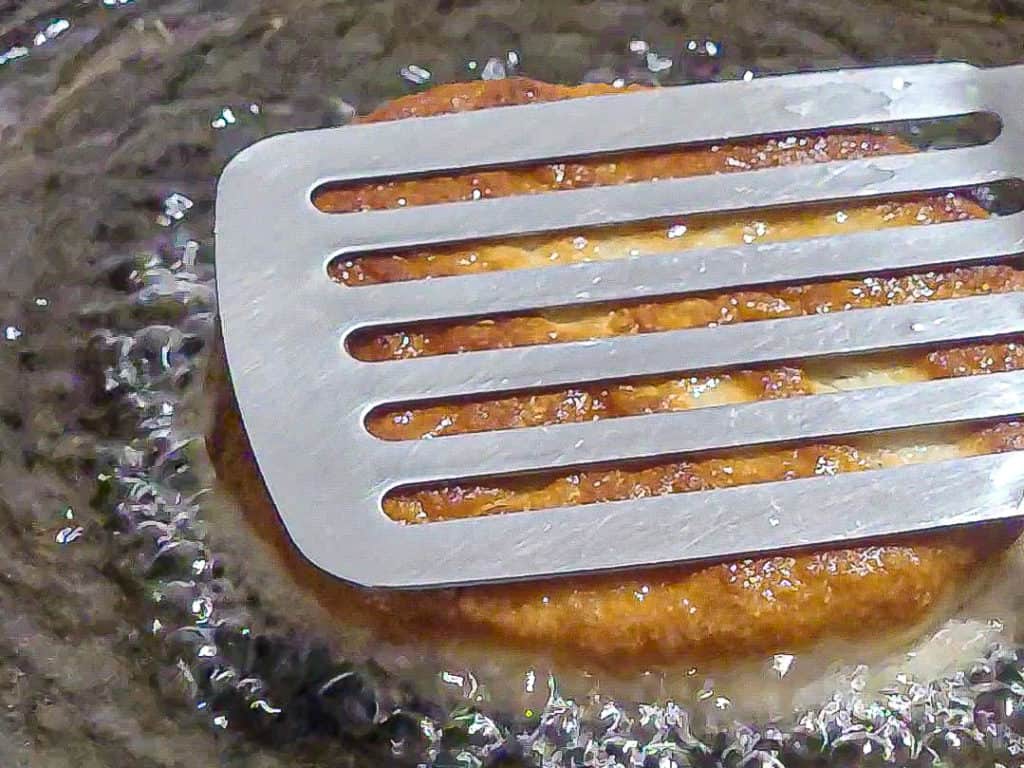 The hotteok is done when both sides are golden brown. I recommend leaving it on a rack on top of a lined baking sheet to drain the oil before handling it. Serve when the hotteok is still warm. Be careful when biting into the hotteok; you might burn your tongue!
Storage Suggestion
If you aren't eating all these pieces in one day, par-cook the ones you won't eat. Take it out of the pan when both sides just begin to turn golden brown. Then let it cool and put them in the freezer. When you are ready to eat them, thaw the hotteok until only the center is frozen. Pan fry them on low heat until golden brown.
Have You Tried This Recipe?
Simply rate the recipe by clicking on the ⭐️s on the recipe card. Have something to say? Please leave me a comment down below telling me what you think of this recipe.
Bonus: Let me and other readers know what you did to make this recipe your own - 💫 let's inspire each other!
Also, follow me on Instagram [@seesfoodwilltravel] and send me a DM with a picture of what you made. I would love to share and celebrate YOUR creation with our budding community 💞
Check out Sees Food, Will Travel on Pinterest and Facebook for more delicious updates.
Hotteok Two Ways - Cheese and Seed
Use this recipe for making both cheesy hotteok and ssiat - seed - hotteok. One is savory and the other is sweet! The measurements for the fillings below stretch the entire serving size so if you want to make half cheese and half ssiat, divide the filling measurements by two.
Ingredients
Hotteok Dough
250

grams

glutinous rice flour

250

grams

all-purpose flour

2

tsp

instant yeast

240

grams

milk or water

Note: use milk if you want it fluffier

¾

teaspoon

salt

1

tablespoon

granulated sugar

1

teaspoon

vegetable oil

3-5

tablespoon

water

Note: use water to add to the dough if it's too dry
Ssiat (Seed) Hotteok
60

grams

sunflower seeds

20

grams

pumpkin seeds

20

grams

slivered almonds

20

grams

chopped nuts

Options: walnuts, peanuts, pecans, hazelnuts

200

grams

brown sugar

1

tablespoon

cinnamon
Cheese Hotteok
80

grams

mozarella cheese, shredded

80

grams

cheddar cheese, shredded

5

teaspoon

soy sauce

1

tablespoon

sugar

4

stalks

green onions, chopped
Instructions
Make Hotteok Dough
In a bowl, warm milk for 30 seconds in the microwave then mix in sugar and yeast. Cover and let it sit for at least 5 minutes. Check for a layer of bubbles before using.

In a separate bowl, mix salt, rice flour and all-purpose flour.

When the yeast and milk mix is bubbly, stir in oil then pour into the bowl with flour and salt. Mix until the dough comes together. If it's too dry, add water 1 tablespoon at a time until you have a sticky dough that isn't too loose.

Cover and let it sit until the dough doubles in size.
Make the Ssiat (Seed) Filling
In a shallow pan, add seeds and nuts. Toast on the lowest setting for ten minutes and let it cool. Then set aside.

In a separate bowl, mix together cinnamon powder and brown sugar.
Make Cheese Filling
In a bowl, add both types of cheese, soy sauce, sugar, and chopped green onions. Mix together until all ingredients are well incorporated. Set aside.
Assembling the Hotteok
Fill a frying pan ⅓ full with vegetable oil and set it on low heat.

Rub some vegetable oil on your hands making sure it's fully coated.

Push the air out of the dough and split it into 8 separate pieces.

Flatten a piece of dough into a small disk in the palm of your hand. Using a spoon, add filling at the center, and then close by pinching the edges together.

If you are not using a hotteok press, flatten the hotteok between the palm of your hands. It will be easier to further flatten with your spatula while cooking.
Cooking Hotteok
Assemble and cook hotteok one at a time.

Place the hotteok in the pan and gently spoon some oil on top of the hotteok with your spatula. Once oiled, flatten it with the back of your spatula. Flip the hotteok when the bottom is golden brown.

Place the hotteok on a rack on top of a lined baking sheet to drain the oil.
Disclaimer: Nutritional values were calculated with the Spoonacular Food API and should be used for informational purposes only.