I am excited to talk about the most popular Filipino bun, ensaymada, sometimes spelled ensemada. If there ever was a bun from the Philippines that could best portray the nation's diversity, I feel like ensaymada would be on the shortlist. This fluffy bun is soft and yeasty, something between a brioche and angel food cake. The taste is a combination of sweet and savory from the butter, sugar, and cheese that cover the bun. This ensaymada recipe has a bit of the best of everything all at once, just like the Philippines. Jump to this section for step-by-step instructions with pictures!
The Balearic Influence in the Philippines
Its namesake, the ensaimada, comes from European roots in Mallorca, Spain. The 'saim' in ensaimada represents lard used in the original buns. The ingredients replaced the original based on what resources were available, but locals maintained the technique in the Spanish-occupied Philippines. Instead of using sprinkled powdered sugar, Filipino ensaymada showcases a buttercream topping with cheese or sprinkled granulated sugar. Ensaimada in Spain was traditionally served during the Easter season but is available year-round in modern times.
Ensaymada is also available at any panaderia in Filipino neighborhoods all over the country at any time of year. It is probably one of the top-selling baked goods in the Philippines. If you are near a Goldilocks or a Red Ribbon bakery, two of the major exported Filipino global chains, you can easily get one of these buns at their stores.
Classic vs. Cheese Ensaymada
Ensaymada generally looks like an extra-large cinnamon roll with butter spread all over it. Think of it as a naked cinnamon roll. There are two main types of this Filipino baked good, classic and cheese-topped ensaymada. The classic ensaymada derives its looks and texture from the original Baeleric ensaimada. It's brushed with butter, then dipped in granulated sugar.
The newer cheese ensaymada is different from the classic recipe. This style can be a rolled bun or a smooth round bun, topped with buttercream frosting. Then layers of grated cheese are added to finish the bun's look. There are a variety of choices of cheese for this ensaymada recipe. I've seen two popular types. The first is edam, which gives it a nutty flavor, and the second is cheddar, which is milder and earthy. Cheesy ensaymada is the perfect mix of sweet and savory on top of a fluffy bun!
How to Make Filipino Ensaymada
This ensaymada recipe takes a while, but you will be rewarded with some of the fluffiest buns you'll ever eat! This recipe also doesn't require you to use ensaymada molds. You will roll them individually like a cinnamon roll.
Make Yeast Starter
This is a typical yeasted dough base with two proofing times. So the first step is to make your activated yeast. Combine the smaller amount of sugar, yeast, and warm milk in a bowl and stir. Then let it sit for ten minutes until it is bubbly and frothy on top.
Make the Dough
Add the egg and melted butter and stir together. In a separate bowl, mix in flour, salt, and sugar. Then pour the wet ingredients into the dry ingredients.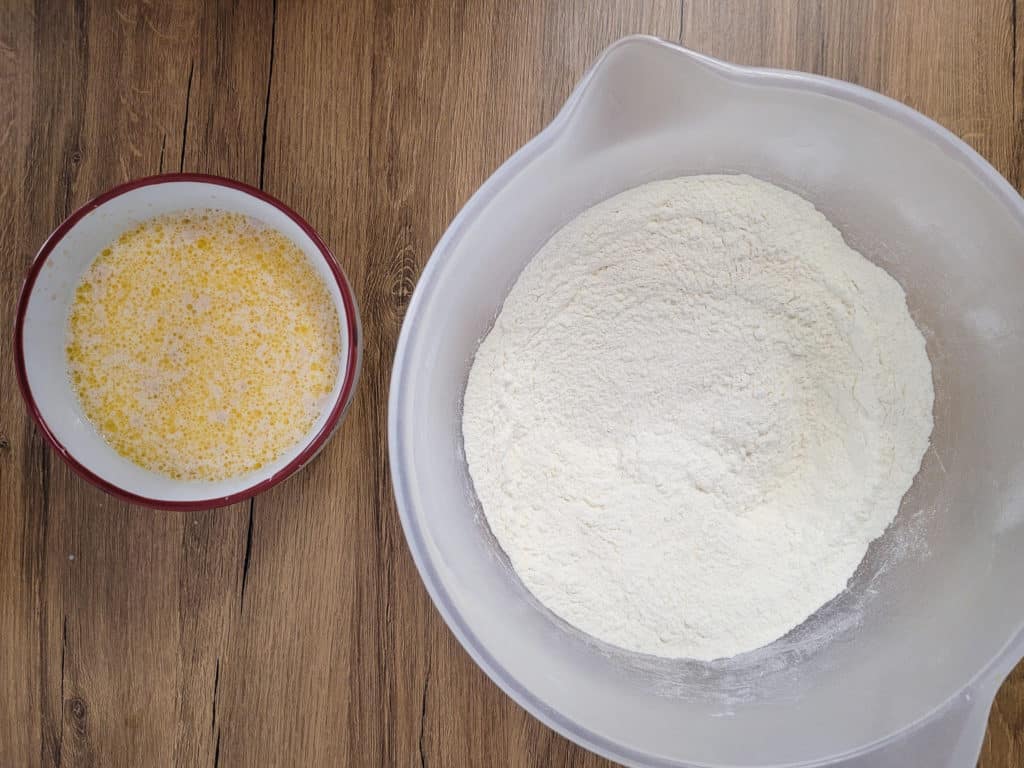 I used an electric mixer with dough hooks to knead the dough, and it took about five minutes. Carve out ten minutes for nonstop kneading if you intend to knead by hand. Do the windowpane test to check how much gluten has developed. Let it sit covered for one to two hours after seeing some transparency and elasticity in the dough.
Make The Buns
After the first proof, the dough should have doubled in size. Sprinkle some flour on a clean surface. Punch the air out of the dough and degas it until it's a smaller size, and place it on the floured surface.
Flatten the dough to a rectangular shape about 12 by 10 inches using a rolling pin.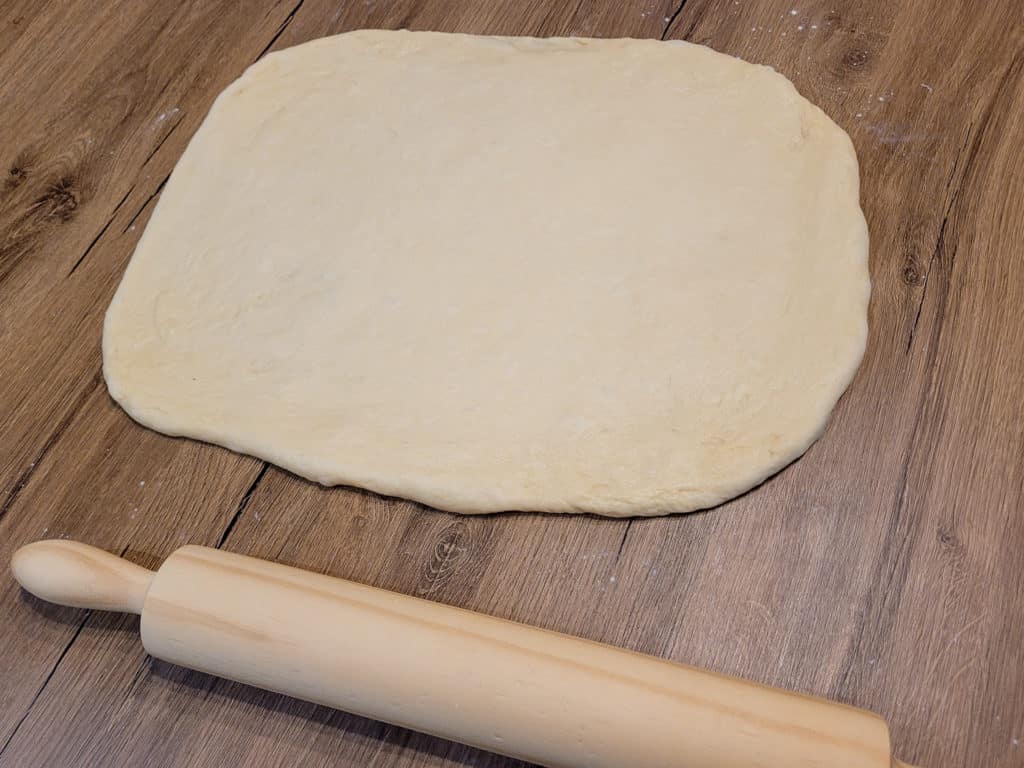 Then split the dough into six sections. Take a strip and roll it so it is round, then make a bun by curling the dough into itself.
Once you complete shaping all the dough strips, cover it again and let it rise for the second time for forty minutes. This is probably also a good time to preheat your oven to 180°C (350°F).
Cook the Buns
After the second proofing, the rolled buns will double in size and be ready for the oven! Bake in the oven for fifteen to twenty minutes until the tops are brown, but the bottom is still light. Tip As soon as you pull them out, brush them with a little bit of melted butter so you can ensure that the crust is soft. Let them cool for thirty minutes.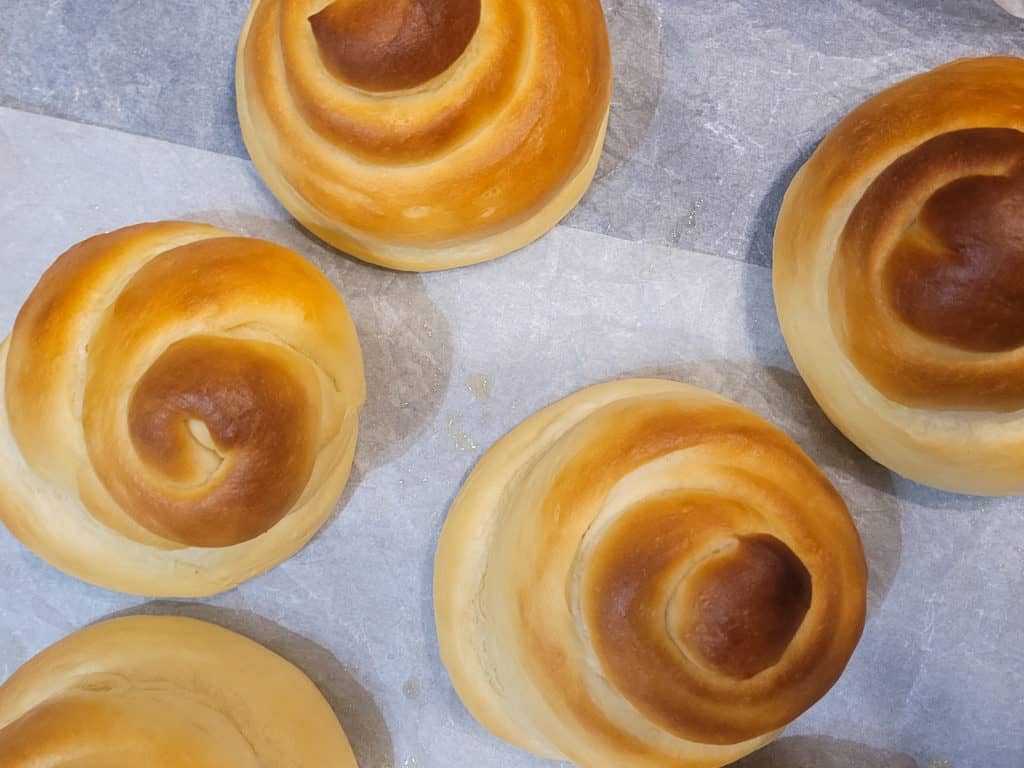 Make the Topping
In the meantime, make the buttercream by adding room temperature butter and powdered sugar together in a bowl. Cream them together until smooth and set them aside.
Take either your cheddar or edam cheese and grate enough for six buns. I love eating ensaymadas covered with cheese, but it's up to you to decide how much cheese you want to add!
Once the buns have cooled, use a spatula to spread buttercream on the ensaymada. There should be enough on the bun so that the cheese will stay when sprinkled on top. Finally, add the cheese on top of the ensaymada.
Classic Topping
You can skip grating cheese and make a simple (but just as tasty!) topping. To assemble the classic style:
Add some granulated sugar to a bowl.
Spread the buttercream on the ensaymada, but make sure it's a thin layer and coats the bun.
Roll the bun in the bowl of sugar, and you have just made a classic-style ensaymada!
How to Enjoy Ensaymada
The best way to eat ensaymada is as an accompaniment to coffee during breakfast time. You can also eat it as a snack. You may want to eat more because it is a fluffy, leavened bread, but these are calorie-packed! The mix of cheese and sugar are heavy, yet carried by the light buns, making you feel like you are eating sweetened air. I love savoring the buns by tearing a small piece at a time and relishing their sweet buttery goodness.
Storing Ensaymada
If you made cheese ensaymada, make sure to cover each bun separately because the cheese may dry out. Sugared ensaymadas are suitable for storing in a container unwrapped. All ensaymada placed in a container (wrapped or unwrapped) can last at room temperature for up to a week.
Interested in More Filipino Bread?
Check out other popular baked goods such as pandesal, Spanish bread, or otap. If you want to try a less complicated recipe and simple ingredients, try making Kababayan bread!
Have You Tried This Recipe?
Simply rate the recipe by clicking on the ⭐️s on the recipe card. Have something to say? Please leave me a comment down below telling me what you think of this recipe.
Bonus: Let me and other readers know what you did to make this recipe your own - 💫 let's inspire each other!
Also, follow me on Instagram [@seesfoodwilltravel] and send me a DM with a picture of what you made. I would love to share and celebrate YOUR creation with our budding community 💞
Check out Sees Food, Will Travel on Pinterest and Facebook for more delicious updates.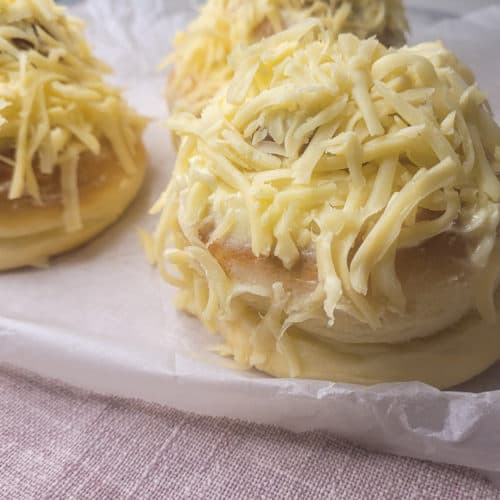 Fluffy Ensaymada Recipe
This is one of the most popular buns in the Philippines, the ensaymada. It's topped with a sweet buttercream and cheese (if you prefer!). It's a fluffy bread that will surprise you with its sweet and savory flavors!
Ingredients
10

grams

granulated sugar

for yeast blooming

7

grams

instant or active dry yeast

250

ml

milk, warm

1

egg

1

teaspoon

salt

400

grams

flour

50

grams

granulated sugar

70

grams

unsalted butter, melted
Buttercream
70

grams

unsalted butter, softened

50

grams

powdered (icing) sugar
Topping
200

grams

cheese, grated (cheddar or edam)

optional

200

grams

granulated sugar

optional
Instructions
Make Dough
In a bowl, add warm milk, 10 grams sugar, and yeast. Stir to combine and let it sit until bubbly and frothy.

In a separate bowl, add salt, flour, melted butter, and 50 grams sugar. Then mix.

Add the activated yeast mix to the bowl of flour and mix together. Knead for 5 minutes with dough hooks or by hand for 10 minutes. The dough is ready when it passes the windowpane test.

Put the dough in a bowl and cover to let it rise for 1 - 2 hours. When the dough has doubled in size, punch out all of the air from the dough.

Sprinkle flour on a flat surface and place dough on floured area. Use a rolling pin to make a flattened rectangle about 10x12 inches then make six equal strips.

Roll the dough strips to make them round, curl the strip into itself one at a time. You should end up with buns that look like individual cinnamon rolls.

Place the buns on a lined baking sheet and proof them for a second time for 30-40 minutes. Preheat the oven to 180°C (350°F) in the meantime.
Bake Ensaymada Buns
When the buns have proofed, place them in the oven to bake for 15-20 minutes until the tops are browned.

Pull them out of the oven and brush them with melted butter. Let the buns cool for up to 30 minutes.
Make Buttercream
In a clean bowl, add the softened butter and icing sugar. Then cream them together until well incorporated.
Assembling
Spread buttercream all over the cooled ensaymada buns except their bottoms.

If you are making cheese ensaymada, grate your cheese of choice and top each ensaymada with the grated cheese.

If you are making classic ensaymada, put the sugar in a shallow bowl and roll the ensaymada in the sugar.